Are Quartz And Quartzite The Same?
November 23, 2022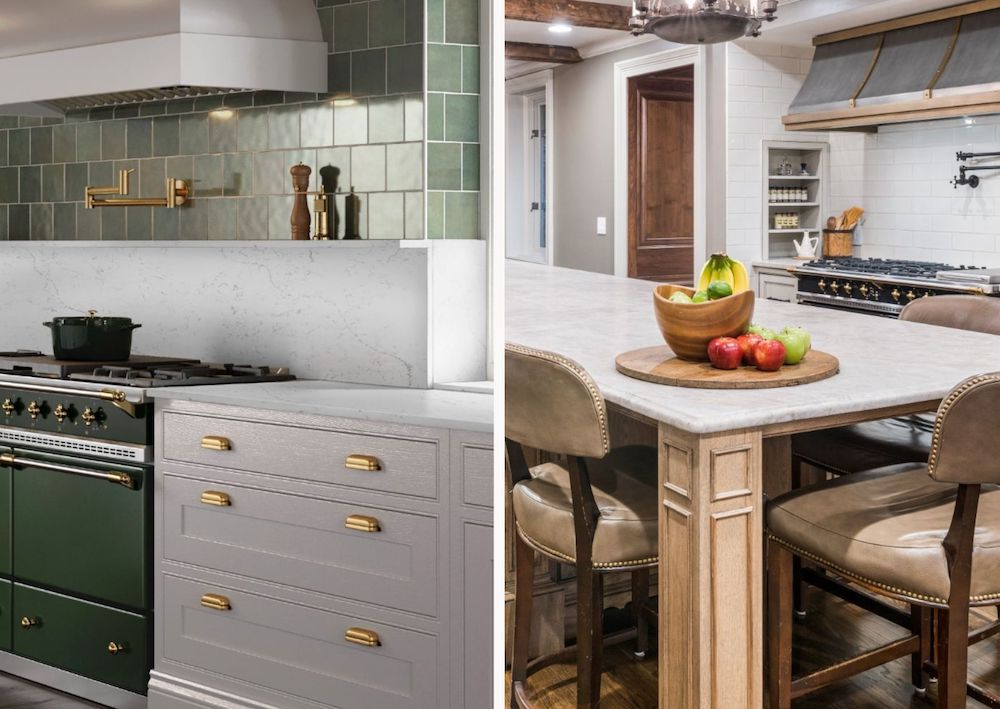 Whether you're shopping online for a countertop, at a big-box store, or one of MSI's showrooms, you've got a lot to choose from. Two of the best options, quartz and quartzite countertops, sound very similar — but although they have a few things in common, they are different materials. So, which one is suitable for your home remodeling project?
In order to decide, you need more information, so let's dive in. This article will explain precisely what each material is, how it's made and where it comes from, and the advantages and disadvantages of each option.
QUARTZITE
Quartzite is a natural stone that is mined from the earth. It's a metamorphic rock, which starts out as sandstone, and through high pressure and high heat, it's transformed into a much harder, durable material. The quartz crystals that make up sandstone fuse together and interlock, and the resulting stone is one of the toughest surfaces available — even harder than granite.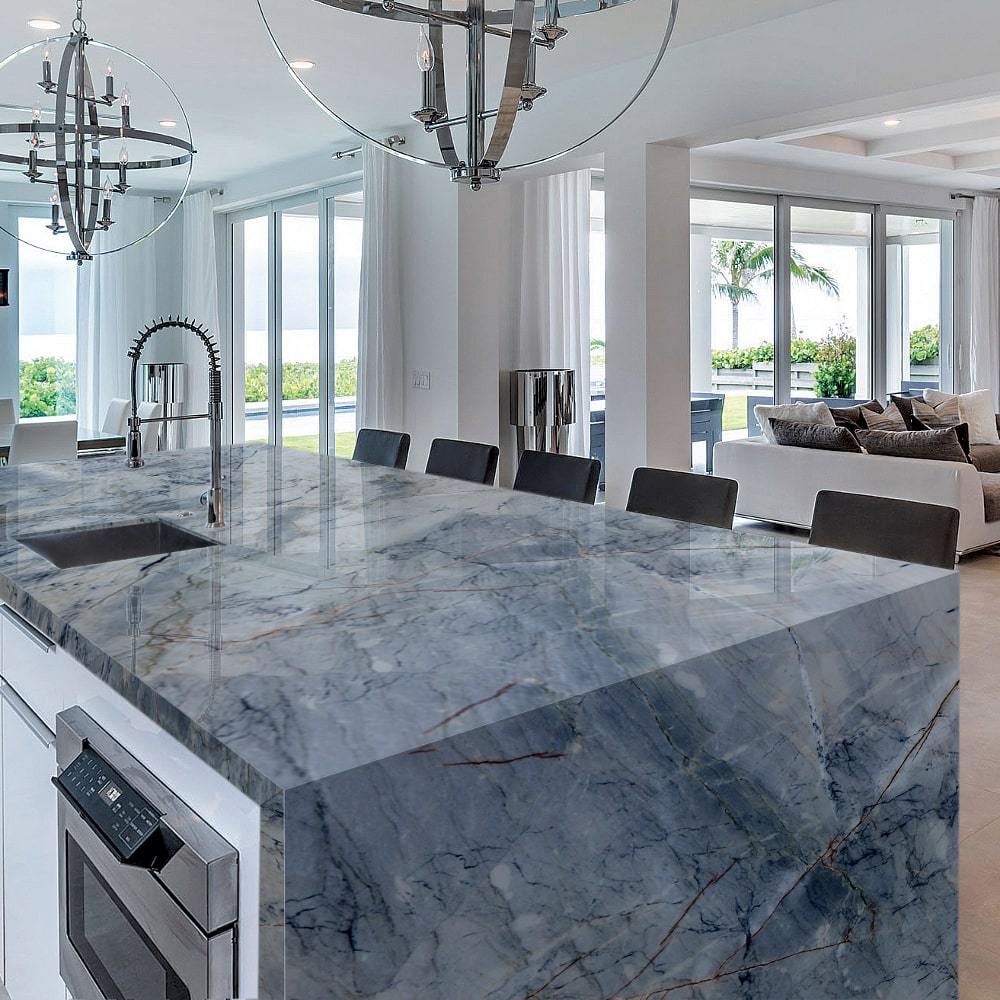 While quartzite is typically found in neutral shades such as beige and gray, more exotic hues, such as MSI's Blue Lava (pictured above), are also available. The re-crystallized quartz gives quartzite a sparkling sheen with elegant character and depth. And as a natural stone, the patterns and variations in quartzite countertops are limitless. No two quartzite slabs will be exactly alike, meaning many homeowners prefer to visit a slab yard and pick out the one they want for their project. You can select a subtle pattern, such as Allure quartzite, or a bolder option, like Belvedere – a black-and-white quartzite that allows you to create dramatic installations. Install two slabs in a mirror pattern called "book matching," side by side for kitchen countertops, backsplashes, or waterfall edges.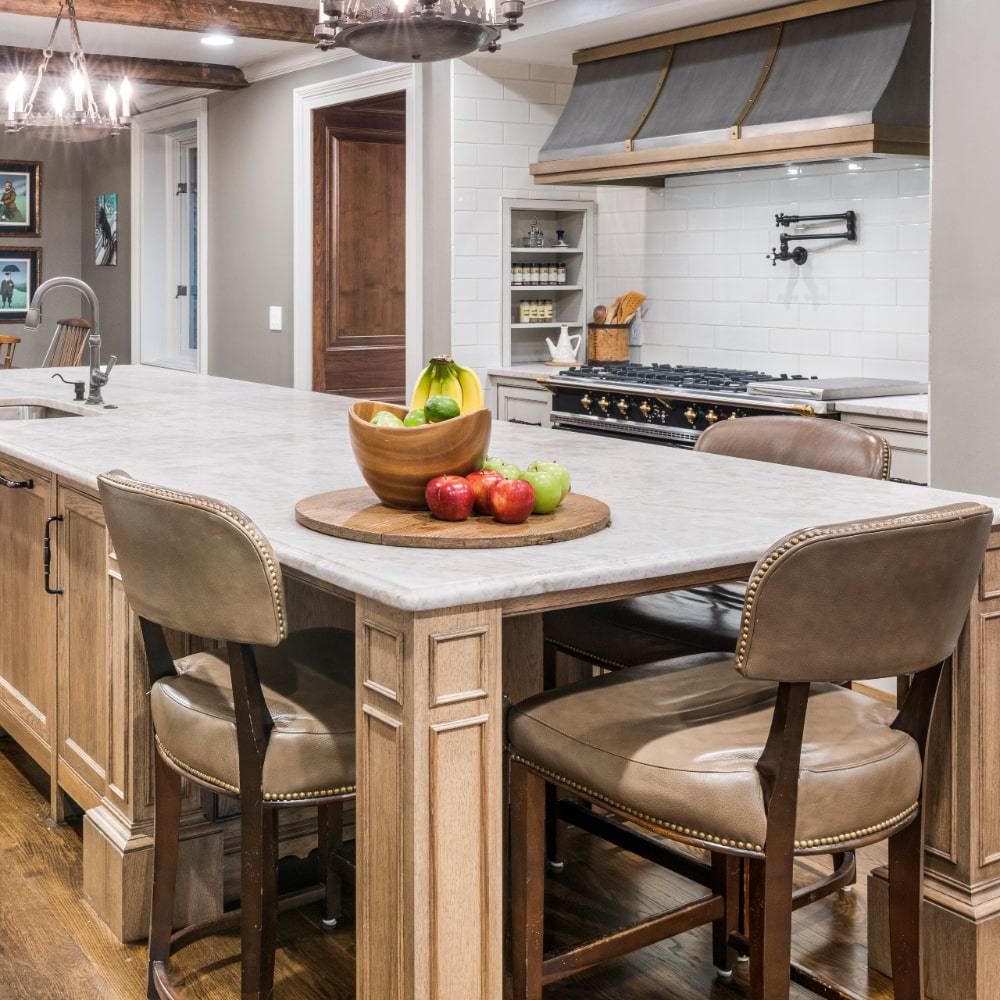 Comparing quartzite to quartz countertops, quartzite has a few advantages:
Durability: Quartzite is harder than granite and resists scratching and chipping. It's also resistant to stains and heat damage. And unlike marble, it does not etch when exposed to acidic liquids such as vinegar or lemon juice.
Maintenance: Like all natural stones, quartzite requires the occasional application of sealer to help it repel water and stains, but apart from that, it's easy to keep clean and hygienic.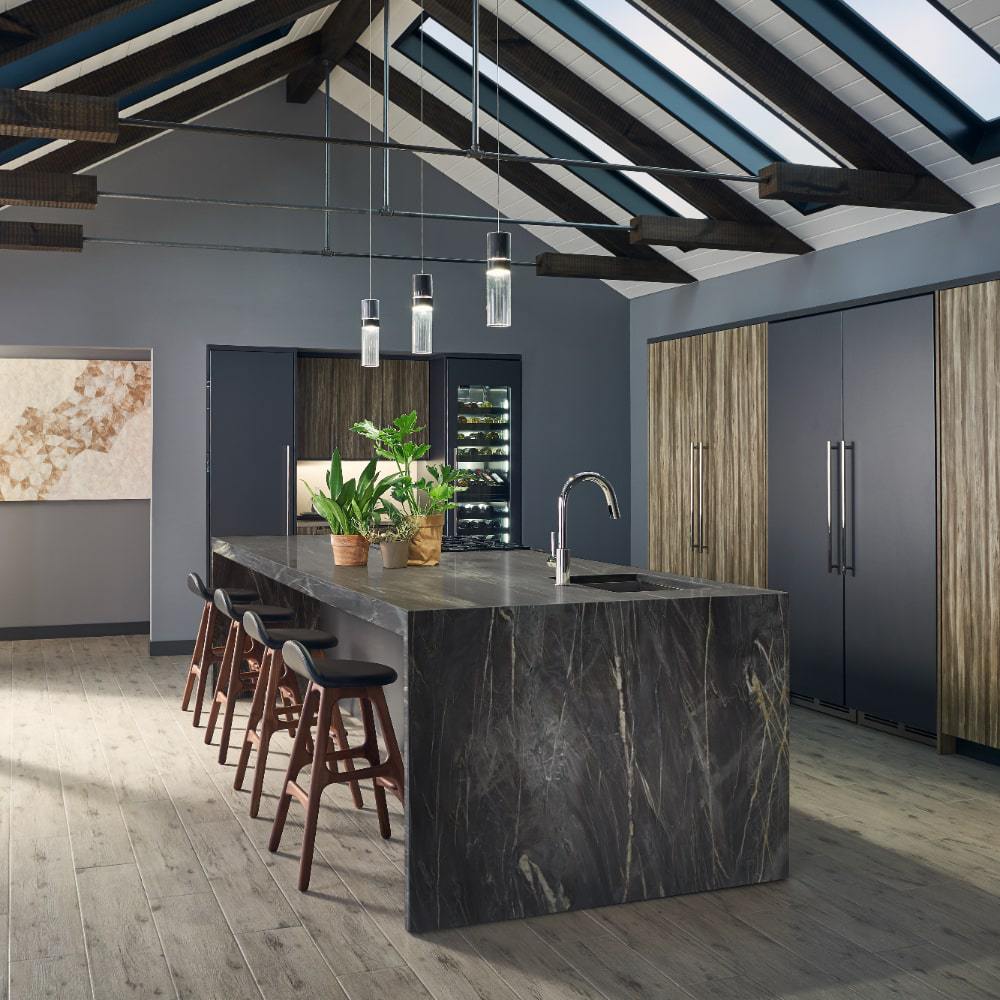 Style: With an impressive variety of colors that include neutral hues and the more exotic blue, green, pink, and more, natural quartzite can fit into anyone's decorating plan. Natural variations in each stone allow for dramatic installations, while more subtle patterns are ideal for traditional décor. Plus, every slab is unique.
Applications: Quartzite is exceptionally durable and hard, so it can be used anywhere in the home, including kitchen and bathroom countertops, backsplashes, shower surrounds, fireplace surrounds, and even flooring. It can even be installed in outdoor kitchens because it's tough enough to withstand exposure to extreme temperatures and direct sunlight.
QUARTZ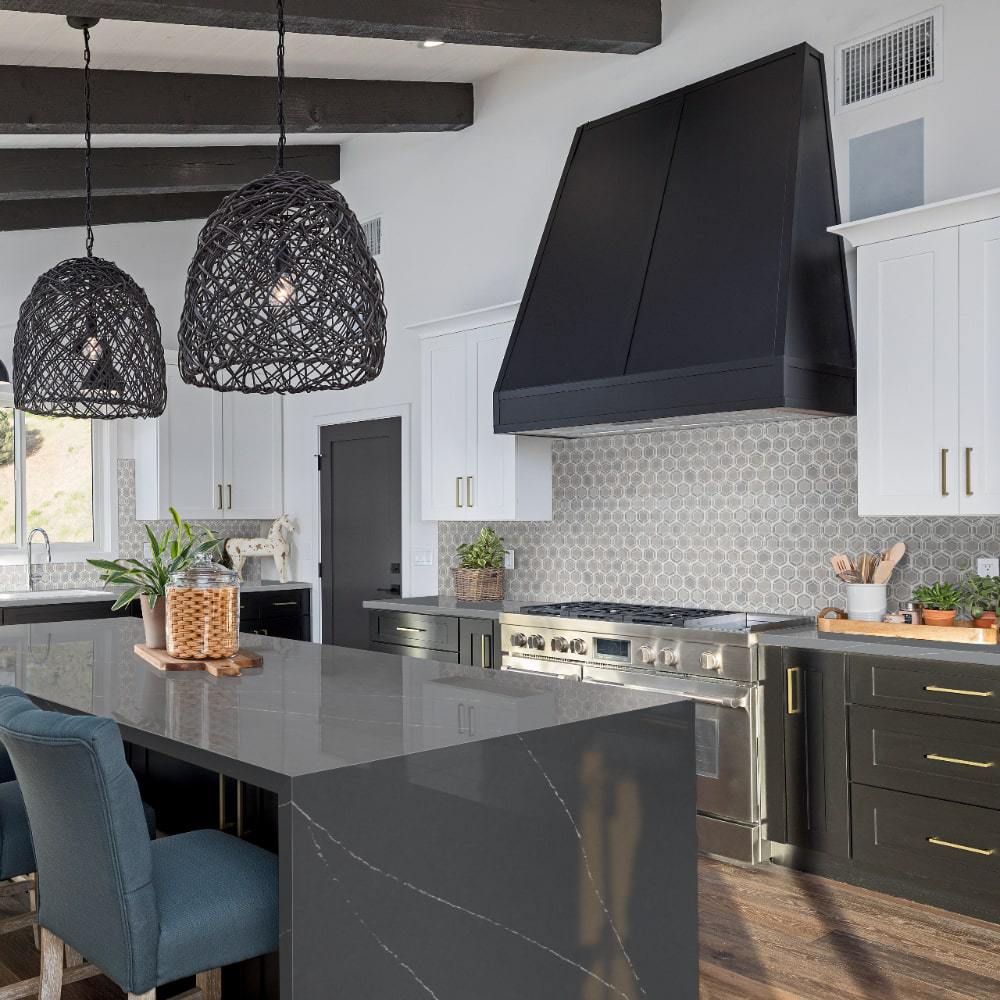 While quartzite is a natural stone mined from the earth, quartz countertops are engineered and manufactured. Both materials contain quartz crystals, but in quartz countertops, they are fused with a super-strong, durable resin. Quartz countertops are composed of 93% to 95% quartz crystals combined with other pigments and minerals to create various colors and patterns.
Since it's a manmade material, quartz slabs can imitate any other type of countertop surface, such as marble, granite, concrete, and yes — even quartzite. It's also available in a full spectrum of solid colors, which fit in perfectly with a contemporary design aesthetic. Like quartzite, quartz countertops include patterns ranging from subtle speckles and swirls to bold veining with high movement. But its patterning is predictable, unlike quartzite and every other type of natural stone. As a result, you can order your quartz slab remotely and know precisely what it will look like when installed in your home.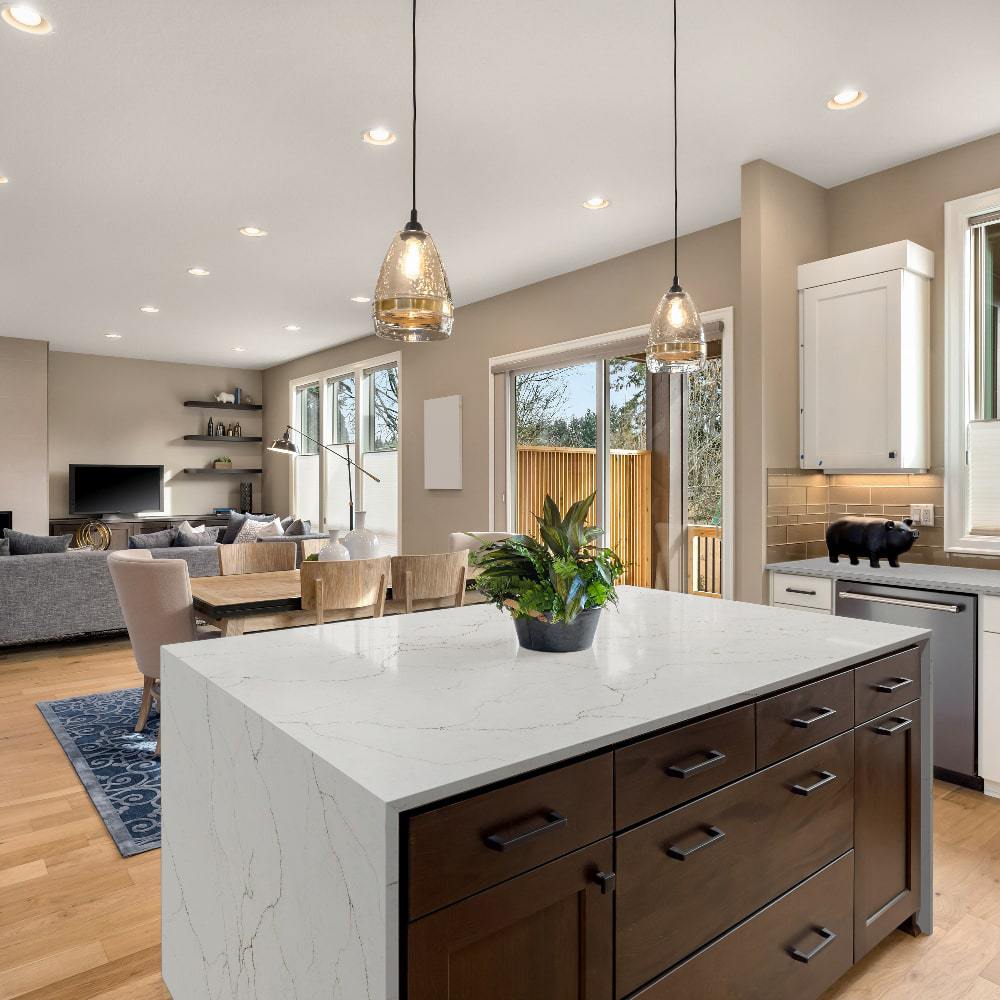 Here are a few advantages of quartz:
Durability: Engineered quartz countertops are extremely tough and meant to last a lifetime. They resist chipping, scratching, and other types of damage. It's one of the most durable premium surfaces available.
Maintenance: Quartz countertops are designed to be exceptionally easy to care for, which tips the scale in their favor for many homeowners. Unlike natural stone, they never need to be sealed to remain 100% waterproof. This allows them to resist bacteria, mold, and mildew and be kept totally hygienic.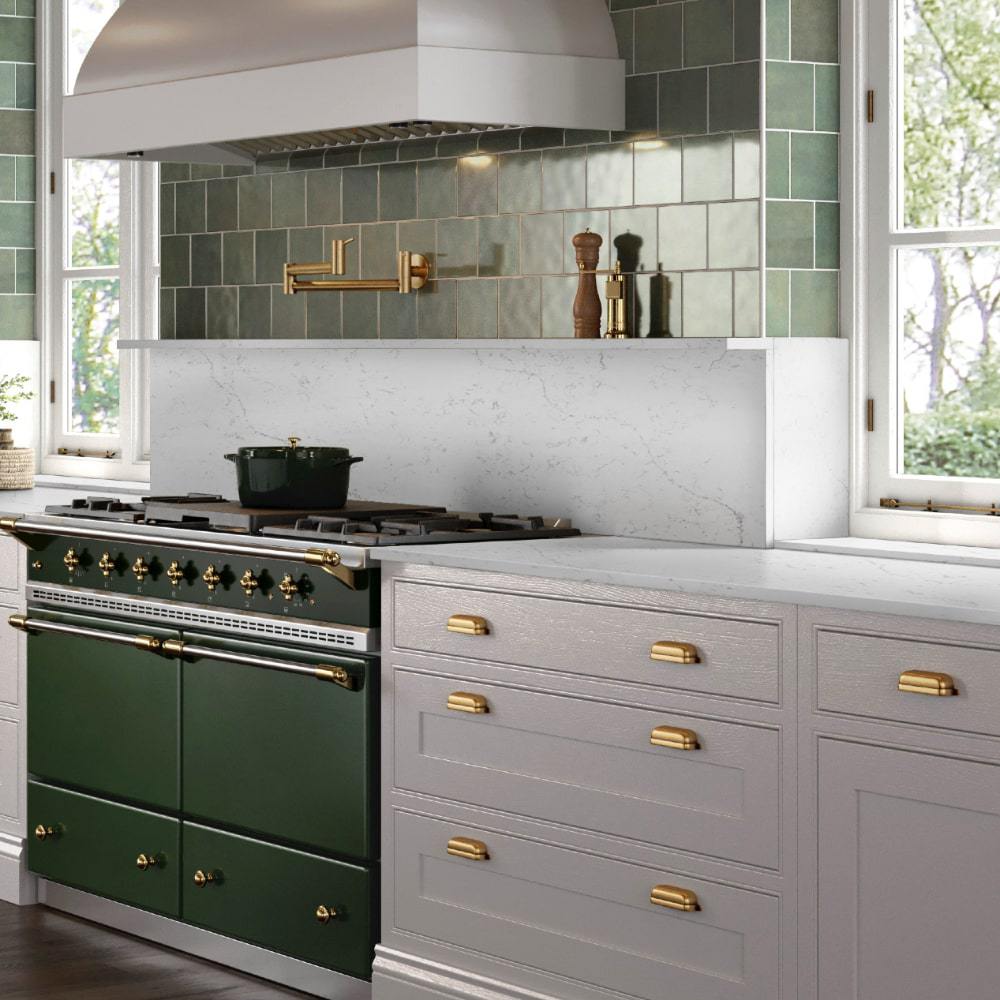 Style: You can choose from an endless range of quartz colors and patterns, so they're perfectly at home in any color scheme. Quartz that looks like marble, like Calacatta Lavasa (pictued above), allows you to enjoy the look of that expensive, high-maintenance surface anywhere without worrying about staining, etching, discoloration, and other damage that the real thing is prone to.
Applications: Quartz countertops are ideal anywhere in the home, including counters and backsplashes, fireplace surrounds, shower walls, and more. They can be installed in outdoor kitchens and living spaces if they aren't exposed to weather extremes or bright, direct sunlight, which can cause discoloration. In addition, quartz is an ideal choice for countertops with custom designs, such as curves and specialty cutouts.
One final consideration for most homeowners when making this tough decision is cost. Both premium surfaces are substantial investments but offer a better return on your investment than just about any other interior improvement project — it increases your home's resale value and enhances your enjoyment while you live there!
Like most natural stone countertops, quartzite's cost falls in a wide range depending on its quality and color. More common colors, such as neutrals with subtle movement, will cost less than exotic colors, often sourced from faraway quarries. Fabrication and installation add to this expense; natural stone countertops can be very heavy and may even require reinforcements on your cabinetry to support the weight.
Since quartz is manufactured — much of it in the U.S. rather than overseas — it's often a more affordable option. Installation and fabrication may cost a bit less as well. So, while many homeowners and interior designers insist there's nothing like the real thing when it comes to natural stone, quartz countertops allow you to enjoy the look for less, with less work and worry.
Now that you've learned the difference between quartz and quartzite, are you ready to get going on your next home improvement project? Contact us at MSI with any questions you may have. Our experts can offer all the helpful advice you need to ensure you get the look you love.
Learn More About Quartz Countertops
Get Inspired With 10 Quartz Countertop Ideas
7 Kitchens With Glamorous Cabinetry & Quartz Countertop Pairings
6 Stunning New Quartz Countertop Colors To Satisfy Any Space
MSI's Top 10 Lumaluxe Quartz Countertop Colors
5 Beautiful Bathrooms With Quartz Countertops
The Do's And Don'ts Of Quartz Countertop Care
Learn More About Quartz Countertops
Quartz Countertops That Mimic Natural Stone: Granite, Limestone, And Marble Looks
Are Quartz And Quartzite The Same?
5 New Q™ Natural Quartz Colors Featuring A Mix Of Bold And Soft Veining