Popular
The Roaring Retro Revival Trend
May 23, 2019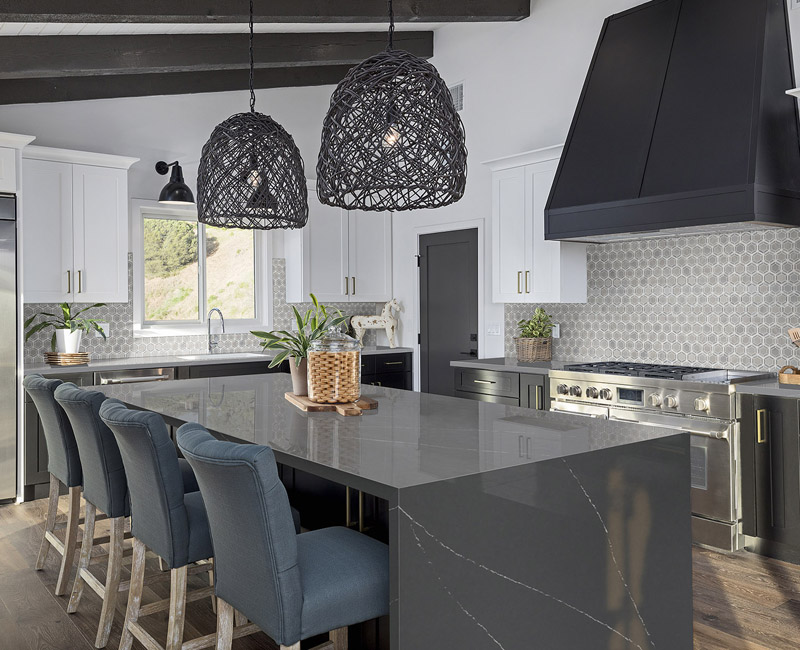 In a vintage state of mind? You're in stylish company. The Retro Revival Trend is back in a big way – and popping up in interiors everywhere. Hexagon, subway, penny round, and arabesque tile are made all the more dreamy by modern materials meant for the long game. Reframed in today's hottest shades, this new wave of classics includes encaustic tile – which in our pattern-happy brains makes this trend all the more loveable.
Looking to join the cadre of designers and homeowners giving retro looks a chic second life? We've got you covered. We rounded up favorites—from our what's-old-is-new-again lineup—to inspire you. This list has us wishing we were refreshing a room. Or better yet, building a house from the ground up. If only.
Pattern for Days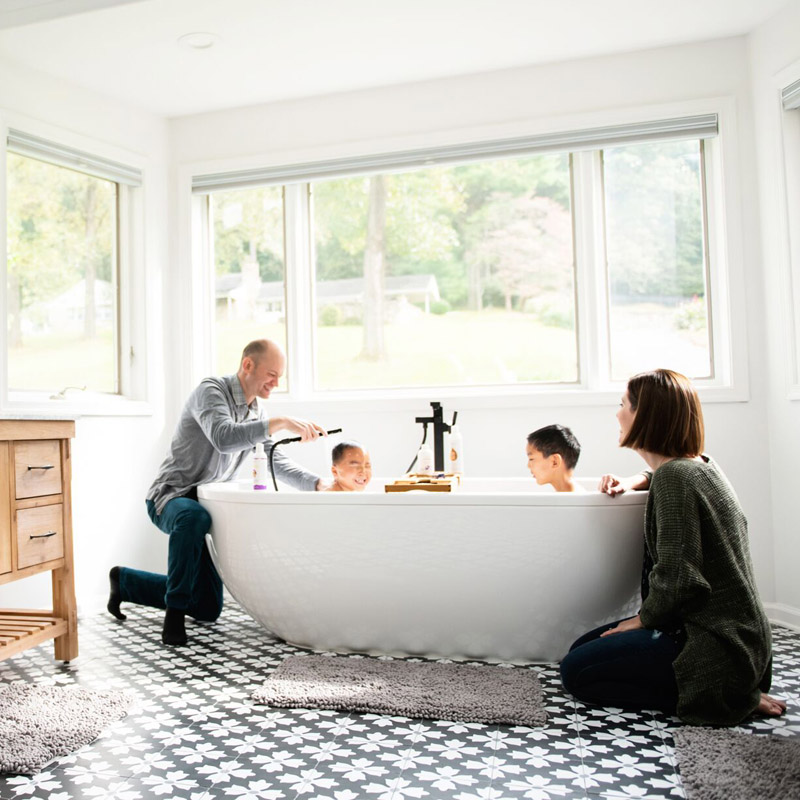 Kasbah (Kenzzi Porcelain) puts our love of black & white encaustic tile on display.
Patterns have serious currency in the design world – right up there with color. It's not just the thing to do in 2019; it's one of our all-time favorite ways to shake up a room. If you're staging a retro revival this spring or summer, there's no shortage of classic looks on the scene. Whether that means a geometric tile like Domino's Retro
Octagon Bianco on a backsplash or a punch of pattern with Kenzzi on the floor, pattern has a unique way of infusing fresh life into a space. At its best, it makes every day feel a bit elevated.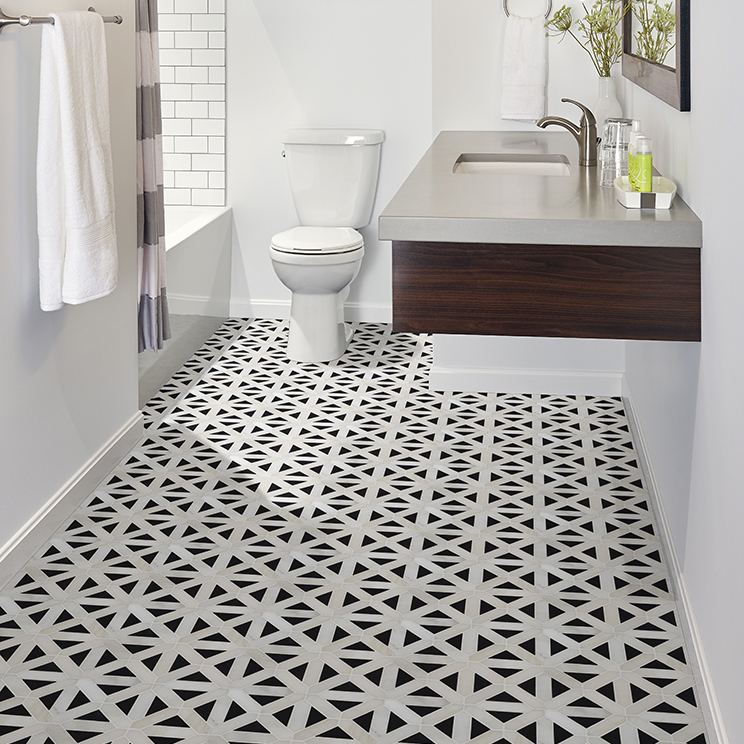 Um, no one cares that this bath's on the narrow side. It's altogether rarified with Retro Fretwork Polished underfoot.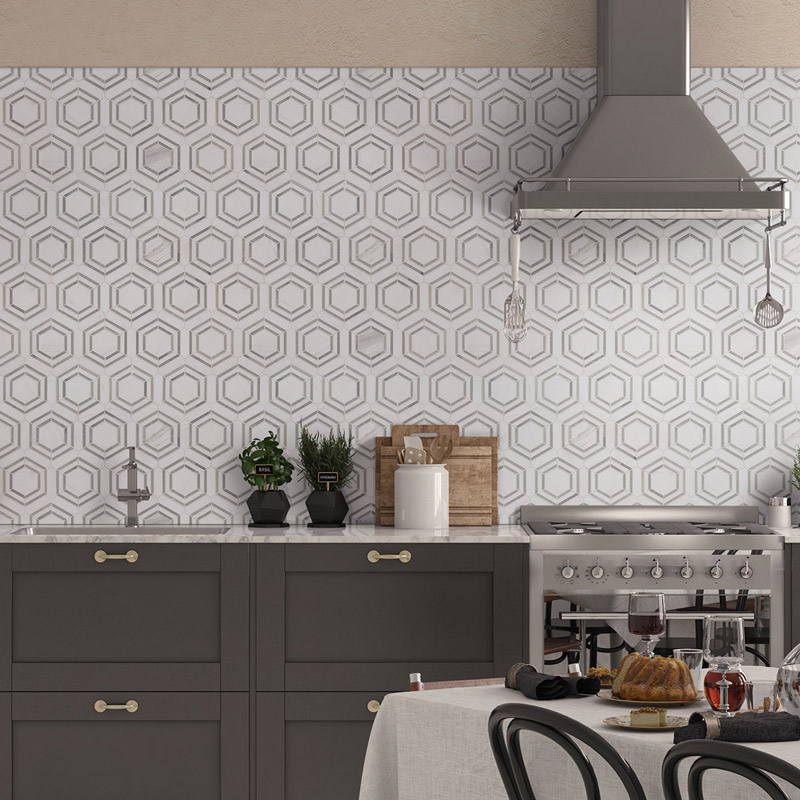 There's just no going wrong with a retro backsplash: Georama Grigio proves this again and again.
Part of pattern's staying power is its range. Bright and bold. Subtle and refined. Retro prints have an ultra-versatile appeal that works in country cottages and metro lofts alike. In the all-white kitchen and bath trend, subdued patterns combine with rich textures to help these spaces maintain their darlings-of-the-design-world status. The bath below is a beautiful example.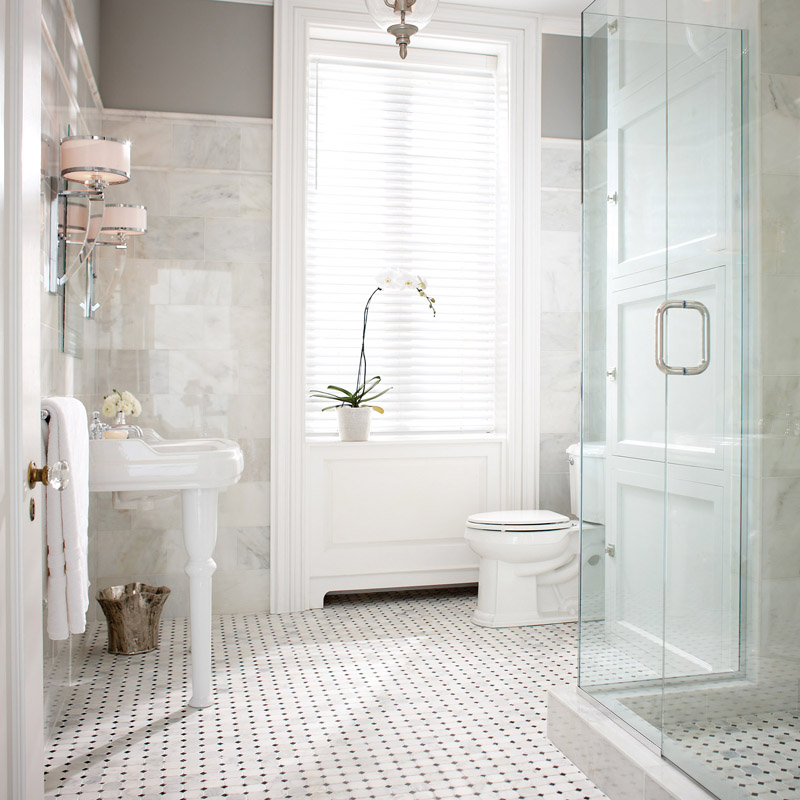 We'd find excuses to extend our daily grooming routine if we had this bathroom in our house. For us marble tile fans: Greecian White Subway Tile (walls) and Greecian White Octagon with Black Accents (floor).
Moody Vibes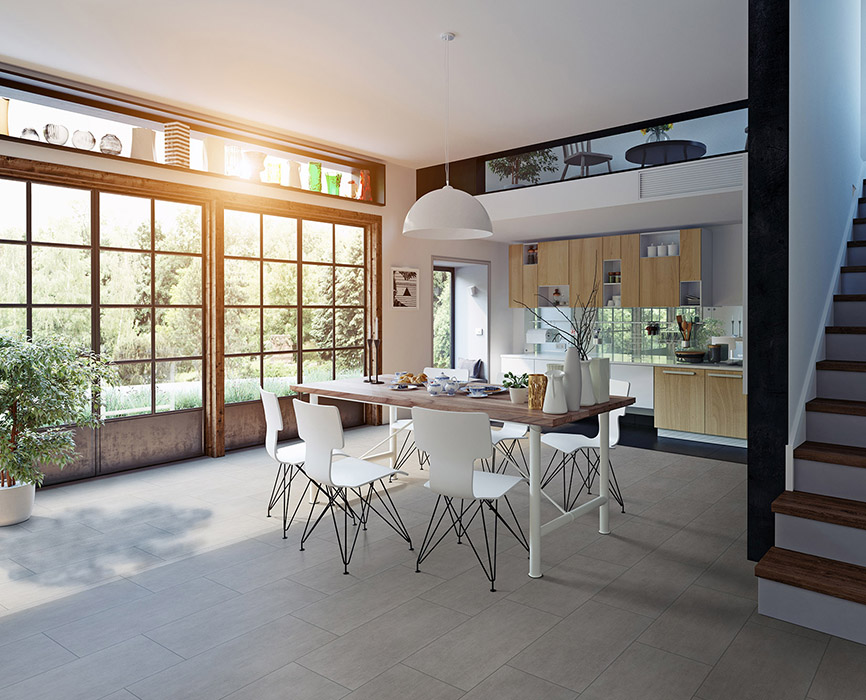 Sunlight, space, and Ceramic Gridscale (Graphite) floors put this kitchen in dreamland territory. (We're ready to pack our bags and move in.)
Nostalgia for the good old days has an edgy, moody side. And it takes the form of dark and dreamy colorways, and in many cases, a matte finish. On walls, countertops, and floors, we're curating more deep tones – like industrial grays—on hard-working surfaces that look like concrete and cement (Q Premium Natural Quartz™ countertops, and porcelain and ceramic tile).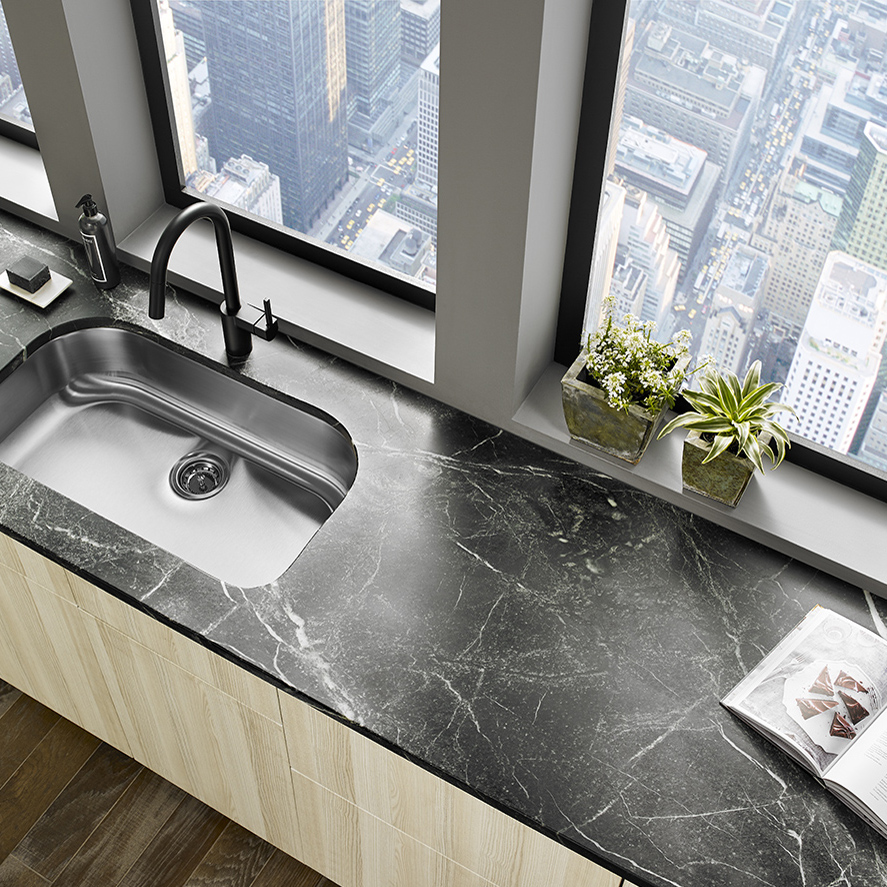 The best views in the house; Black Soapstone looks right at home in this urban kitchen.
While we may not automatically think of retro design in a minimalist context, it plays out today in black and white color stories. When you combine the high-contrast duo with lots of texture, say black countertops paired with white wall tiles, the results are striking and dramatic.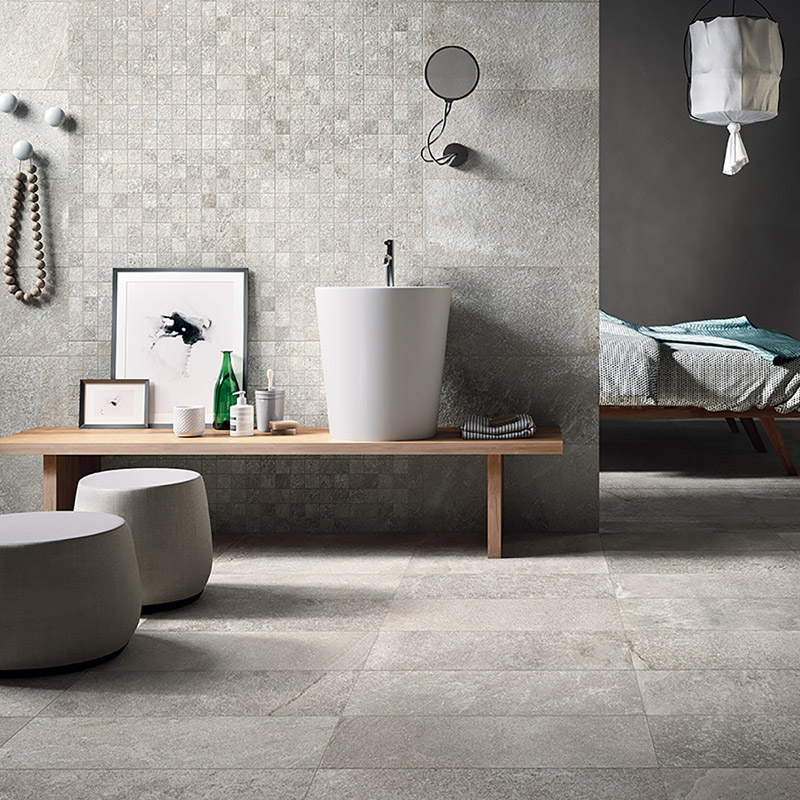 Soho loft, we're coming for you. Meet Porcelain Brixstyle in Glacier underfoot.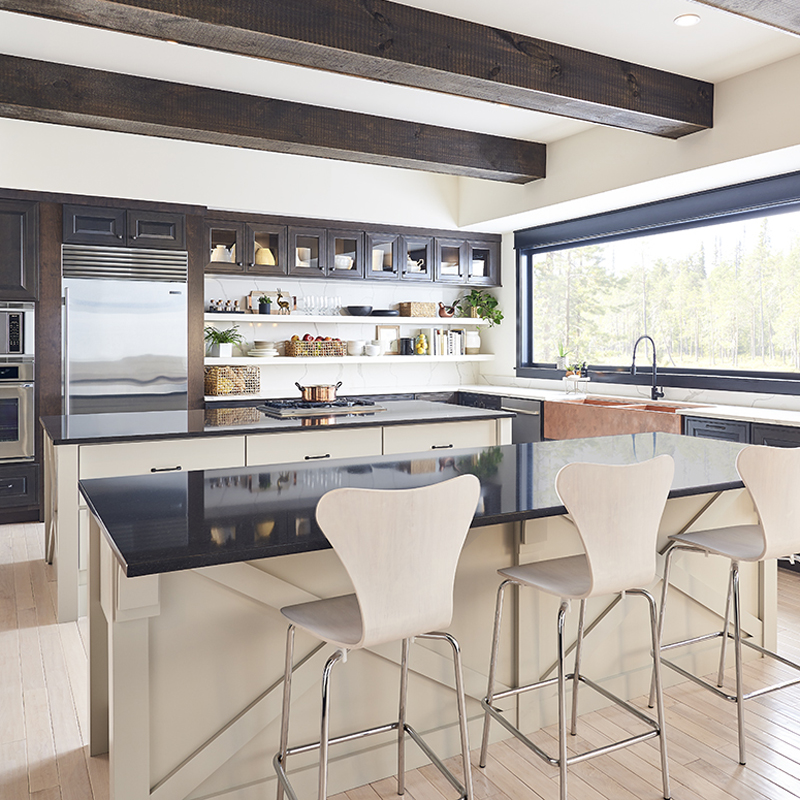 A retro chic kitchen for the design books - with Midnight Majesty Q™ countertops.
Looking to create an opposites-attract industrial vibe? Try a Q™ concrete finish countertop like the new Urban Lava with a Whisper White Subway tile backsplash.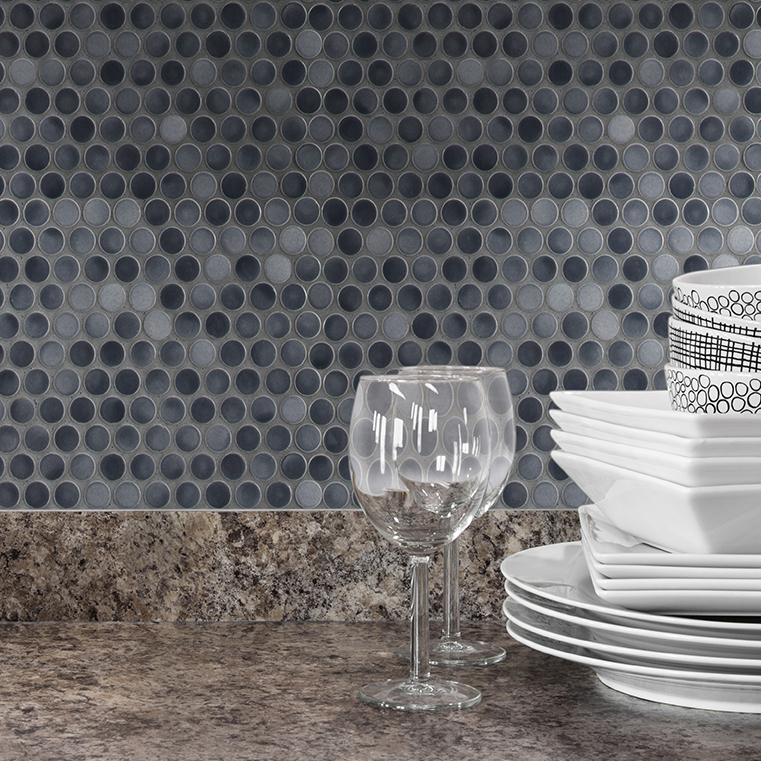 You can't have a true retro revival without Ceramic Mosaic Penny Round tile – shown here in Grigio.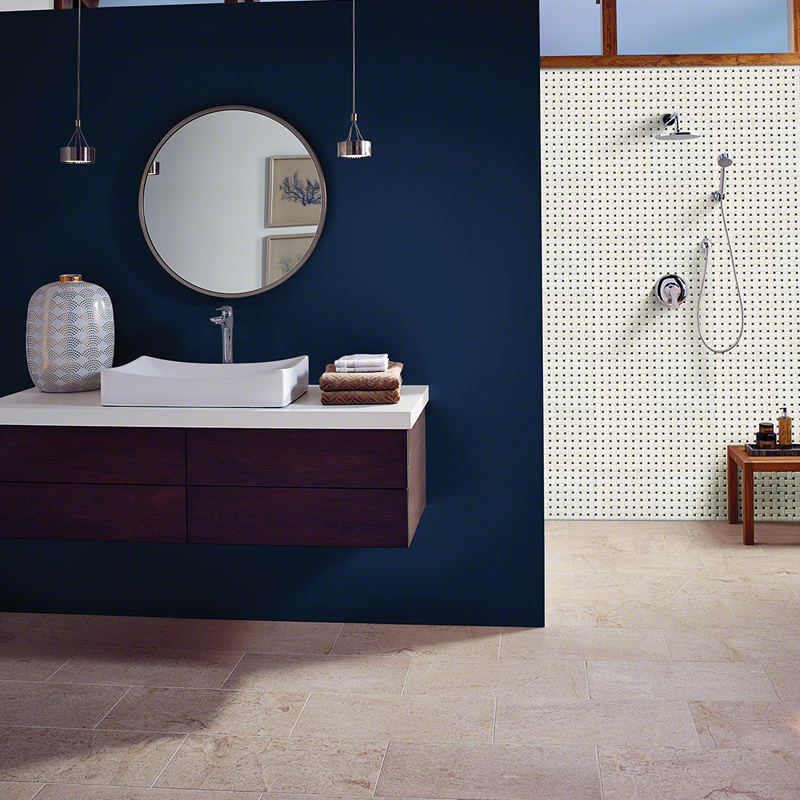 A classic White and Black Matte Basketweave Mosaic from our Domino Collection steps out from its Victorian roots straight into this modern bathroom.