8 Unique Kitchens Featuring Granite Countertops And Dramatic Backsplashes
June 12, 2022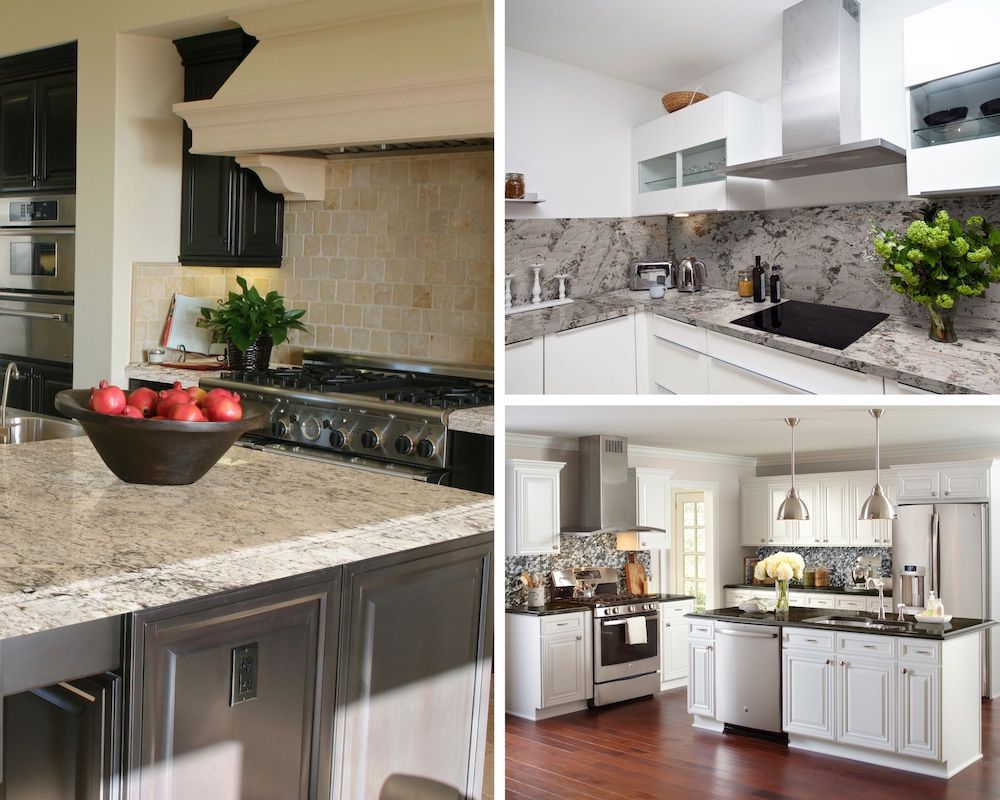 There's no denying that granite countertops offer the incredible strength and durability modern homeowners prefer, but one of the main reasons people choose granite over other natural stone counters like marble or quartzite is the unique and dramatic beauty inherent to this igneous rock.
With so many stunning varieties and dynamic patterns to choose from, there's a perfect granite slab for any home improvement project.
Once you've picked the right variety for your home, it's time to select other elements like cabinetry, hardware, and of course, backsplashes that complement your counters. Since there are so many options for stone, tile, and other backsplash materials, it can certainly be difficult to create a cohesive design that suits your style sensibilities.
Luckily, MSI has the tools to make your life easier. With our backsplash visualizer, you can input a range of design elements to see how they'll look together in 3D space. Or you can simply peruse some samples of unique kitchen designs that help you get an idea of what's possible.
1. All Granite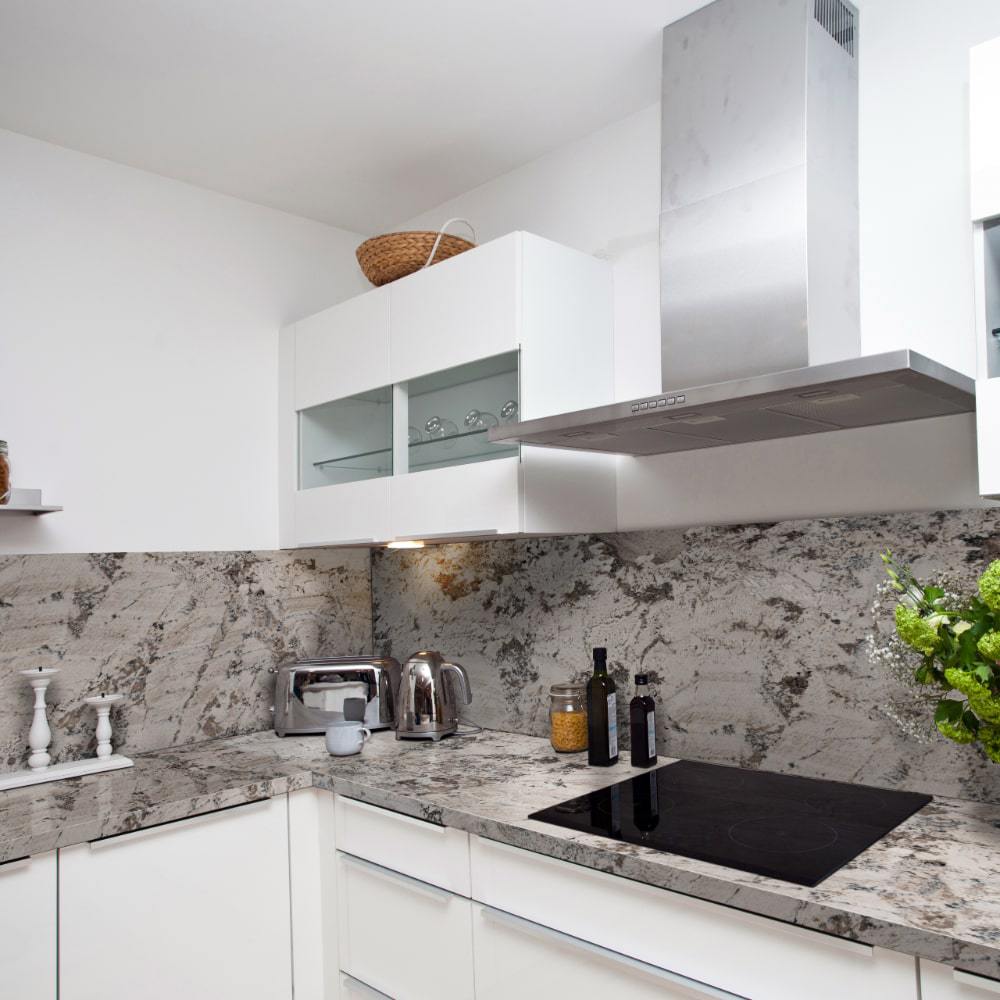 When you find the perfect granite variety to add visual interest and personality to your kitchen, you might want an unbroken display running from the cabinets to the countertop edges. This cohesive look can be especially breathtaking when you choose a heavily patterned, high-variation granite like Gray Nuevo.
Although it features a neutral palette of tones ranging from pale beige to greige to charcoal gray, the intense and dynamic patterning, with dramatic dark patches painted across a pale background, make this particular granite variety an instant focal point. Extending the countertop material up through the backsplash creates an even bolder statement.
Naturally, you'll want to consider granite countertop costs before deciding if adding a stone backsplash works for your budget. But when you choose the same material for the counter and backsplash, you have an opportunity to create an impressive visual display that serves as the centerpiece of your design.
2. Clean and Classic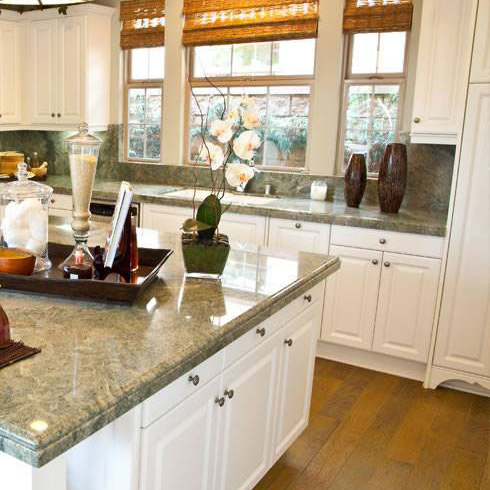 When it comes to home improvement, everyone has different ideas about what's attractive. Many homeowners are interested in a timeless style that features neutral colors but still has loads of personality.
One great way to add interest to the classic Whisper White subway tile backsplash is with a vibrant granite variety and decorative mosaics to complement the tile. A good place to start is with Bianco Romano granite, featuring a dappled white and gray background marked by flecks of dark brown and black.
The movement is subtle but mesmerizing. The colors in the countertop mesh with the white subway tile and harmonize with a decorative band of mosaic tiles in charcoal-dark Retro Stax. This makes for a cohesive and singular kitchen design.
3. Bold Black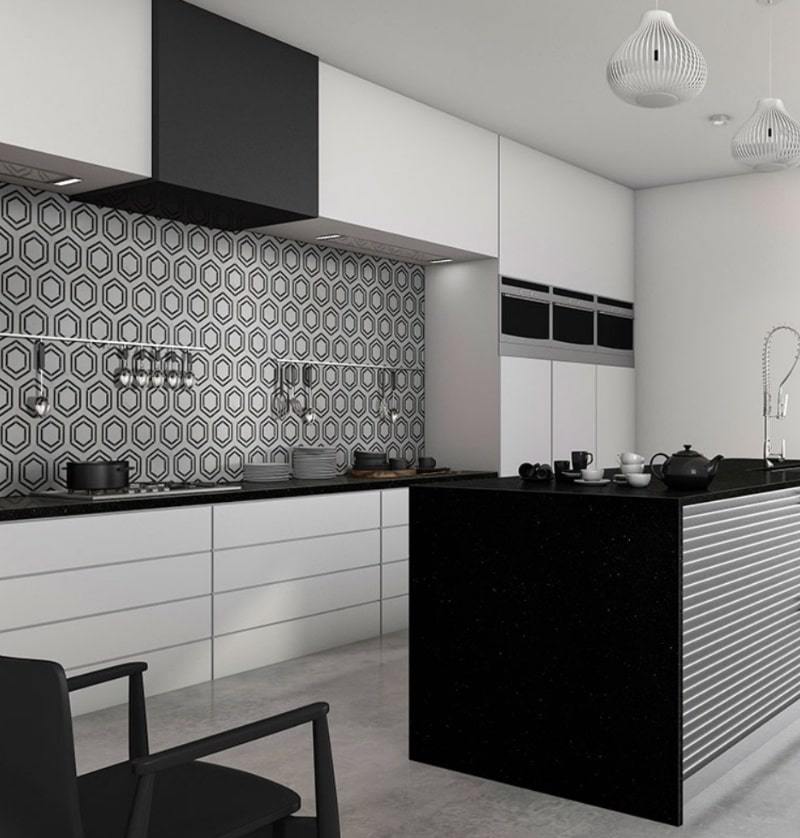 Black Galaxy is striking, even among the vast array of attention-grabbing granite colors, because of the depth and dimension of its inky black surface, beset by glittering white and gold specks. It's particularly prominent in a largely white kitchen, especially when extended to the floor as a waterfall island.
Finding the perfect backsplash can be tricky with countertop materials that are solid colors. You could go with a bold tile since the counter offers virtually no pattern; still, it's best to draw from other colors in the design to ensure that the backsplash doesn't overwhelm the room.
Georama Nero polished tile is a great choice here. The simple geometric pattern with black and white hexagons pairs perfectly with white cabinets and black countertops. It serves to pull the whole room together with a modern take on a modish style.
4. Colorful Contemporary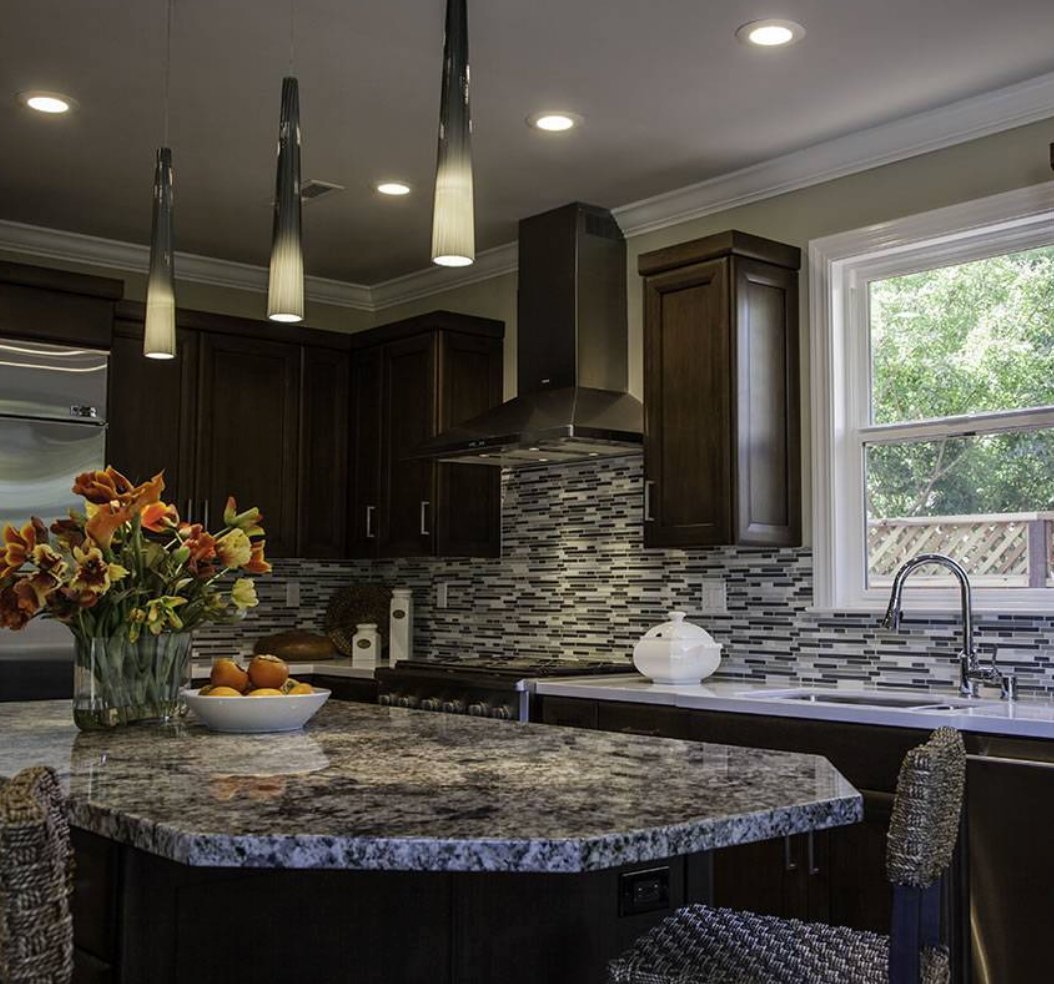 If you're fond of color and pattern, you may be keen to add some pop to your color scheme and create visual interest with a mix of geometric and organic patterns. Start with a countertop in bold Blue Flower granite.
This variety features a white background heavily stamped with espresso graining and patches of blue that do, indeed, resemble a floral motif. With such bold colors and patterns on display, the safe bet would be a plain backsplash, but you needn't succumb to conformity in your kitchen remodeling process.
Adding Akaya Nero interlocking glass tile for the backsplash, with a combination of small pieces in gray, charcoal, black, and silvery pearl will elevate the overall design without overtly competing with the counter material.
5. Traditional Counter and Backsplash Combo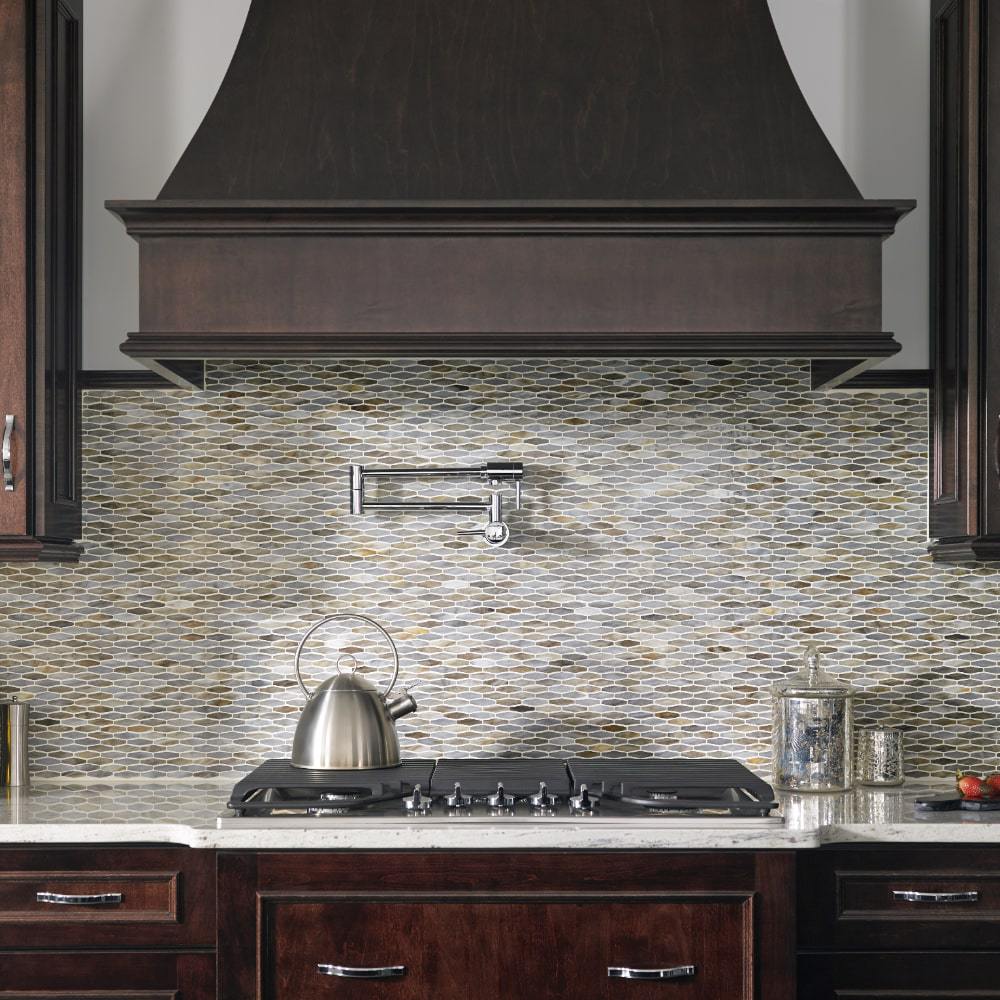 Hailing from Norway, Blue Pearl granite is a riot of color and coarse graining in hues of gray, black, and dark blue with silvery-blue crystals densely scattered throughout. It's eye-catching, and it's even more stunning when paired with the right glass tiles for the backsplash.
Mochachino hexagon tile, in high-variation hues of cool gray and gold, may seem like a strange choice. While the grays certainly draw on colors in the granite, you might worry that the gold will clash. However, the match-up adds warmth that perfectly ties in with rich, wooden cabinetry. In other words, it's the linchpin of the entire kitchen design.
6. Unexpected Pairings
An all-white kitchen can certainly be breezy and pristine, but it can also appear a bit spartan if you don't spice it up with color and contrast. In truth, you don't have to go crazy to add a bit of visual interest and personality like a professional interior designer.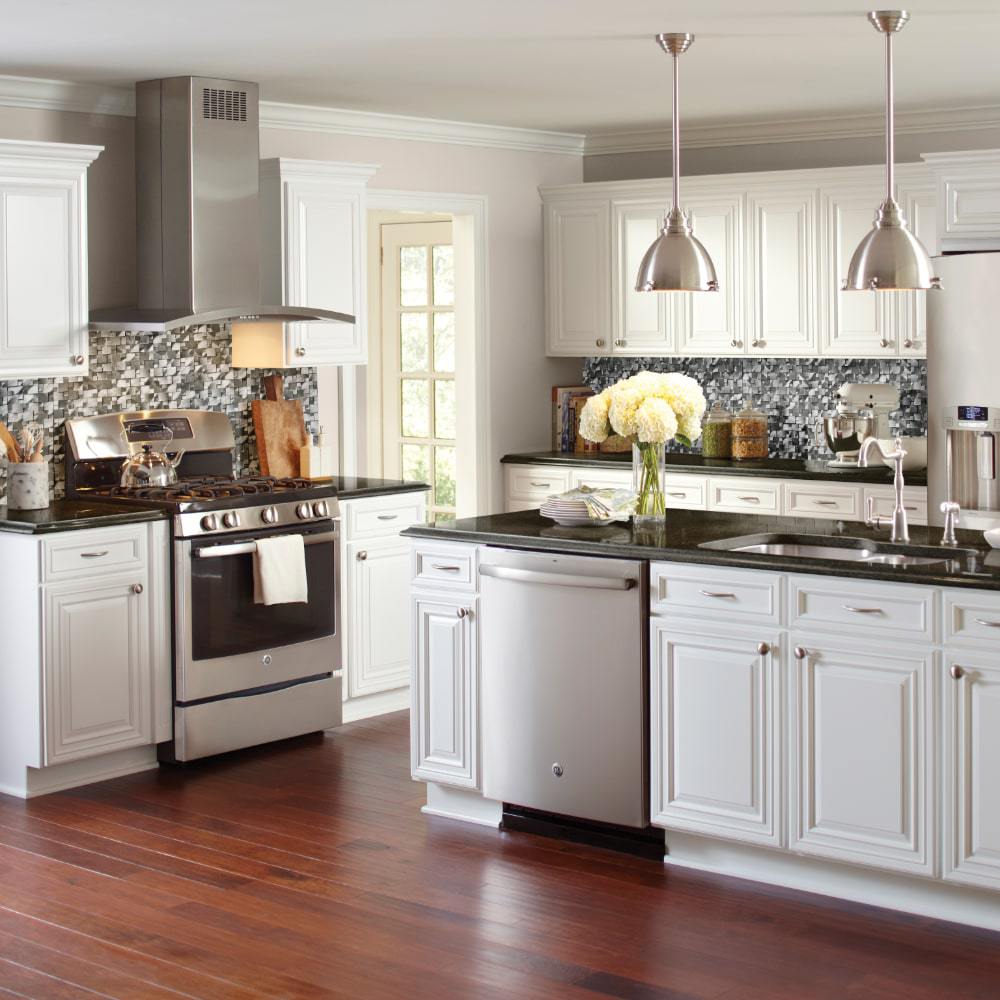 The pairing of Black Pearl granite and Silver Aluminum 3D backsplash tile is a revelation, especially with white cabinets and stainless steel appliances. The black granite, featuring barely-there speckles in silver, gold, gray, green, and brown, presents as a largely flat surface, creating the perfect counterpoint for a high-variation, 3D metal backsplash tile in aluminum.
The materials hide stains and scratches, not to mention daily dust, splatter, and more. They also create incredible visual interest in what could otherwise be a rather staid monochrome kitchen.
7. Stone on Stone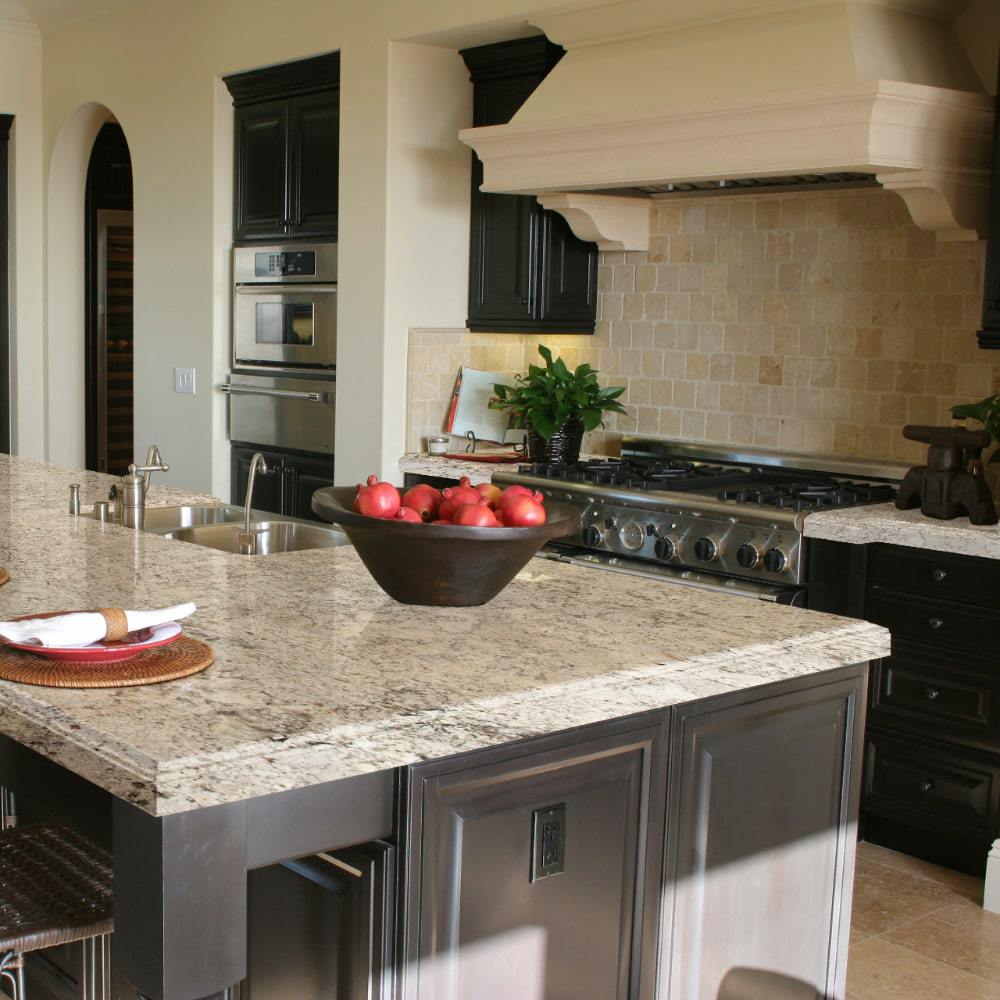 Just because you've chosen a stone countertop doesn't mean you can't have a stone backsplash. While plenty of homeowners opt to extend their countertop material into vertical space with a matching backsplash, you can also select a completely different but complementary stone.
For example, creative kitchen designers might pair a warm and richly patterned Snowfall granite countertop with a backsplash in complementary Tuscany Classic travertine tiles.
The gentle beiges and light browns of the travertine are the perfect highlights for the soft whites and tawny browns of this Brazilian granite, and the relative lack of pattern in the travertine allows the charcoal and ebony webwork on the counter surface to stand out.
This combination of two different natural stone elements proves that the right pairing can yield beautiful and sophisticated results, as long as you're daring enough to give an unusual design choice a try.
8. Neutral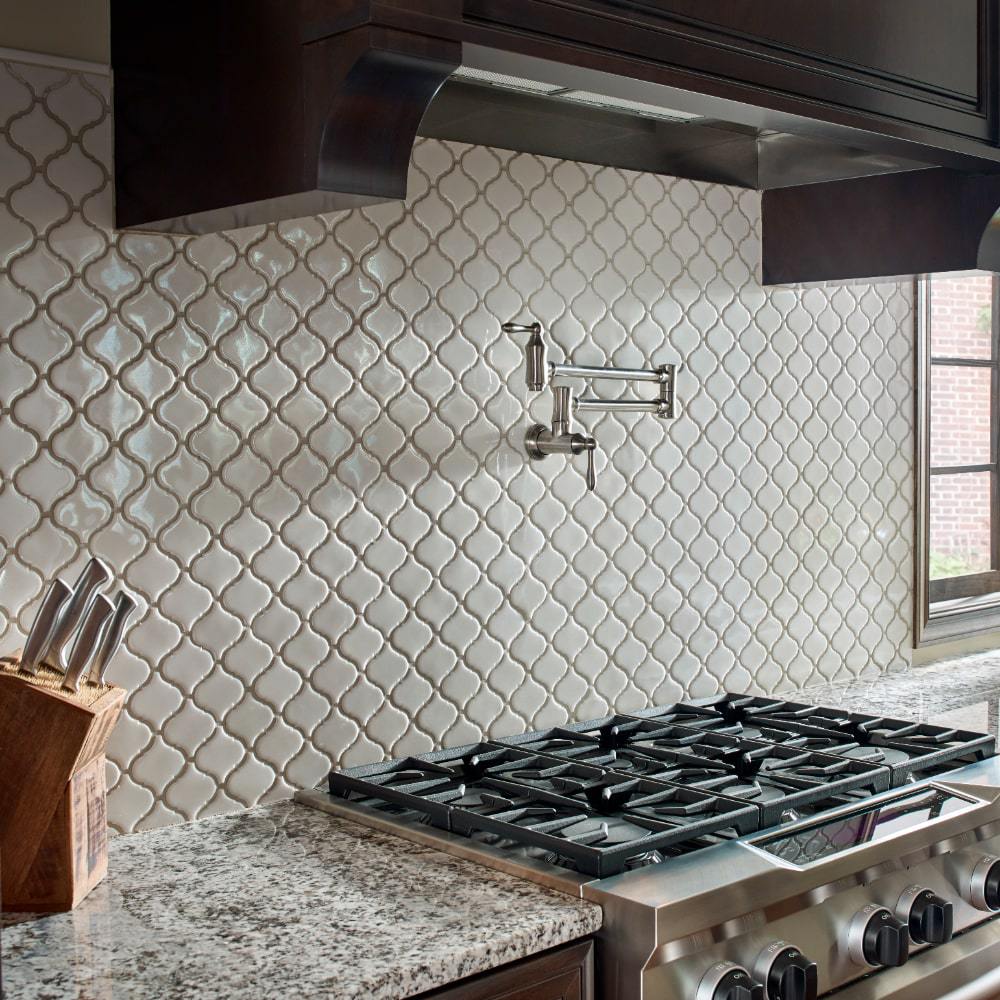 Believe it or not, neutral kitchens can be quite dramatic! With countertops featuring dappled browns and creamy tones, as you'll find with Alaska White granite, you can accent rich, mahogany cabinets, add beautifully colorful decor, and more, all without worrying about clashing designs.
The Perfect Way to Upgrade Your Kitchen
With so many different granite counters, patterned tiles, and other backsplash materials, it's easy to find the perfect elements for your kitchen upgrade with MSI. All you have to do is peruse inspirational designs and play with the visualizer tools until you lock in your perfect combination of design elements.