How Often Do Quartz Countertops Need To Be Sealed?
October 01, 2018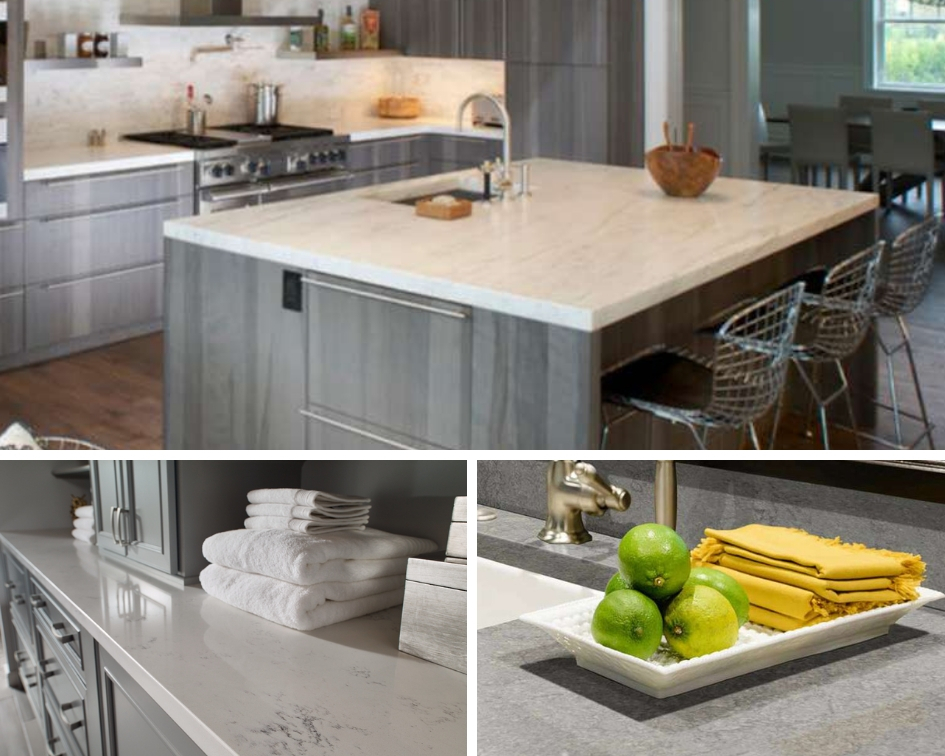 Many homeowners desire luxury surfaces for their kitchen or bathroom, and countertops topping the list include marble, granite, and quartzite. But quartz is also right up there! And because the engineered stone often gets grouped together with the mentioned natural stone options, it's easy for someone to assume that a quartz countertop requires the same maintenance.
Unlike real stone, quartz never needs to be sealed. That's because it's a non-porous surface that blocks liquids and stains from ever penetrating through the surface. While the countertop mostly consists of quartz, one of Earth's hardest minerals, it's also mixed with a resin that makes quartz a rock-solid choice that's stronger than natural stone.
This low-maintenance countertop is easy to keep clean. A damp sponge and a little mild dish soap is all that's needed to wipe up daily spills or messes. While you wouldn't want water sitting on marble, it's okay to set a damp towel on your new quartz countertop to help a stubborn mess loosen before wiping it with a damp sponge and dish soap. Just remember that you never want to use harsh chemicals or anything abrasive on quartz because it might etch the surface. Best of all, no scheduled maintenance is required! In addition to never sealing your countertop, you won't have to worry about waxing or polishing it either.
Now that you know how little maintenance quartz requires, let's take a look at some of our favorite inspirational installs!
Stellar Gray
Stellar Gray is a perfect countertop for a modern design scheme. The low-variation quartz countertop features a mid-tone gray background with added flecks for character. The gray color gives this ultra-modern kitchen a more industrial feel, and the cool tones contrast with the warm wood cabinetry and flooring.
Carrara Marmi


Carrara Marmi is a marble look quartz with an elegant touch. The soft white background and whispery gray veins work well against the gray cabinetry. The durable quartz gives this traditional bathroom space a more luxurious look, and you'll never have to worry about water spots or spills damaging your surface!
Carrara Caldia
Carrara Caldia features a color scheme and pattern that can go with ultra-modern to classically elegant spaces. Its cream-colored background and soft golden veins add to the high style of this contemporary kitchen. While the main components are neutral in tone, the quartz countertops, cabinetry, and backsplash wall tile all include subtle patterns that make for a more interesting cooking space.
Meridian Gray
Meridian Gray includes subtle flecks across the mid-tone gray background. It's a top quartz pick because the low-variation neutral can go with just about any style and coordinates well with a wide variety of materials. The design of this Scandinavian-inspired kitchen nicely mixes the cool gray tones against the warm woods and whites.
Gray Lagoon Concrete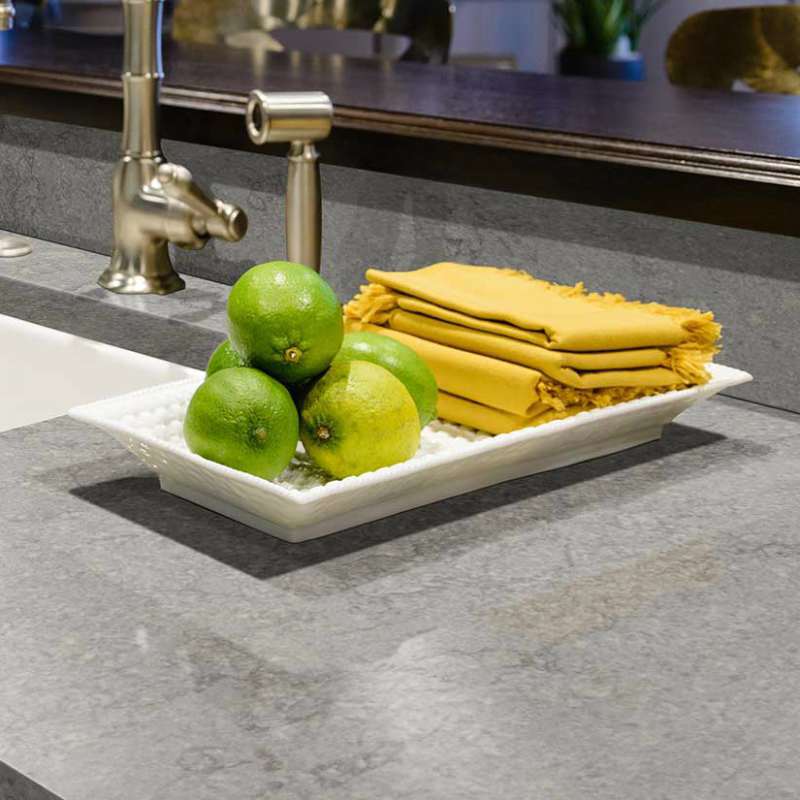 Featured: Gray Lagoon - Concrete Finish Quartz
Gray Lagoon Concrete quartz mimics the look of real concrete with its mix of cool grays and warm golds all in a textured pattern. The brushed-like finish adds to the velvety texture and modern look. Real concrete, like marble countertops, has to be sealed regularly, but you can get the industrial vibe without the mandatory maintenance.
Quartz is one of the most popular countertop surfaces because of its low-maintenance qualities, and it comes in a wide variety of stunning quartz countertop colors to go with any design aesthetic. The durability and cleaning ease it offers is also another plus, especially for busy families. Check out this article for more tips on how to clean your kitchen fast!
Read More About Quartz Durability, Care, and Maintenance:
Is Bleach Safe to Use on Quartz Countertops
The Dos and Donts of Quartz Countertops Care
How To Keep Quartz Countertops Looking New
Choose These Quartz Countertops and You'll Never Stress About Counter Care Again
Helpful Hints for Up Keeping Your Quartz Countertop
Do Quartz Countertops Need a Special Cleanser?
Beautiful Low Maintenance Quartz Countertops
Easy Quartz Countertop Care and Maintenance
Simple Guide to Quartz Countertop Care And Maintenance