Which Edge Treatment Is Right For Your Countertop?
January 11, 2023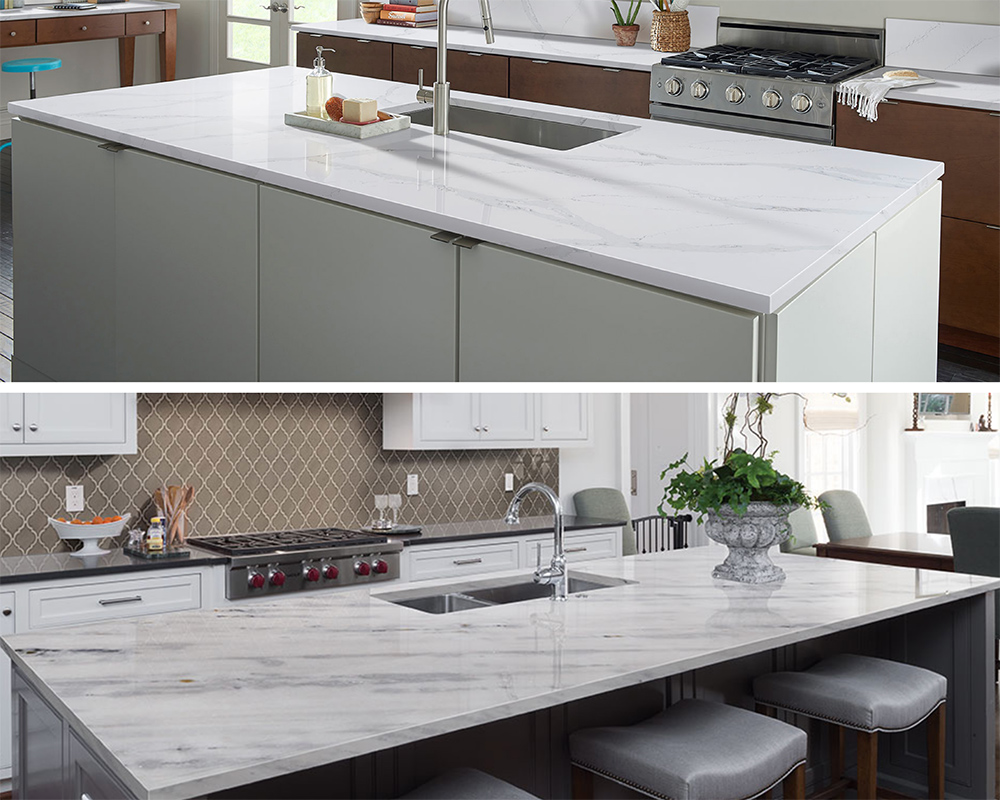 A lot goes into selecting the right countertop for your kitchen, bathroom, or other renovation projects. First, you'll need to choose the materials that best suit your practical needs and aesthetic preferences. Then, after you decide on marble, granite, or quartz, you'll look for the perfect variety and slab.
You'll also have to pay attention to details like polished or matte finishes and the style of edge you prefer for your countertops. When you first start looking at edge treatments, you'll find dozens of options, including flat, rounded, beveled, or more intricate countertop edges.
MSI offers a wide range of edge treatments to suit your architectural style, your preferred level of embellishment, your chosen countertop materials, and practical concerns like safety for children in your household.
Choosing the right countertop for your home and interior design can feel overwhelming. So how can you narrow your options? Learn more about a few of the most popular designs and what they offer in terms of function and style.
EASED EDGE
One of the most commonly chosen countertop edges is the eased edge, thanks to its streamlined simplicity that works with nearly any aesthetic. Also called a standard edge, this minimalist style features a squared, straight edge on both the top and underside of the countertop.
The eased edge delivers a clean, modern look that goes well with popular flat-panel and Shaker cabinet designs. Still, it could also recede in more decorative or traditional kitchen designs.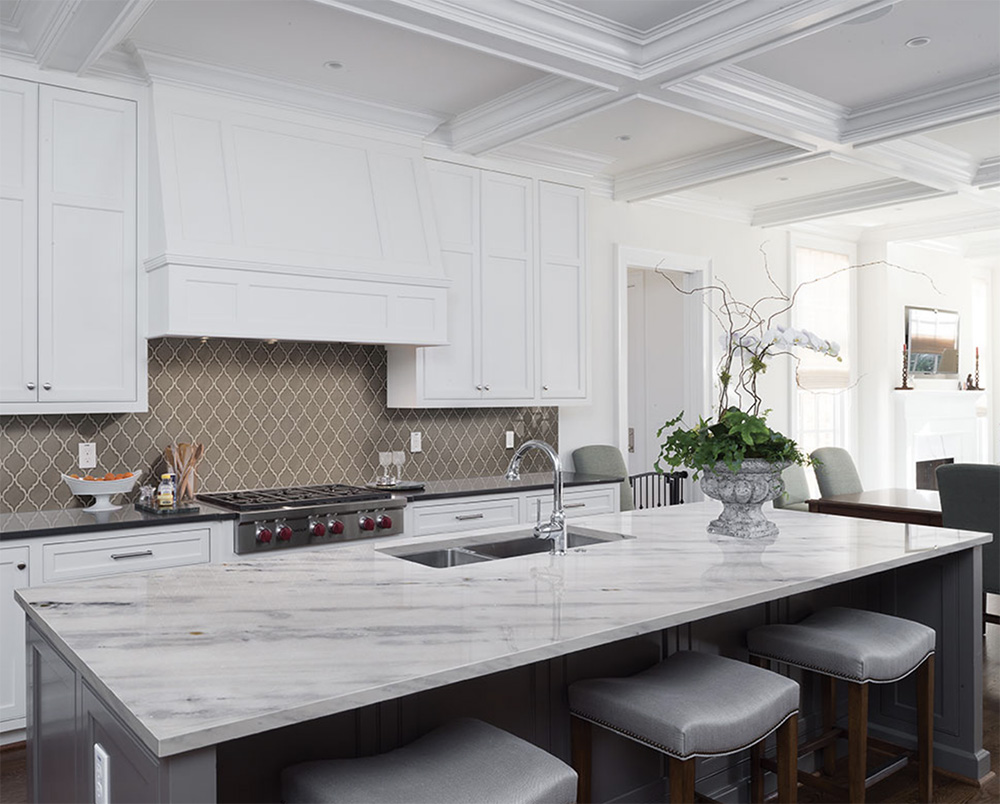 Arabescus White Marble featuring an Eased Edge.
It's also great for more expressive stone varieties. Kitchen designers often try to strike a balance with details so that a room doesn't feel overwhelming — or, alternately, boring.
When you choose this dramatic granite featuring a blend of cream, brown, and gray patches that create incredible movement across the surface, simple detailing like an eased edge won't compete with the stone itself.
BULLNOSE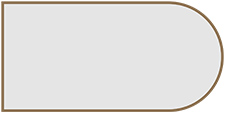 A bullnose edge is a great option for countertops in kitchens designed for busy households. Not only are rounded edges softly attractive, but they also have practical advantages. For one thing, this edge is gentler should kids knock up against it. It also helps deflect the impact of heavy pots or pans, reducing the risk of chips, cracks, or other damage.
This edge treatment is ideal for a dynamic stone like Alpine White granite, with a white background and chunky markings ranging from light to dark gray. With so much visual interest, a plainer edge is complementary rather than competitive.
HALF BULLNOSE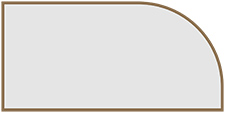 There are many reasons to love the half-bullnose design, which features a rounded upper edge with a straight bottom edge. For starters, it juxtaposes soft and hard surfaces, creating a subtle yet eye-catching addition to your kitchen remodeling plan. It takes a basic design to the next level.
In addition, this practical treatment acts like the eaves on your home in a rainstorm. When you spill, splash, or splatter while cooking meals or rinsing pots, the water that goes over the edge will drip straight to the floor below rather than running down the cabinetry first. This makes for easier cleaning and less potential damage.
Stone varieties and countertop costs are important considerations, but you might be surprised by how much the edge treatment you choose can impact your daily life.
TRIPLE BULLNOSE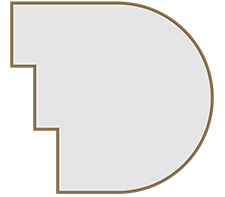 This edge design offers maximum bullnose appeal; it is the most rounded treatment available. In comparison, half-bullnose and basic bullnose edges tend to have a profile ranging from 1.25 inches to 1.75 inches tall, and a triple bullnose edge measures roughly 2.25 inches.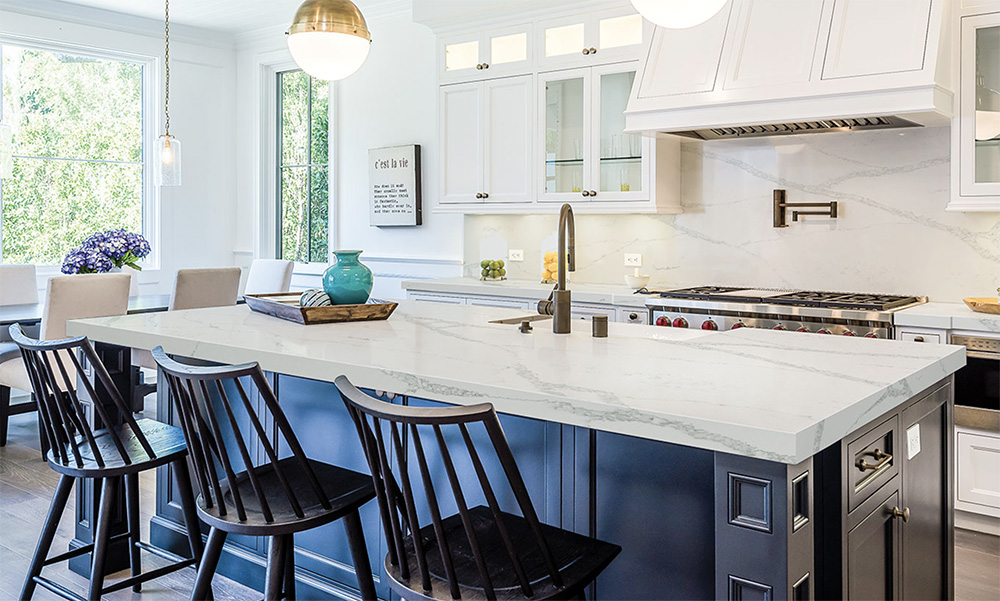 A Calacatta Verona Quartz countertop with an Eased edge.
DOUBLE BEVEL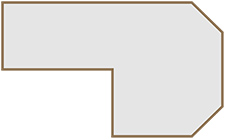 Are you looking to add a lot of curvatures and increased emphasis to the edge of your stone countertop? In that case, this particular treatment creates a sense of understated luxury and refinement while offering the same practical function as a half bullnose.
If you look at a polished standard edge treatment and then shave off each hard edge at a 45-degree angle, you'll get the double-beveled edge.
CLASSIC OGEE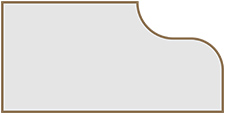 This edge falls between an eased edge and a basic bullnose in terms of style and practical benefits. It adds a little decorative flair to your home improvement project without seeming too embellished or ostentatious.
The ogee edge is a lovely addition to premium surfaces in your home. This classic design features a small, straight edge cut leading into a gentle S-curve that swoops out and down. Not only does this make your countertop look like it has a framing around the edge, but it also has the alluring visual interest of pairing hard and soft planes.
Often used in more traditional design styles, the ogee edge is the perfect way to elevate tranquil, low-variation stone varieties like Portico Cream quartz. With a creamy background marked by soft swipes of greige and gray, this timeless, neutral counter gets a boost from a more decorative edge treatment.
DUPONT BULLNOSE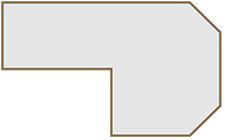 The Dupont bullnose is similar to the Dupont apron edge, but it has a curved bullnose edge added to the bottom of the half bullnose upper portion. It provides a slightly softer appeal that adds practical safety benefits when bumped.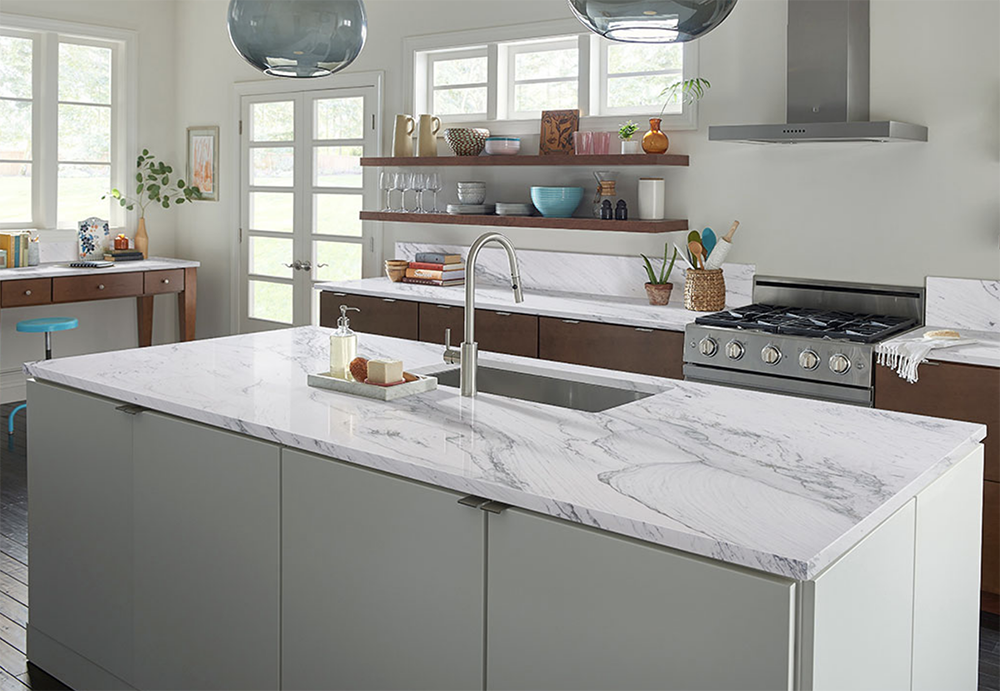 Florida Wave Quartzite with an Eased Edge.
If you're having trouble imagining these edge treatments in your space, visit the MSI Countertop Edge Visualizer Tool to preview your design choices before you finalize your plans.
And for expert help in choosing the right edge treatment for your new countertop, start a live chat now through the chat feature at the bottom right of your screen, visit one of our showrooms or visit an authorized MSI countertop dealer near you.
LEARN MORE ABOUT QUARTZ COUNTERTOPS
6 STUNNING NEW QUARTZ COUNTERTOP COLORS TO SATISFY ANY SPACE
MSI'S TOP 10 LUMALUXE QUARTZ COUNTERTOP COLORS
5 BEAUTIFUL BATHROOMS WITH QUARTZ COUNTERTOPS
6 POPULAR KITCHEN COUNTERTOPS YOU SHOULD CONSIDER FOR YOUR REMODEL