New Quartzite Countertop Colors
October 27, 2016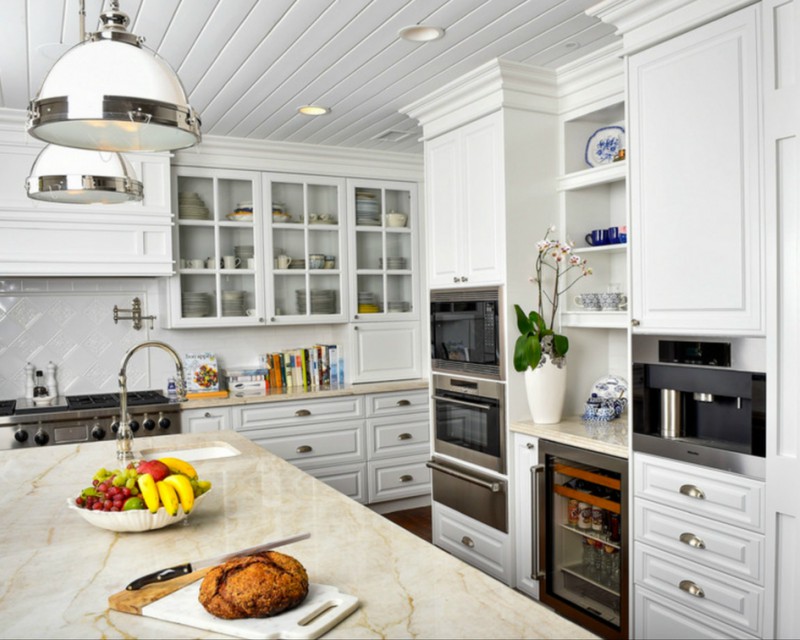 If you want to create a one-of-a-kind kitchen or bathroom, consider including a quartzite countertop. Not to be confused with man-made quartz countertops, which are made of crushed stone, color, and resin, quartzite is a naturally occurring metamorphic rock that begins as sandstone and transforms under intense pressure and heat.
In fact, top interior designers have been recommending this show-stopping natural stone for quite some time. Quartzite countertops make for an interesting conversation piece, and soon you'll have everyone wondering what makes your attractive countertops so unique.
We've included five of our favorite beauties from Brazil. When you're ready to have all eyes on your exotic natural stone, consider one of these new quartzite colors.
Ice Flakes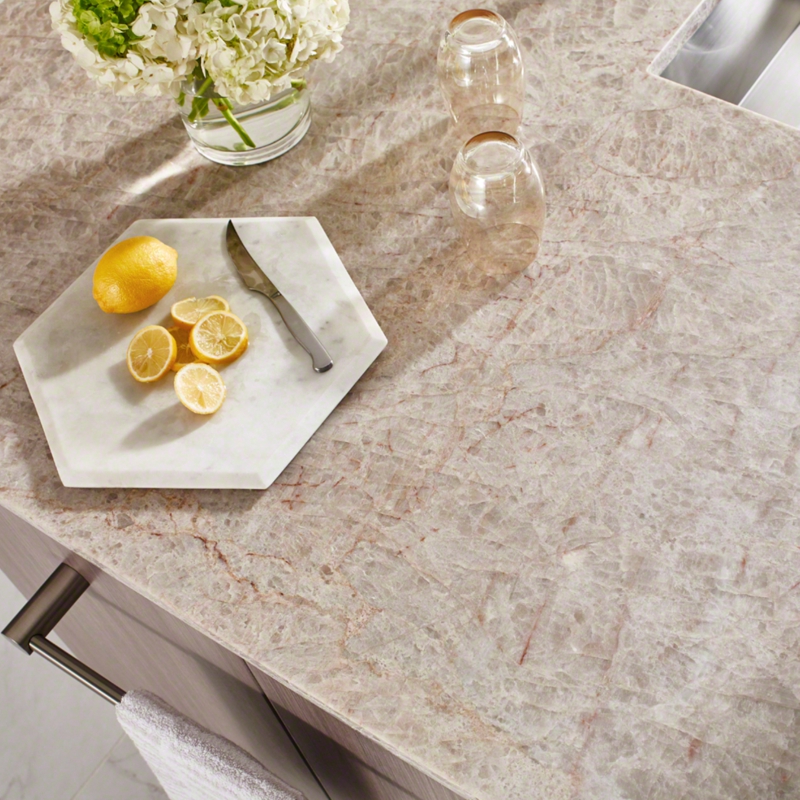 Featured: Ice Flakes Quartzite
As a result of the various patterns present in quartzite, a lighter-colored stone adds an organic quality and gives an extra layer of warmth to any room. Ice Flakes Quartzite features an eye-catching, chunky pattern with a medium variation. Its combination of subtle gray and taupe tones means this countertop plays well with either a traditional or modern aesthetic.
Taj Mahal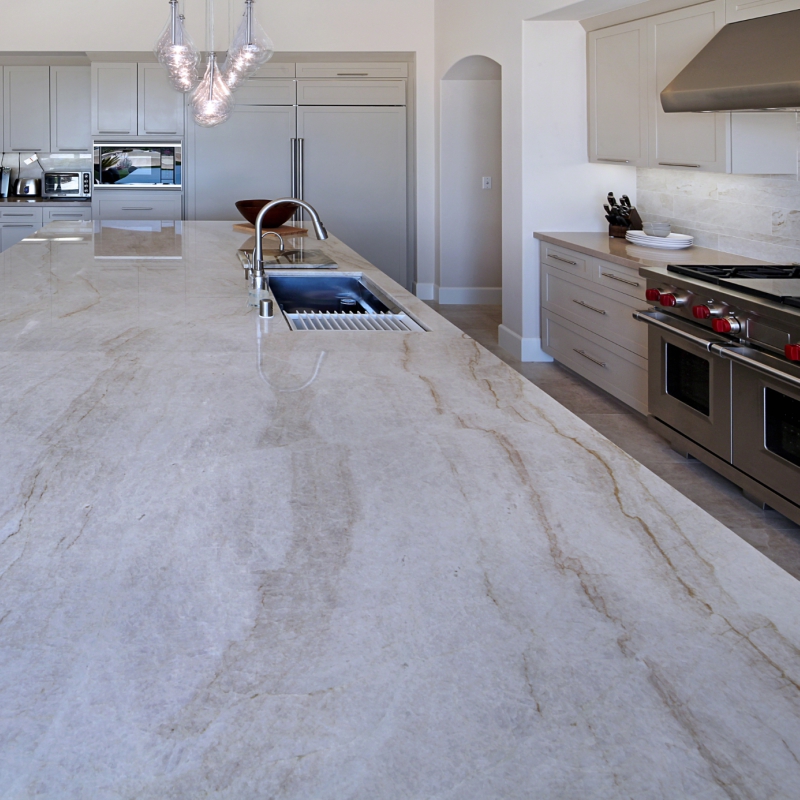 Featured: Taj Mahal Quartzite
For those wanting the high-end look of marble but without the worry, you can't go wrong with Taj Mahal Quartzite. This hard quartzite is a marble-like beauty that offers a similar look. Its soft white background and golden beige veins mimic the classic masterpiece, and it comes in both polished and brushed finishes. While we're on the topic of comparisons, quartzite wears as well as granite and requires less maintenance than marble.
Properly sealing your quartzite not only helps it resist stains and scratches, but also highlights the remarkable movements and veins throughout the stone. When it comes to daily cleaning duties, simply wipe your countertops with a gentle cleanser to get the job done.
Azul Imperiale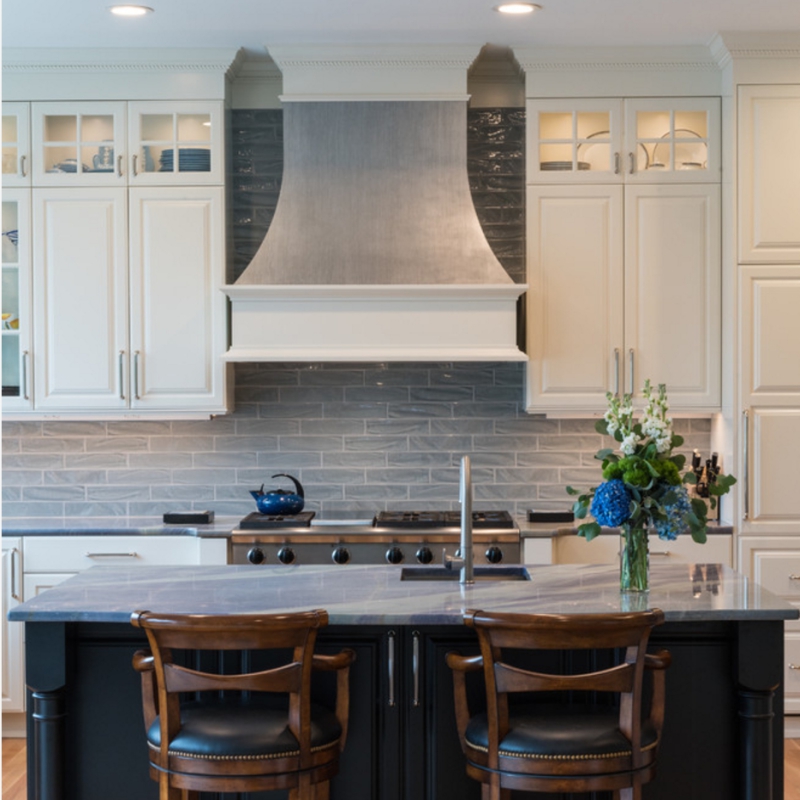 Featured: Azul Imperiale Quartzite
Neutral tones aren't the only color options for quartzite. Depending on its age, the region of origin, and concentration of iron oxides, quartzite is also available in striking hues of pink, red, green, and blue. Azul Imperiale Quartzite creates beautiful movement with its mixture of blue hues and gold and white veins. When paired with white cabinets, this colorful choice perfectly suits a French country, coastal, or traditional kitchen or bathroom.
Crystal Ice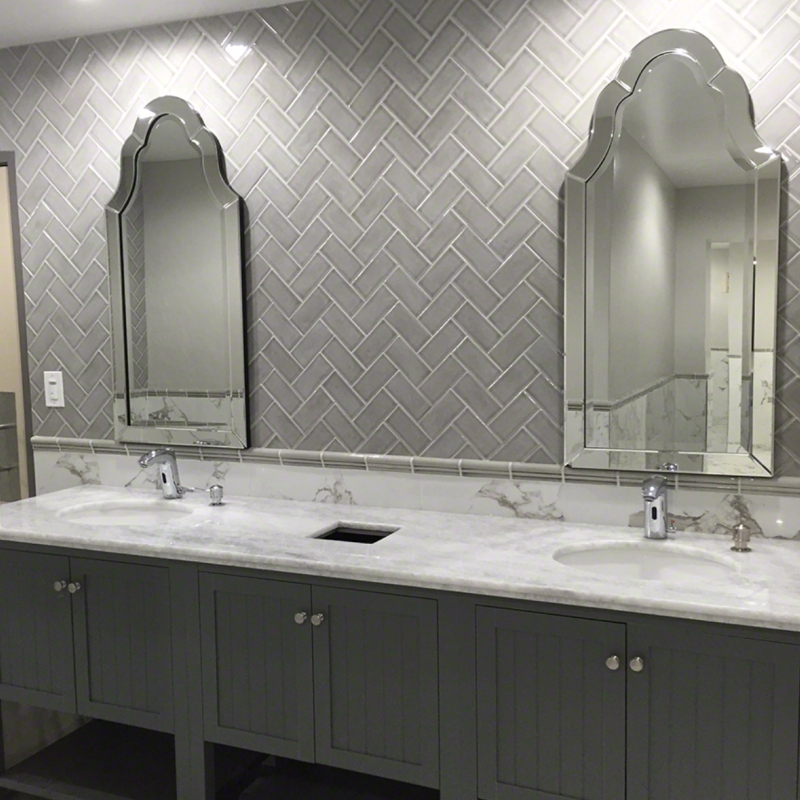 Featured: Crystal Ice Quartzite
For a high-end, sophisticated master bathroom that's perfectly on trend, consider Crystal Ice Quartzite. A beautiful background of soft gray subtly contrasts with wondrous white veins. This bathroom features many gray hues with its classy countertop, herringbone backsplash wall, stainless fixtures, dark gray cabinets, and elegant mirrors.
Sonora Gray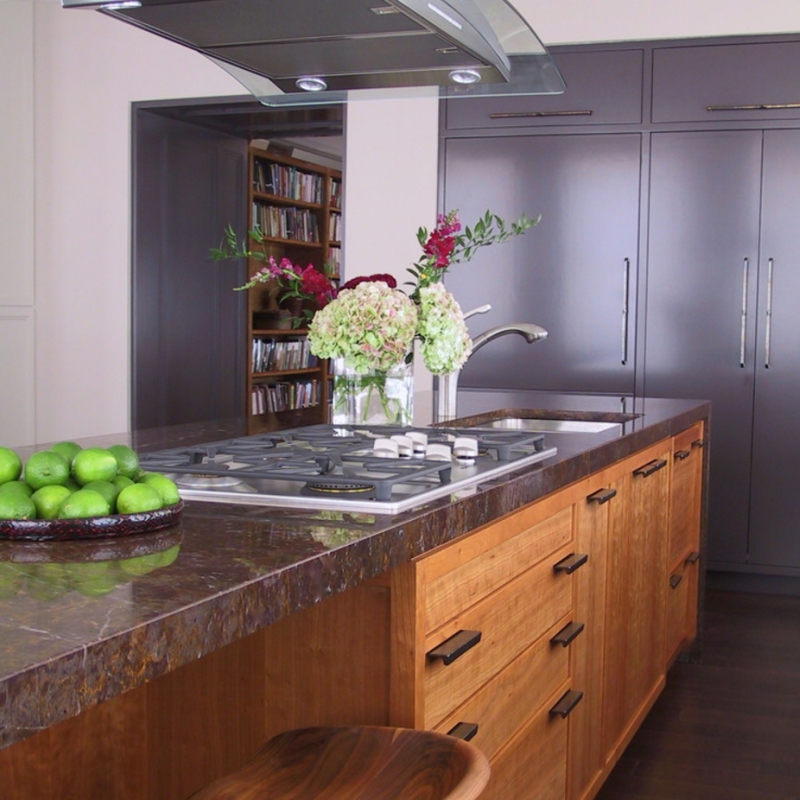 Featured: Sonora Gray Quartzite (image source)
Give your space a handsome, rock-solid surface with Sonora Gray Quartzite. With its warm brown tones mixed with gray and black veins and small flecks, this darker stone is ideal for busy cooks in need of hardworking kitchens. The durable slab will hide dirt more easily than a white or neutral countertop. This kitchen includes an interesting combination of sleek and rustic. The wall of cabinets ties in with the various colorings found in the Sonora Gray quartzite, while the warm wood cabinets give the kitchen a natural, cozy feel.
Designers have fallen in love with quartzite countertops, and it's easy to see why! This natural stone beacons attention in the most regal fashion without overwhelming a room. Explore the complete quartzite collection in the countertop section of MSI's website.
LEARN MORE ABOUT QUARTZITE COUNTERTOPS
The Dazzling Durability Of Quartzite Surfaces
Quartz Vs. Quartzite - The Real Difference
Does Quartzite Need To Be Sealed?