MSI's 10 Most Popular Quartz Countertop Colors
December 05, 2021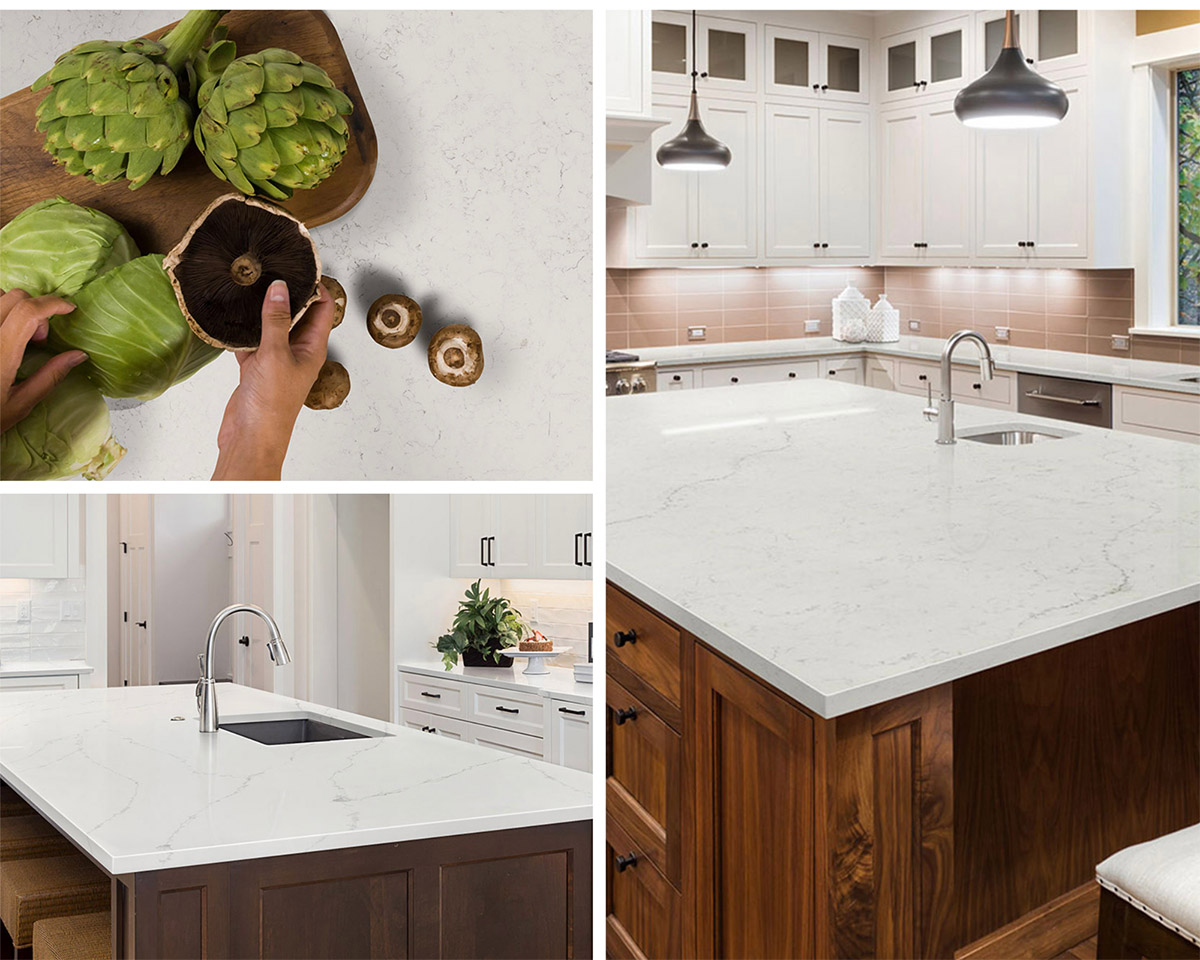 Did you know that Quartz is rated as the best countertop material? Given that quartz is incredibly durable, stain-resistant, a good value, and even eco-friendly, we have to agree with its rating. Plus, there are dozens of quartz countertop colors you can choose from for your dream kitchen.
You don't have to choose between beauty, luxury, and durability when you go with quartz countertops. You can have it all and make a great long-term investment at the same time. With all of the benefits of quartz, the hardest choice you'll have to make is deciding which color countertop to choose.
In this guide, we're going to show you our most popular quartz countertop colors and patterns so that you can find the one that matches your style. Let's get started.
1. Calacatta Alto White Quartz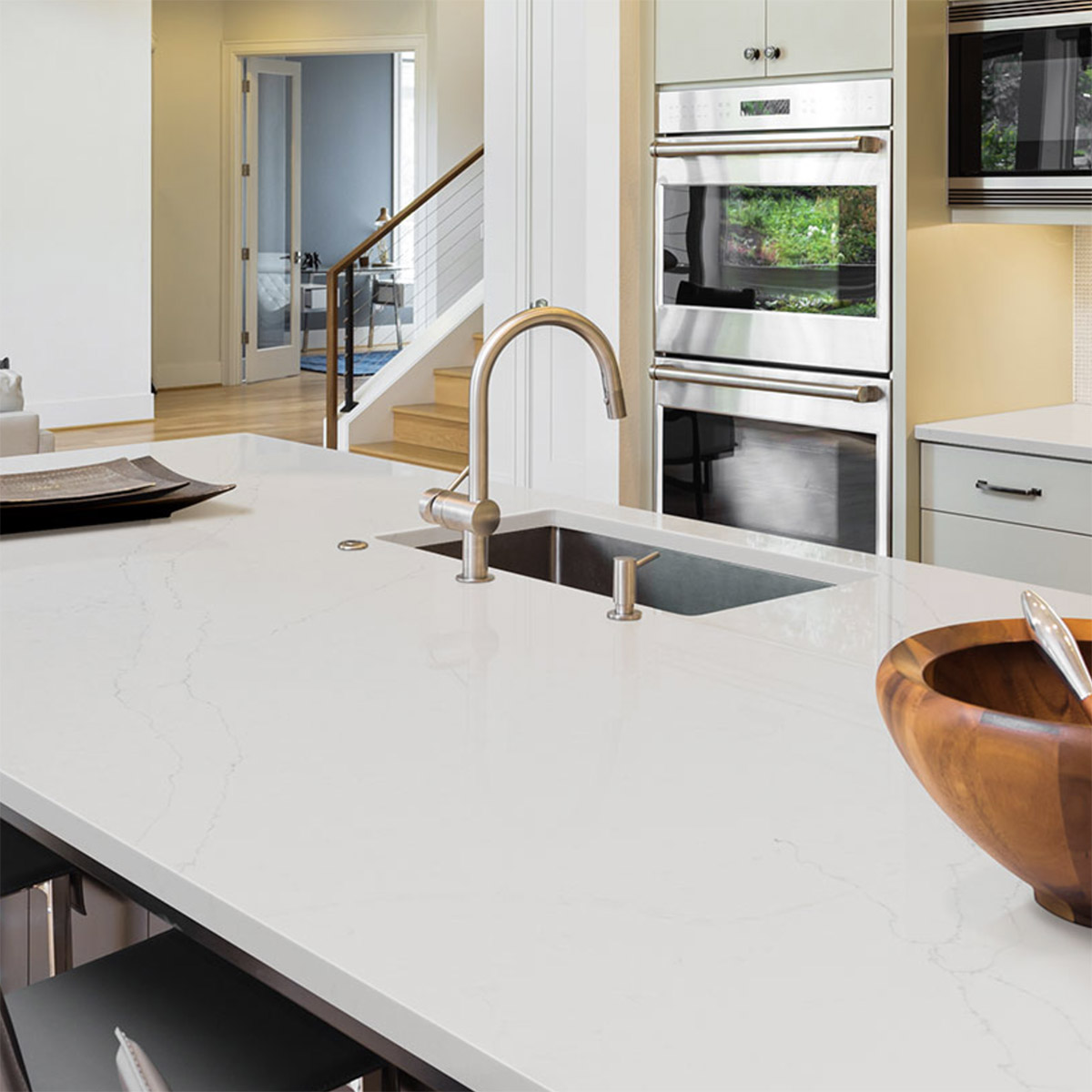 Calacatta Alto Quartz
If you're going for an elegant light and bright look in your kitchen, the Calacatta Alto Quartz is a perfect choice. Since it's a neutral cool color, this countertop will match any style of kitchen, so you don't have to worry about your decor evolving over the years. With delicate grey veining, this countertop color is a great example of quartz that looks like marble. However, engineered quartz is much easier to take care of than marble because it is non-porous and doesn't need to be sealed.
2. Carrara Breve Quartz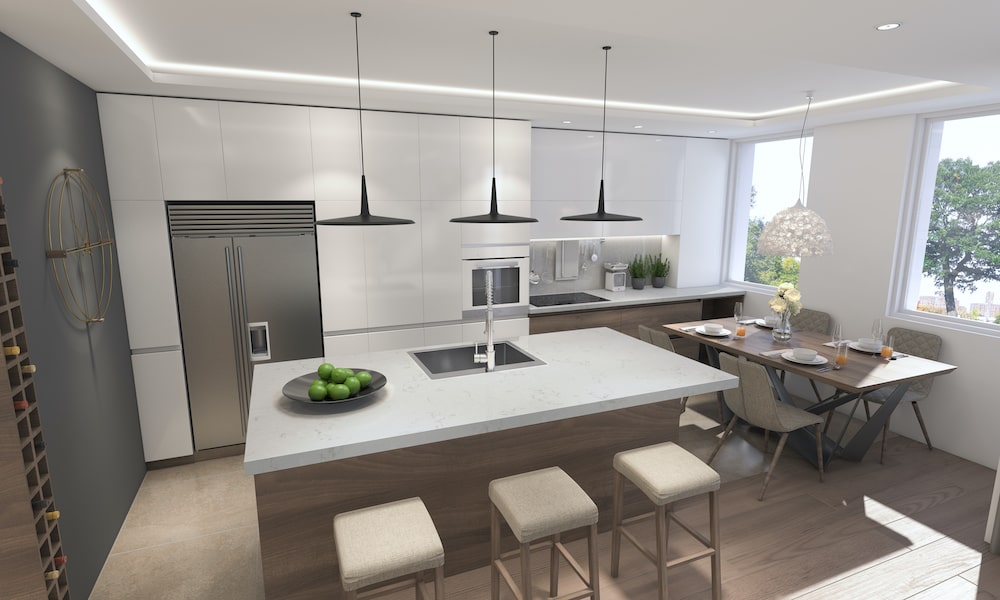 Cararra Breve Quartz
Sleek and modern, the Carrara Breve quartz countertop looks like a one-of-a-kind work of art. The warm white background color is grounding and comforting, while the gold and brown veins sparkle. If you are shopping for kitchen countertops that will wow guests and look like it was custom-designed for you, the Carrara Breve quartz is what you need. It is a perfect example of the luxury and durability crossover that only engineered quartz can offer. Additionally, thanks to its non-porous surface, it won't hide germs or bacteria.
3. Calacatta Lavasa Quartz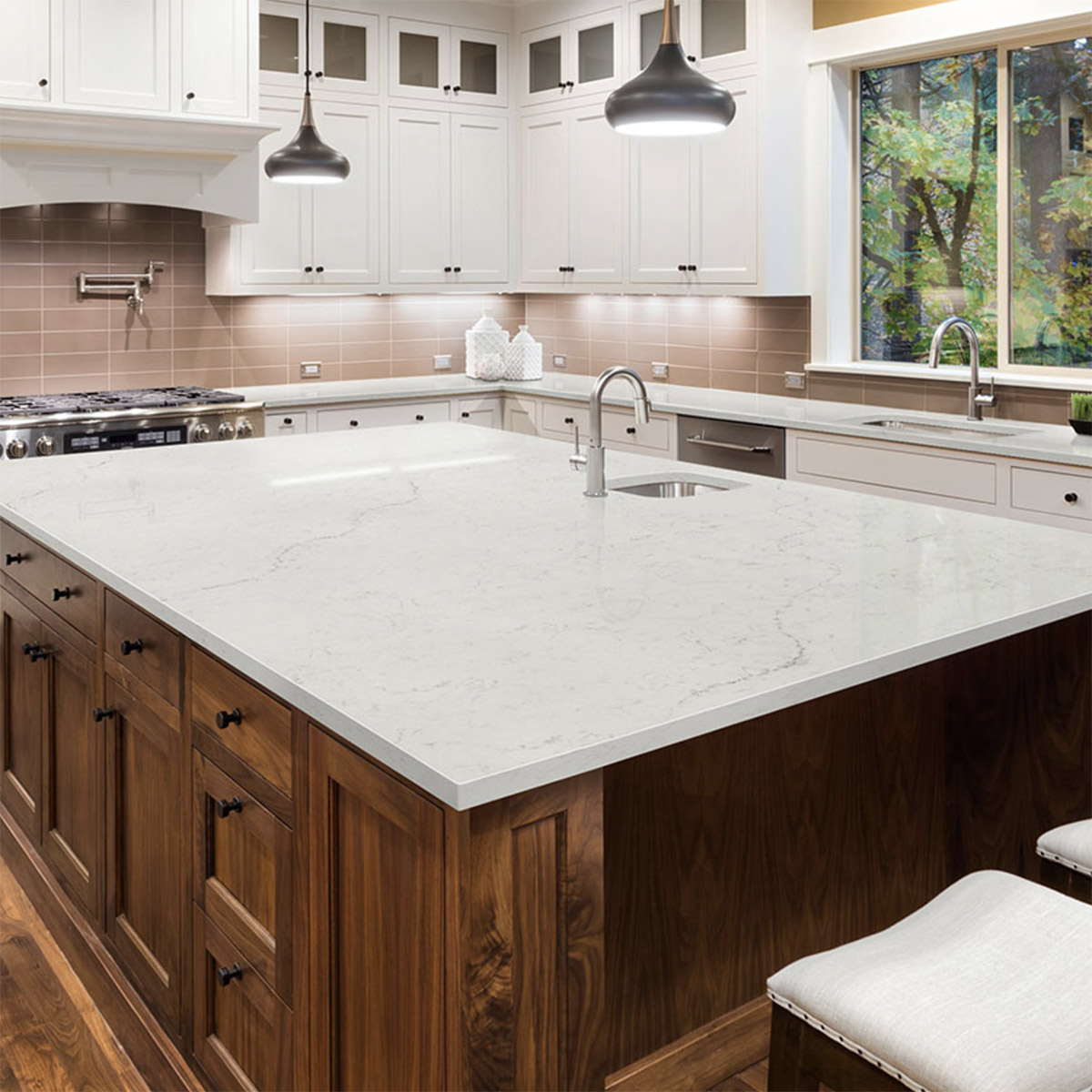 Calacatta Lavasa Quartz
The Calacatta Lavasa quartz is similar to the Calacatta Alto option; however, it has a warmer white background color with brown veining. This color profile makes it a great pairing choice with darker cabinet colors or warm hardwood floors. The veining on this countertop is dainty and delicate, so it's a great neutral choice that will blend with the rest of your kitchen while still making a striking statement.
4. Calacatta Miraggio Gold Quartz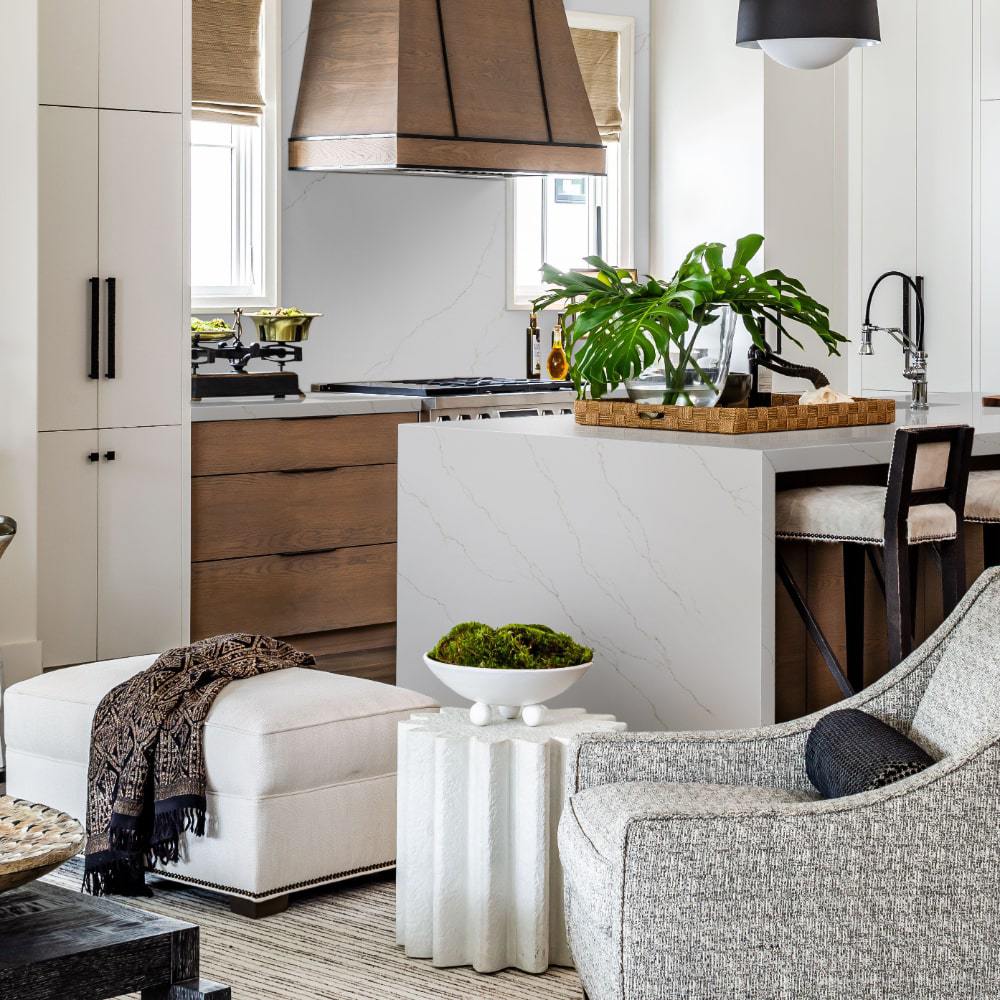 Calacatta Miraggio Gold Quartz
Do you want your countertops to dazzle, literally? If the answer is yes, you have to check out our Calacatta Miraggio Gold quartz. With a bright and crisp white backdrop, the eye-catching gold veining stands out in a spectacular way. This countertop is for the ultimate luxurious kitchen, but as we've said, you don't have to sacrifice durability to get this mesmerizing look.
5. Calacatta Sierra Quartz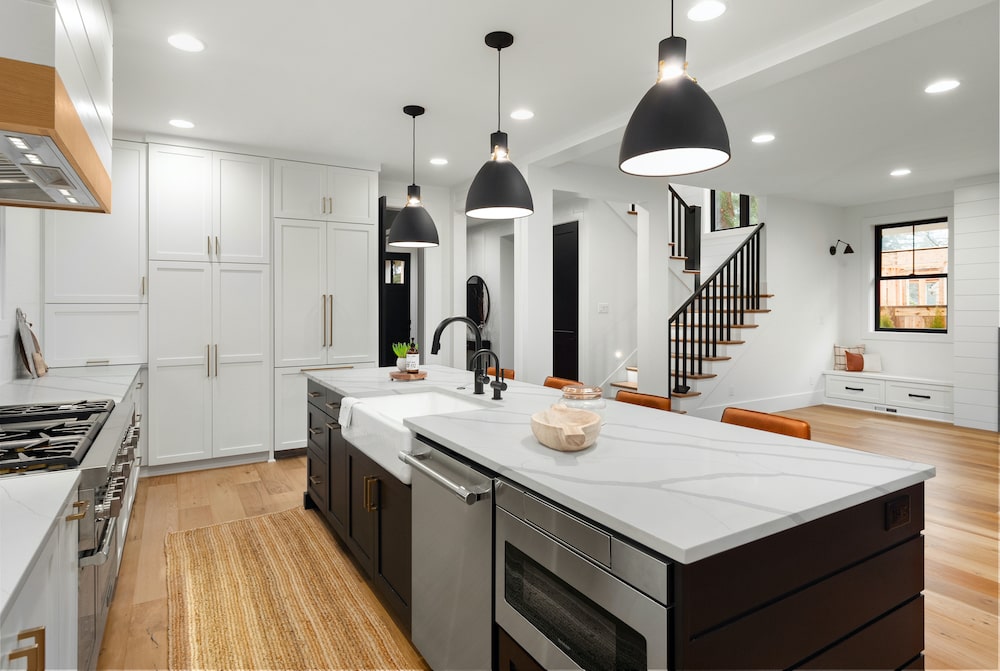 Calacatta Sierra Quartz
If you're shopping for quartz countertop colors and patterns that add drama to your kitchen, the Calacatta Sierra quartz is for you. This gorgeous engineered quartz leaves subtlety behind with thick grey veining on a cool white backdrop. Even though the veining adds drama, the colors are still neutral enough to fit with any kitchen design.
6. Carrara Lumos Quartz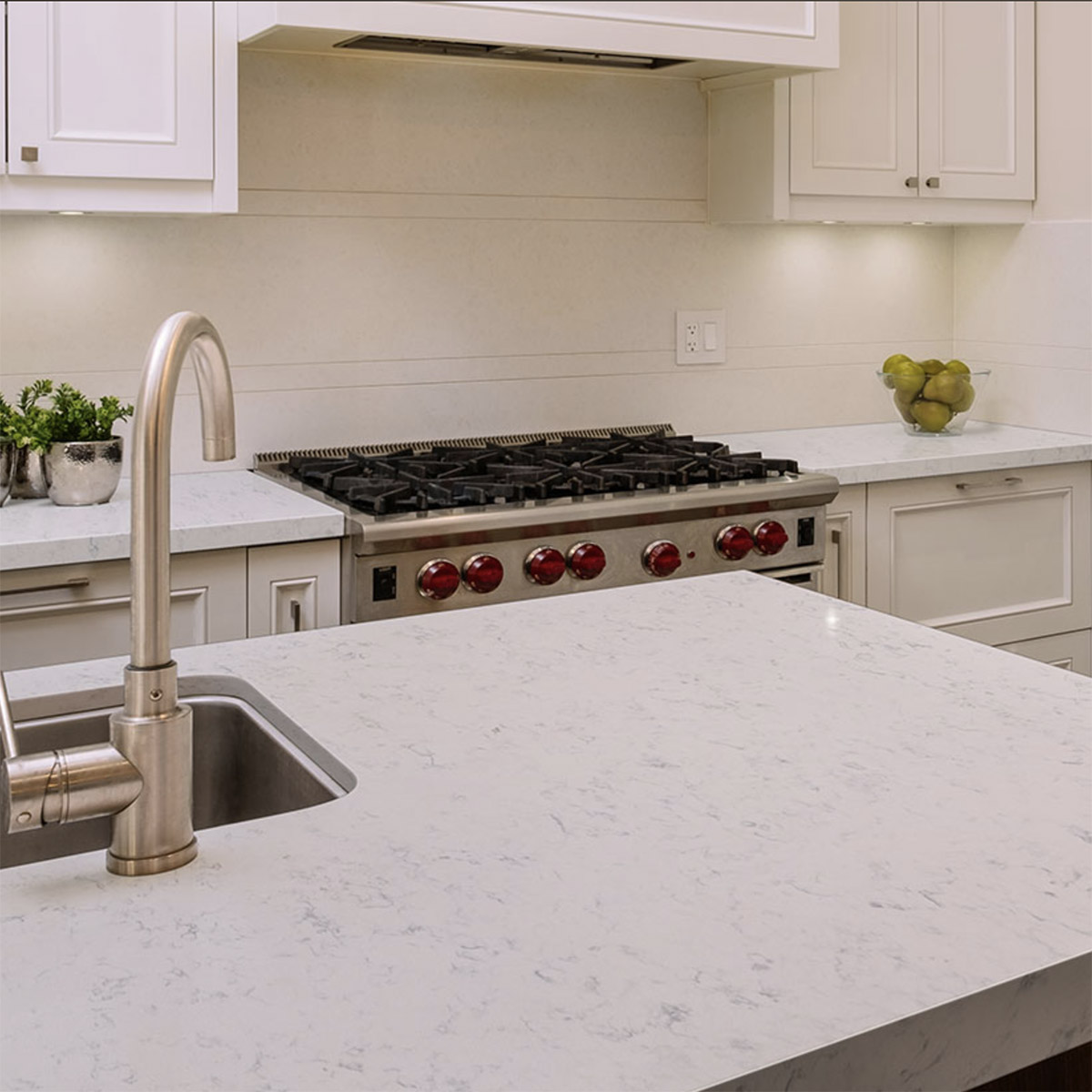 Carrara Lumos Quartz
Mimic the look of Carrara marble in your kitchen with our Carrara Lumos quartz. The dreamy white background with wispy gray veins offers delicate beauty. Any kitchen that features this breathtaking color will immediately feel warm, welcoming, and inspiring. This is another example of quartz that looks like marble, but the surface is much harder, so it's scratch and chip-resistant.
7. Calacatta Ultra Quartz
Calacatta Ultra Quartz
Are you considering a waterfall countertop? The key to a great waterfall is choosing a countertop color that doesn't overpower the rest of the kitchen. That's why the Calacatta Ultra quartz is the right choice. This quartz color is subtle and classic with a pure white background and clean grey linear veining throughout. It's striking without being too dramatic, which makes it perfect for a waterfall countertop or matching backsplash.
8. Carrara Marmi Quartz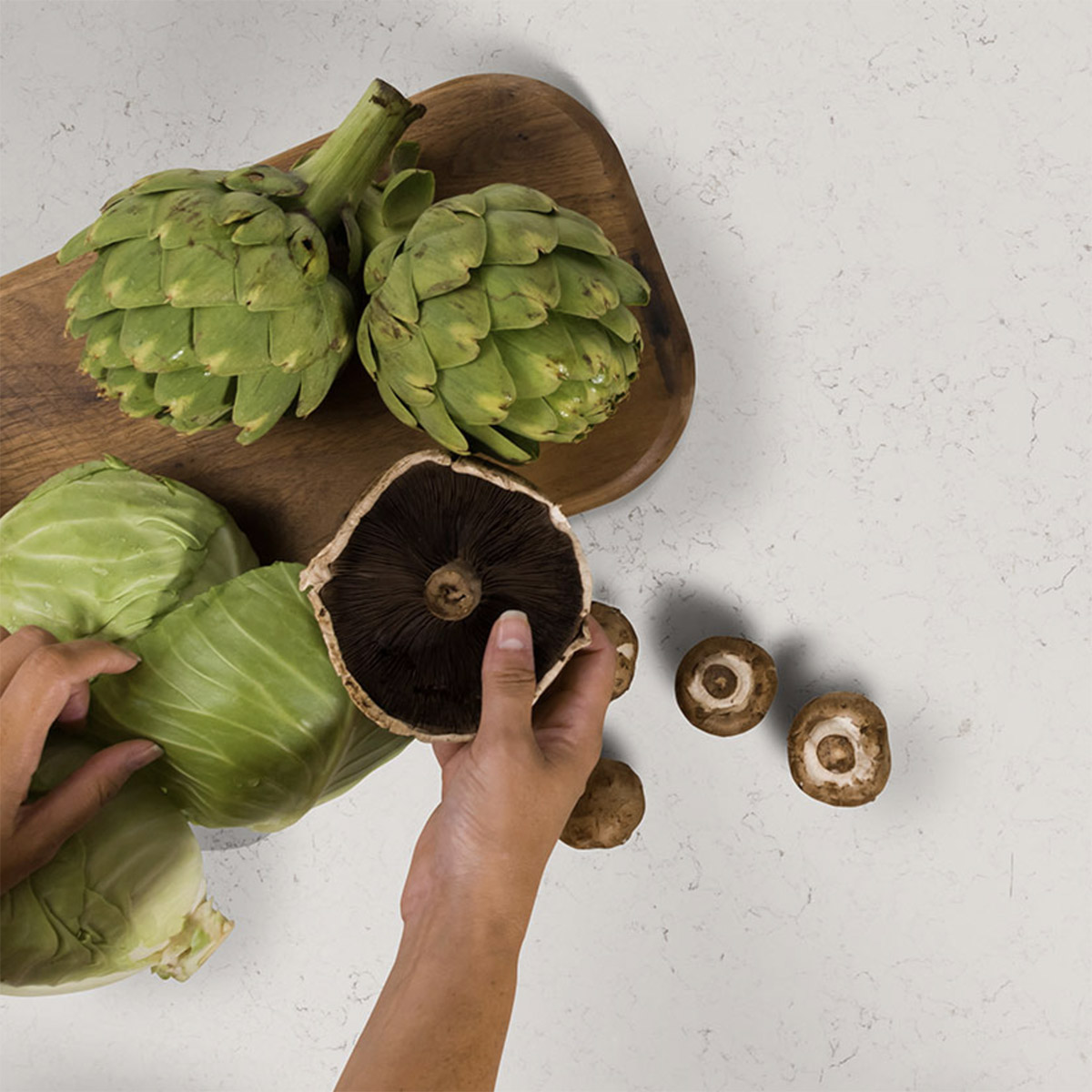 Carrara Marmi Quartz
Do you want your kitchen or bathrooms to feel relaxing? If so, the Carrara Marmi quartz is the way to go. The soft white makes any room feel inviting, and the barely-there dainty grey veins invoke a tranquil beauty. Your house guests will easily mistake this quartz color for marble. Fortunately, quartz is much more stain-resistant than marble, which makes having an upscale countertop in your most-used rooms possible.
9. Mara Blanca Quartz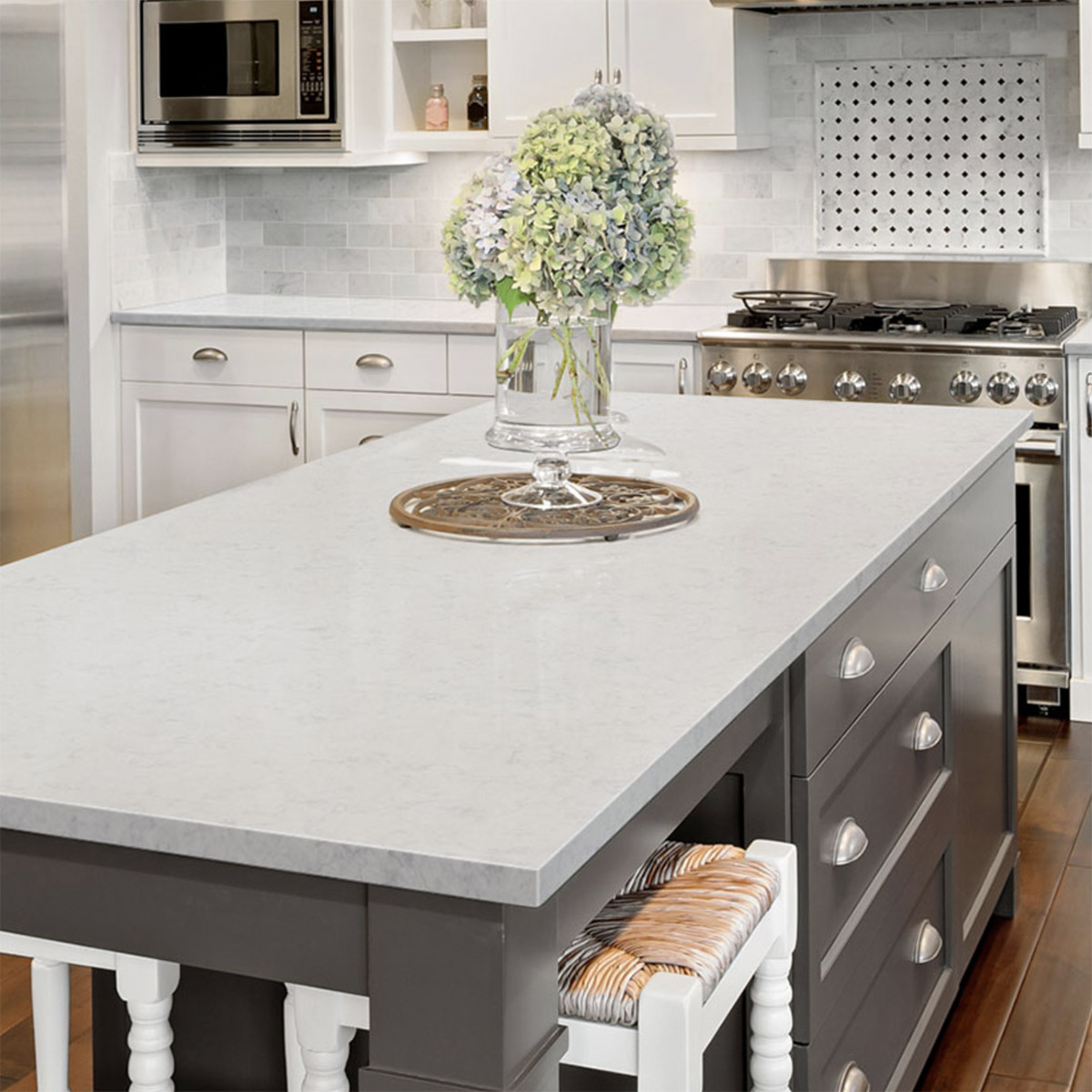 Mara Blanca Quartz
Are you going for a more modern look? With our Mara Blanca quartz, modern and classic styles collide to create a breathtaking countertop color. The background color is a creamy white, so it can coordinate with neutral shades and warm colors. It would look beautiful with forest green kitchen cabinets, a trendy choice right now. The subtle gray veining has a spontaneous pattern, which makes it perfect for modern kitchens and bathrooms.
10. Calacatta Botanica Quartz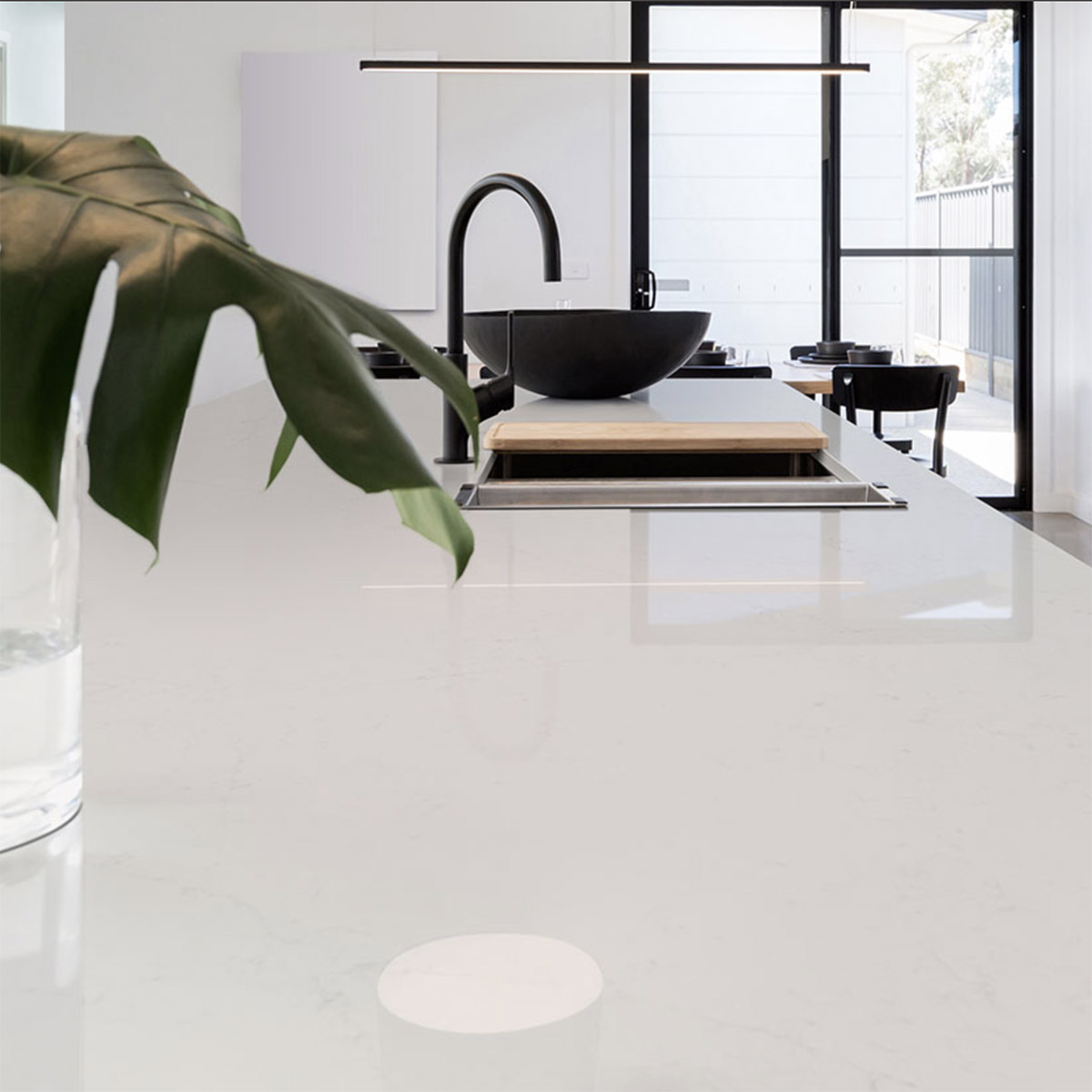 Calacatta Botanica Quartz
Are you inspired by traditional Italian marble? The Calacatta Botanica quartz is the perfect mimic for modern kitchens with an Italian villa design. Pair this countertop with light wood cabinets or a butcher-block island to complete the look. This color is also striking for your showers and floors. Plus, you can invoke the look of Italian marble at a lower price point, and it's easier to care for than marble.
What Are Your Favorite Quartz Countertop Colors?
Hopefully, this guide to our most popular quartz countertop colors gave you inspiration for your kitchen or bathroom redesign. Whichever color you go with, you can feel great about it because your countertops will be beautiful and durable.
At MSI, we are known for our striking premium surfaces. We can help turn your vision into a reality with countertops, floors, and backsplashes that are as breathtaking as they are practical.
Want to see our selection in person? Chat with us online, visit an MSI showroom or find an MSI authorized dealer near you.
Explore More Quartz Countertop Colors
10 Beautiful Quartz Countertop Colors From MSI
Cozy Up with Warm Q Premium Natural Quartz Colors
3 New Sophisticated Modern Quartz Colors Offer Endless Possibilities