Popular
The Commercial Side Of Porcelain Tile: Exquisitely Simple, Beautiful & Practical
November 03, 2015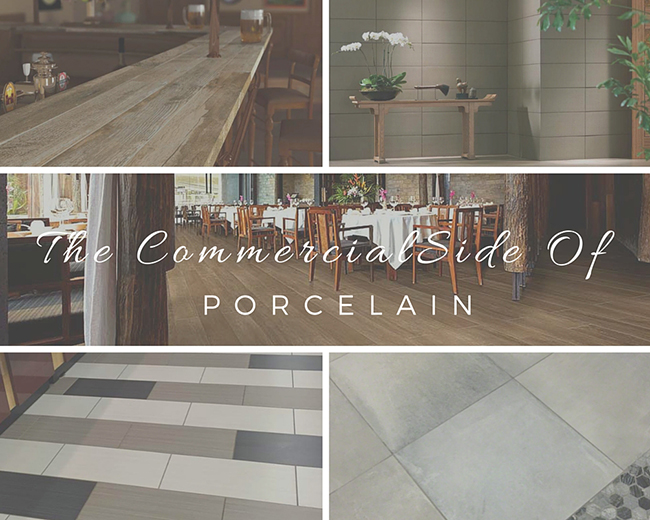 Porcelain tile flooring is right at home in a range of light to medium commercial applications, from retail establishments to office spaces, medical practices, and hotels. Durable, easy to clean, and virtually maintenance free, porcelain tiles effortlessly blend beauty and practicality.
Today's porcelain tiles feature designs and colors reminiscent of fine fabrics, natural stone, hardwood, and metallics, with an abundance of colors and textures to complement an array of design aesthetics. With porcelain tiles that score as high as four on the Porcelain Enamel Institute Wear (PEI) scale, MSI porcelain tiles are as stunning as they are strong.
From soft and full-bodied to shabby and rustic, breathe life into any space with the low-maintenance beauty of porcelain.
Soft & Full-Bodied
A sought-after product for commercial flooring, full-body porcelain carries the tile color throughout with printing and glazing on the surface. Ideal for light commercial applications, this outstanding engineering provides a beautiful aesthetic, added durability, and top-notch resistance to abrasion.
MSI's Cemento Collection (PEI 3) is a full-body porcelain tile inspired by the monochromatic nature of concrete. Cemento is available in large-format tiles, rectangular and square, to mix and match as desired. Offered in six colors, MSI's Dimensions line brings an urban edge to any space.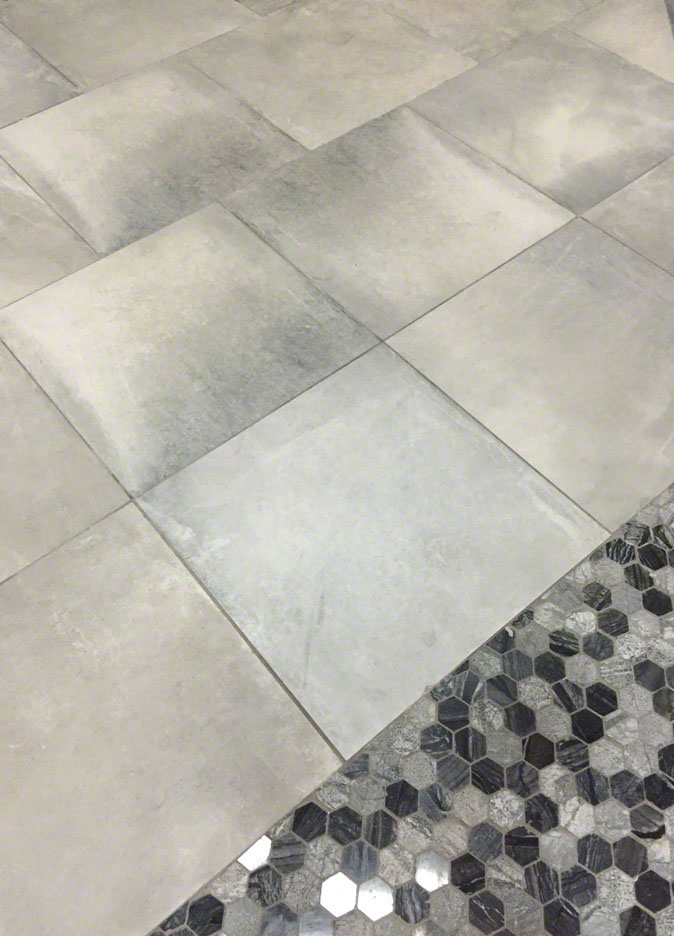 Featured: Cemento Novara
Contemporary Lines, Creative Design
The Focus Collection (PEI 3) from MSI features large-format tiles with subtle directional stripes for a contemporary feel. In this retail store, a daring and unfamiliar pattern provides visual interest, enticing the eye to the back of the room for further exploration. While one color could have easily been chosen, the interior designer elected to go bold, providing a refreshing deviation from the expected. The end result is a striking, patterned look.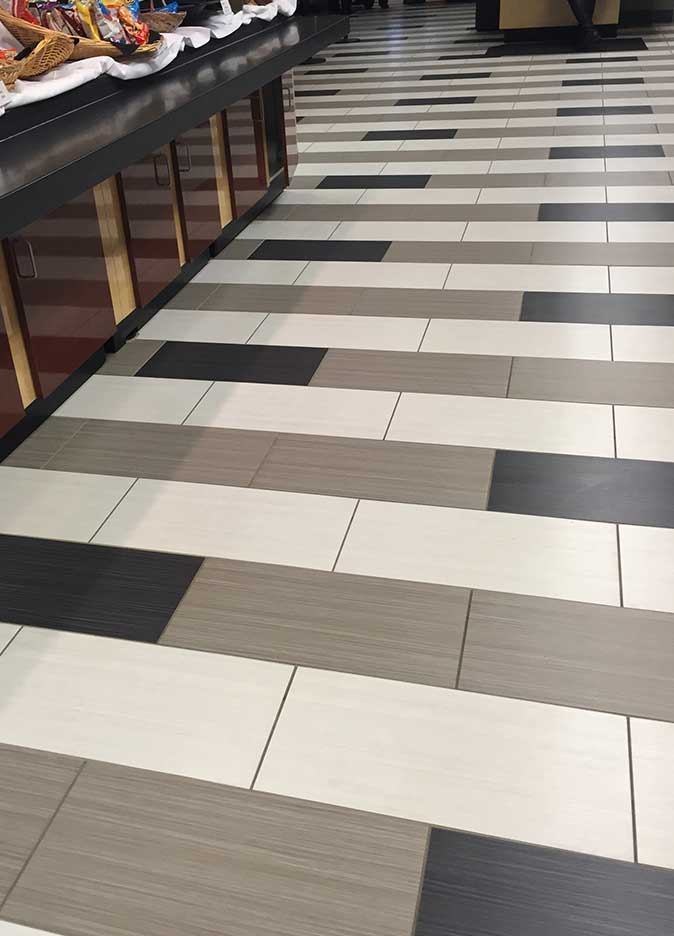 Featured: Focus Glacier – Graphite – Olive
Modern Appeal, Functional Reveal
Stained concrete floors create a contemporary, urban aesthetic. However, concrete floors need extensive maintenance and protection from dirt, abrasion, and the elements, requiring sealing and specific waxes formulated to keep traffic from damaging the floors.
Available in 12x24 and 3x12 bullnose in a variety of colors and tones, the Metropolis Collection of porcelain tiles (PEI 3) from MSI creates the modern look of stained concrete—without the labor-intensive upkeep. In this space, an ultramodern aesthetic is complemented by a stained concrete look, providing an air of sophistication and modern charm.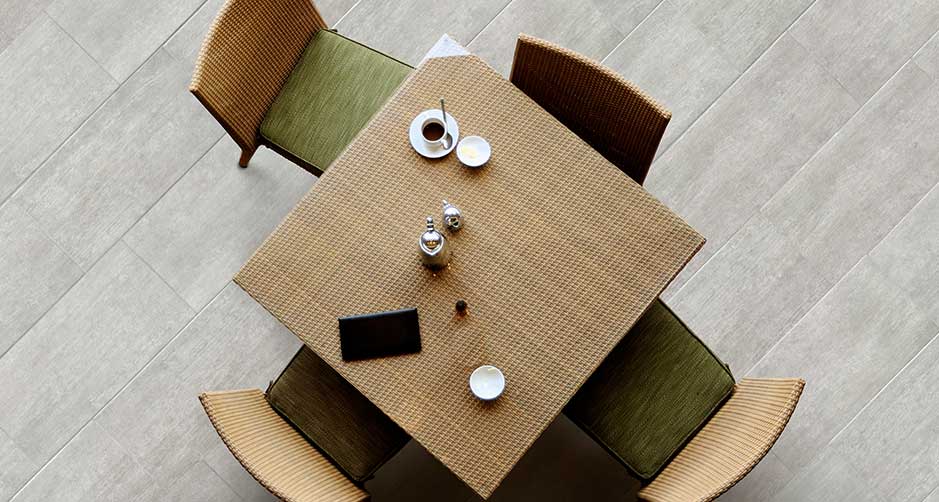 Featured: Metropolis Porcelain
Sleek & Unique
The MSI Loft Collection (PEI 3) features subtle textures reminiscent of fine, natural fabrics. Offered in large format 12x24 with rectified edges, the Loft Collection is available in popular contemporary tones suitable for accent walls in lobbies, entryways, and restrooms. These breathtaking tiles are easy to clean and maintain, and create a distinctive, stylish backdrop.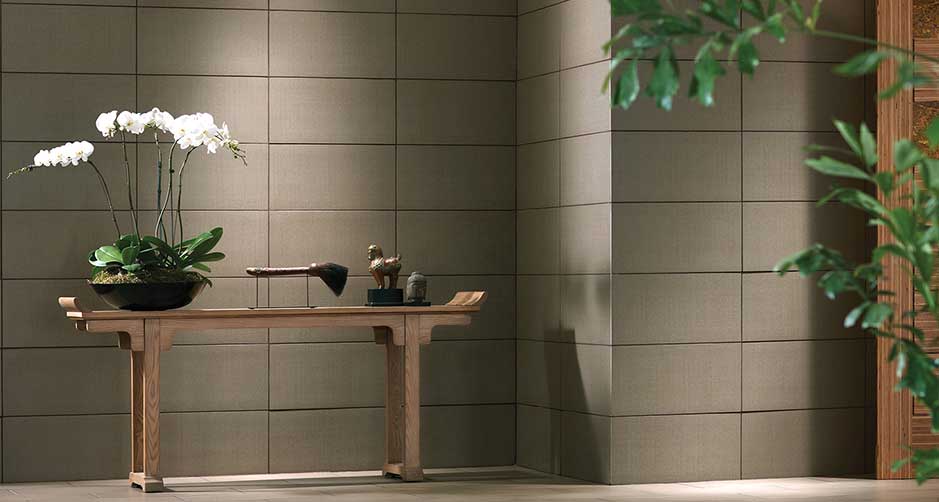 Featured: Loft Olive
The Rustic Warmth Of Wood
If you're looking for a premium surface that exudes the natural beauty of distressed hardwood, look no further than the MSI Salvage Collection (PEI 4). These 6x40 tiles were designed to mimic the look of traditional hardwood planks, but with the hassle-free maintenance of porcelain.
For a restaurant or bar, natural hardwood countertops are challenging to maintain and properly clean. To create an effortlessly charming, weathered look—minus the maintenance—opt for porcelain tiles with a wood graining instead.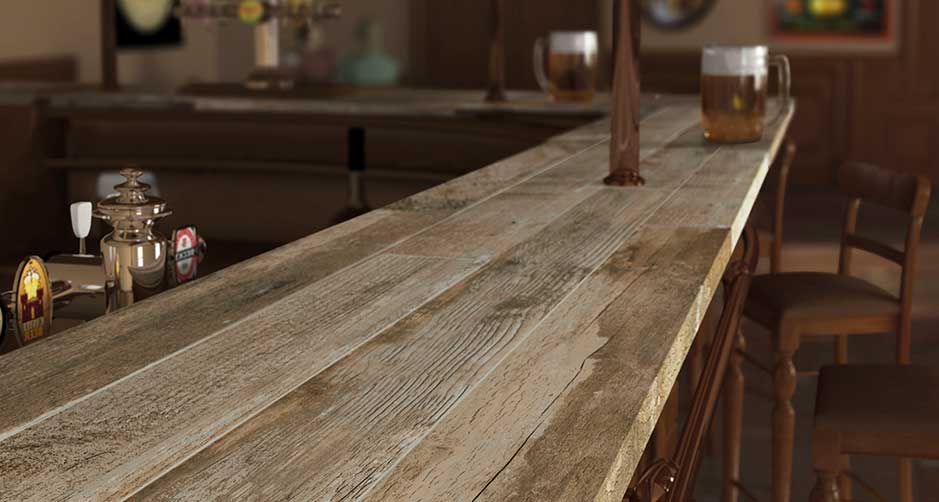 Featured: Salvage Brown
Old-World Inspired
Capella Collection (PEI 4) tiles borrow inspiration from Old Europe. With subtle tones and shading resonant of pavers that line the streets of Italy, this collection is stunning, charming, and surprisingly low-maintenance.
For a highly sought-after aesthetic, the Capella Collection includes wood-look and brick-look tiles. In this design, wood-look porcelain tiles were chosen for the floors, for the warmth of hardwood without the upkeep. To create this impactful aesthetic, select wood-look tiles for the floors and brick-look tiles for the walls. If you crave that coveted, stacked-stone look, open up a mosaic of style with a porcelain-stone blend on the walls.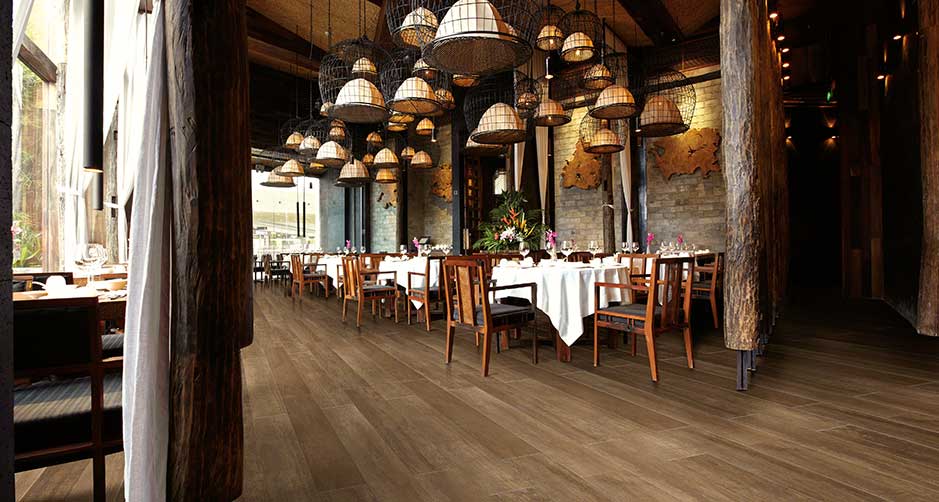 Featured: Capella Stable
From modern to traditional and rustic—and everything in between—porcelain tiles are lovely, versatile, and suit a wide range of design schemes. Ideal for a variety of light to medium commercial applications, there's a durable porcelain tile from MSI to meet almost any commercial flooring need.
More on Commercial Flooring
The Perfect Luxury Vinyl Tile for Commercial Applications
Top Reasons Porcelain Tile Is The Best For Commercial Use
Hotel Flooring 101 — Stylish Commercial Flooring That's Comfortable And Durable