Popular
Wall Star Greats: A 2021 Trend Story
June 25, 2021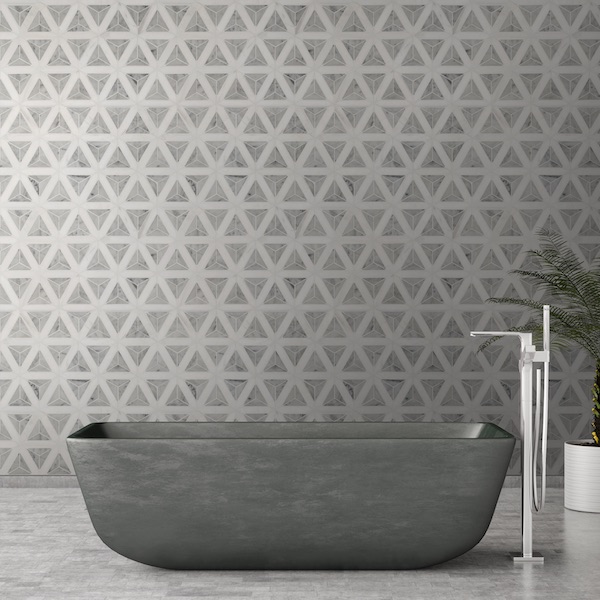 For thousands of years, cultures and civilizations worldwide have found ways to tell stories, reflect status, or use design as a functional element through the adornments on their walls. Ancient Greeks and Romans decorated their walls with frescoes and mosaics, while medieval Europeans turned to tapestries (for beauty and warmth). Over time we have seen wall décor range from bold wallpaper to bright pops of paint color to shiplap. In 2021, designers and homeowners alike have given new life to walls using tile – the Wall Star of design and one of this year's Top 5 Hard Surface Design Trends.
From classic subway tiles and natural stone to bold geometric shapes and patterns and playful mosaics, tile substantially impacts design. A dynamic array of options allows you to flex your creative muscle while creating spaces that are true statements. From floor to ceiling, the wall is having a resurgence.
THE PLAYBOOK


1. Wood-tones are not just for the floor. Wood-look tiles, like Antoni Café Nero, add a rustic, natural feel to walls while adding a contemporary element that will never go out of style.
2. Texture. Texture. Texture. Don't be afraid of it. Stacked stone and brick provide depth and composition, enhancing indoor and outdoor spaces.
3. Mix and match your tile materials and sizes to create one-of-a-kind patterns and features. Glass, marble, porcelain, and natural stone easily complement one another, adding design flexibility and variety.
4. Be bold with color! Greens, blues, reds, silvers, and gold add bright and elegant pops of color.
5. Geometry isn't just for the classroom. Geometric wall tile can be playful, sophisticated, or classic, depending on your mood and style.
LAND THE LOOK: ONE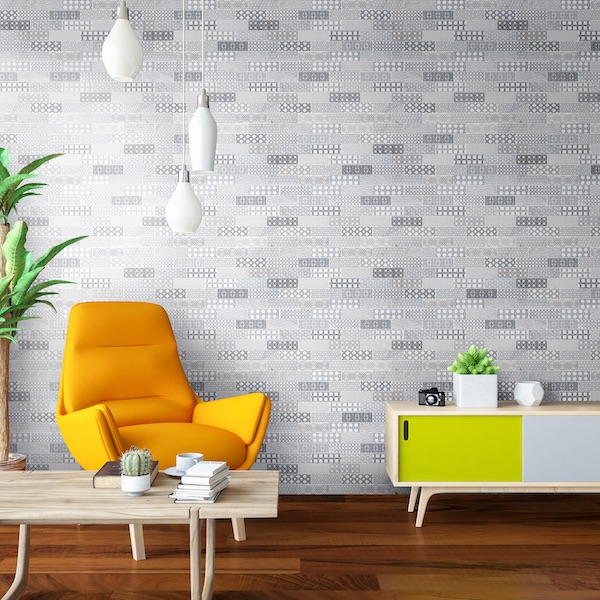 Create something extraordinary: Abani Subway Tile offers a unique blend of geometric patterns that
meld together to provide a one-of-a-kind focal point.
Today, people are bolder in their design choices – blending patterns, textures, and colors to create a space that speaks to who they are and the purpose of their room. There was a time in which a patterned, geometric accent walls could be achieved primarily through wallpaper. Geometric mosaic tiles allow you to create a distinctive floor-to-ceiling wall that not only flows together perfectly, but also is durable and easy to clean. Here, the Wall Star trend is highlighted through a room that isn't overly furnished or accessorized, allowing the wall to be the focal point. The clean lines of bright, mid-century furniture play off many patterns and neutral tones of Abani Subway Tile, complementing the overall look. Warm wood flooring adds depth while still allowing the eye to be drawn to the striking wall.
Achieve the look with our favorite surface choices.
Wall Tile: Kenzzi Indigo Porcelain Tile; Zouli Stak 3x3 Mosaic Tile; Kenzzi Tamensa Porcelain Tile
Flooring: Antoni Café Porcelain Tile Planks; Ashton Marcay Brown Luxury Vinyl Tile; Prescott Sandino Luxury Vinyl Planks
LAND THE LOOK: TWO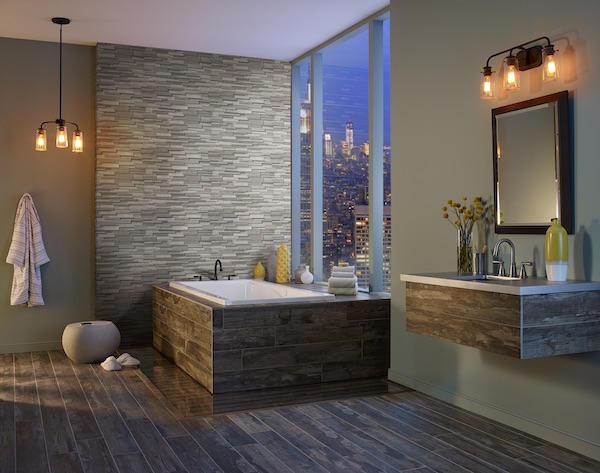 A textural stone wall treatment, Gray Oak 3D Honed stacked stone ledger panels
provide a spa-like feel to a private oasis.
From the clean lines of the 3D honed marble panel to calming mid-tone gray hues, this wall embodies subtle sophistication. The horizontal lines of the stacked stone wall visually expand the width of the room while playing beautifully with the dark wood-look tile on the floor, bathtub, and sink. Natural elements that blend seamlessly for a peaceful retreat. Use tile in addition to paint to accent portions of a wall and create depth and texture.
Achieve the look with our favorite surface choices.
Wall Tile: Cosmic Black 3D Wave; Copen Ash; Silver Travertine
Flooring: Prescott Billingham Vinyl Flooring; Botanic Teak Wood Look Tile; Country River Bark Porcelain Tile
LAND THE LOOK: THREE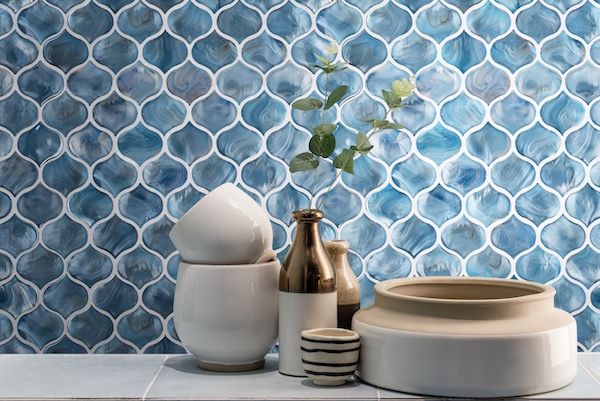 The watery blue glass of the Blue Shimmer Arabesque Wall Tile reflects light, enhancing
the backsplash and creating movement.
Color used to be something people shied away from when it came to kitchen backsplashes or shower surrounds. Today, color is making a comeback in a big way. The use of glass allows light to illuminate the spectrum of colors for built-in variety. Dramatic textures, shapes, and geometric patterns add a wow factor and design versatility. There is no shortage of inspiration for playing with color, as 2021 is all about incorporating elements that bring out the best in you and your room.
Achieve the look with our favorite surface choices.
Wall Tile: Azul Scallop Ceramic Tile; Laurel Picket Tile; Vista Azul Hexagon Glass Tile
Countertops: Alabaster White Quartz; Calacatta Ultra Quartz; Denali Quartzite
LAND THE LOOK: FOUR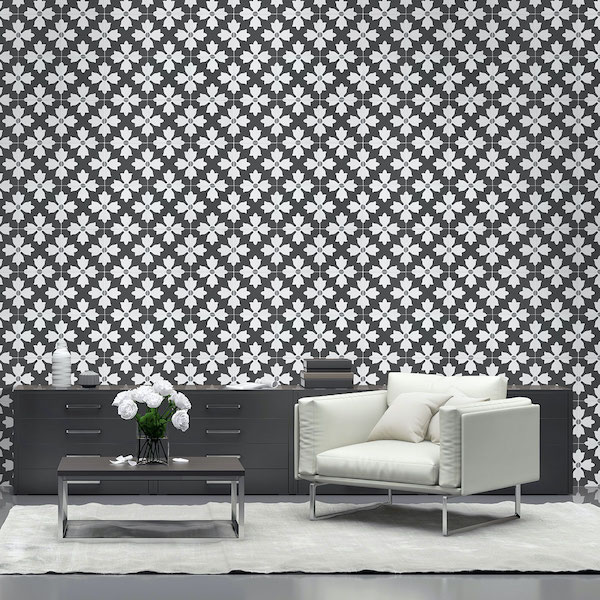 Black and white are both timeless and contemporary. Strong patterns, like this Kenzzi Kasbah Porcelain Tile,
help keep this classic combination fresh and alluring.
There is something to be said for creating drama when it's the right time and place. Often, homeowners turn to the dramatic noir of black and white to add flair to their walls. No longer considered too dark for a room, black hues pair well with virtually any accent color and architectural style. Incorporating geometric shapes or floral patterns offers an artistic element that needs no explanation. In this room, clean, straight lines of the furniture allow the wall to serve as the centerpiece of the room.
Achieve the look with our favorite surface choices.
Wall Tile: Black Hexagon Glossy; Hexagon Nero Polished; Retro Fretwork Polished
Flooring: Legions Midnight Montage; Beton Gray Arterra Porcelain Pavers; Palmwood Gris Arterra Porcelain Pavers
A WINNING COMBINATION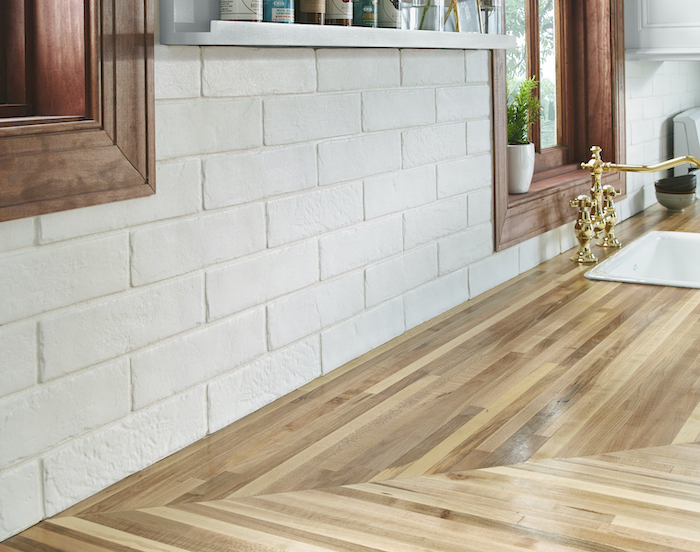 Whether tile is a strong focal point or a soft accent, it's sure to reinforce your personal style.
Brickstone White Porcelain Tile.
Interior designer David Hicks said it best when he said, "The best rooms have something to say about the people who live in them." Whether you are a designer or a homeowner, flex your imagination and showcase your creativity with wall tile. The versatility of tile allows you to create something whimsical, alluring, classic, or you find yourself outside of a defined category and reimagine wall applications completely. From the kitchen to the bathroom, the laundry room to the entry hall, the bedroom to the fireplace, there is truly no limit to the many ways you can make tile your wall star. Make this 2021 trend yours.
If you're feeling inspired and try our 2021 Wall Star surface trend in a project, tag us on Instagram - #msisurfaces for a chance to be featured. We love seeing your creativity come to life.