Classic Designs Using Porcelain Tile That Look Like Stone
December 11, 2020
Did you know that there is a scientifically-proven link between your home's interior design and your mental well-being?
Well, it's true. Because human beings need to be surrounded by natural materials and elements to retain mental health, it's critical that you design your kitchen to look as naturally beautiful as possible. However, because unclean and poorly-maintained surfaces can cause stress, it's also important that you choose something easy to maintain.
Porcelain tiles that look like stone can bring you the best of both worlds. Here, we're going to discuss why these styles are an excellent choice and take a look at some of MSI's favorite flooring solutions. Read on to learn how to spruce up your home!
Why Stone Look Porcelain Tiles?
Shoppers are typically drawn to stone-look porcelain tile because of its cost. With a more affordable price point than real stone, many think that the initial savings are all that porcelain tile has to offer. But nothing could be further from the truth! Upon closer examination, one will see that porcelain has so much more to offer, plus some real advantages over natural stone. Consider the following:
Natural stone is porous, meaning that water or other liquids can be absorbed, posing a staining problem. Stones like travertine have characteristic divots that, while charming, can trap in dirt and make it difficult to clean. They, therefore, require sealing, which is a time-consuming process that will need to take place multiple times.
Additionally, because they are a natural product, contrasts in hue, veining, and specks can be great. However, it can be a point of frustration for some. On the other hand, porcelain tile is a moisture and stain-resistant surface with just the right amount of variation to look natural but uniform enough for those that prefer consistency.
Clearly, stone look-alike porcelain is a great choice for any home. Let's take a look at some of the best styles on the market, which are all offered at an affordable price at MSI!
Calacatta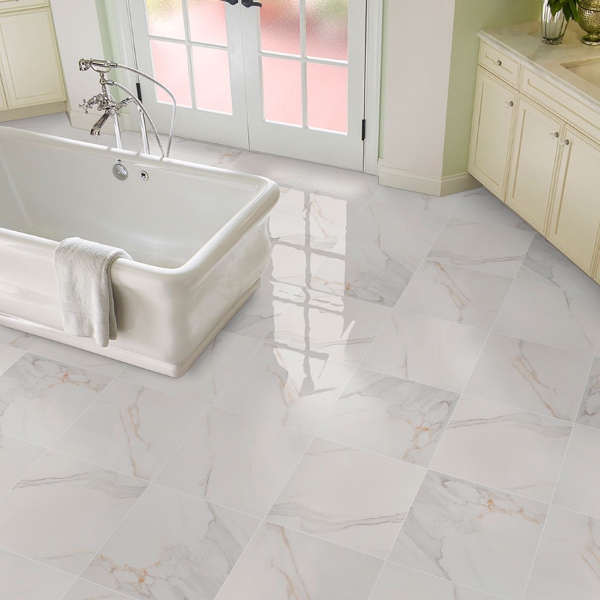 If you're looking for a classic marble aesthetic for your flooring, Calacatta Porcelain is a great option. This tile uses a warm cream color as its base and is accented with brilliant gray, orange, and brown veining. If you want a naturally warm kitchen, this is the perfect style for you.
Because of its creamy hues, Calacatta is perfect for mid-century modern and vintage kitchen. It is complemented well by soft lighting, wooden cabinets, and neutral-hued appliances. This tile primarily will make your home feel like a cozy space where you can relax comfortably.
Gris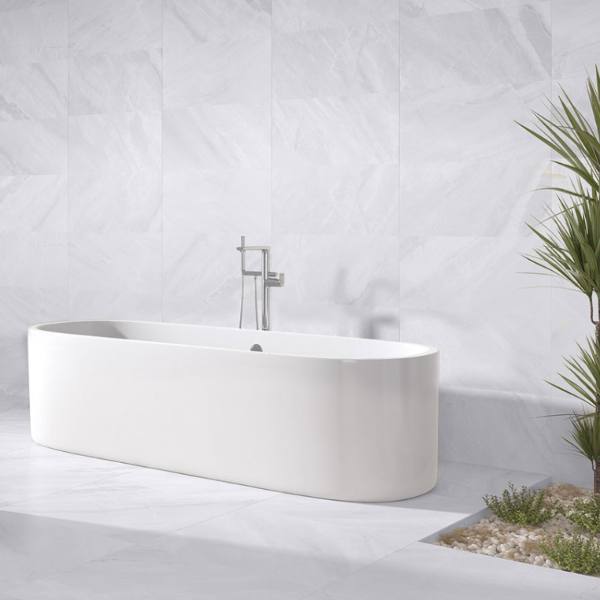 On the flip side, if you prefer cooler undertones in your flooring, Gris porcelain may be a better choice. Its icy gray hues are offset by glacier-white lines and veining, giving it a cohesive arctic appearance. All of this happens while retaining the appearance of natural marble.
This tile looks gorgeous when used in contemporary decor schemes. Its smooth texture complements stainless steel appliances perfectly. Gris also shines under fluorescent lighting, which makes it perfect if you want to cook in a brightly lit contemporary space.
Noce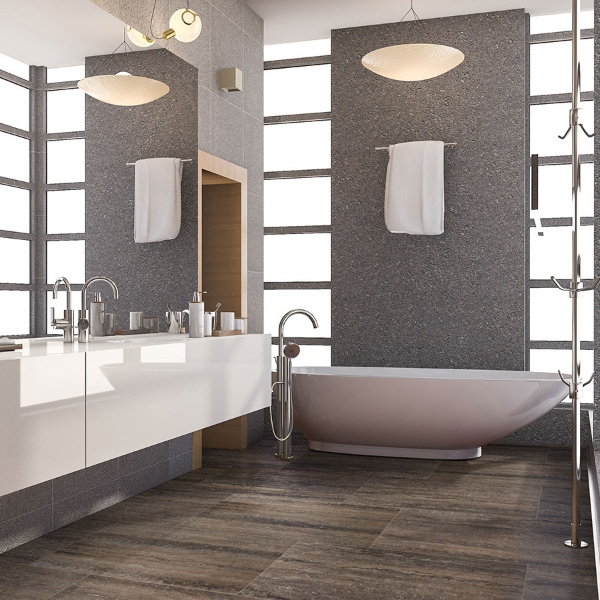 Want an elegant and sophisticated tile that features incredible complexity? Noce porcelain may be the ideal choice for your needs. This primarily brown tile is part of our Veneto collection. Instead of the marble look that Calacatta and Bris exude, this gorgeous tile is made to look like travertine.
This means that its warm brown and tan base is complemented by intricate veining in darker brown and gray.
These veins and accents run horizontally across the entire tile, making them ideal kitchen tile for rooms that are decorated with many clean, bold lines. However, these lines also have a characteristic flair in that they are of multiple thicknesses. They also are naturally gorgeous in that they aren't completely straight, which makes each tile unique while remaining uniform.
Gray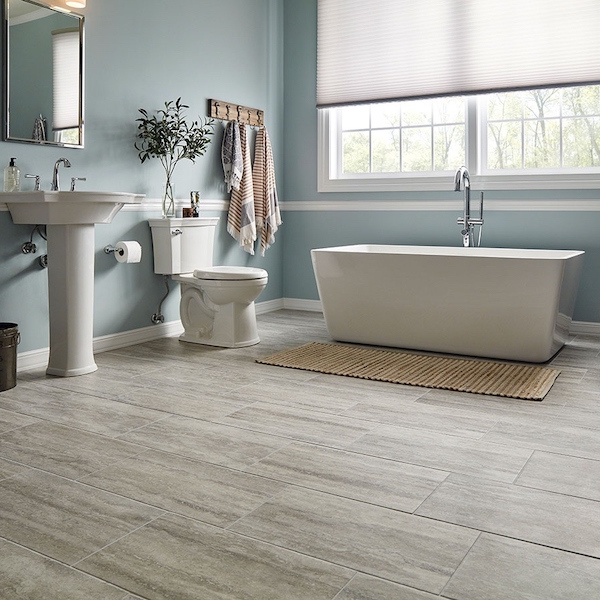 While it doesn't have the most creative name, MSI's Gray porcelain is nothing if not innovative. This tile, made to look like travertine, is similar to Noce in all ways but one: it's coloring. Instead of being primarily brown and tan, Gray porcelain is- you guessed it!- gray.
This hue exudes a cool beauty that looks perfect in the same contemporary design schemes as Gris does.
The cool gray and ice-white undertones are complemented by dark gray veining that borders on black. You won't be disappointed when you choose to pair these tile patterns with black shelving and appliances.
Bernini Bianco
Bernini Bianco, another warm tile, is made from an elegant blending of white and cream hues. It also features some light gray accents in its fuzzy and organically-shaped veining.
This style is deeply evocative of the marble columns and flooring used in old Greco-Roman buildings. Therefore, you know that you're investing in a timeless classic when you choose to go with this design. It never goes out of style and can last you for many years to come.
If you are unsure of whether or not such a visually complex style will actually work well in your kitchen, you can use our flooring visualizer tool to look more deeply into its appearance. This will help you to conceptualize what Bernini Bianco (and other styles) actually look like post-installation, so make sure that you check it out.
Carrara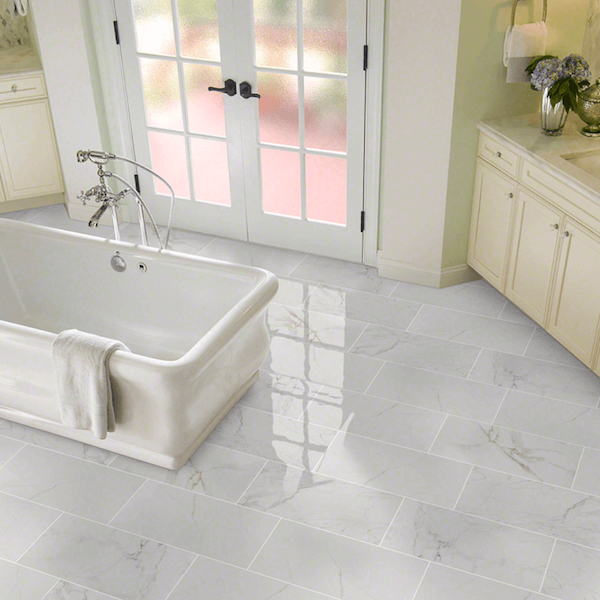 Carrara porcelain is another classic marble-look tile. Its primarily white hue makes it perfect for pairing with cream countertops and eggshell walls. However, it also features thin, playful gray veining that is sure to complement all design schemes.
If you're interested in diverse options, you'll also be happy to know that Carrara, like many of our other stone-look porcelain floor options, is available in both polished and matte finishes.
You can find flooring by picture on our website and look at the designs that MSI offers. You don't need to simply take out word for the fact that Carrara is a timeless and sophisticated pattern!
Design Your Dream Kitchen
While there is a multitude of tile patterns to choose from, there's no material quite so durable and attractive as porcelain is.
Now that you know about some of MSI's best natural stone-look porcelain tiles, it's time to learn more about floor installation. Contact us to learn more about the styles on this list and more. We're happy to help you select the perfect tile for your home and get you started with a quote and installation information.
READ MORE ABOUT PORCELAIN TILE with NATURAL STONE LOOKS
Porcelain Tile That Looks Like Natural Stone Flooring
The Beauty of Eramosa Stone Flooring in Textured Porcelain Tile
Natural Stone and Porcelain: Elevate Your Home with the Natural Look
Natural Stone Looks in Porcelain Tile You Have to See to Believe