Tips From The Trade: Are Quartz Countertops Suitable For Baking?
May 16, 2018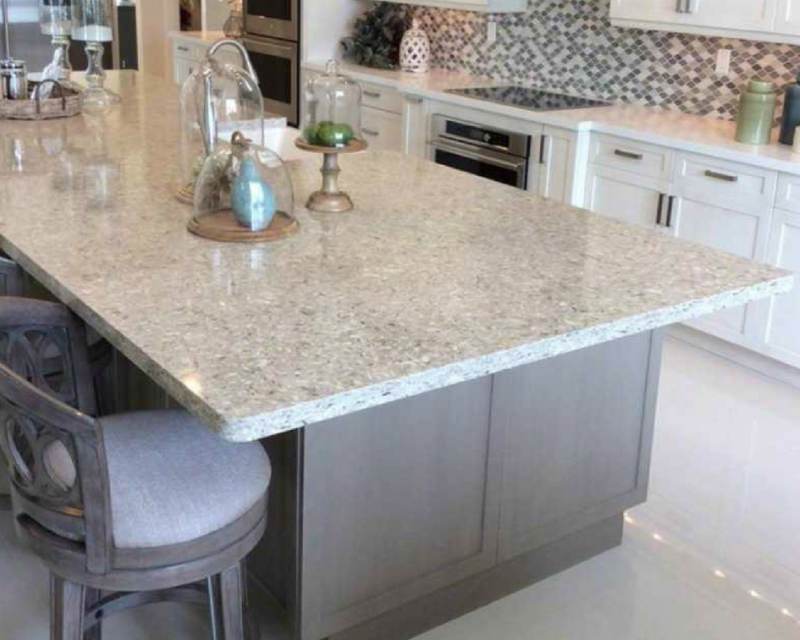 If baking is your passion, then you need kitchen workspace essentials that are pastry-friendly. Kitchens with quartz countertops should be your goal. Not only is quartz beautiful and versatile, but it helps any cook bake bread, make pasta, and turn out a flakey pie crust like a master baker.
Here are seven reasons why
bakers should choose quartz:
1. Cool customer: Like natural stone counters, quartz counters keep cool. This helps prevent butter from melting into the dough and taking the crisp and flake out of a pie crust. Cool counters also make cookie dough easier to cut into bunnies and autumn leaves. Happily, the quartz countertop cost falls roughly into the same price point as granite and marble. Bakers can create a functional kitchen without paying a premium price.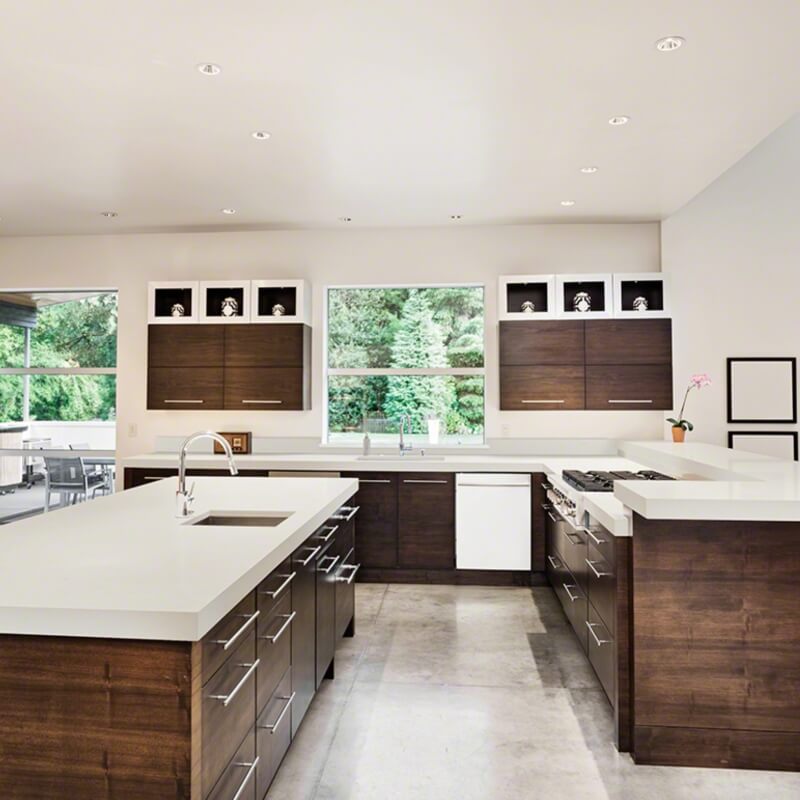 Featured: Cashmere Oro Quartz
2. Poreless: The great thing about quartz is that pores are virtually non-existent. That means melting butter won't stain modern quartz counters, and flour won't seep into crevices and holes, making cleanup a snap after baking scones or croissants.
3. No sealing: Unlike granite and marble, quartz countertops never need to be chemically sealed. The idea of rolling dough on counters treated with harsh chemicals makes our stomachs lurch. That's why quartz is a baker's choice – quartz counters are one more way to keep your family chemical-free.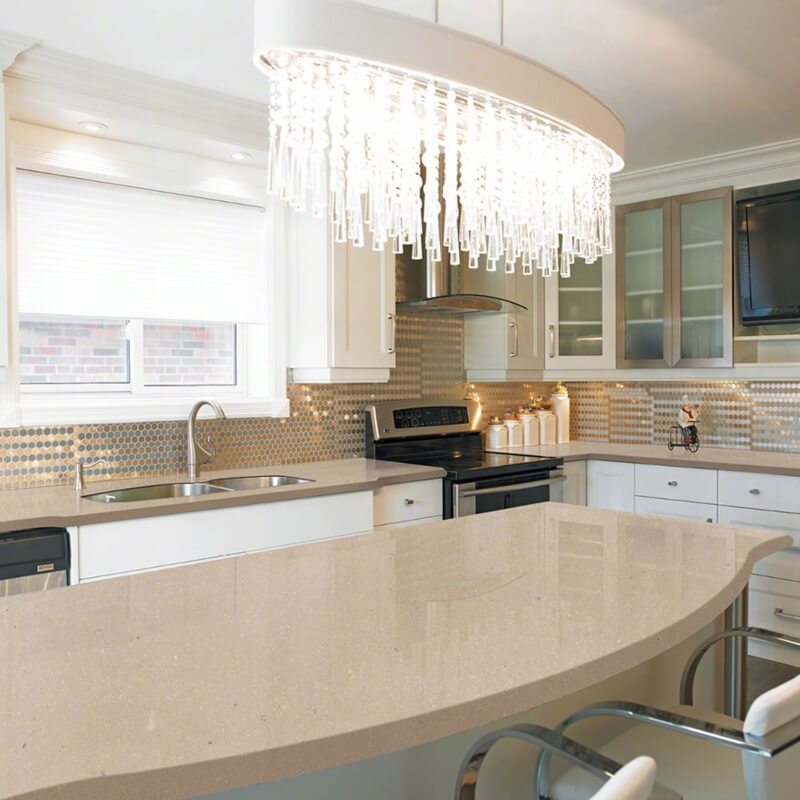 Featured: Fossil Taupe Quartz
4. Easy care: Quartz counters are a breeze to maintain. Mostly, all they need to look great forever is a quick swipe with a damp microfiber cloth. If you want to apply more cleaning power, squeeze a drop of dishwashing detergent onto the cloth, wipe, rinse, and dry.
5. Looks like real stone: Even hard-working bakers want to create in a beautiful space. Quartz, which is a combination of real stone and resin formed under high heat and pressure, can mimic even the most exotic granites and marbles, without the high stone countertop cost. Caldia Carrara Quartz is a marble mimic that looks fabulous in white kitchens.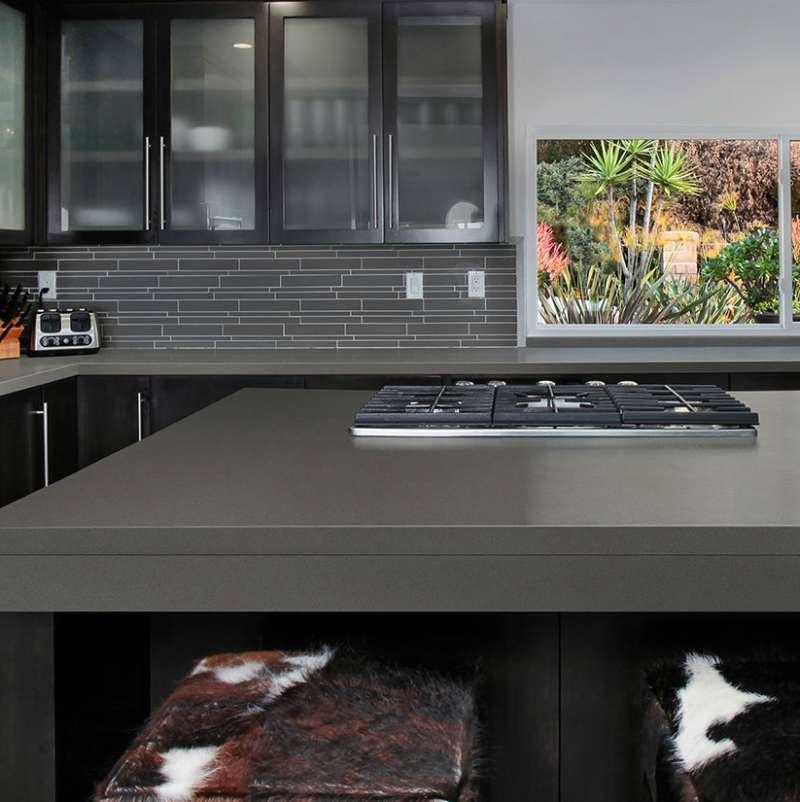 Featured: Manhattan Gray Quartz
6. Laughs at acid: Quartz is impervious to spills from food and liquids that contain acid, such as lemon and red wine. That's great news when you're baking your favorite lemon bars.
7. Tough customer: Quartz is a toughie. It's durable, resisting scratches from knives, mixers and food processors. It's also heat resistant, so you don't have to worry about occasionally placing a hot plate on your gorgeous quartz counters.
Of course, we don't recommend placing hot plates directly on quartz, or using your beautiful counters as cutting boards: there's no need to tempt fate. But you can cut a ball of dough in half without worrying that your blade will scratch quartz. And rolling out pasta on floured quartz will make creating your own ravioli a snap.
With so many quartz colors to choose from, the only question you'll be stuck with is which color to get for your own home.