Current Obsessions: Can You Pair Natural Stone With Engineered Quartz Countertops?
December 31, 2017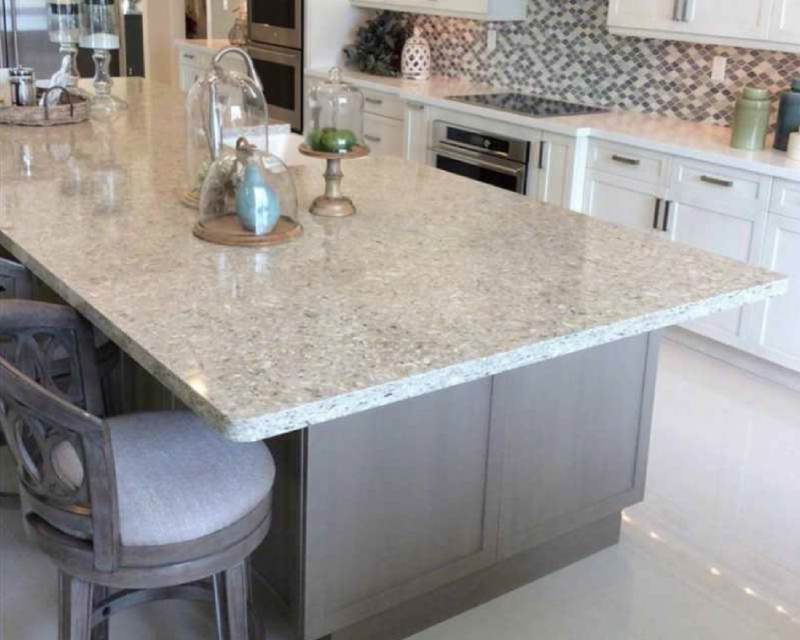 Faux with natural — can there be harmony between the two? Whether it's faux fur, faux pearl, or an expertly engineered quartz countertop, the answer is unequivocally yes!
The trick to skillfully using faux materials alongside natural, complementary partners is to make sure your lookalikes are the highest possible quality. With MSI's premium quartz countertops, you can choose surfaces that are nearly indistinguishable from the natural materials they mimic, such as quartz that looks like marble. Alternatively, choose contemporary creations with modern flair. Whatever your style, the quality shines through, so it's never a compromise.
Gray Lagoon & Montauk Black
With delicate swirls of mid-tone gray and gold accents on a pale gray background, Gray Lagoon Quartz is an elegant way to complement slate tile flooring. It echoes the natural coloration and pattern, and the light shade balances the darker tones in Montauk Black Slate. Quartz countertops also balance natural slate's care requirements; a floor like this is well worth the effort of regular protective sealing, but quartz is extremely easy-care.
Statuary Classique & Palisandro Mini Brick Polished
Everyone loves the look of marble on walls and countertops, but it isn't always a practical choice due to cost and care requirements. Why not enjoy the best of both worlds? Palisandro Mini Brick Polished Mosaic tile allows you to easily install real marble on an eye-catching vertical surface such as a backsplash. Complement this with Statuary Classique Quartz, quartz countertops that look like Carrara marble and stand up to real-world kitchen use.
Babylon Gray & Tundra Gray
The highly polished surface of Babylon Gray Quartz countertops augment its subtle patterning, a freckled charcoal gray. It's a quieter, darker version of Tundra Gray 3x6 Subway Tile, which steals the show on this gorgeous backsplash. Such an opulent marble mosaic deserves a top-quality pairing like MSI's premium quartz, which will never let you down.
Silver Tip & Lagos Azul
Stone isn't the only natural material that shines next to an engineered quartz countertop. Silver Tip Mosaic is a blend of glass, metal and stone tiles; this interlocking mosaic tile makes for a contemporary backsplash with sparkling depth! With such a bold pattern you need a subtle, complementary countertop. But not just any nearly-solid-colored surface will do; coffee-brown Lagos Azul Quartz brings a sleek elegance of its own.
Stellar White & Santorini
Santorini Brick Pattern Mosaic glass tile is an absolute show-stopper with its luminescent, shell-like shimmer, reminiscent of mother-of-pearl. You wouldn't want to lessen the impact of this beauty with an inferior countertop material — but, at the same time, a competing pattern or color is out of the question. Solution: Stellar White Quartz countertops. Not only is it a complementary snowy white, you can also trust the top-quality white quartz countertops to stay white and resist staining for decades.
As you can see, there's a place for the real thing, and a place for the lookalikes. Not only does this strategic combination help you get the most from your investment, the impressive quality of every quartz countertop MSI offers can make the natural surfaces look even better. Visit MSI's web gallery to see these and many more ideas for combining the natural with the manufactured, to great effect!