Mosaic Monday's: A Fresh Take On Mosaics
November 27, 2015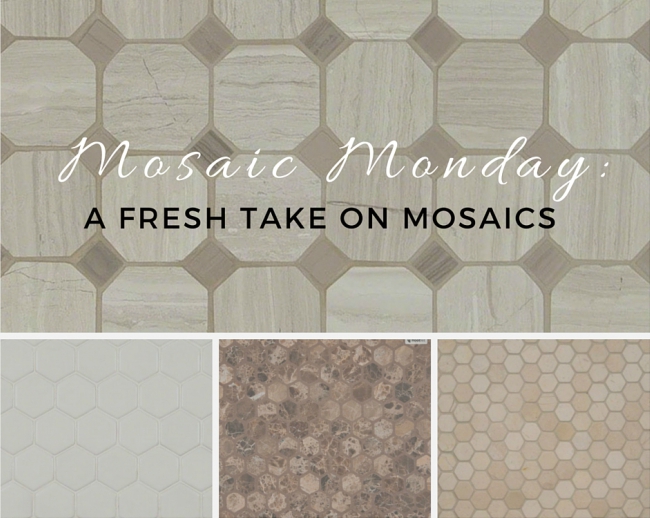 When you see hexagon mosaic tile, perhaps the first thing you think of is "retro." They evoke feelings of nostalgia, of 1940s flooring, classic and clean-scrubbed. Today's hexagon mosaics, however, have been updated and given a new spin — and are being used everywhere in the home to add visual interest. The kitchen backsplash, for example, is the perfect place to try out MSI's new hexagon patterns, colors, and textures.
Emperador Dark Hexagon Mosaic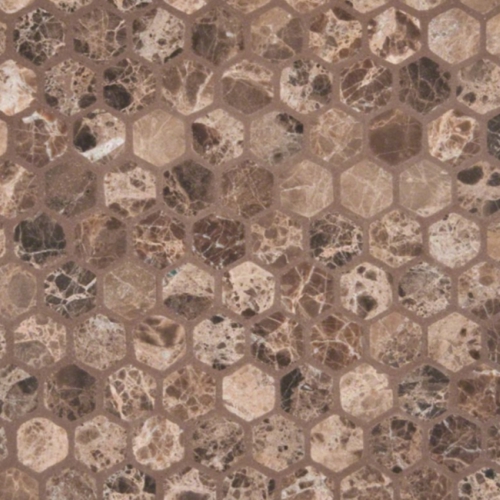 Featured: Emperador Dark 1" Hexagon Mosaic
Classic brown marble lends itself to a variety of design styles, from the classic and traditional to the modern and luxe. There's a reason that marble has been used as a building material since ancient times, and why it's the perfect choice for kitchen backsplash tiles; it's durable and able to withstand messy cooks and frequent washing — but most of all, it's beautiful. These one-inch tiles are imported from Spain; they have a tumbled, smooth edge and are ideal for wall tile applications. The multidimensional natural veining of these tiles looks spectacular when illuminated by under-cabinet lighting. You'll want to start washing the dishes by hand just so you can spend more time admiring the beauty of your tile backsplash.
Crema Marfil Hexagon Mosaic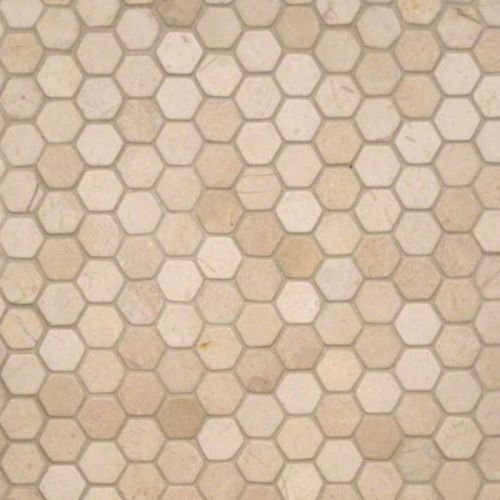 Featured: Crema Marfil
With its random, natural variation of shade, Crema Marfil tile in a hexagon mosaic can add subtle elegance to any color scheme you choose for your kitchen or bathroom. Like the Emperador, these are also one-inch marble tiles imported from Spain with a tumbled edge. It looks particularly stunning when paired with cabinets with a similar off-white color, or even bright white. Create a look that is light, airy and cheerful; it's a perfect selection for smaller spaces in which a darker marble tile with more variegated veining would be overwhelming — but it is also exquisite when used in large expanses. If you're feeling creative, Crema Marfil Hexagon Mosaic tile also teams up well with other colors and shapes of tile, natural stone, or hardwood.
Whisper White Hexagon Mosaic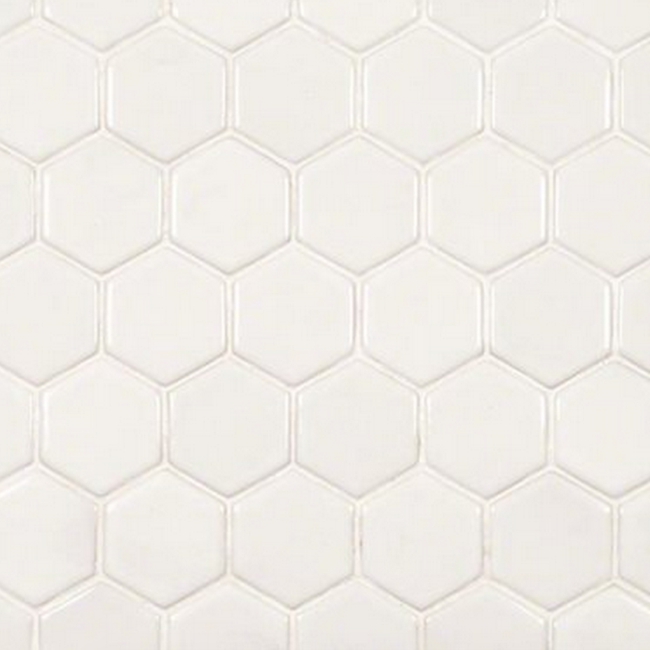 Featured: Whisper White Arabesque
Whether your decorating scheme leans toward the retro, midcentury look or the clean, sleek contemporary kitchen filled with stainless steel, Whisper White Hexagon Mosaic tile from MSI may be the perfect fit. Or imagine a spotless rustic kitchen filled with weathered wood, flowers and cast iron fixtures with these classic hexagonal tiles as a backdrop. This ceramic tile has a glossy finish, which reflects ambient light and will make your room feel more open and spacious. The hexagon pattern is a nice alternative to plain white walls without being overpowering. Not only is this two-inch mosaic tile versatile, but if you change your décor, your white tile backsplash is ready for the transition.
White Oak Octagon Mosaic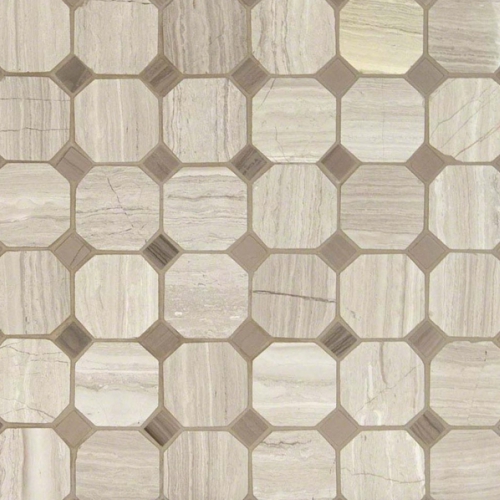 Featured: White Oak Octagon
It's not a hexagon, but an octagon — but we've included it here anyway because of its elegant, geometric versatility. Contrasting two different shades of marble that resemble wood grain, White Oak Octagon Mosaic tile is also perfect for kitchen and bathroom backsplash designs. The combination of a two-inch octagon with smaller on-point squares adds fabulous visual interest, and despite the neutral color scheme it's anything but plain. Your tile backsplash will look as though you spent hours assembling this somewhat complex design, but in reality it comes on a ready-to-use mesh sheet. If you don't already have ample under-cabinet lighting, you'll want to make sure to install some, because this elegant pattern should be the star of the show.