Check Out Our New Marble Look Quartz Countertop Colors
July 29, 2020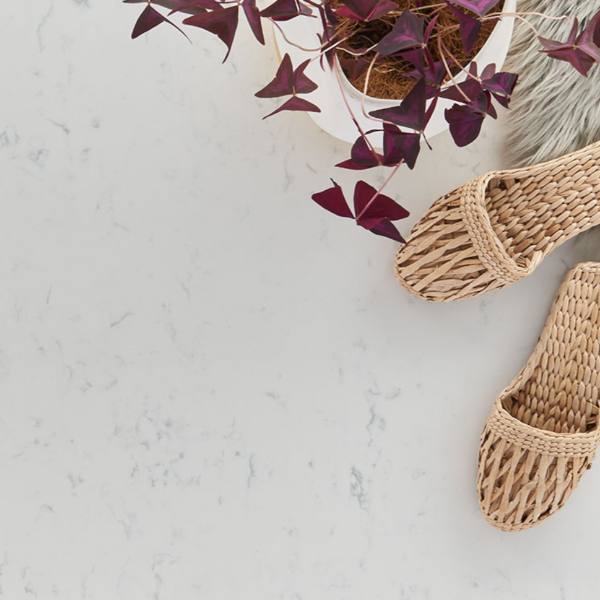 Natural stone has been a popular choice for kitchen countertops for a long time. And while these stones (usually marble or quartzite) add an interesting aesthetic to any kitchen, they also require a high level of maintenance.
While engineered stone is no new concept, it definitely hasn't been as popular as it is today.
That's because today's man-made alternatives produce the same beautiful, veined aesthetics available in natural stone and require significantly less upkeep. Another perk to an engineered quartz countertop is the variety it offers.
There's a style for every taste - the subtle, the more pronounced, the classics, and the abstract. Each one adds a touch of class in its own unique way while presenting a durable and low-effort alternative to homeowners. This paired with increased demand motivates us to continue developing newer styles and aesthetics to add to your list of quartz options.
We are proud to present our 5 newest variants: the New Carrara Marmi, Calacatta Monaco, Calacatta Ida, Calacatta Arno and Carrara Lumos.
1. New Carrara Marmi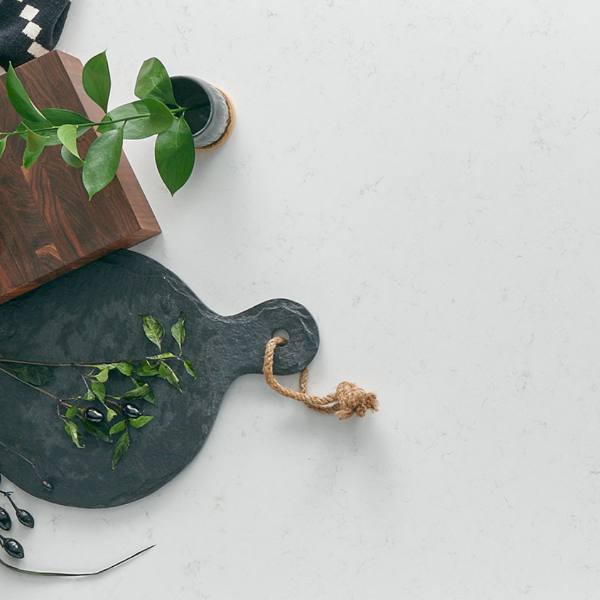 Our new Carrara Marmi quartz features subtle grey veins against a beautifully warm shade of white.
It's a good option for anyone looking for a whiter, cleaner finish. The delicate grey veins are not pronounced at all but are visible enough to add a bit of character to your room. Its neutral tones and delicate hints of soft grey give it pleasant, yet elegant aesthetic.
With the relatively high resistance to scratches and abrasions, this quartz countertop provides an exquisite, luxurious look to any kitchen for a very long time. They can be used indoors as flooring, countertops, and walls.
2. Calacatta Monaco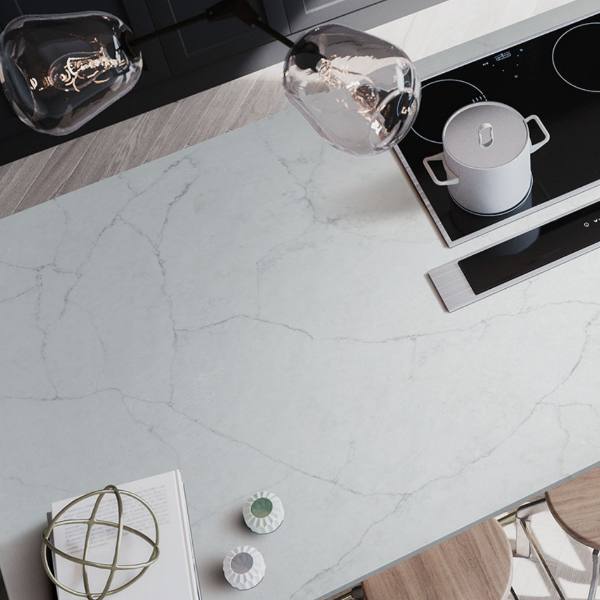 The Calacatta Monaco, like the New Carrara Marmi, has a warm white backdrop. However, the grey lines are much longer and more pronounced contrasting beautifully against the paler background. This works well in rooms that require a more modern, edgy aesthetic.
However, it's also a great way to add some alluring contrast in an otherwise traditional space. Its non-porous material makes it a good choice for both, commercial as well as residential spaces. It's versatile and can be incorporated in most indoor spaces in various capacities.
This includes walls, floors, and kitchen countertops. Despite its physical resemblance to traditional marble, its properties are quite different. It is strong and extremely resistant to normal wear and tear or even more intensive use.
Its durability is well matched to what you would need in a commercial setting.
3. Calacatta Ida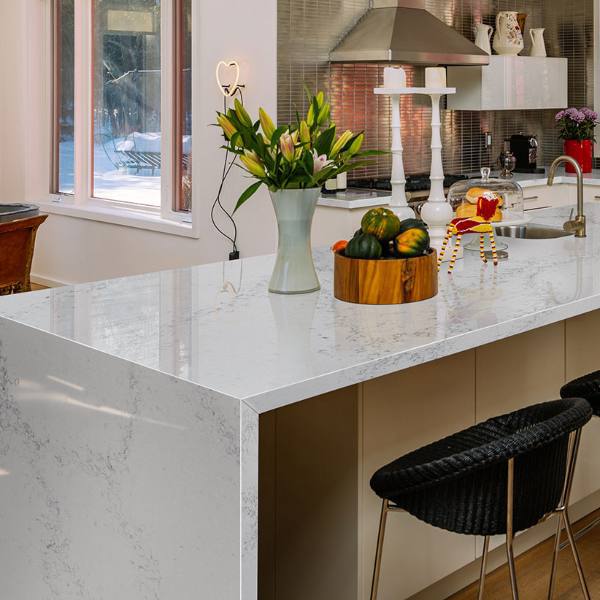 Inspired by Calacatta marble, the Calacatta Ida quartz is a unique slab with a more playful, abstract grey veining across its white backdrop.
This intricate work adds a lot of charm to the aesthetic of any room, blending in seamlessly into every kind of space. This piece is truly open to interpretation, adding to its versatility and timelessness.
However, its versatility is not limited just to its appearance and extends to its physical properties as well. It is waterproof as well as immune to most scratches and abrasions, like the other two. It works well in colder climates without the need for regular maintenance.
The polished finish only adds to its whimsical elegance and physical properties. In the ongoing quartz vs granite debate, the Calacatta Ida definitely gives the former an edge.
4. Calacatta Arno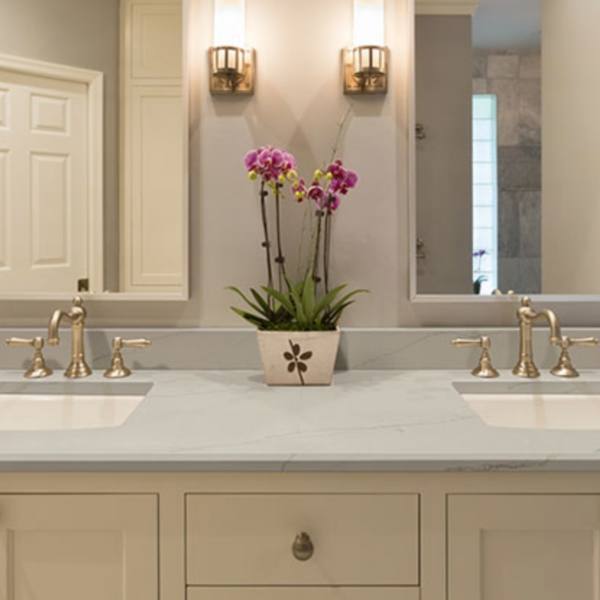 The Calacatta Arno features gorgeous grey veins complemented by contrasting gold accents against a beautiful sheen of marble white. The grey-gold lines create a beautiful statement in any kind of space, with the ability to add a touch of luxury and intricate artistry to any home.
Much like our black quartz variants, it also works brilliantly in more commercial, high-end corporate offices. The Calacatta Arno is as close as it gets to a marble-esque look. The resemblance is quite uncanny.
In fact, with its low maintenance needs, it's a more convenient and durable choice compared to its marble counterpart. That's because unlike conventional marble, it also comes with a warranty making it a more economical purchase in the long run.
Its dramatic veins give it a rather striking look, owing to its gold detailing.
5. Carrara Lumos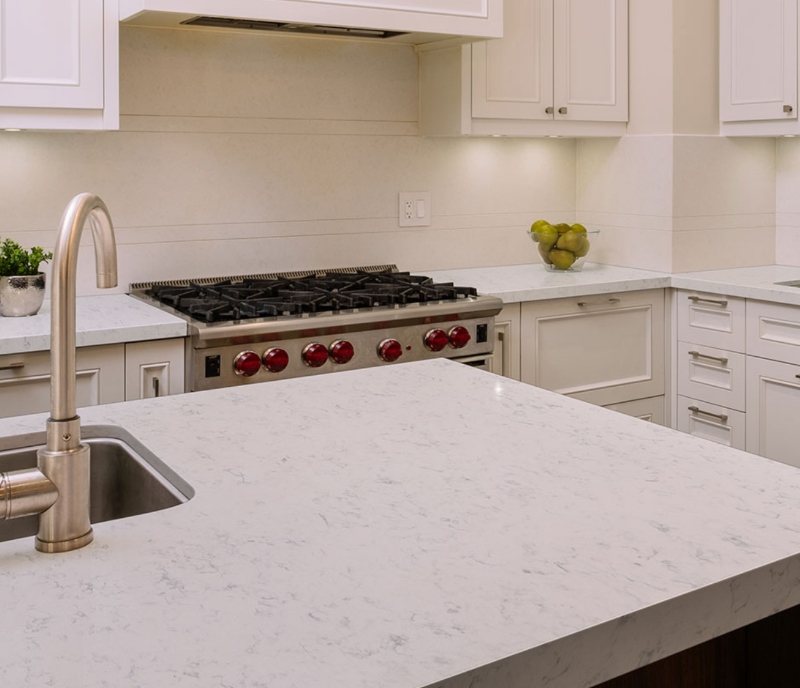 The Carrara Lumos makes a subtle statement in any room it's in. Its wispy lines of grey, much like thin, fragmented lines of grey smoke weave their way across a cool white backdrop. Its dreamy air allows it to blend perfectly with other subtle tones while creating a striking contrast against sharper backdrops.
Its subtle patterns bear a strong resemblance to stone giving it a more natural look.
It's easy to clean with just a bit of water and a soft cloth. Its subtle presence makes it a popular choice for kitchens as well as bathrooms. Its polished surface makes it immune to scratching, scorching, or staining.
It blends in well in most commercial and residential settings, much like the other quartz countertop colors above.
Finding a Quartz Countertop That Matches Your Style
If you want marble for your kitchens without the maintenance, quartz countertops are the way to go. Not only do you have a wide variety of white, grey, and black quartz styles to choose from, but they're more durable, offering incredible value for your money.
Take a closer look at all the variants and find something that matches the aesthetic of your kitchen as well as your personal tastes. Generally, the subtle vein variants give you a more classic, timeless look, while the dramatic lines create a statement.
More on quartz countertops
Get Maximum Value with Our 5 Most Affordable White Quartz Countertops
Mix and Match Quartz Countertops with Subway Tiles for A Perfect Pairing
Celebrate Your Kitchen with Quartz
Beautiful, Low Maintenance Quartz Countertops