Tips From The Trade: The Different Uses For Stone Veneer Panels
March 23, 2017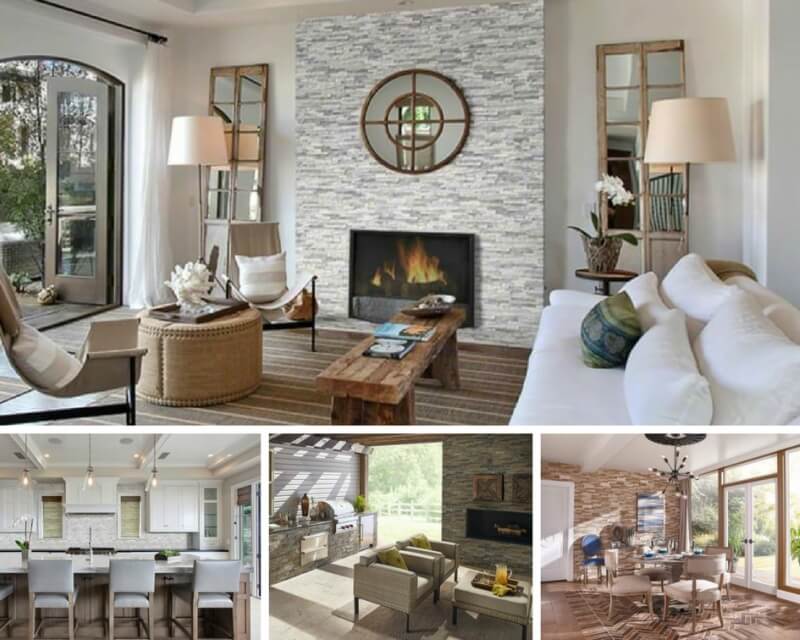 Natural stone veneer panels are a popular choice for exterior projects such as home cladding, planter boxes, dividing walls, or concealing unsightly pillars. However, you might be surprised to learn that are so many other projects that are also well suited to stacked stone panels.
Stacked stone veneer panels come in a wide range of colors, styles and textures. From the rustic to the contemporary, there is no doubt that many interior and outdoor design projects could benefit from these easy to clean, low maintenance and durable surfaces.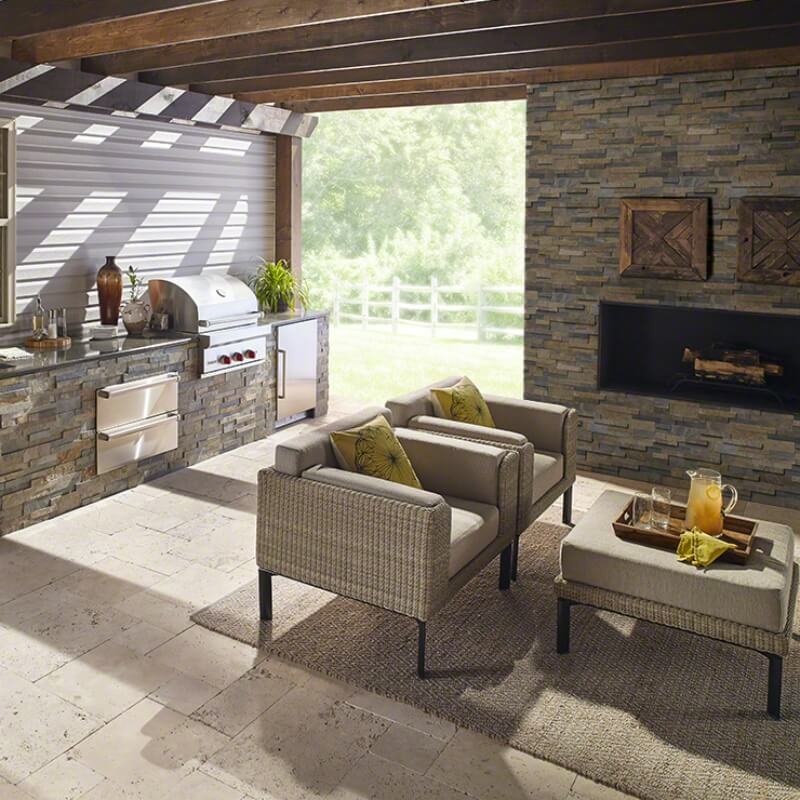 Featured: Rustic Gold Stacked Stone
These days, indoor/outdoor living is a preferred way of life. To make sure that outdoor spaces remain as beautiful as the day of installation, all surfaces and structural elements must be weather friendly, durable, and easy to clean.
Here, Rustic Gold Stacked Stone veneer panels crafted from natural slate are used on the fireplace and grilling area of this inviting outdoor space. The split face finish lends an earthy quality that works well in the overall design.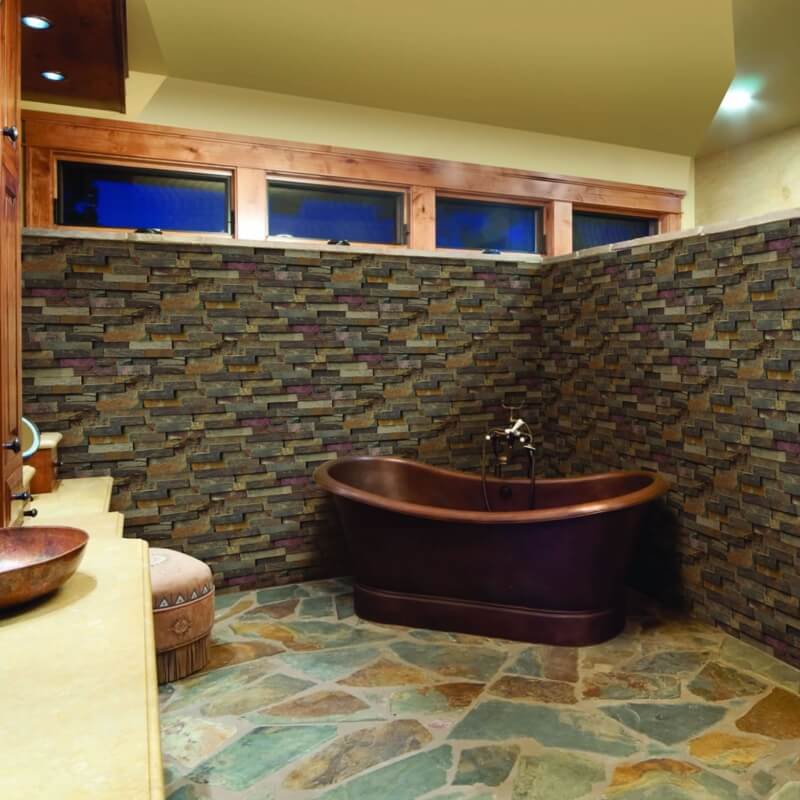 Featured: California Gold Stacked Stone
Busy bathrooms are another great place for stone veneer panels. Here, California Gold Stacked Stone veneer panels create a spa-like retreat that is as durable and easy to clean as it is lovely. As a bathtub surround, this natural stacked stone can be quickly rinsed clean of bubbles or soap splashes while bathing, making this luxurious bathroom hard to beat.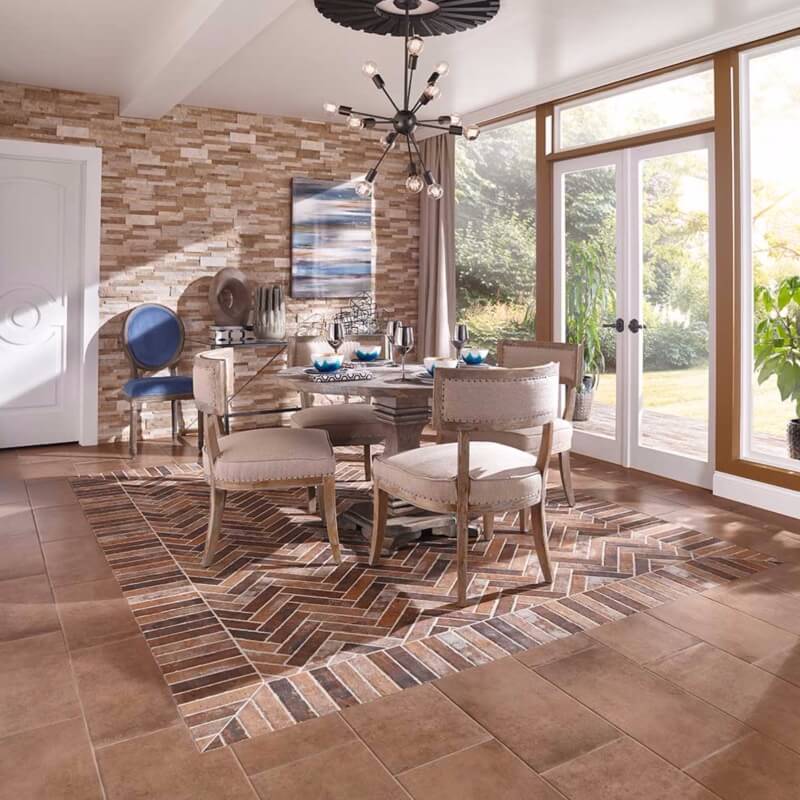 Featured: Casa Blend 3D Multi Finish Stacked Stone
During renovations, nothing excites designers and homeowners more than finding natural stone or brick walls that have been covered with drywall for years. For those of us living in recent builds, the discovery of a hidden wall of that sort is unlikely. But you can add an accent wall whenever and wherever you like, and Casa Blend 3D Multi Finish Stacked Stone veneer panels are the perfect blend of rustic and refined for the job.
Let's be honest, accidents happen in the dining room, whether it is spilled wine or spatters of spaghetti sauce. It's vital that walls and floors are durable and can withstand deep cleaning when necessary, and this material will stand up to both mess-making and clean-up.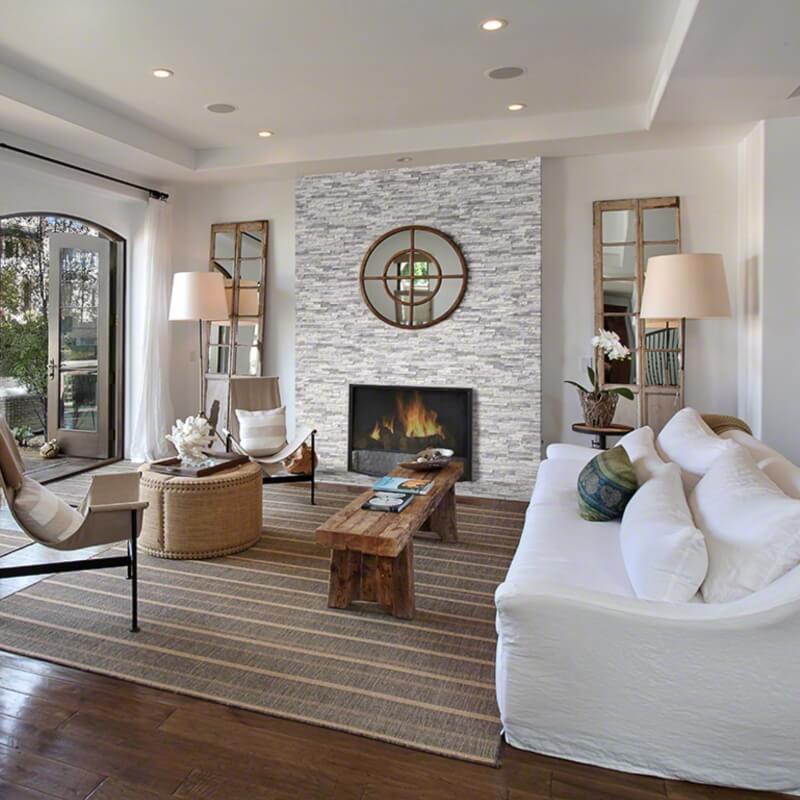 Featured: Alaska Gray Stacked Stone
While the rustic finishes and earthy tones of the three rooms above are undoubtedly beautiful, there are stacked stone panels that are well suited for a more contemporary design aesthetic. For example, Alaska Gray Stacked Stone is a great solution for fireplace walls.
Whether your fireplace is gas or wood burning, soot and grime will eventually develop on the exterior. Porous surfaces like unsealed brick and mortar can become stained rather quickly, and they are difficult to clean. However, as these stacked stone panels are designed to withstand harsh weather, dirt, and elements, they can easily be cleaned with a damp cloth.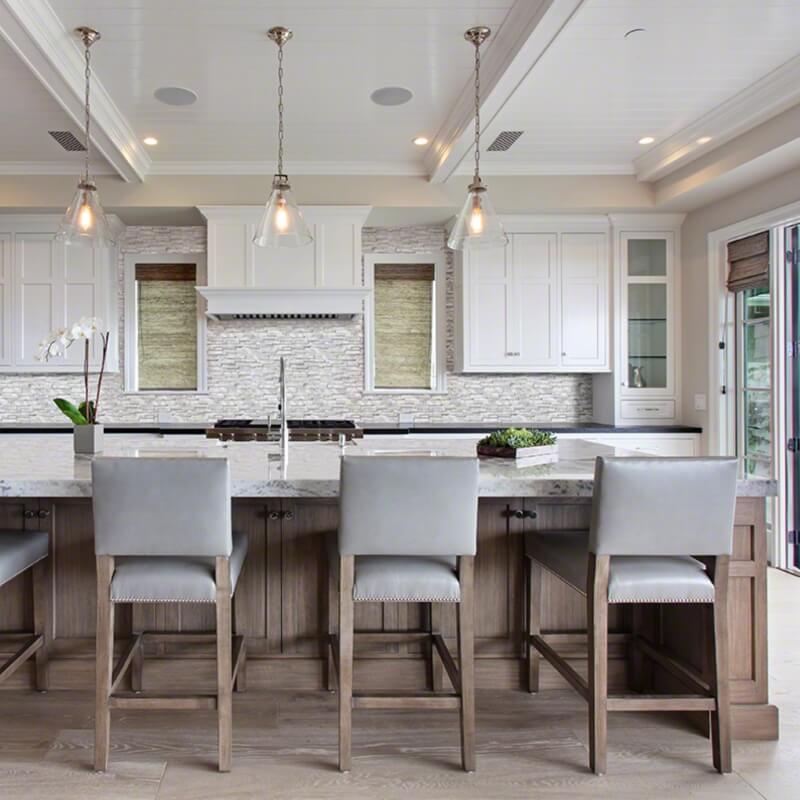 Featured: Calacatta Cressa 3D Stacked Stone
It isn't only the colors and textures that determine if stone veneer panels lean more towards traditional or modern design—the finish of the stone's face is also a factor. Calacatta Cressa 3D Stacked Stone marble veneer panels have a smooth face and precise edges that complement the linear design.
In a busy kitchen, over the range and the sink, an easy-to-clean and maintain backsplash is essential. The same care should be taken for this elegant backsplash as for any natural stone countertop or floor—a soft sponge, a touch of soapy water, and a quick rinse and dry are all your natural stone needs to keep it looking pristine.
Take a stroll around your home and look for a blank wall that is just crying out for some texture and color. Explore all the options available with our Stacked Stone Visualizer and start imagining a stunning accent wall, fireplace, bathtub surround, backsplash, or outdoor kitchen for your home.