Introducing 4 New Granite Kitchen Countertop Colors
October 10, 2022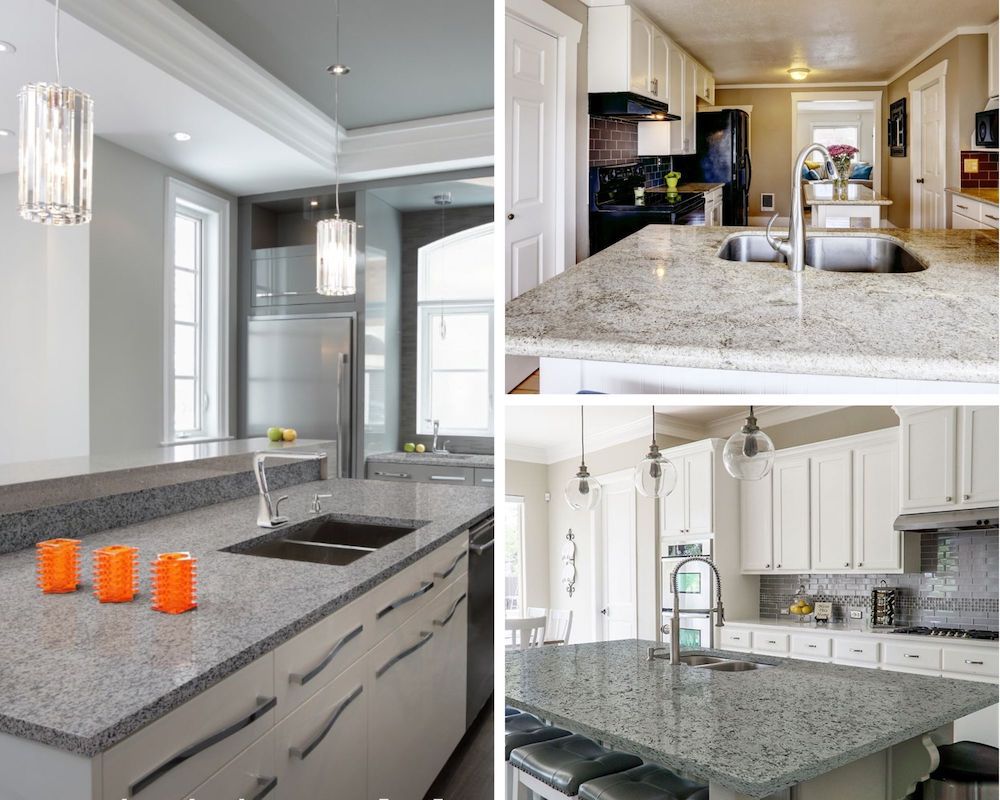 There are many reasons to love granite for your kitchen countertop. Homeowners love granite's durability and easy maintenance. It is also resistant to stains, scratches, chipping, and heat damage. Plus, of course, it's gorgeous.
Best of all, granite countertops are available in a wide range of colors, from nearly white to nearly black. So whether you prefer a subtle pattern with low movement or want to go bold with a design that becomes the whole house's focal point, not just the kitchen's — we've got you covered.
Now MSI has four new reasons to love granite countertops. Consider this article your formal introduction!
CEARA WHITE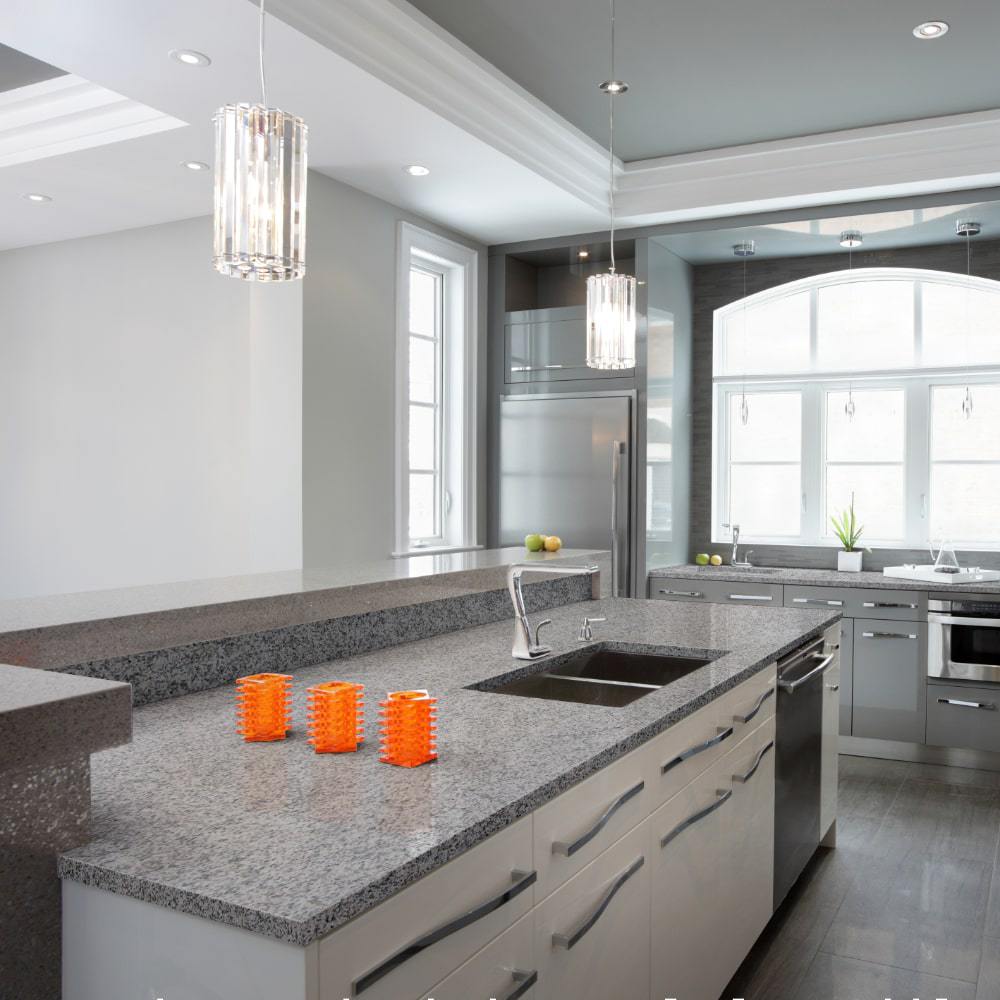 What's a kitchen without salt and pepper? Now you can carry that theme even further with Ceara White granite. It features a white background speckled with gray and black, a super-easy blend that coordinates with just about any design aesthetic. In this photo, you can see how well it complements the minimalistic, contemporary style found in so many kitchens today, but it's just as much at home in a traditional setting. For example, the combination of black, gray, and white is ideal for tying together white walls and cabinetry with a dark floor and stainless-steel appliances. And yet this monochromatic look is a joy to personalize with pops of color in your accessories and wall art.
But, you may wonder, is it true what designers, realtors, and other homeowners say about granite countertops elevating the value of your home? Experts agree it's one of the best home improvement projects for return on investment when preparing a home for the market. While it's true that granite should be sealed yearly to maximize its water-resistant and stain-resistant properties, everyday care is very easy. In addition, prospective home buyers appreciate that the gorgeous kitchen countertop will last a very long time; they may never need to replace it the entire time they own the home. And even if they drastically change the décor, an easygoing color like Ceara White will still look great.
EVEREST MIST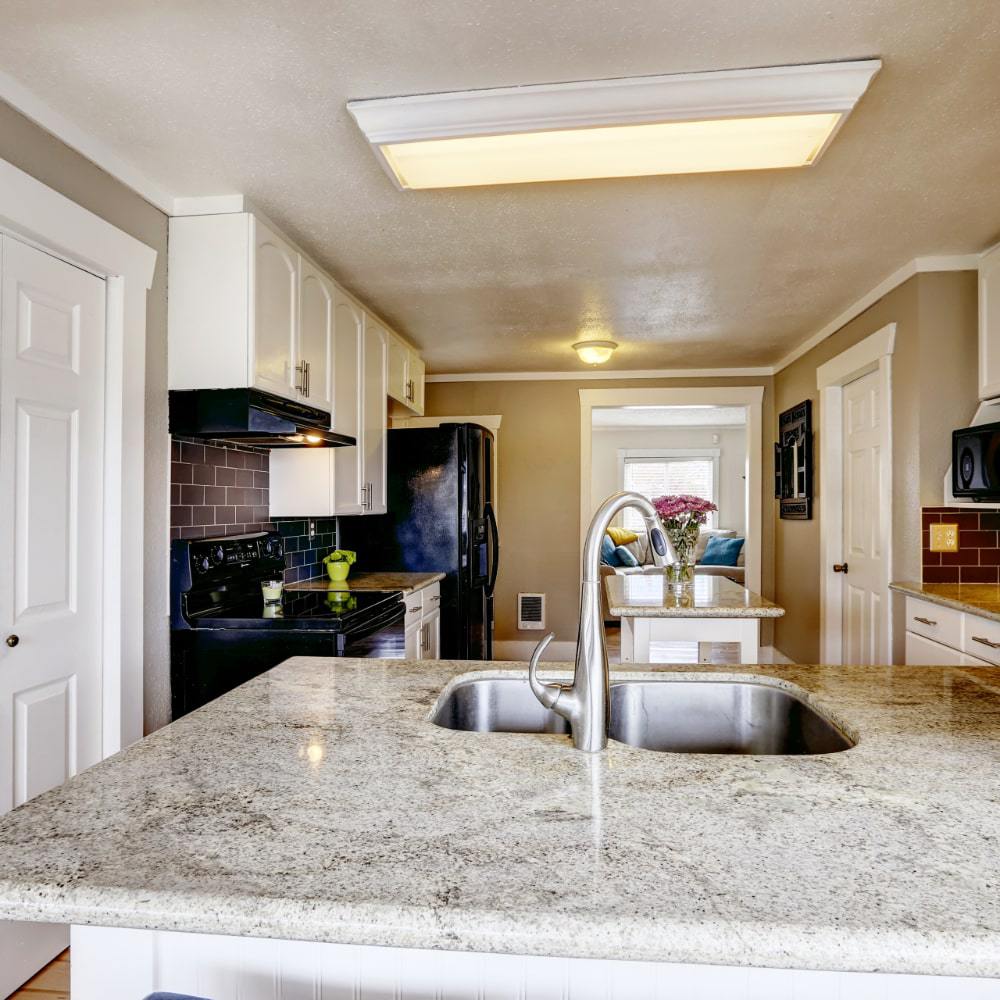 One reason kitchen designers love natural stone countertops is their versatility and the ability to customize them to individual tastes. Granite is a very hard material – the hardest natural stone countertop, making it incredibly durable. As a result, everyday use, even by busy families or enthusiastic cooks, won't damage it. Even Everest Mist, a warm-white granite with black and dark-gray flecks, will stay bright and beautiful for decades when properly cared for. However, homeowners can choose an edge treatment such as the rounded edge shown here. It can also be fabricated with any cutout shape you desire, including odd-shaped or round sinks.
Speaking of versatility, granite isn't just for kitchens. Since it's easy to keep hygienically clean, many homeowners choose Everest Mist or other MSI granite colors for their bathrooms as well. But why stop there? Granite holds up to the elements in the great outdoors better than any other type of countertop material, making it ideal for installation in outdoor kitchens, bars, patio tabletops, and so much more.
WHITE GALAXY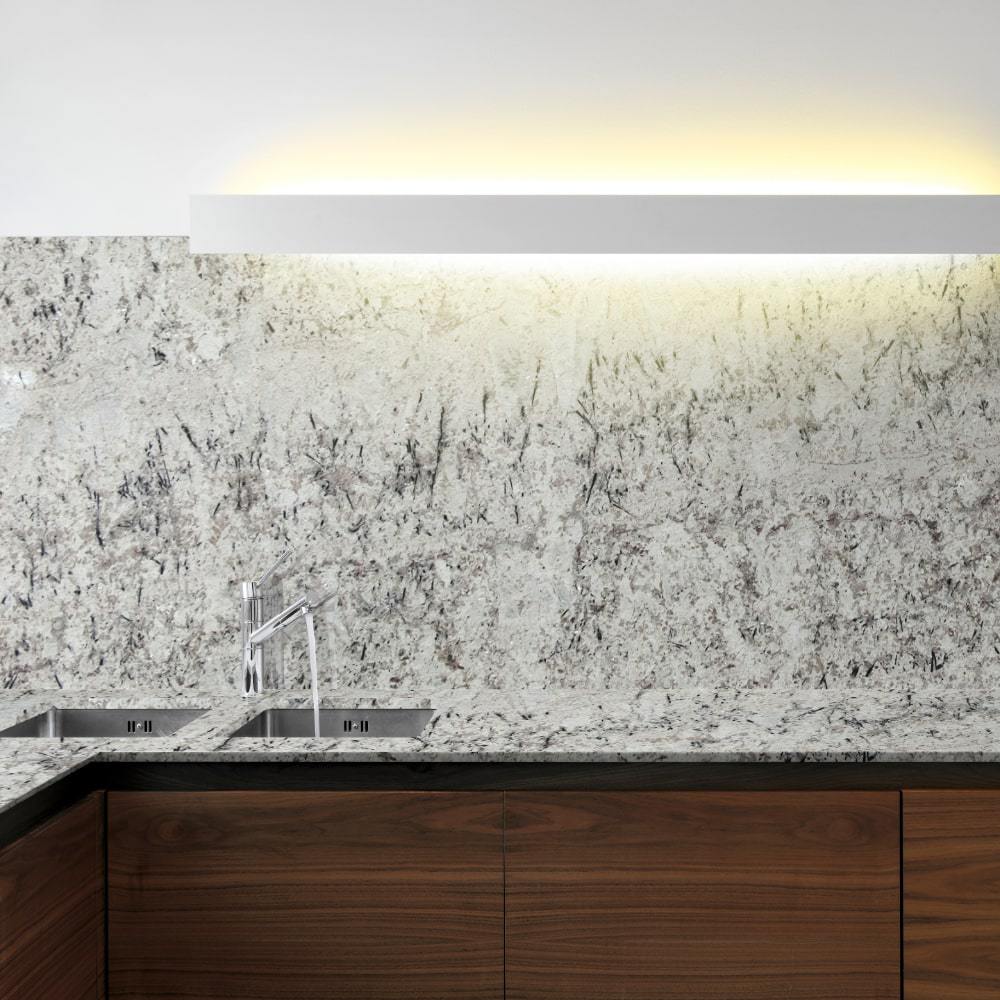 When you install a natural granite countertop, we recommend going to the slab yard to pick out the exact piece — or pieces — you want. That's because every piece is different! This natural variation is one of the reasons people choose granite vs. quartz, which is engineered and consistent in color and pattern. Of course, this makes your granite selection more complicated, but it also means you can create a masterpiece in your kitchen or bathroom by how your granite slabs are installed.
For example, you can use a high-movement granite such as White Galaxy, which has a white background accented with darker flecks, streaks, and swirls. Install it vertically as a backsplash alongside your horizontal countertop so that the two pieces are perfectly complementary, and you've got a true showstopper!
WHITE NAPOLI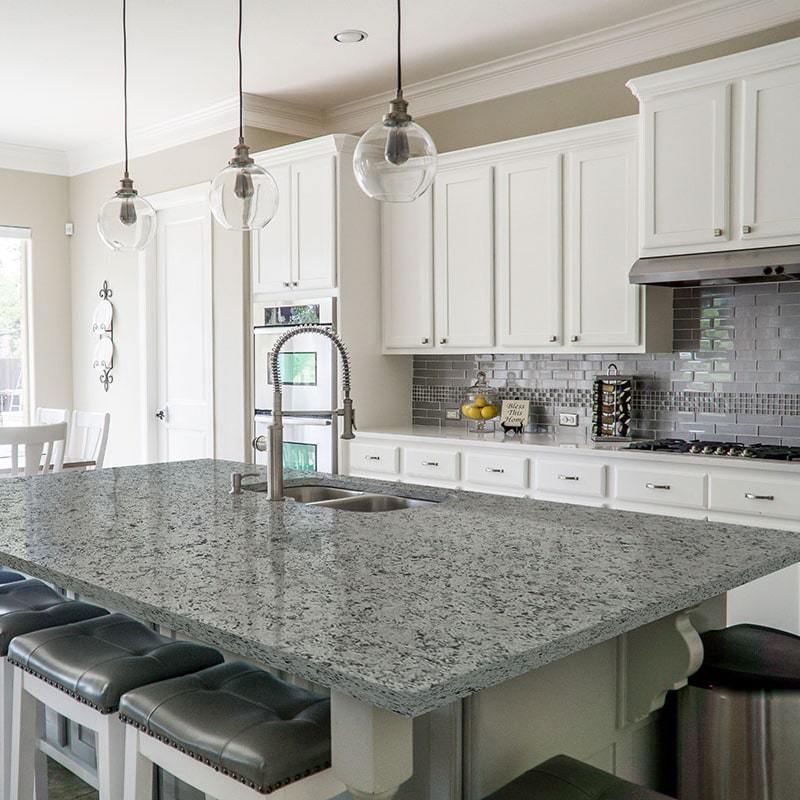 Have you been thinking about hopping on the gray decorating trend but worried that the result might be dreary and uninspired? White Napoli granite countertops will change all that. It features a cool white background laced with splotches of gray in a range of shades, including one that's nearly black. The mixture is bold and breathtaking and complements classic and modern décor. It's also a natural pairing with all things gray, such as cabinetry, furniture, flooring, or backsplash tile.
Here's another idea for enjoying granite countertops for kitchens while reducing your granite countertop cost — select it for your center island and use a different color granite or even a different countertop material for the side counters. Of course, it's easy to match, and your island will be the star of the show. Add statement lighting above the island to make the most of White Napoli's reflective, polished finish.
It's not always easy to imagine how your favorite granite color will look in your own home, though. That's why MSI provides our countertop visualizer, allowing you to try out different combinations of counters, cabinets, flooring, and more. You can even compare edge profiles, such as rounded, beveled, bullnose, or ogee, to see how they look on a larger scale than a showroom sample. It's an excellent tool for planning your next remodeling project.
At MSI, we're dedicated to ensuring our customers are thrilled with every product we sell. So if you have any questions or need tips for choosing or installing a granite countertop, please feel free to call us or visit one of our showrooms near you.
Learn More About Granite Countertops
Find Your Perfect Granite Countertop With The MSI Kitchen Design Tool
Introducing 4 New Granite Kitchen Countertop Colors
Create The Perfect Outdoor Kitchen With Granite Countertops