How To Keep Your Granite Countertop Looking Brand-New
November 08, 2022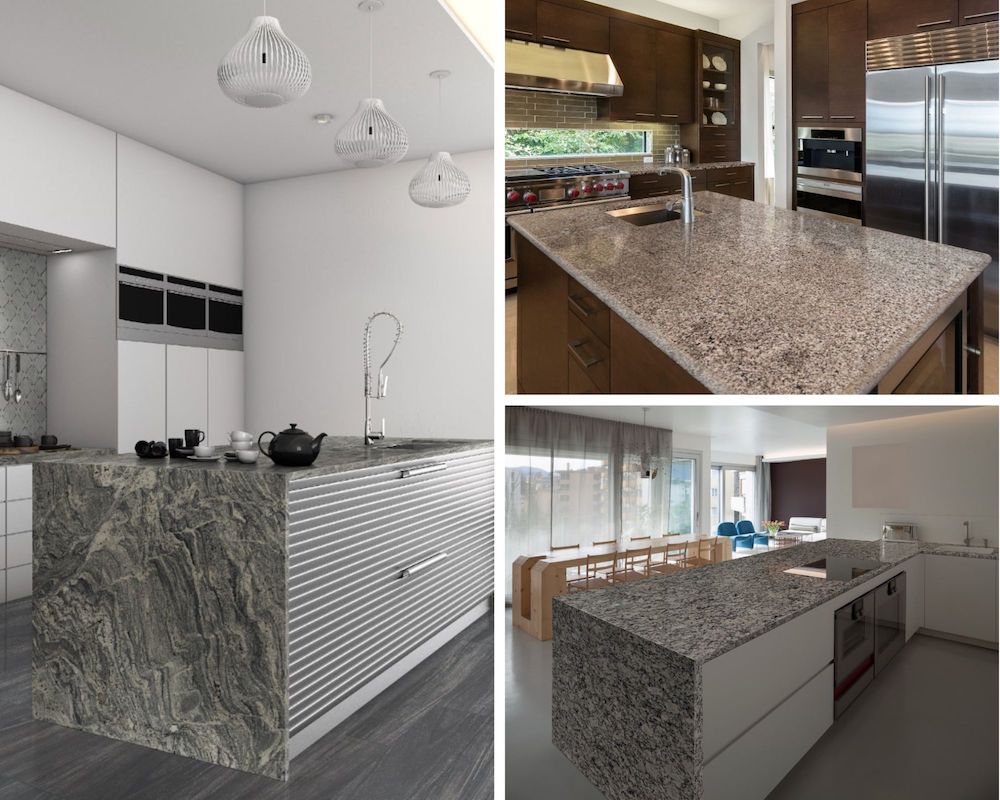 Installing a granite countertop is a great way to add luxury and personality to your kitchen, bathroom, or other rooms in the home. Not only will it increase value and desirability, but resilient granite is among the hardest materials available for counter surfaces, making it a practical addition to any living space.
Granite is resistant to heat, scratching, chipping, cracking, etching, staining, and other harm. Known for depth, dimension, and dramatic patterns, it's also a gorgeous enhancement to any design. So it's no surprise that granite is a popular choice for kitchen remodeling.
That said, granite requires proper cleaning, maintenance, and care to ensure longevity. So what can you do to ensure your stone countertops last for years? Here are a few tips and tricks to keep your granite looking pristine.
Choose Options that Work for Your Home and Lifestyle
If you're working with kitchen designers to choose the right granite for your home, it's always best to consider your lifestyle as part of the equation. For example, does your household include messy and destructive kids? Do you entertain frequently and find yourself mopping up spills?
If you've already settled the granite vs. quartz debate, the next step is to choose the granite variety best suited to your home and your lifestyle.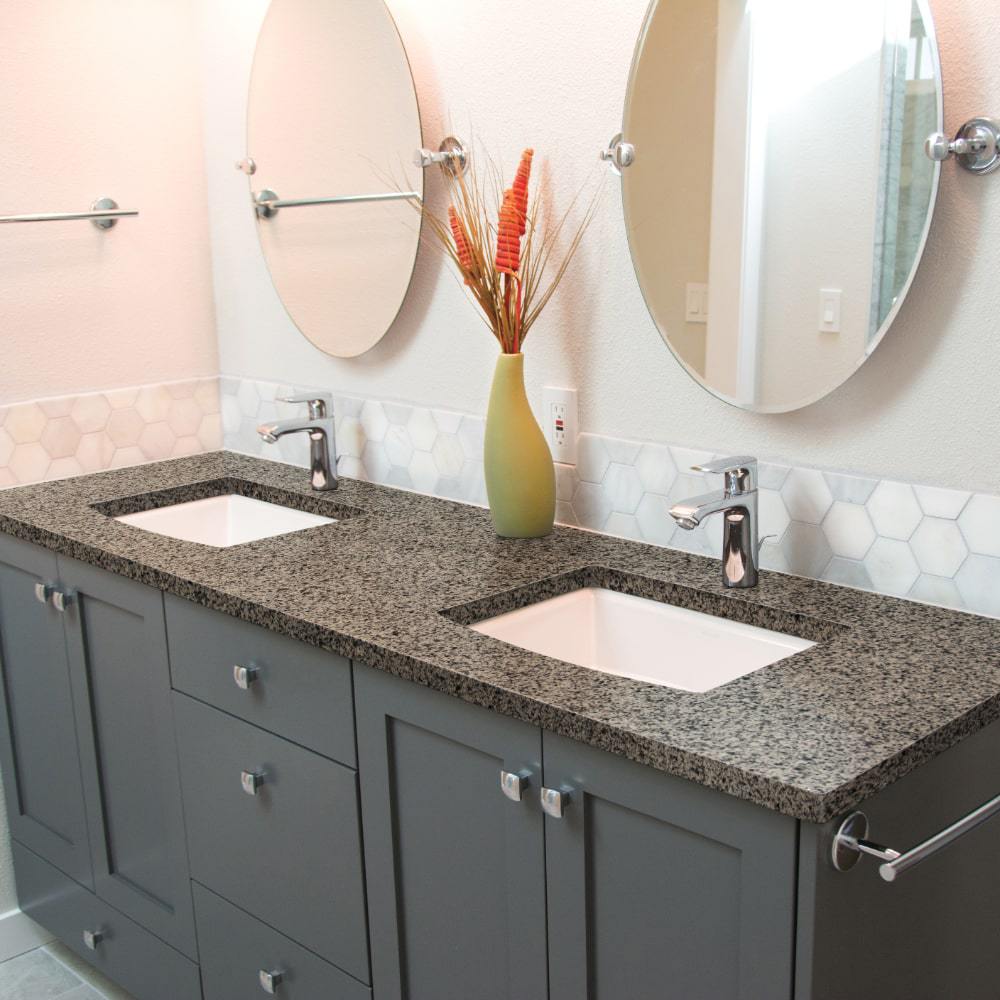 If you're a busy parent who doesn't have a lot of time to wipe up spills and splatter, you might want a practical variety like Bohemian Gray granite, with a warm gray background and dark gray and black flecks that will help to hide dust, water spots, and food splatter until you have time to clean.
With over 250 granite colors, MSI has plenty of options to choose from, so you should have no trouble finding the gorgeous variety that enhances your interior design and fits seamlessly into your lifestyle.
Clean Properly
Regular cleaning is one of the best and easiest ways to keep kitchen countertops looking brand-new. However, stone surfaces do require some specialized care. A simple wipe with a damp, microfiber cloth for daily cleaning should do the trick.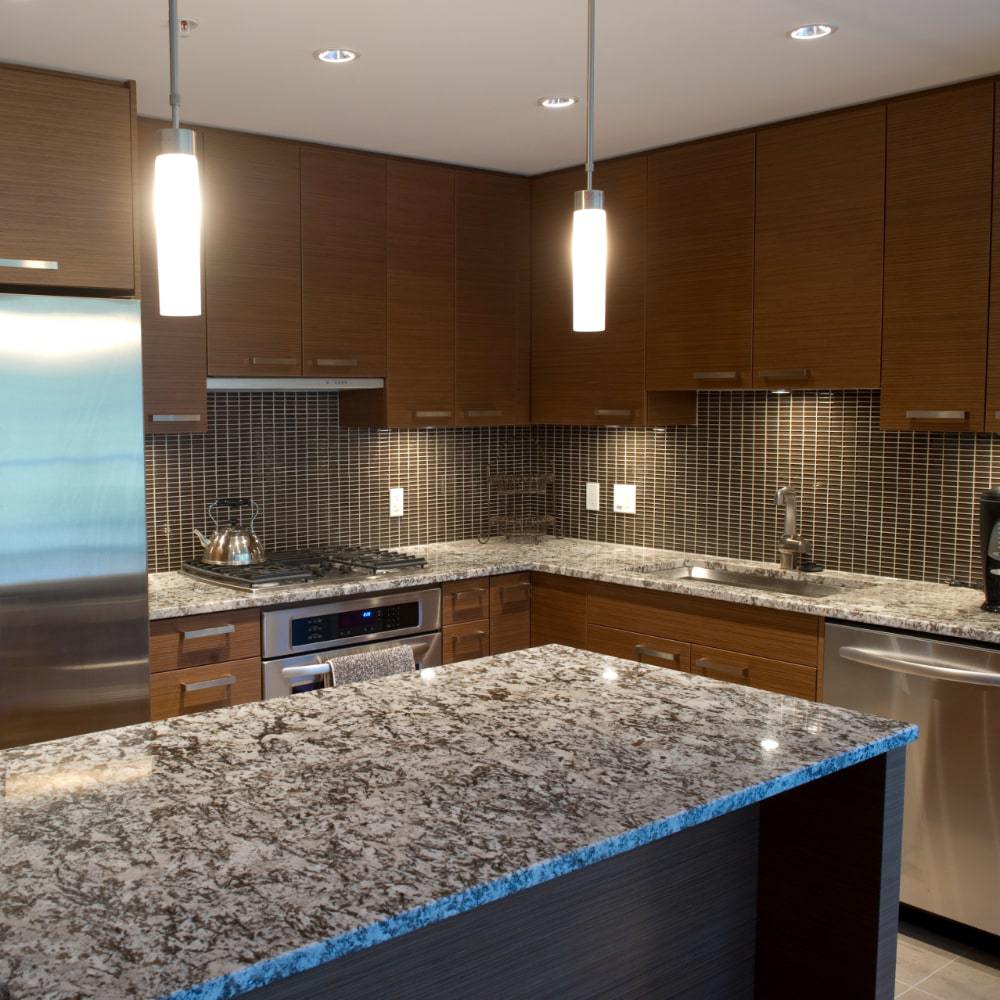 If you're dealing with food splatter or other grime, try mixing gentle dish soap with warm water to scrub away stuck-on messes. You can also choose a cleanser designed specifically for stone. Some will even help to maintain the seal on your white-and-gray Delicatus granite, alleviating concerns about staining.
What you want to avoid when it comes to cleaning are solvents that contain abrasives or harsh ingredients like bleach, which can damage the seal and the stone. When you add a granite countertop cost to your home renovation budget, you want to ensure surfaces will last; proper cleaning is essential.
Practice Suitable Maintenance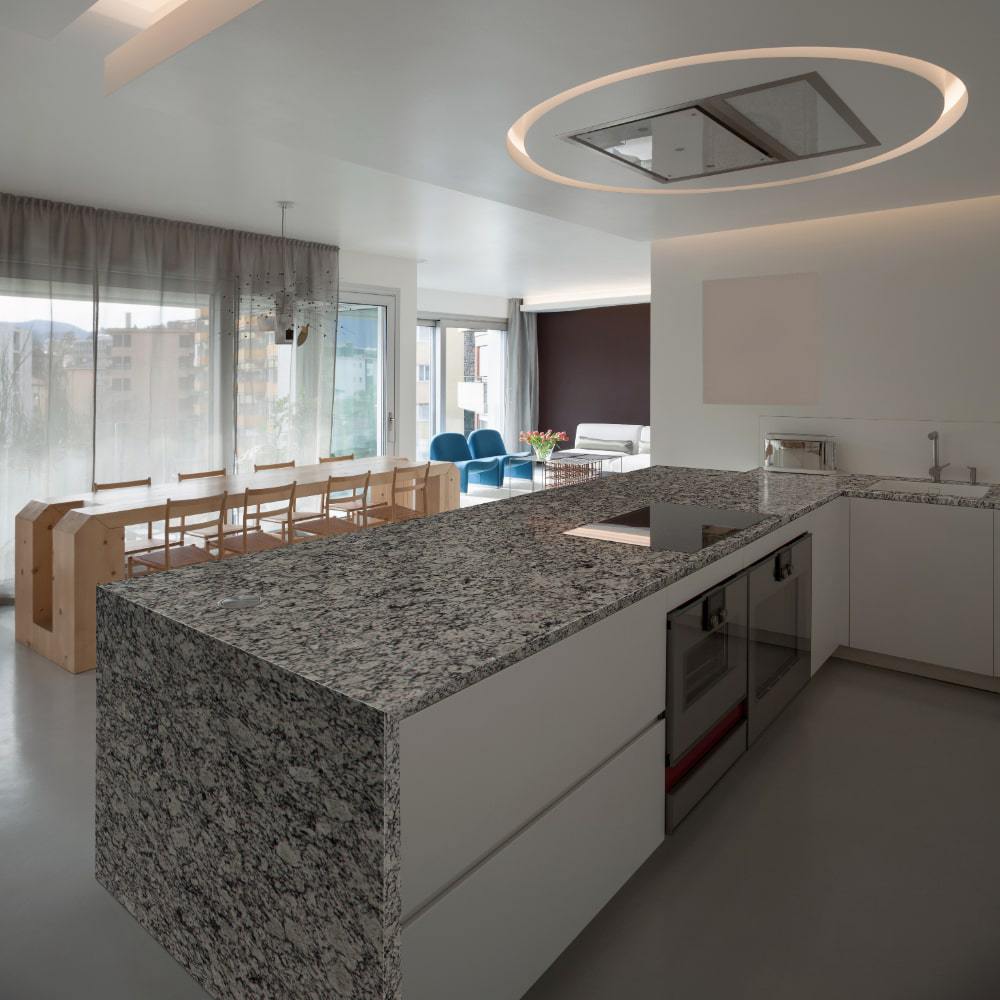 Regular maintenance is vital if you want to keep a beautiful and dramatic variety like Bianco Frost granite, with its soft white background and black veining, looking breathtaking for years to come. This process mainly consists of resealing your natural stone periodically.
How often you seal will depend on various factors, including how busy your household is, the wear and tear on surfaces, and the type of sealant you apply.
Some products may require application once or twice per year, while others could last three to five years or more. Countertop experts can offer guidance on the products that may best suit your lifestyle and personal preferences.
Avoid Extreme Heat
When it comes to strong and durable countertop materials, it's hard to deny the benefits of natural stone. One of the major draws for many homeowners is that granite is particularly resistant to hot and cold.
However, even a stone countertop can suffer harm when exposed to extreme temperatures.
While granite can resist high heat and won't scorch like some other counter surfaces, rapid temperature changes could lead to issues like cracking. Therefore, it's a good idea to use hot pads or trivets when placing boiling or broiling hot pans on the counter.
Don't Test Scratch Resistance
One of the major selling points of granite is that it's highly resistant to stains and scratches. While you could use your countertop as a cutting board, it's better not to for a few reasons.
First, even if your sharpest knives are unlikely to damage the granite, the counter can dull your knives. Cutting boards are designed to prevent the rapid dulling of cutlery.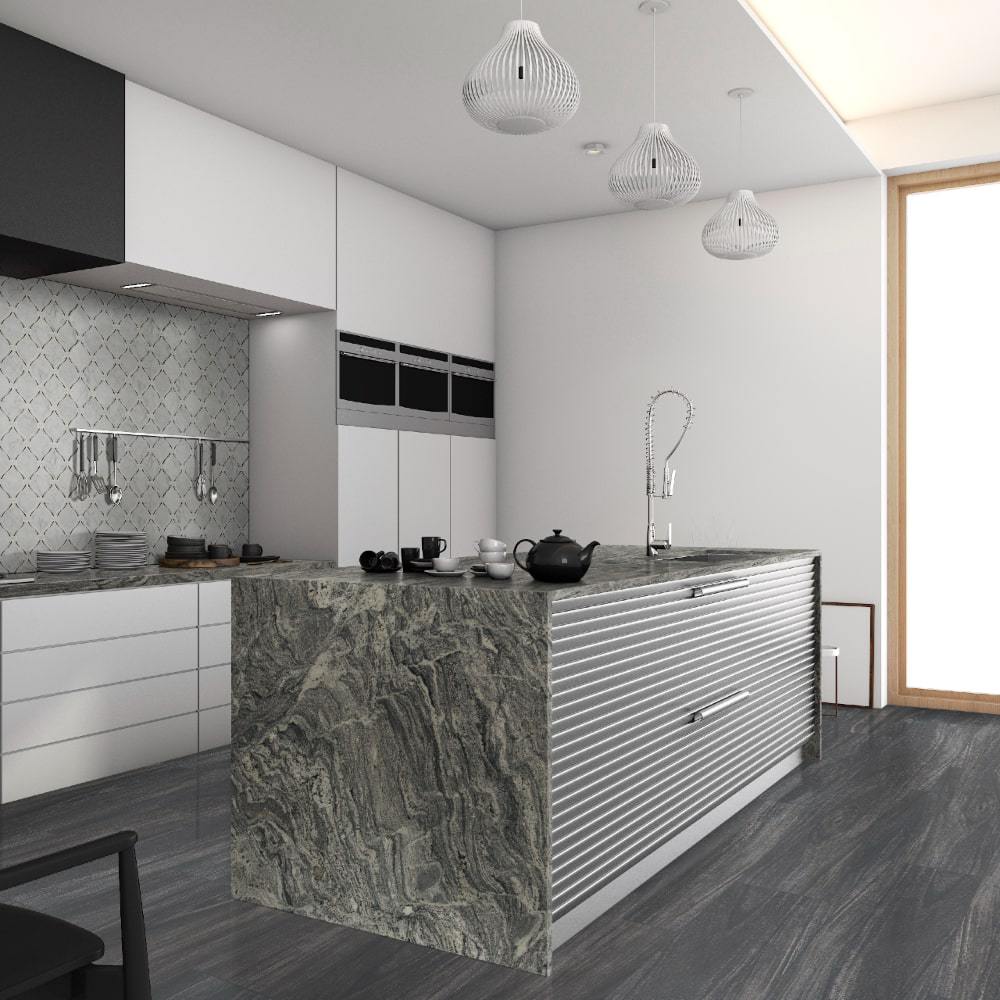 In addition, while Silver Creek granite, with its dark gray striations, may camouflage issues like staining and etching from food prep, it's better to avoid this harm altogether by simply using a cutting board.
Of course, natural stone is also porous and could harbor bacteria from meats and other substances. In short, it's always a good idea to use a cutting board rather than prepping food directly on the counter.
Watch Out for Acidic Substances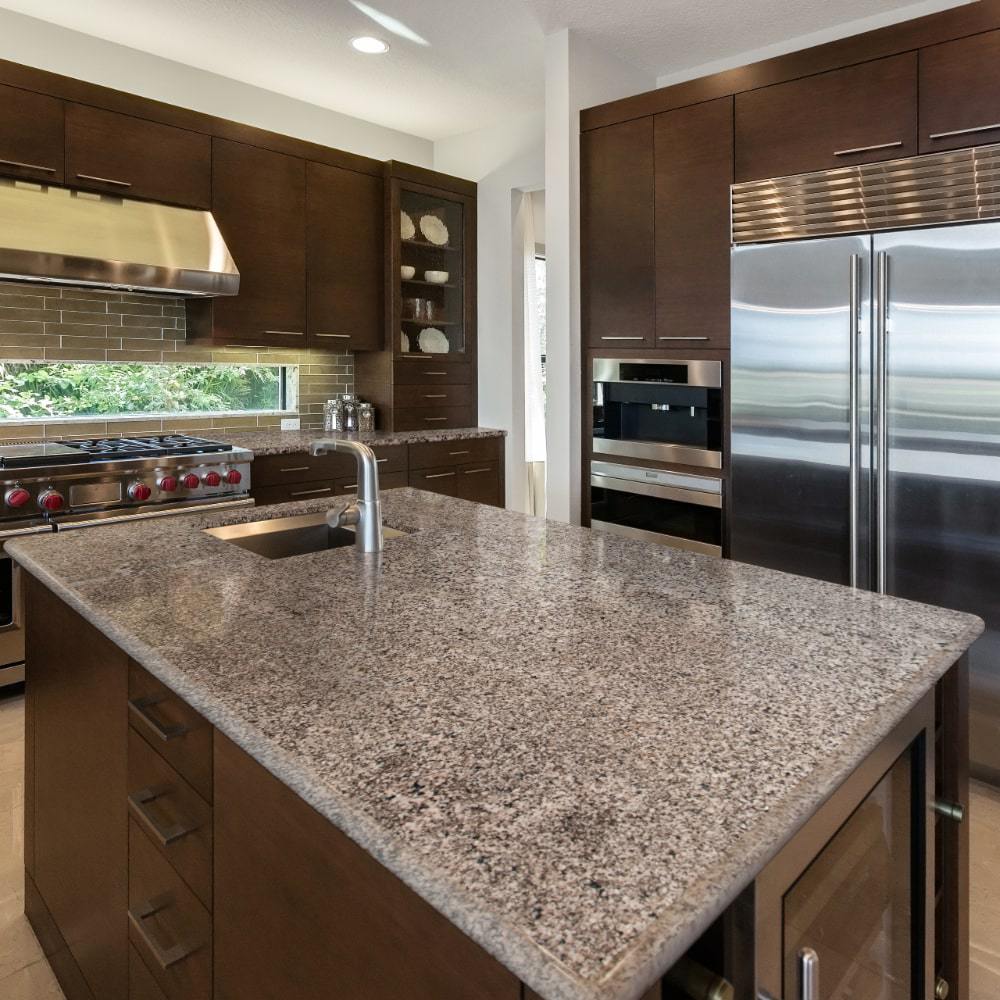 Regardless of the granite colors you favor, whether bright whites, charcoal grays, or the warm beiges and taupes of Arctic Sand granite, you'll want to take pains to avoid common issues like etching and staining.
While granite is largely resistant to such harm, especially when properly sealed, you can do your part to prevent damage by avoiding contact with acidic substances.
Citrus fruits are a major culprit, although chemical cleansers can also be problematic. These substances damage the seal, exposing the stone beneath and opening the door to staining and other damage. Be mindful of acidic substances if your home improvement plan doesn't include counter repair.
Remember, It's a Counter, Not a Chair
With a Mohs hardness rating of 6–7, granite is one of the strongest countertop materials, but even a thick slab could be susceptible to cracking or breaking under pressure. This risk is especially concerning at weaker countertop edges.
Sitting on even a small overhang could be a recipe for disaster, so if you catch kids or guests putting pressure on your edge treatment or sitting on a bar overhang, show them to a proper chair.
Beautify Your Home with Granite
With a few simple precautions and a regular maintenance routine, it's easy to get incredible value and enjoyment from your granite countertops. When you're ready to find the perfect slab for your home upgrade project, contact the professionals at MSI using the convenient live chat feature.
Learn More About Granite Countertops
Find Your Perfect Granite Countertop With The MSI Kitchen Design Tool
Introducing 4 New Granite Kitchen Countertop Colors
Create The Perfect Outdoor Kitchen With Granite Countertops