Current Obsessions: Achieve Natural Stone Looks With These Quartz Countertops
July 17, 2018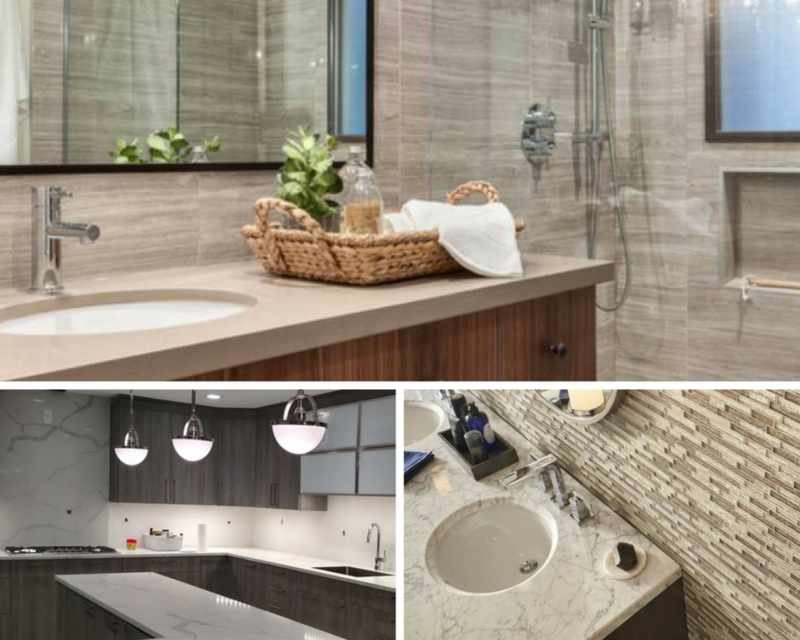 It's easy to fall in love with natural stone, whether it's beautiful, classic marble or timeless granite. Once you lay eyes on your perfect slab and run your hand across the natural stone, it might be nearly impossible to change your mind about what you want for your new countertop material.
However, many homeowners second-guess their selection after researching the required upkeep of their dream material. The fact is, natural stone countertops simply require more care than quartz countertops.
Man-made quartz is an excellent alternative to natural stone that doesn't require nearly as much maintenance but still provides the look of marble or granite. Plus, its non-porous surface means you won't have to worry about bacteria growing on your kitchen countertop, and just a wipe with a damp cloth or a bit of dish soap is all you need to keep it clean and looking like new!
And the best part? You won't have to remember to reseal your surface or constantly worry about water spots ruining your surface. That's because quartz doesn't require sealing and won't absorb liquids.
When it comes to comparing quartz and other man-made countertop surfaces, quartz is truly in a luxury league of its own! Unlike laminate surfaces, engineered quartz both looks and feels like real stone. And for the most part, it acts like stone as well!
Quartz is ultra durable, so you can expect it to last for years. Plus, it stays cool and withstands heat better than a laminate surface. We're so convinced you'll fall for one of our favorite natural stone quartz countertop looks, that we dare you to take a look!
Toasted Almond
Toasted Almond Quartz features a beautiful combination of neutral quartz colors, its warm creams, beiges and gray speckles in perfect balance. This updated classic mimics the look of speckled granite but offers the easy maintenance of quartz.
And you know when you choose quartz that the pattern you pick is the pattern you get, because quartz does not have the unique fissures and colorings that can sometimes surprise with granite.
This color and design works well with a number of styles, from traditional to modern kitchen. The large island slab at the heart of this kitchen is perfect for busy family gatherings or hosting parties, and cleanup is sure to be a breeze
Pebble Rock
Pebble Rock Quartz creates a clean canvas for your kitchen or bathroom with the soothing beige-hued warmth of travertine. This neutral-hued quartz countertop has a unique sweeping curve that welcomes visitors and coordinates beautifully with other tile options, such as the diagonally laid tile floor. The lighter hue is in keeping with the white cabinetry, but contrasts nicely with the darker wood look backsplash tile.
Fossil Taupe
Fossil Taupe Quartz is a mid-tone taupe countertop with visually pleasing tonal specks that give a calming appeal to this contemporary bathroom design. However, the timeless color and sophisticated style of this stone-inspired modern quartz will appeal to many design tastes.
Here, the surface pairs with a number of natural and neutral elements, from the pebble stone shower floor to the shower and wall tile in a similar tone, and don't forget the exotic vertical-grain wood vanity!
Calacatta Classique
Calacatta Classique Quartz is a marble look quartz that offers the luxurious look of marble, but with little to no maintenance. In this minimal, modern kitchen, the clean and white quartz's bold through-body veining shines bright, with installations on the kitchen island, back cabinetry, and stovetop backsplash. The impact of this kitchen is unmistakably contemporary, but this quartz would perfectly complement a traditional style as well.
Carrara Marmi
Carrara Marmi Quartz is another marble quartz, but this time the natural stone provides timeless character within the surrounding contemporary design. The soft white background and whispery gray veins lend elegance to the curves of the circular sinks and oval mirrors; while the reflective glass backsplash, hanging pendants and polished chrome faucets provide a pleasing linear counterpoint.
Quartz counters are one of the most popular surfaces with homeowners and designers. Not only are they among the kitchen remodeling trends that last, but they also offer the beauty of natural stone with the easy maintenance and peace of mind today's busy families need.
To check out all of our natural stone quartz options, check out your local MSI Showroom.