How And Where Are MSI Quartz Countertops Manufactured?
September 02, 2021
Preferences in home decor change over the years, but a luxury kitchen or bathroom countertop is timeless. Although granite, marble, and other natural stones remain popular, quartz countertops have captured a huge market share among homeowners and interior designers.
There are several reasons for the popularity of quartz vs. granite and other types of countertops. They're extremely durable and long-lasting, super-easy to care for and maintain, and beautiful.
What's more, they are available in a huge array of patterns and colors, including solid colors that look great in a contemporary, modern kitchen design and others that authentically replicate natural stones. Quartz countertops are hard to distinguish from the real thing unless you look closely. They lack the natural variation found in many stones, but the benefit is that they are consistent, also lacking the flaws that may appear in natural stone. With quartz, you know exactly what you're getting with every slab and will be assured that each will match up perfectly with other pieces.
With all this in mind, you might be wondering what a quartz countertop is made from and the process by which it becomes your gorgeous premium surface. Also, since consumers are becoming increasingly aware of and concerned about where the products they use are manufactured, you might want to know where quartz countertops are made.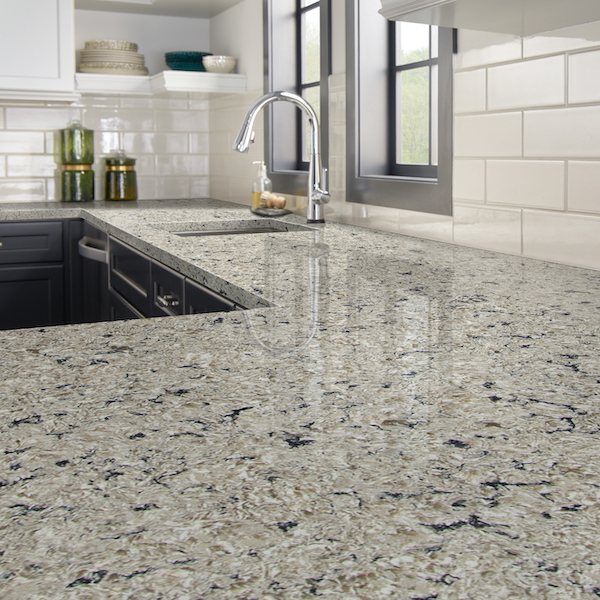 Bretonstone technology, the manufacturing method for creating quartz countertops, has its roots in Italy. The precise, patented technology has been in use for over 50 years, being tested time and again for strength, beauty, and durability. Of course, with advancements in technology, the process of manufacturing modern quartz has become more efficient, and the product's quality has improved as well.
Here's another bit of good news: MSI has brought this innovative manufacturing method to the U.S. through a partnership with Spectrum Quartz. A part of Hirsch Glass corporation, Spectrum Quartz began manufacturing quartz slabs using its own patented technology in 2014. Recognizing the advantage in combining Spectrum's production capability with MSI's sales and distribution network, the two companies began working together to build a 360,000 square foot manufacturing facility for high-end, luxury quartz countertops — and it's located in Latta, South Carolina.
This partnership gives us tight control over the quality of our quartz products, as well as allowing us to respond to market trends. For homeowners, what this means is that we bring you the very best quartz countertops in all of the latest, on-trend colors that you love.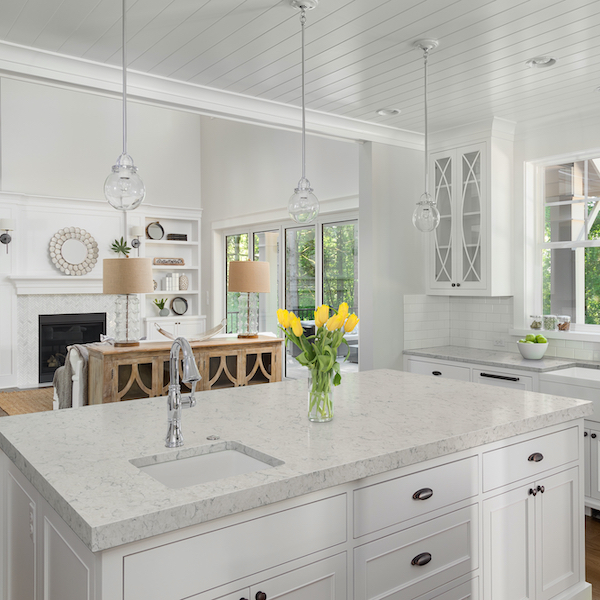 How Quartz Slabs Are Made
Granite, marble, and other natural stones are mined or quarried from the earth. Quartz is also mined, but unlike the others, it's one of the most abundant minerals on Earth, and it is available in many different locations, including domestic sources such as Arkansas and North Carolina. Bits of stone containing quartz are scooped from the mine and shipped to a manufacturing facility, and local availability lessens its environmental impact. In fact, the quartz used by countertop manufacturers is often the leftover, crushed bits from quartz quarries that would otherwise be wasted.
Refined quartz crystals are crushed into fine pieces that range in size from grains of sand to small pebbles, depending upon the pattern that will be manufactured. These quartz crystals make up 94% of the finished product. They are combined with other minerals and pigments to create a variety of quartz colors, then bonded together with a polymer resin.
The resins that are used in engineered quartz countertops are inert, so they are ideal for sensitive individuals with allergies. They have been extensively tested, so they do not degrade over time, can hold up well to heat and sunlight, and have very little impact on your home's indoor air quality.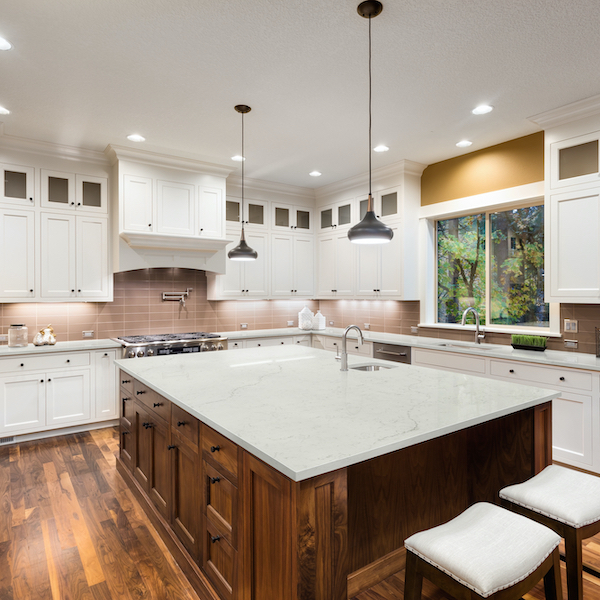 After the ingredients are combined, the mixture is poured into a mold to create solid slabs. The next step is vibro-compression — the slab is compressed under high pressure to create a solid, nonporous surface. These slabs are then exposed to high heat, which increases their strength, and then cured. The result is an extremely hard, durable countertop material that is completely nonporous. It is resistant to stains, scratches, and moisture without ever needing to be sealed. Because they are so easy to keep clean and hygienic, MSI quartz kitchen countertops are even certified Kosher.
To create a perfectly flat product, they are polished with multi-diamond-head polishers. These can produce a high-gloss polished finish, as well as various other textures.
The next step a quartz slab takes on its way to your kitchen is called fabrication. Prefabricated quartz countertops with standard-sized sink cutouts and common shapes and sizes are available. Most homeowners, however, prefer to have their countertops custom-made to fit their kitchen's exact size and shape. The fabricator will need the countertop dimensions, as well as the size, shape, and location of any cutouts required for the sink, cooktop, or other fixtures. You can also choose a variety of edge treatments, such as beveled, ogee, waterfall, and more. If desired, quartz countertops can be paired with a matching backsplash.
Quartz countertops are not new, but they are constantly being improved. Since they are engineered, not only do they replicate a variety of natural stone countertops but they are also updated with new patterns and colors on a regular basis. Visit MSI's web gallery to browse our wide selection of engineered quartz patterns and see why it's becoming such a popular choice.
More on Quartz Countertops
How to Choose the Right Backsplash Tile for Your Quartz Countertop
Can Heat Damage My Quartz Countertop?
The Most Popular Quartz Countertop Trends for White Kitchens
When to Choose Prefab Quartz Countertops