The Best Hotel Flooring Options For Your Guest Rooms
February 28, 2023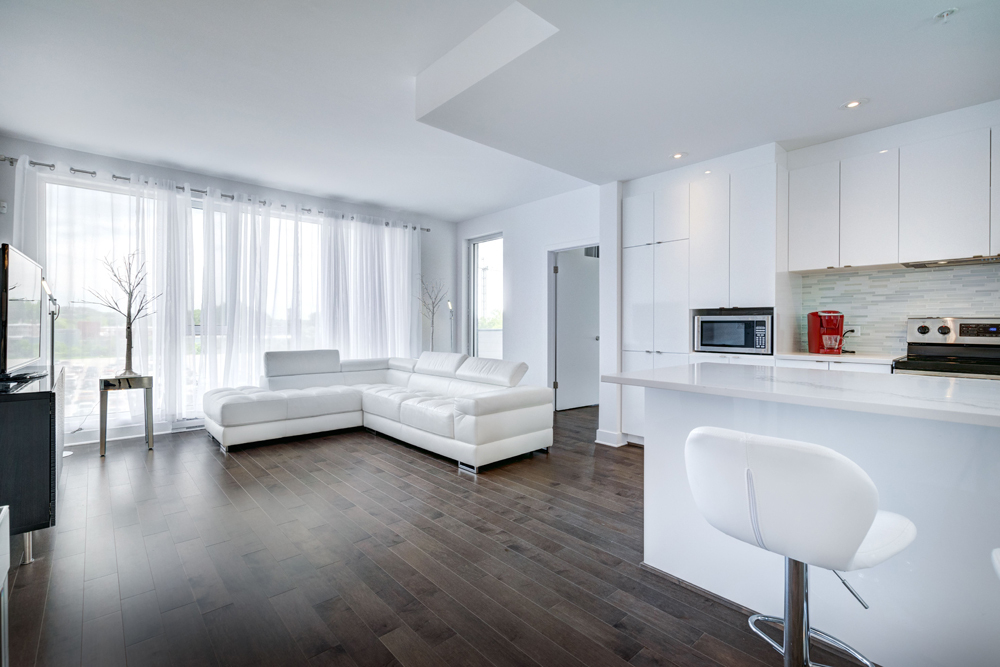 First impressions are crucial to a business's success – especially within the hospitality industry. From a hotel's lobby to the guest rooms, careful attention to design is essential to making guests feel comfortable and welcome. For example, selecting the right type of hotel flooring. Not only must it perfectly match the hotel's style of décor, but it also must be practical and beautiful simultaneously.
Carpeting has been traditionally used in hotel guest rooms. Since today's guests are so focused on cleanliness and hygiene, hotel designers realize that hard surface commercial flooring is much easier for the housekeeping staff to maintain daily. The ideal flooring for most hotel rooms should also be tough enough to stand up to high foot traffic and must be affordable to fit the hotel's budget.
Above all else, the ideal hotel guest room flooring must be beautiful! Is that too much to ask? Not when you choose flooring from MSI.
No matter which type of flooring you choose – luxury vinyl planks, wood-look porcelain tile, or natural stone-look porcelain tile, you and your guests will enjoy many benefits over the alternative options. For one thing, all three are totally waterproof. That means you can install the same flooring in the bathroom, kitchenettes, and main living spaces of your guest rooms without worrying about spills or splashes that may damage other types of flooring. And these flooring choices authentically replicate the look of wood flooring or natural stone, adding a touch of opulence and luxury to even the most modest of guest suites.
Read on to learn about a few of our favorite flooring options for hotel guest rooms.
KATELLA ASH LUXURY VINYL PLANKS
Whether your hotel is in a beach resort area or a big city, keeping the floor clean in guest rooms is imperative. That's why solid flooring is becoming more popular. There's one benefit to carpet, which is its feeling of warmth and comfort underneath a guest's bare feet. But with luxury vinyl planks, there's no need to sacrifice that comfort. Because of the way LVP is constructed, it retains that feeling of warmth. In addition, its wear layer protects the flooring pattern, giving it fantastic durability and long-lasting beauty. And even better, some types of LVP come with a pre-attached backing that absorbs sound. If it doesn't, or if you'd prefer an extra sound-absorbing layer, additional underlayment can be added. Your guests will appreciate not hearing every step taken by the guests in the rooms above.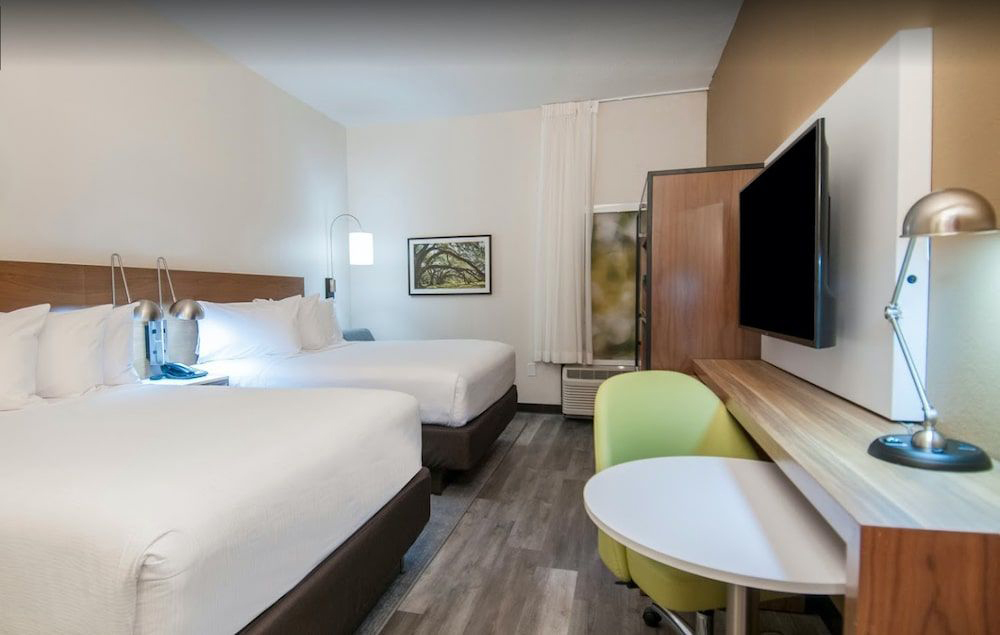 Katella Ash is a realistic wood-look luxury vinyl tile featuring the knots and grains in real hardwood flooring. It has a neutral gray tone that complements any décor and will look just as good should you decide to redecorate and update the rooms with new furnishings.
BRUNO WOOD-LOOK PORCELAIN TILE
Even if you should install a durable commercial-grade carpet in your guest suites, there are parts of a hotel room that should not be carpeted – the bathroom and any space typically used for preparing or consuming food. At the minimum, many guest rooms include small areas for microwaves, refrigerators, and coffeemakers. Protect this area with 100% waterproof, easy-care porcelain wood look tile.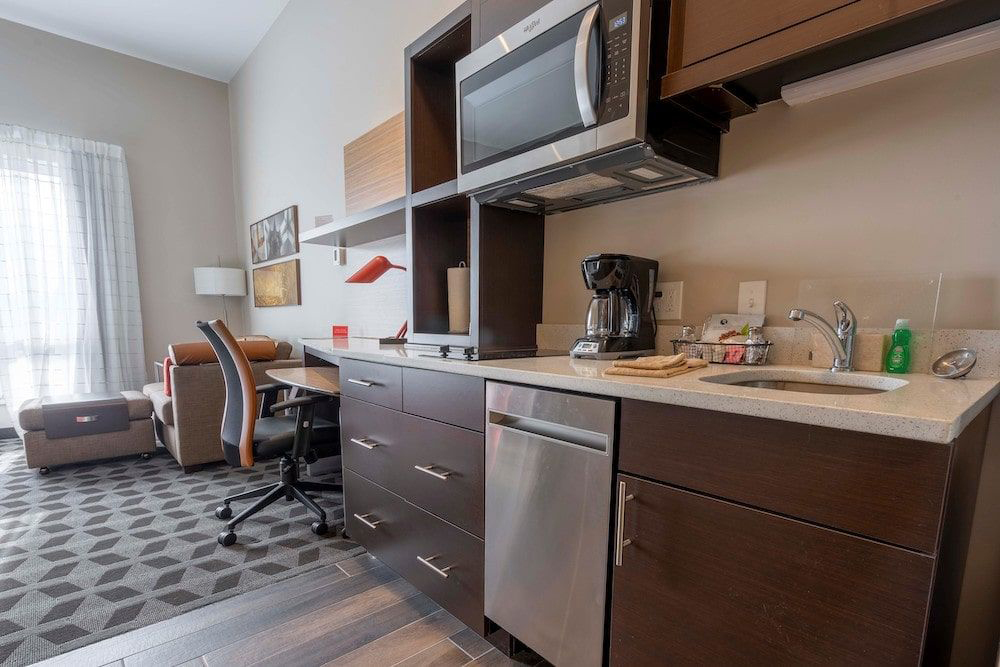 A wood-look porcelain tile protects your guests, too, as many are manufactured with a slip-resistant matte finish. Bruno, from MSI's Upscape collection, is one such example. It's a rich combination of medium to dark brown with a rustic character and blends well with contemporary décor and the casual "lodge" look. You can even install it on vertical surfaces, such as backsplashes and accent walls, creating a unified design. Some designers even use this type of tile to replace traditional hotel guest suite headboards for beds because they are so wear-resistant and easy to keep hygienically clean between guests.
BARDIGLIO NATURAL STONE-LOOK PORCELAIN TILE
Nothing says upscale like the sophisticated look of natural stone tile flooring, especially when it has a high-shine, polished finish. Whether it delivers the look of fine Italian marble, quartzite, granite, or travertine your guests don't need to know that it's a realistic-looking porcelain tile from MSI. Our premium stone-look waterproof flooring tiles are manufactured with a high-quality clay blend shaped and fired under extremely high heat to create a dense, water-resistant tile. Then they are printed with state-of-the-art processes and coated with a long-lasting glaze that won't wear off, even with the heavy foot traffic and frequent cleaning of hotel rooms.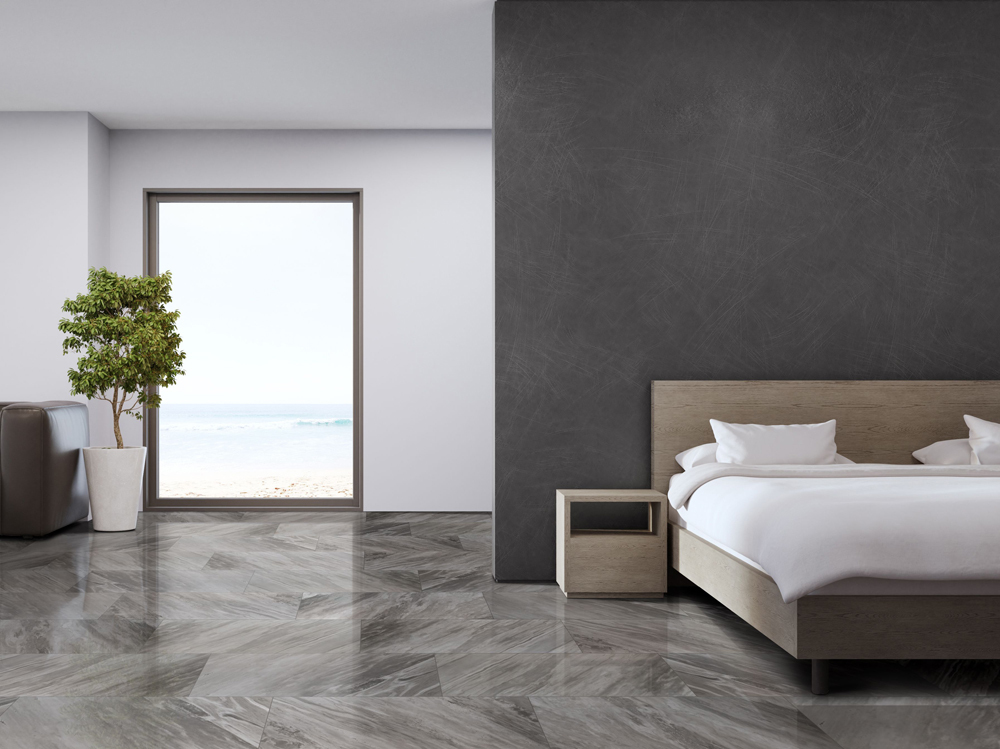 Bardiglio porcelain tile showcases a delightful blend of medium to light gray hues, with accents of cool white in swirl patterns. Available in various sizes, including the on-trend large-format option, making it perfect for floors, countertops, shower walls, backsplashes, and accent walls. You can also choose between a matte or polished finish to complement your personal style. Moreover, the tiles are rectified, which reduces the grout lines. You can choose to emphasize the tile pattern with contrasting grout or opt for a seamless look by matching the grout color with the porcelain tile.
Ready to start your next flooring project? We offer expert assistance every step of the way, from choosing the perfect flooring material to installation and even maintenance. It's easy to get in touch with us via chat, by visiting one of our showrooms, or by visiting an authorized MSI flooring dealer near you for additional assistance.
LEARN MORE ABOUT HOTEL FLOORING
Silencing The Noise: Overcoming the Challenge of Guest Comfort with Hotel Flooring
Affordable Hotel Flooring and Bathroom Countertop Upgrade Ideas
Hotel Flooring Guide: What Is the Best Flooring for Hotels?