How To Remodel Your Kitchen With A Stacked Stone Backsplash
May 05, 2018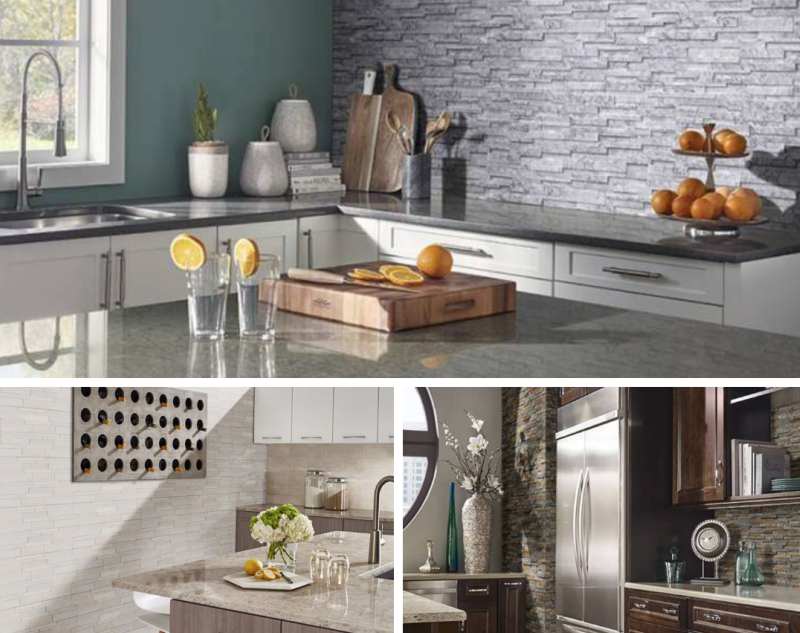 When you think of stacked stone, you may be reminded of an iconic stone farmhouse where the rustic tones and edges set the tone for the entire property. But today, in addition to rustic stacked stone veneers, there are also many other contemporary and modern choices available to set the tone for your project.
Stacked stone, available in both regular and peel-and-stick panels, is easy to install and can quickly transform the backsplash in your kitchen into a character-rich statement wall. Crafted from fine natural stones such as marble, slate, travertine, sandstone, and quartzite, stacked stone inhabits the full design spectrum, from Old World to modern minimalist.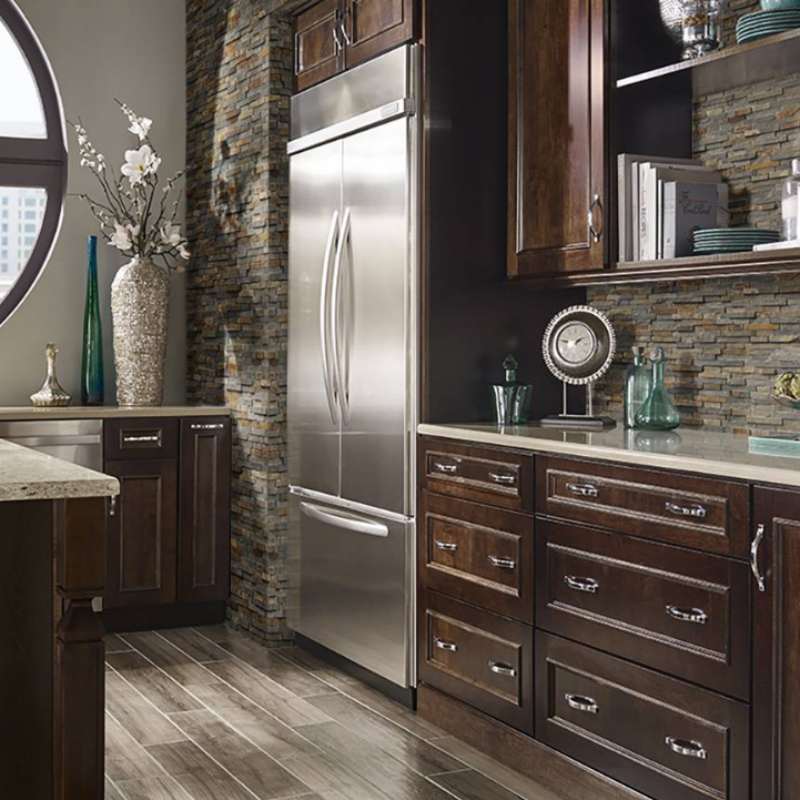 Featured: Rustic Gold Stacked Stone
If you're ready to get started selecting the stacked stone material and style for your kitchen backsplash, use our Stacked Stone Visualizer to get an idea of how different stacked stone wall colors and textures will work in your space.
From the character-rich Rustic Gold shown here, which features the warm earth tones of natural slate in a split face finish, to the more contemporary lines of Alaska Gray 3D Honed, there is sure to be a stacked stone ledger panel that inspires you to realize your kitchen backsplash dreams.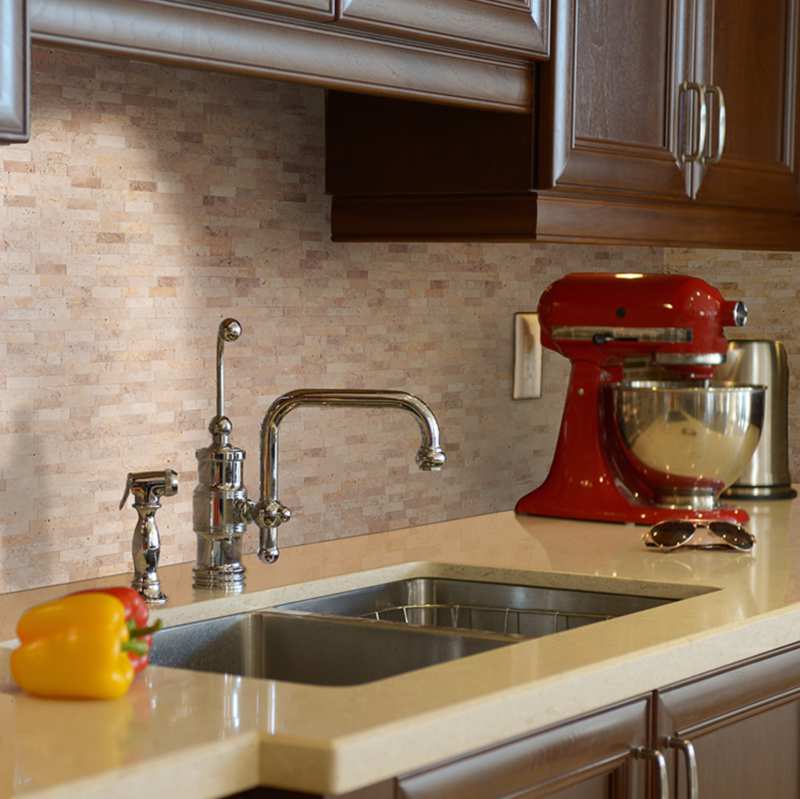 Featured: Roman Beige Splitface Peel and Stick
Looking for a more muted, neutral splitface option for your kitchen backsplash? Gorgeous Roman Beige Splitface Peel and Stick, crafted from natural travertine in elegant creamy beige tones, fits the bill.
As a bonus, DIY warriors 'rejoice!' because this elegant stacked stone is available as peel-and-stick stacked stone sheets. Partner this easily installed product with a prefabricated countertop and transform your kitchen in a single weekend.
Featured: Arctic White Stacked Stone
If you prefer a more traditional mortar set, the gorgeous natural marble composition of Arctic White stacked stone might be more to your liking. And there's no need to limit your stacked stone plans to just a kitchen backsplash; here, a dramatic floor-to-ceiling stacked stone accent wall adds texture to the otherwise clean lines of the modern kitchen.
The creamy white tones complement the natural look of the floor and backsplash tiles, while providing a dimensional backdrop for the vertical-grained wood cabinets and built-in wine hutch, stainless steel accents and polished countertops.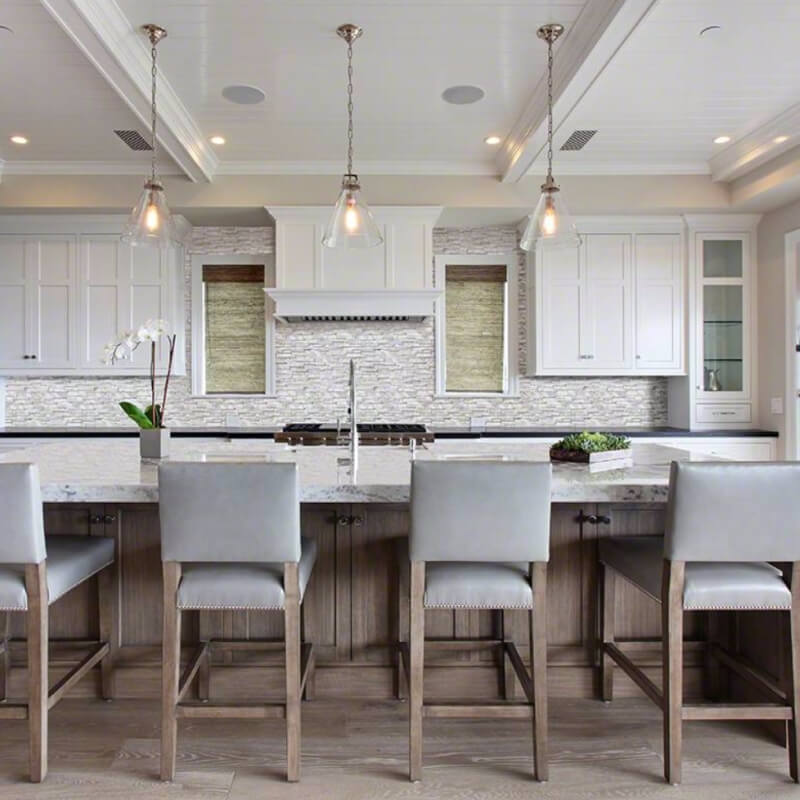 Featured: Calacatta Cressa 3D Stacked Stone
Let's face it; few natural stones are as sought after and timeless as classic marble. And while this beautiful stone usually has a more traditional charm, new stacked stone designs in honed finish marble are decidedly contemporary. Here, Calacatta Cressa 3D is perfect as a stacked stone backsplash in a transitional white and gray kitchen.
The natural marble's subtle hints of warm cream are complementary to the delicately gray-veined countertop and natural wood of the floor and island, while the strategic lighting and accents combine to create a warm, inviting space.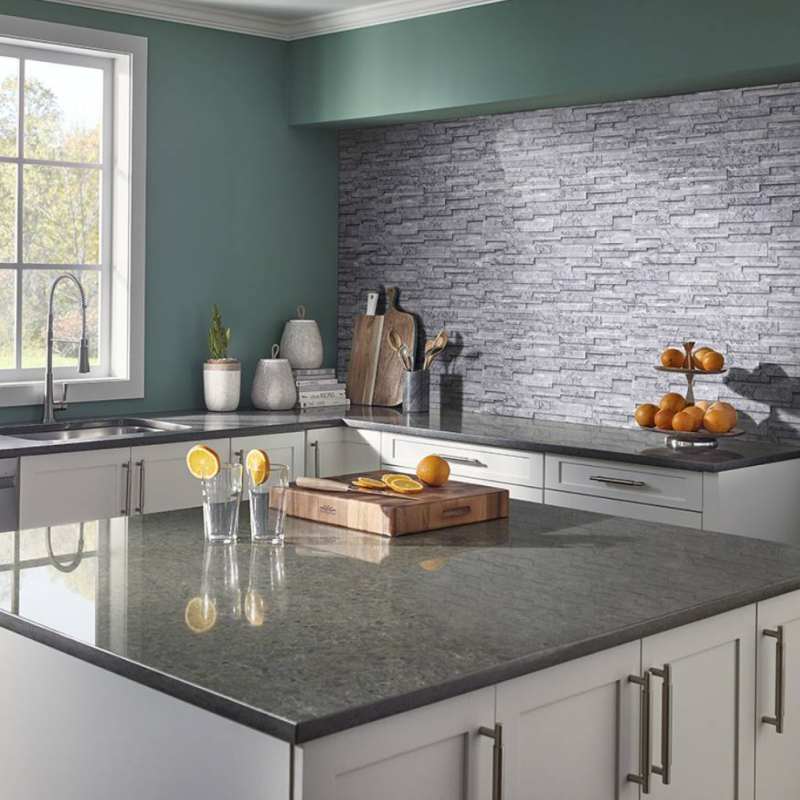 Featured: Statuarietto Capri 3D Honed Stacked Stone
The combination of white and gray is a versatile and popular color scheme, marrying well with many other colors and textures. For example, Statuarietto Capri 3D Honed stacked stone ties together this modern kitchen into a cohesive look. The dark, fine veining of the natural marble accent wall is a welcome middle ground between the darker tones of a countertop, white cabinetry and striking green wall.
You've probably noticed that a stacked stone fireplace has been on-trend for quite some time, but it is refreshing to see stacked stone veneers moving into the kitchen.
Simple but beautiful kitchen backsplashes crafted from natural stone impart more visual impact than wall tiles or paint alone, making them a hit for designers.
Plus, with both mortar-set and peel-and-stick varieties available, you can select the material that is just right for your project. Check out our Rockmount Stacked Stone Panel Collection, and you'll be wondering why you've waited this long to get started!
More About Kitchen Backsplashes
Which Kitchen Backsplash Tiles Are Easiest To Clean?
Mosaic Monday: The Go-To Guide To Decide On A Kitchen Backsplash
Mosaic Monday: Steps To Prepping The Wall For A Kitchen Backsplash
Tricks To Cleaning The Grout On Your Kitchen Backsplash
Mosaic Monday: The Modern Way To Tile Your Kitchen Backsplash
READ MORE ABOUT MSI BACKSPLASH TILE
Creative Backsplash Tile Patterns For Standard Tile Shapes
Don't Ruin Your New Backsplash Tile With A Bad Install
Enhance Your Kitchen Backsplash Tile With Dimension And Texture
Find Porcelain Tile Inspirations With Our Backsplash Tile Guide