Get Maximum Value With Our 5 Most Affordable White Quartz Countertops
July 13, 2020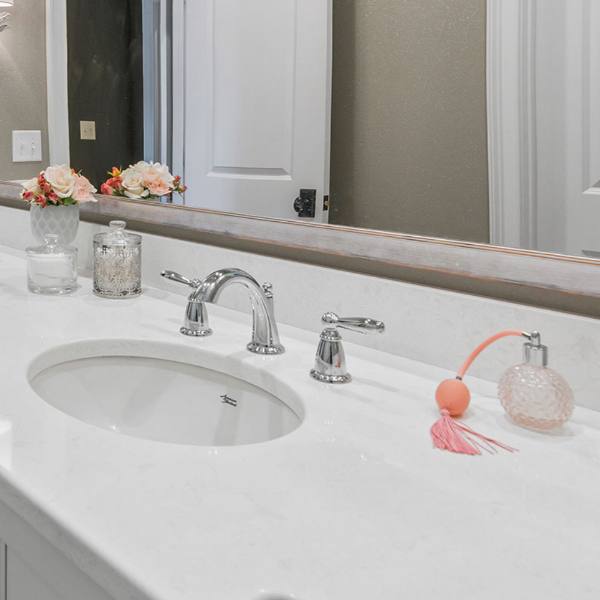 If you're like most homeowners, you want the best value in your remodeling projects. While keeping costs down is important, so is quality. You want a kitchen or bathroom countertop that is durable and long-lasting as well as beautiful. Quartz countertops are luxury surfaces and possibly the most valuable investments a homeowner can make.
A quartz countertop may also be the last counter you'll need to install in your home, one that can last for decades while staying just as gorgeous as the day it was installed. So, it's important to choose a color with this in mind — sparkling white quartz will never go out of style.
What makes some quartz countertops more valuable than others? Consider the following.
Iced White Quartz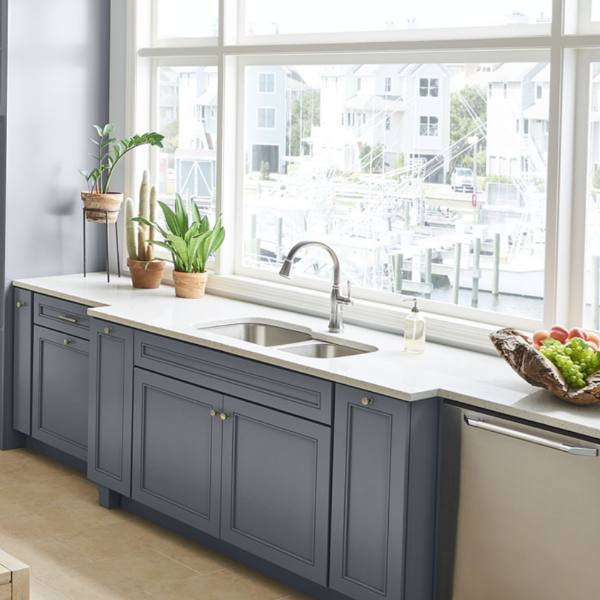 When choosing a countertop for your kitchen or bath, it's important to balance quality with affordability. Iced White Quartz, as shown here, is a soft shade of white with pale gray accents that add movement and depth, making it easy to coordinate with any other décor. While many manufacturers have similar products, keep in mind that not all quartz countertops are the same.
Quartz countertops are an engineered mixture of quartz and resin, with other pigments and minerals added to create different colors and patterns. The quality and the actual amount of quartz in the mixture varies — in fact, it's a closely guarded trade secret. MSI's quartz countertops have the perfect balance of cost-effective materials that give strength, durability, and color consistency. Moreover, our products are guaranteed to be safe for air quality and food preparation.
Calacatta Botanica Quartz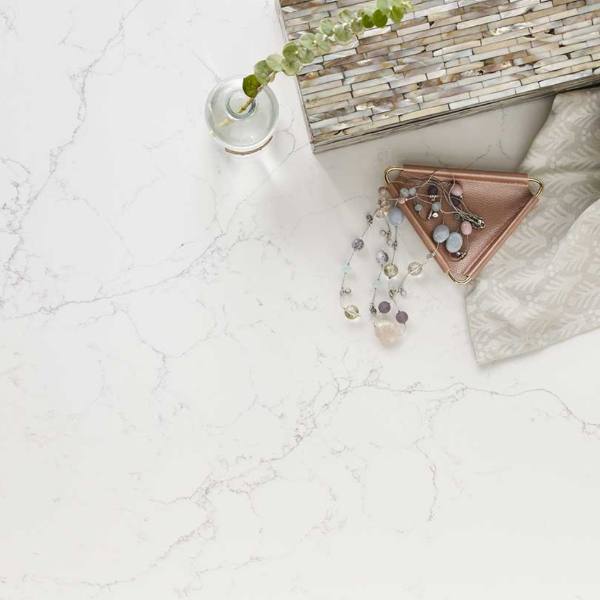 A quartz countertop such as Calacatta Botanica, with its remarkable resemblance to fine Italian marble, looks expensive! Pure white with gray lines, it creates an opulent, elegant look that is appropriate for any design style, from traditional to contemporary. Homeowners and designers both love marble-look quartz because of its versatility, durability, and easy care. For that reason, it's an extremely popular choice.
High demand for a product usually drives costs up. However, MSI's response to the high popularity of certain quartz countertop colors is to ensure that a good supply is never an issue. Simply put, because it's in high demand, it's also in high production. That means the cost of our most popular countertop colors can remain relatively low.
Calacatta Ultra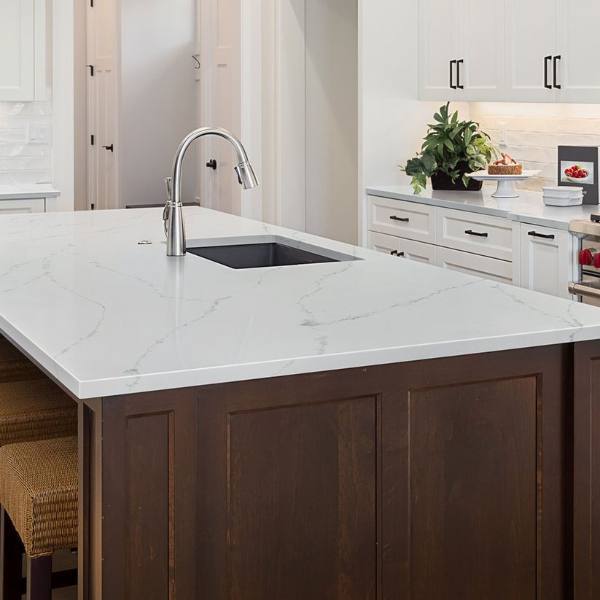 With countertops, size matters. As a manufactured surface, quartz countertops are always a standard, predictable size and color. When comparing quartz vs. granite, this may be one of quartz's most appealing features — you know exactly what size, quality, and pattern you are getting. Still, take a look at Calacatta Ultra, another fine marble-look countertop. Despite its consistency, there is enough variety within the slab so it never appears artificial.
Standard-sized slabs make purchasing countertops easier and less wasteful. This includes maintaining a standard thickness. MSI's quartz countertop slabs are available in 2 cm or 3 cm thicknesses for you to choose depending on the application. Some competitors can lower the price by selling 1 cm slabs, but these are often weak products that don't stand up to daily use by active families. In the end, replacing a broken slab will cost much more! Paying less for a product isn't the same as getting a better value.
Glacier White Quartz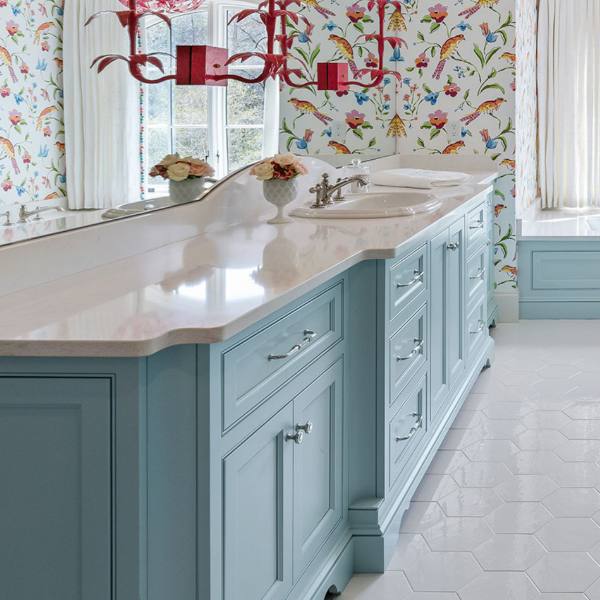 The cost of a quartz countertop is important, even when you consider its other benefits. Glacier White quartz makes it possible to have that white kitchen you love without worrying that in a few years it will be ruined. White quartz countertops require no sealing to remain completely waterproof, unlike other surfaces that can absorb liquids and become stained.
However, remember that the price of the countertop doesn't include installation costs. Like other luxury countertops, quartz is exceptionally dense and heavy, which makes it more tricky to install than less-durable materials. The cost of installation can vary greatly between contractors, as it is considered a "specialty" service. Since MSI does not do its own installation, consumers are free to shop around for the best price, which can save hundreds or even thousands of dollars on a large project.
Arctic White Quartz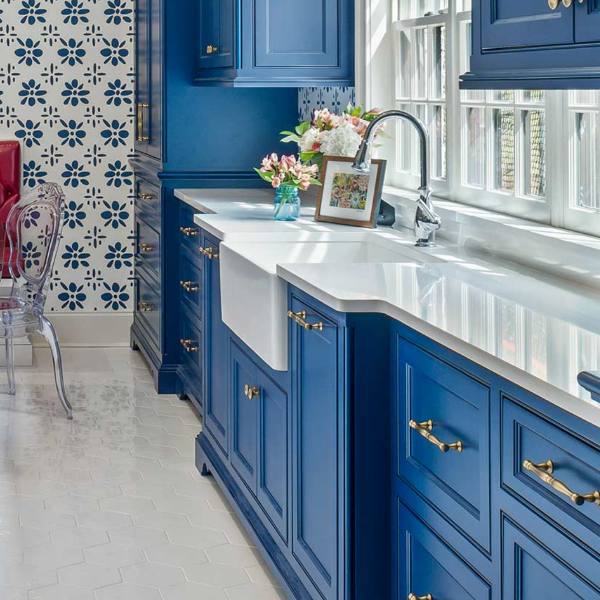 If you're looking for yet another way to get the best value on your new countertop, consider purchasing a prefab slab. Despite what you may have believed, prefab counters are not "discount" products or any lesser quality. Many of MSI's most popular premium quartz countertops, such as Arctic White, are available in standardized prefabricated sizes for both kitchens and bathrooms. They are finished at the manufacturer including cutouts to fit a variety of sinks and other inserts.
Purchasing prefabricated slabs can save significantly on the cost of the quartz slab itself. As stated earlier, the more popular a product is, the more MSI keeps supply on hand — and prefabs continue to be a highly sought-after option. Prefabs can also save on the costs of installation.
Even better, because MSI sells prefab countertops in many of our popular colors, you can easily combine a prefab with a non-standard size for other elements in the room. For example, you could install a prefabricated countertop along one side of the kitchen, and use the same premium quartz in a customized center island. Or, install a prefab bathroom counter and use the same quartz for a custom backsplash or shower surround. Either way, you'll spend less and get more!
Although MSI sells quartz countertops in an incredible variety of colors and patterns, white counters continue to top our list in popularity. That's because quartz makes it easy to keep a white surface pristine, and because white goes with everything, and will never go out of style. This popularity, along with the high quality of all our products, ensures that when you choose one of the white countertops featured here, you'll enjoy the perfect balance of affordability, quality, and beauty.
more on quartz countertops
Mix and Match Quartz Countertops with Subway Tiles for A Perfect Pairing
Check Out Our New Marble Look Quartz Countertop Colors
Celebrate Your Kitchen with Quartz
Beautiful, Low Maintenance Quartz Countertops