Popular
Hello, Inspiration: New Q™ Colors Debut
August 14, 2017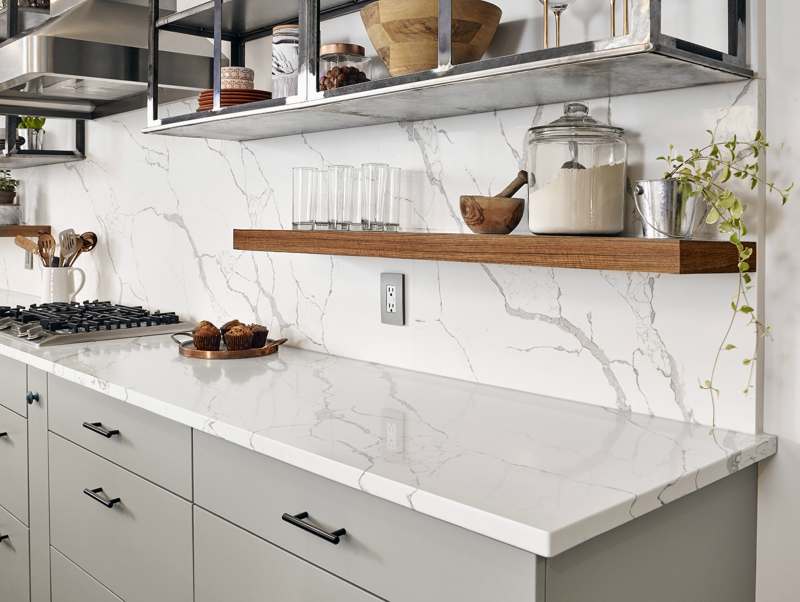 Featured: Calacatta Laza Quartz from MSI's Premium Natural Quartz Countertops
It's no secret, homeowners near and far are having a full-on love affair with quartz countertops. And since your wish for even greater variety is our command, we curated a new wave of on-trend colors fresh off the global market…just in time for your next kitchen or bath remodel.
Say hello to ten new additions to our Q™ Premium Natural Quartz collection: Blanca Arabescato, Blanca Statuarietto, Calacatta Laza, Calacatta Pearl, Calacatta Taj, Carrara Caldia, Carrara Marmi, Midnight Majesty, and two concrete-finish options: Babylon Gray and Midnight Majesty.
From coveted white marble lookalikes to the most-wanted concrete-finish styles, our Q™ lineup—now 60 colors strong—combines luxe of-the-moment looks with one of the hardest, most durable surfaces on the planet. Q is stress-free right down to its unfussy low-maintenance core. That means you can let kids be kids and still achieve the look of your dreams.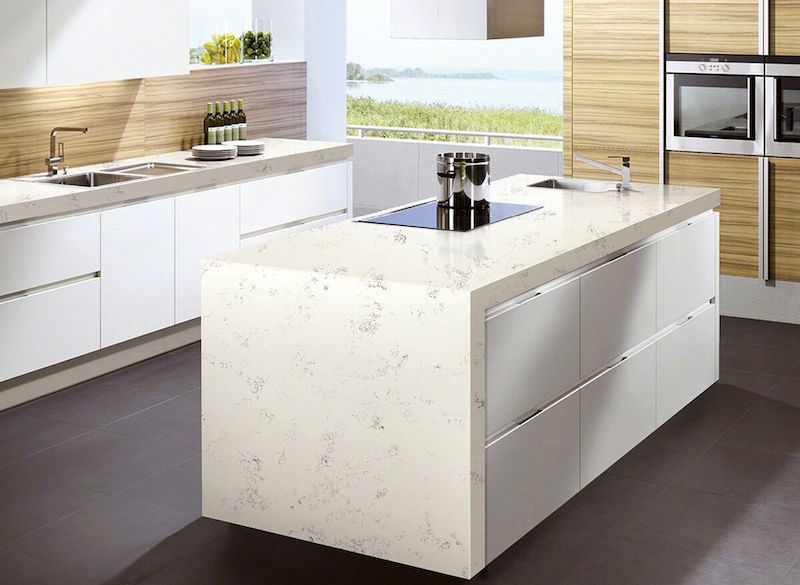 Featured: This modern kitchen takes our breath away with Carrara Marmi Quartz countertops/waterfall island, wood look backsplash tile, and built-in appliances.
Need a little help choosing a style that looks heavenly in your home? Read the skinny on each new color, browse the family-friendly quartz collection, and let your imagination be your guide.

Why we love it: Between its timeless sensibility and prominent long dark veins, Blanca Arabescato Quartz is proving to be an early favorite. Its natural marble look, pale gray background, and deep brown veining had us at first look.

Why we love it: A classically chic aesthetic that's at home in any style kitchen or bath, meet Blanca Statuarietto Quartz. Wherever our design daydreams take us, this style (featuring a white background with subtle gold/brown veins) gets our vote as a serious contender.

Why we love it: Our crush on white marble looks grew the moment we laid eyes on luxurious Calacatta Laza Quartz. Thanks to its dramatic movement, milky white background and realistic, soft brown veining, it's a natural choice for waterfall islands, reviving a small space, and delighting the eye in both classic and modern spaces.

Why we love it: Every modern kitchen and bath need an infusion of luxury, and this unique gem delivers and then some. A doppelganger of Brazilian Super White quartzite, Calacatta Pearl features a gray and white background and long veins. Oh, and if you spill red wine or olive oil, it won't stain.

Why we love it: Like you, we have a taste for the finer things in life. It's why we designed Calacatta Taj Quartz after Taj Mahal quartzite (a soft white background with subtle gold veins). From celebrity chefs to everyday cooks, whipping up your favorite recipes on this surface will feel like a 5-star affair.

Why we love it: Carrara Caldia Quartz is uber versatile – whether your space oozes classic elegance, rocks a beach-vibe, or makes an ultra-modern statement. On the countertop and walls, its creamy background and soft golden veins set the foundation for a high-style makeover.

Featured: Paired with gray cabinetry, Carrara Marmi Quartz takes our love of white marble looks to new heights.
Why we love it: Carrara Marmi Quartz is proof that a look can be both trendy and timeless. If you're dreaming of a soft white quartz with whispery veins, this one is for you. You'd never guess by looking at it, but Carrara Marmi Quartz is also a builder-friendly value option.
Why we love it: When we're on the hunt for a dark countertop, this sleek, mod, and sophisticated style is tops on our radar. Midnight Majesty Quartz features a striking black background with contrasting flecks in a polished finish. For increased design flexibility, we also offer a concrete finish – which has a casual, simple sophistication.

Why we love it: Babylon Gray Concrete Quartz puts our affection for all things dark and mysterious on display. The epitome of contemporary chic, the concrete pattern comes alive in dark gray and black tones. Rolling out an edgy new look with a down-to-earth aesthetic? This one may be a perfect match.
Whether you choose one style for a kitchen island, and another for a perimeter countertop, or let them shine on their own in an en suite bath, this luxe quartz countertop collection has all the right stuff to set the stage for a spectacular remodel. Or at the least, fan the flames of your quartz countertop obsession.
For more inspiration, watch our latest white marble looks video.