Popular
The Great Escape
March 02, 2018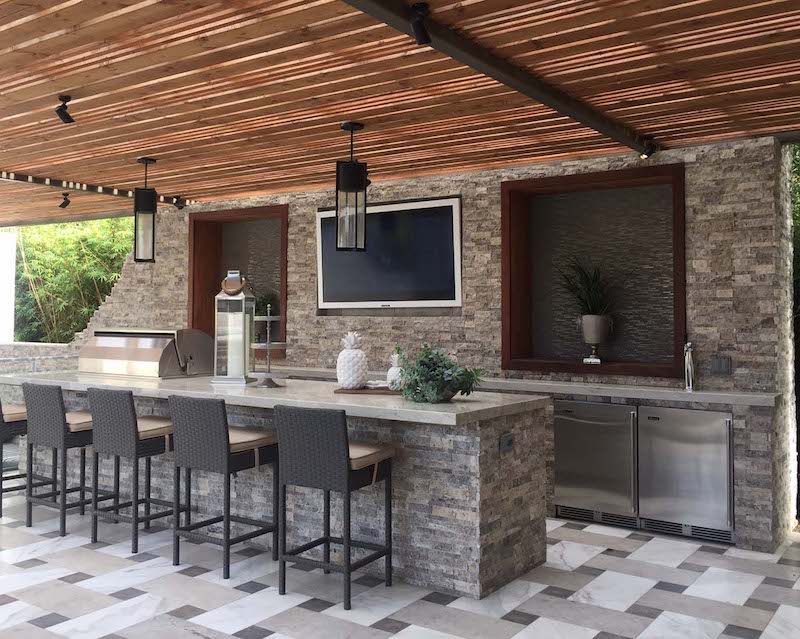 The chatter in our hallways these days? We're dreaming about spring and the home improvement plans we hope to achieve this year. Mostly, we talk about our yards. Whatever the size or condition, creating a private oasis seems to be on everyone's mind right now. And it's not just us. In our topsy-turvy world, backyards have become the great escape for homeowners world over.
Dinner with family and friends. Afternoon naps on the hammock. Garden parties. Increasing our living space with exterior rooms helps to keep our lives in balance. Even if we're just tinkering with plants, there's no other place we'd rather be. The outdoor spaces we never want to leave spill over with all things organic – from flowers, grass, and shrubbery to the warmth of real stone.
From high-functioning kitchens to slate walkways to Zen water features with pebbles galore, our 2018 Force of Nature Trend is all about premium, natural stone designed to stand up to any weather. Need a little inspiration creating luxe outdoor rooms that are as inviting and comfy as your interiors? Look no further than Mother Nature, and the hardscape collections that put our favorite spaces on the map.
A Vision in Travertine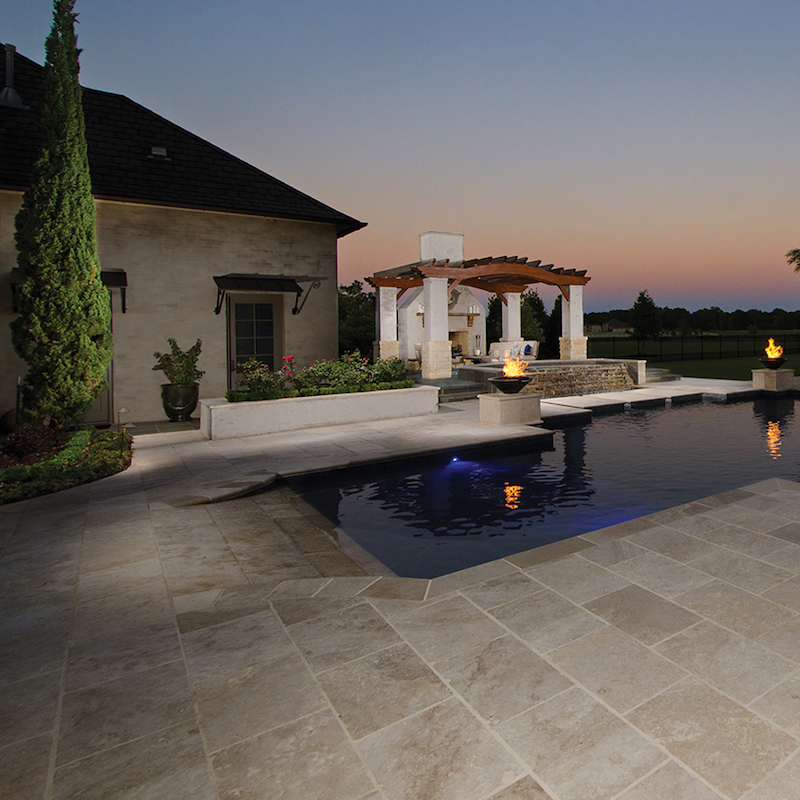 We'd like an invite to this backyard at sunset, featuring Tuscany Beige Travertine pavers.
If your landscape design calls for natural materials, take a closer look at travertine. One of the most durable and loved stones in the world, (think: Rome Colosseum) their authentic, old world charm is both upscale and earthy. And because these honed and tumbled standouts are cool and velvety to the touch, they're ideal for pool areas, lounges, and other places you walk barefoot. From light creams and grays to golds and browns, we love how they blend harmoniously into your surroundings like they've been there for ages. We're obsessed with travertine indoors as well.
Back to Nature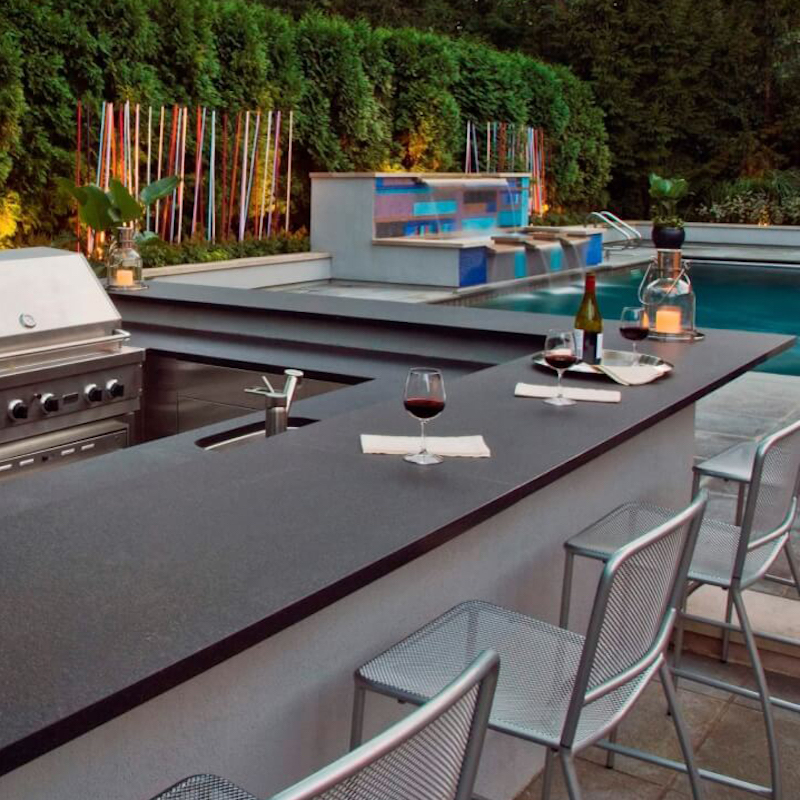 Cozy up to this poolside bar with a thoroughly modern Black Pearl Granite countertop in a brushed finish.
More than ever, staying home is the ultimate luxury, especially when your backyard is equipped with a kitchen and bar. Playing host to family and friends? Entertain in style with natural stone countertops designed for life alfresco - like all-climate faves granite and quartzite.
Keep your stone countertop cool to the touch in the sunlight by adding a cover like an umbrella or a pergola. Not sure whether your stone needs sealing? Ask the experts in the showroom.
Fireside Chats
The bold movement of Copenhagen Granite adds drama to evenings by the fire.
Entertaining is all about creating a cozy vibe, and we never turn down an invitation to sit by the fire. While there are infinite possibilities for creating a firepit that suits your taste, be sure that your outdoor design choices reflect your indoor style. Old world looks are seamless in traditional homes, but if yours is modern, carry the contemporary look outdoors with surfaces that are sleek. Recognized for its resiliency, distinctive veins, and fabulous colorways, Granite also makes showstopping accent walls and water features.
Clean Slate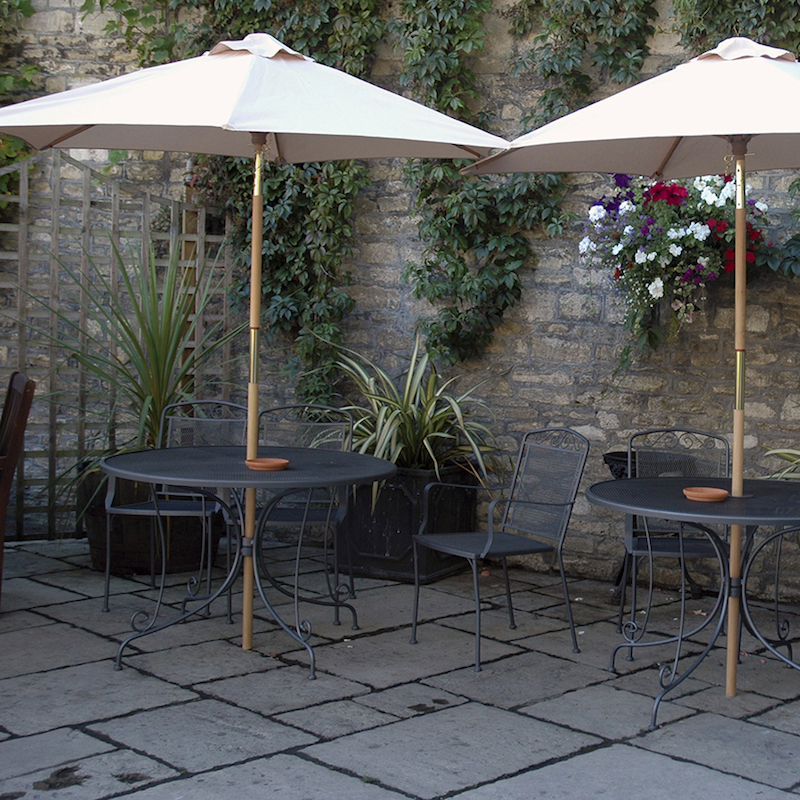 Lending dimension to classic architecture, Basalt Blue Slate goes with everything under the sun.
If you've ever had a table or chair sink into a wet lawn, you know the importance of hardscape. There's nothing like the grounding force of natural stone to add lasting functionality to your yard. A longtime favorite among design enthusiasts, slate's timeless look and relaxed vibe are irresistible. Thanks to its deep shades of gray and blue, it's downright dreamy paired with wandering vines and all things green. Ask any naturalist: slate tops the shortlist on the regular.
Opposites Attract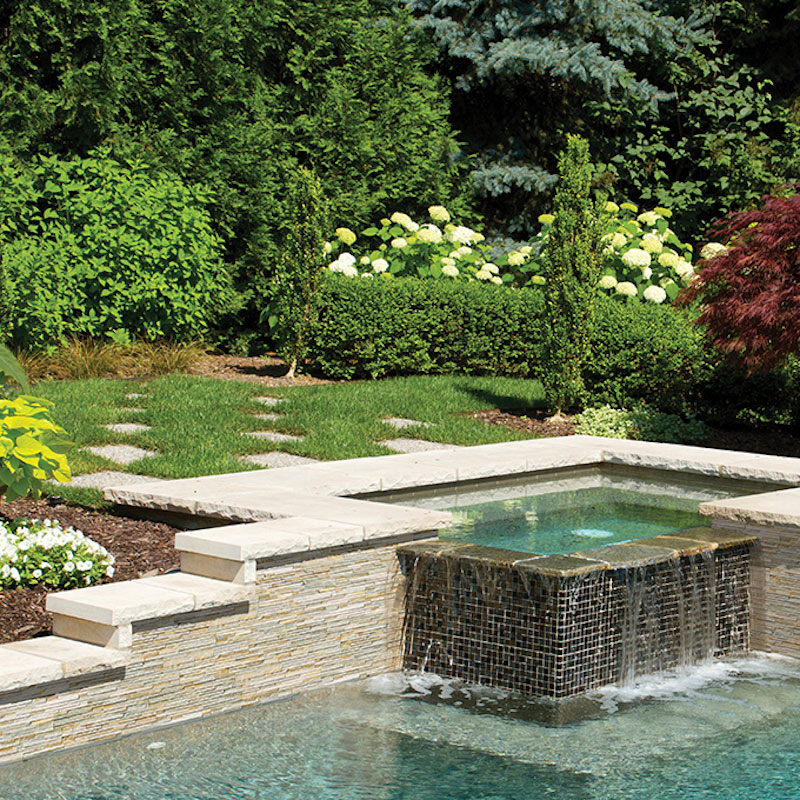 Golden Honey Pencil Stacked Stone panels bring texture to the pool and added dimension to this park-like setting.
A unique perk of homeownership? Using your imagination to dream up exterior spaces that put you in your happy place. Follow in the footsteps of design influencers by combining rustic artwork in a refined landscape, or mix textured and sleek surfaces in a pool - like stacked stone panels and colorful mosaics. Juxtaposing different design elements creates rich-looking focal points – ideal for celebrating.
The Pebble Principal
The first sign of spring, we're adding Mixed Polished Pebbles to our walkway.
Natural as bees buzzing in the yard, beach pebbles have an understated beauty that elevates the landscape. Both cost-effective and sustainable, they provide texture and dimension to fountains and pathways, and polish to ground cover around shrubs, trees, and planters. If your busy lifestyle doesn't leave time for yard work, pebbles save the day and minimize peek-a-boo weeds. Creating a Zen-like garden? Incorporate Black Mexican Beach Pebbles into the design for added interest.
Pool Party, Anyone?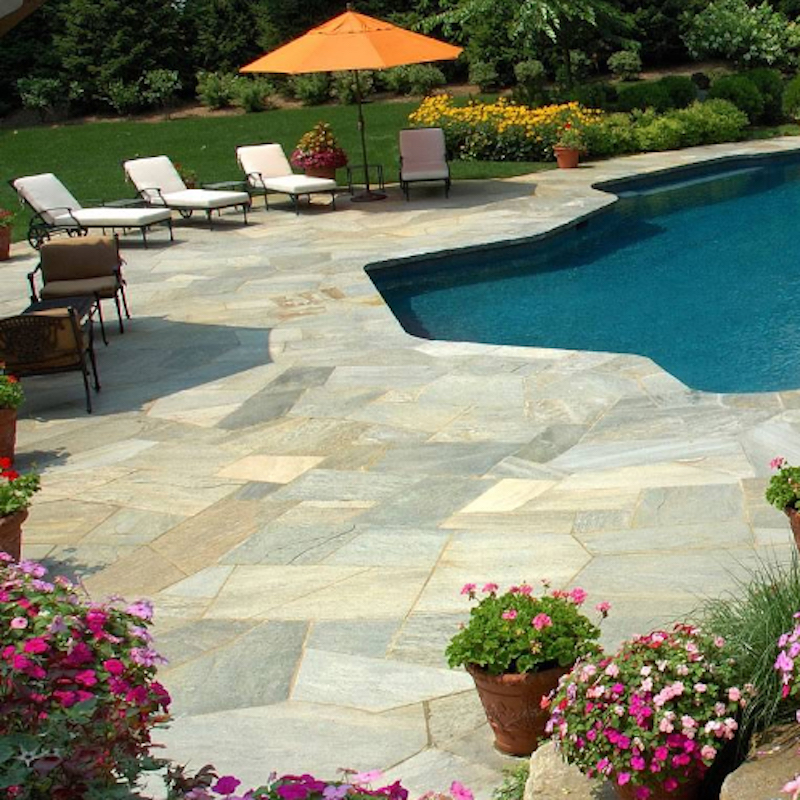 A beloved upscale classic, Golden White Flagstone can't help but stand out.
For generations, landscape architects around the world have relied on flagstone to beautify the terraces and courtyards of the most distinguished estates. Covering the ground or retaining wall, few stones are as cultivated, graceful, and ageless. Whether it's their distinctive shapes or earthy shades of gray, tan, and blue, flagstone always leaves us wanting more.