Which To Choose: Quartz Versus Granite
May 29, 2019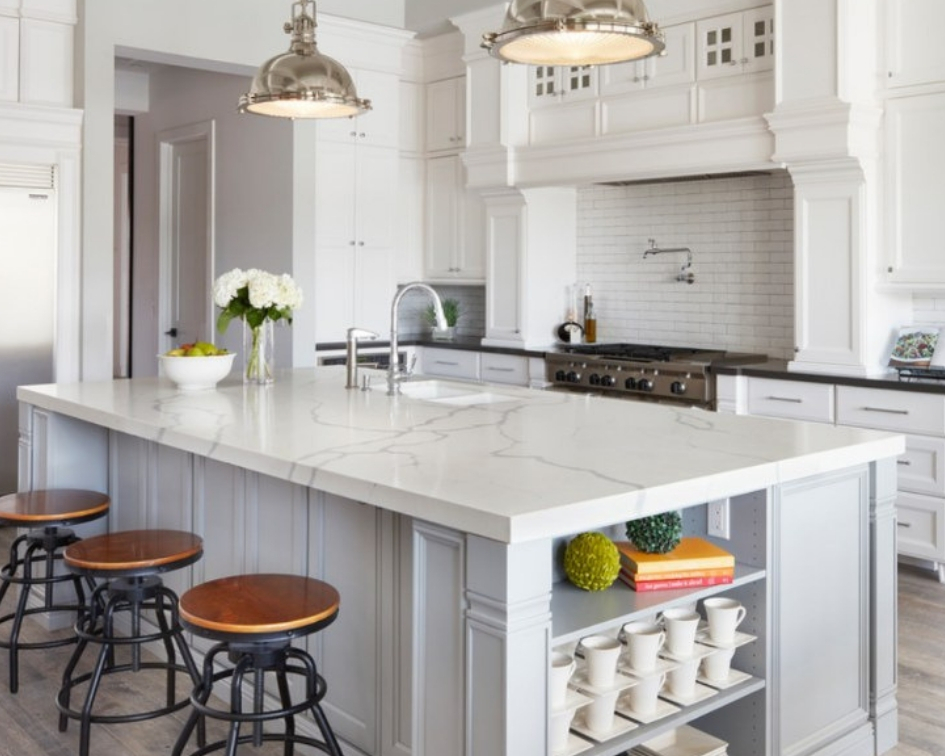 For many people the countertop dilemma boils down to a common debate: Quartz or Granite? Often times these two materials can be seen as interchangeable, but when in reality they are different but viable options when it comes to finding the best pick for your kitchen and home. But it leads to many questions about each, such as: What exactly is granite and how does it differ from quartz countertops in terms of all that it has to offer? In this article, we're going to explore the benefits of both, hopefully giving you a better understanding of which to choose.
Granite is an extremely hard and dense natural stone, mined from quarries all around the globe. Quartz, on the other hand, is typically manufactured through a combination of silicone and oxygen, otherwise known as silicon dioxide. Granite even has some quartz in it, what many estimate between 20% and 35%. Countries where you can find quartz in abundance would be Brazil, Canada, Germany, Madagascar and the United States.
Granite, on the other hand, can be found all over the world, usually harvested in the U.S., Spain, India, Norway as well as Brazil. Known for being taken from "the earth's crust," granite is a rock initially created by lava but cooled slowly over time and becomes extremely hard. Inside the rock gases trapped with lava and natural quartz, proving it to be a beautifully complex stone.

Featured: Alabaster White Quartz
In terms of appearance—and especially when it comes to a countertop—quartz is very popular as it allows for a customized design, allowing for a variety of quartz countertop colors. Additionally, it's easy to clean and maintain and the solid surface means it doesn't need to be resealed. Believe it or not, quartz is also even harder than granite—which may be surprising for many to believe! Also, since quartz isn't porous, it's easy to keep your countertops clean since the chemical resistant, stain resistant and moisture resistant nature of this non-porous surface is thoroughly inhospitable to bacteria. Some even add an additional additive to the stone mix so that it becomes bactericidal, whereby it inhibits the growth of everyday kitchen mold and other germs.
Characteristically, granite has a natural pattern and drawing on it that gives it an organic feel and style. Similar to quartz, granite countertops are easy to clean and usually only require warm water and a soft towel to tidy the area and make it free of dirt and bacteria. Of course, sealing granite every few years aids this process and over time helps it to retain its value. Cooks highly value the flat surface that a granite countertop can provide, whether it's rolling cookies or setting up a dinner buffet. Often times, the sight of granite can dramatically alter a kitchen, making it more elegant, sophisticated and high end.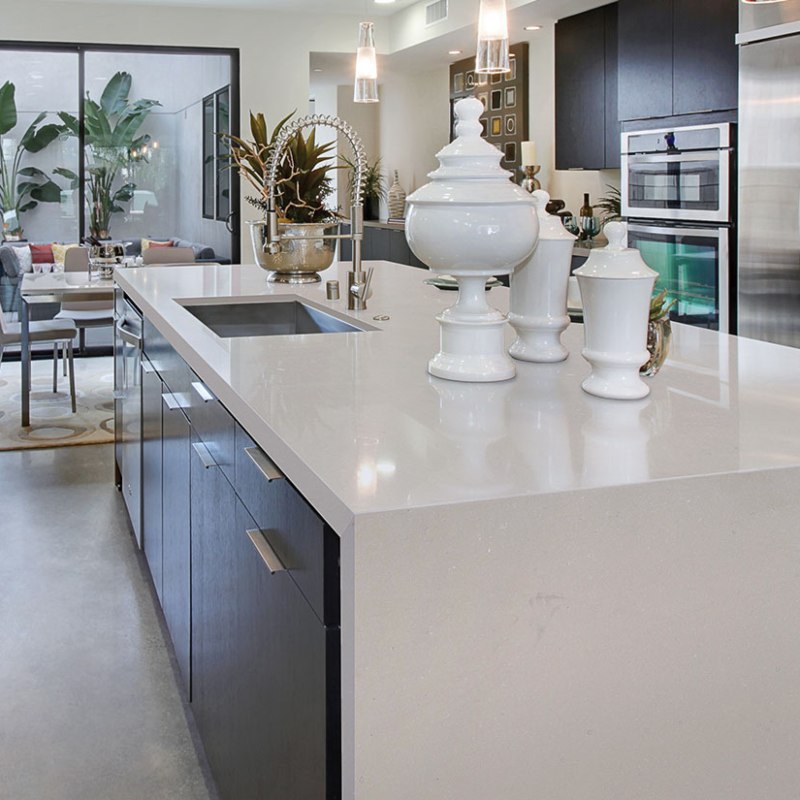 Featured: Fossil Taupe Quartz
When it comes to heat, granite and quartz can withstand hot plates, pans, cooking utensils and accessories. However, to prevent thermal shock crack, trivets are recommended for granite and when it comes to quartz, temperatures over 150 degrees must also be protected to avoid damage and discoloration.
On the whole, quartz can mimic a variety of looks, textures and aesthetics, making it a top choice for designers who are looking for a customized countertop to match with their kitchen décor. There's quartz that looks like concrete and even marble look quartz, not to mention a plethora of other types and assortments. Truly, the sky is the limit when it comes to finding the right color quartz to go with your cabinets, flooring or kitchen backsplashes! This is largely in part due to the fact that quartz is colored with pigments, which means it can span hues from the brightest of reds to the brightest of greens. If you have specific design requirements and looking for unique countertop colors, quartz is definitely a viable option for you.
Similarly, granite countertops go well in any décor, offering many different patterns featuring veins, specks and even swirls. There is a true "timelessness" to granite, making it impervious to current trends and come-and-go kitchen fads. Additionally, because granite is a natural stone, it's colored all the way through, making it impossible to duplicate its true beauty and mystique. Whether you're working with a very modern kitchen or an aesthetic that's more traditional, granite pairs well with various styles and tastes. And do you want to know an added bonus? Because there are usually small crystals found in granite, the sunlight can subtly change the appearance of your countertop all throughout the day!
The environmental benefits of quartz are important to keep in mind, too, since it's an engineered stone it comes from crushed waste left over in natural stone beds and quarries. Due to the bonding agents used in the process, the product does not result in giving off any type of allegens, making it ideal for any interior or situation. On the other hand, granite is taken directly from the earth, where many pride themselves on responsible quarrying practices, such as sensible energy consumption for its transportation. Furthermore, granite can last a lifetime, meaning you won't have to replace it every few years for something else. Truly, both quartz and granite are wise investments for your pocketbook, but also for the planet as we look for ways to consciously conserve.
In terms of cost, granite tends to go for about $60 per square foot, whereas quartz runs about $75 per square foot. However, more rare forms of granite will naturally be higher in cost, so it all depends on your personal taste and style. Thankfully, they are somewhat comparable, so you can make the choice that is right for you and your kitchen.
At the end of the day, the granite versus quartz debate is one you will have to weigh for yourself when you take into consideration your own design wants, interests and needs. While quartz is a viable manmade option, the natural appeal of granite is just as enticing. Both can be truly wonderful additions to your home and kitchen, offering sophistication, practicality and class.
Learn More about Granite vs. Quartz:
Can't Decide Between Granite and Quartz? Choose Both!
5 Ways Waterfall Edge Marble, Granite, or Quartz Countertops Rock
5 Inspired Solid Slab Granite, Marble or Quartz Backsplash Ideas
5 Timeless Surfaces: Granite, Marble, Quartz, or Porcelain


READ MORE ABOUT GRANITE COUNTERTOPS
Which Is Easier to Maintain Quartz Or Granite Countertops
White Marble & Granite: When the Absence Of Color Is the Color Of Choice!