6 Wow(!) Kitchens Featuring Granite Countertops
March 18, 2021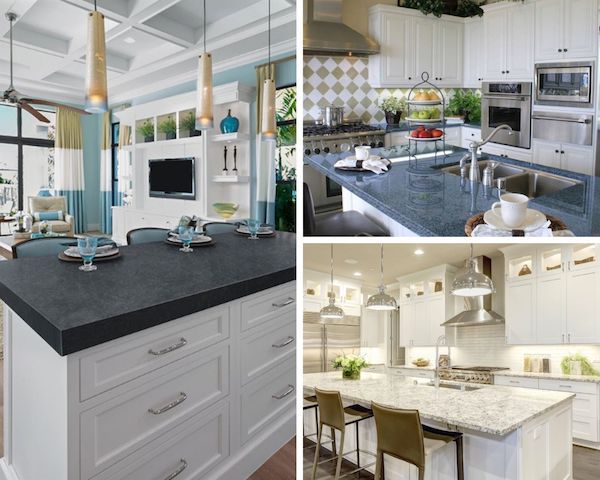 What creates a "wow" factor in the kitchen? According to top designers, it's a combination of elements ranging from color to finished details to creating inviting spaces to delighting the senses and adding quality of quantity.
Considering that countertops are such a prominent feature in the kitchen, it's naturally the ideal place to combine as many of those "wow factors" to make a statement. There's one material in particular that comes to mind. It's a natural stone material that comes in an incredible range of colors and finishing options such as polished, brushed, honed, or leathered and is known for being of premium quality.
These are granite countertops, of course! Beloved since it was first introduced to homes in the 1920s, this quarried stone continues to be a top choice for creating stylish and memorable kitchens.
Arctic Valley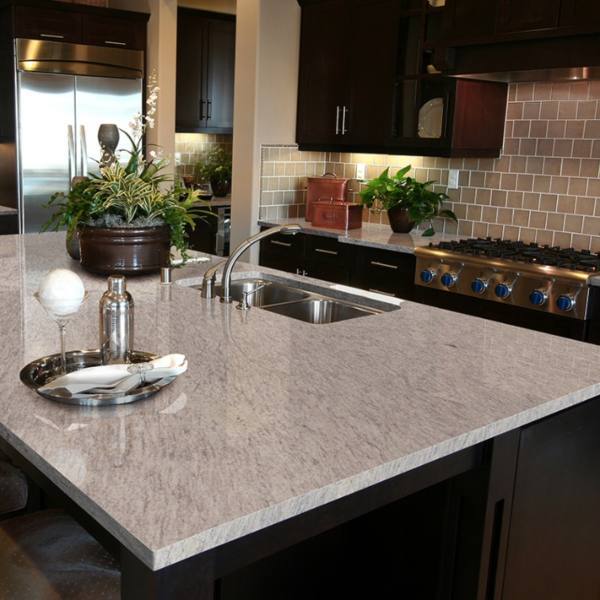 Arctic Valley granite provides a classic and timeless look to your home because of its heavily textured appearance. Made with a cook white background featuring a plethora of gray and black speckles, the stone looks remarkably natural and matches all interior decor schemes. Thin dark veining makes it appear even more textured despite the smoothness of each slab.
It also has extremely high variation even throughout one slab so that you can rest assured that your countertop is completely unique. While quartz vs. granite is a hot debate between interior decor enthusiasts, both options have their charms. However, since granite is 100% natural while quartz is engineered, granite slabs like Arctic Valley are one of a kind.
Black Galaxy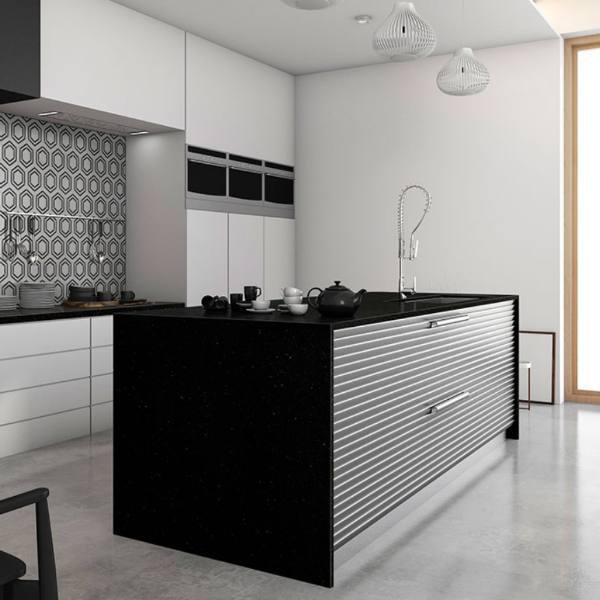 If you prefer black granite to textured alternatives, Black Galaxy is likely the right choice for you. This is one of MSI's all-time favorite slabs because it looks like a clear and unclouded night sky. The pitch-black backdrop is perfectly contrasted by gold, white, and silver flecks that have all the magical appeal of stardust.
This gorgeous granite style is perfect for those who have contemporary and modern decor schemes. It's the perfect centerpiece for any kitchen or bathroom, so install it on a kitchen island or an accent wall as well as your classic countertops. Make sure that you shine a bright light above it to bring out all of the colors that its speckled design holds!
Blue Pearl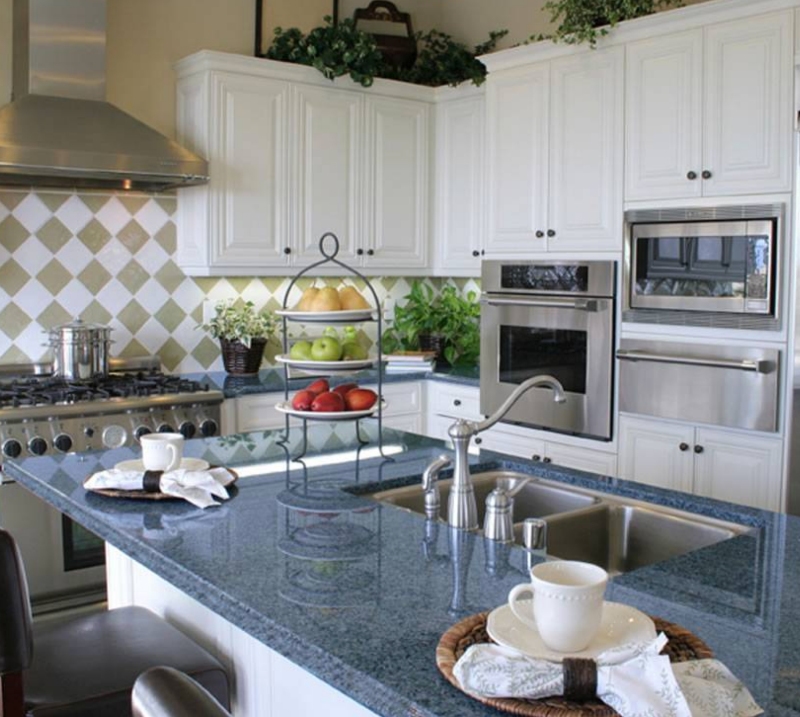 Blue Pearl is another option for those who prefer speckled countertops. This gorgeous slab appears to shimmer and shine as a result of its evenly-distributed blue, gray, and beige speckles. None of these colors is more prominent than the others- rather than having one base hue, each slab appears to be made from a configuration of different shades.
If you have an antique or vintage decor scheme, this countertop is the perfect choice for a classic look. Its natural appearance complements wooden cabinets and heavy appliances well. Because it looks like shining metal or pavement under the sun, it also looks amazing under many different lighting schemes.
Colonial Ice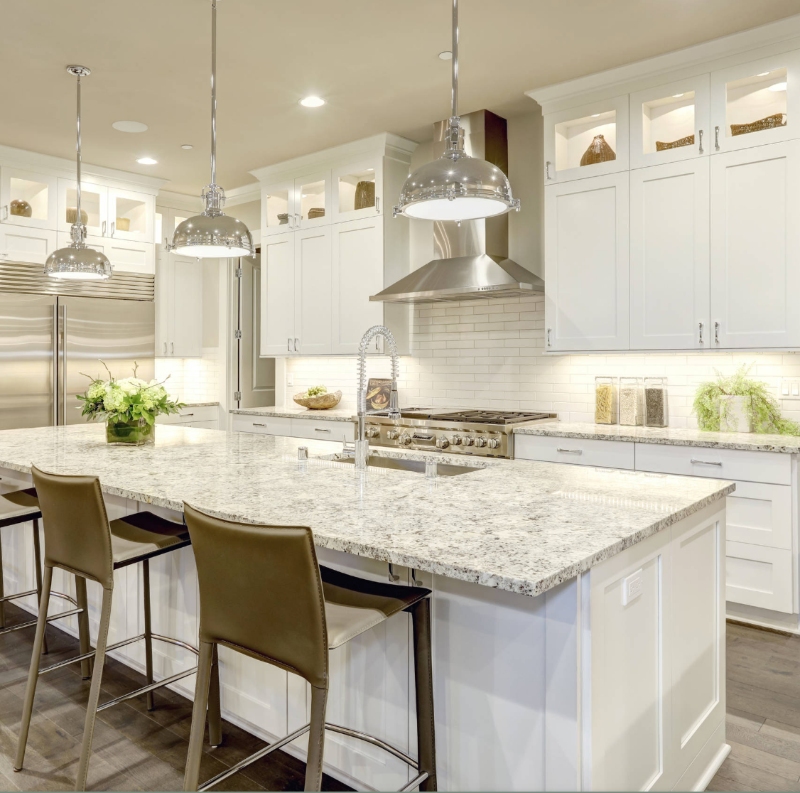 Colonial Ice is another one of the best kitchen countertops that you can buy. It has an all-natural aesthetic similar to that of Arctic Valley- even the gray, white, black, and brown hues are similar! However, it has the same tiny speckles as Black Galaxy (or Pitaya White). In this way, it's very much the best of both worlds!
Like all of our designs, Colonial Ice granite isn't only a great choice for countertops but for other aspects of your interior design as well. You can use it as a backsplash, accent wall, or island surface. There's no end to what you can do when you pair it with other designs in other parts of the room. Colonial Ice looks awesome with Arctic Valley because they're both cool hues, for example!
Pitaya White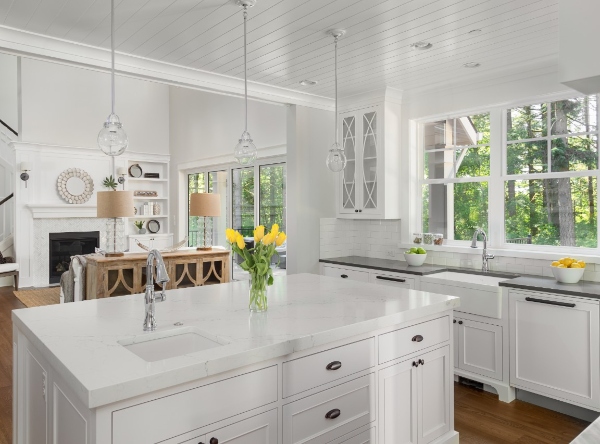 Wondering what Black Galaxy would look like if it were inverted? Pitaya White granite is the answer. This design features a warm white base and is flecked with black and gray spots. The distribution of speckles throughout the service is purely random, so each slab is unable to be emulated.
Pairing this slab as a backsplash in a kitchen that has black galaxy countertops is a divine idea!
If you love vanilla bean ice cream and the way that it looks, this is definitely the perfect countertop for you. You can roll that ice cream on its naturally cool sealed surface that's just as heat resistant as it is able to trap coldness. Each slab is not only resistant to different temperatures but also to cracks, dents, and scratches.
Nero Mist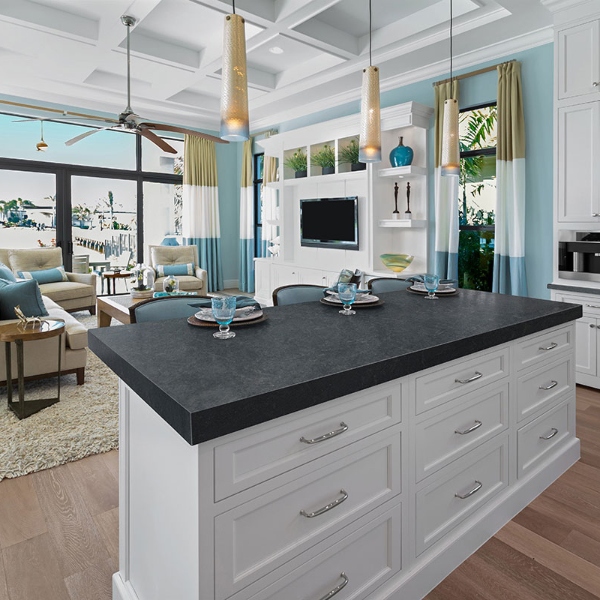 Last but not least, Nero Mist is a black granite design that you need to watch out for. This slab looks a lot like marble with its thick gray veins that stand out against the black backdrop. Add in the fact that it has speckles similar to those found on Blue Pearl, and you have a really visually appealing slab that works with all design schemes.
You can view what Nero Mist (or any other designs) look like in your kitchen prior to buying with MSI's granite visualizer. This tool is a great way to ensure that you're making the most informed choice possible about your kitchen or bathroom renovations. Be sure to check it out and click around for a while so that you can select the best countertop for your needs.
Install Quality Granite Countertops Today
Now that you know about six of the best granite countertops on the market in 2021, it's time to get started with your home renovations.
Contact MSI with any remaining questions that you have so that our experts can help you select the perfect slab for your home interior. Our professionals are happy to assist you with finding something durable and aesthetically pleasing, so we look forward to hearing from you soon.
Read More about Granite Kitchen Countertops
Granite Waterfall Counters for a Dramatic Kitchen Centerpiece
Countertop Visualizer: Your Dream Kitchen or Bathroom in Real-Time
Maximum Return on Investment: Granite Kitchen Countertops
Golden Granite Countertops for a Warm and Glowing Kitchen
Granite Countertops: The Workhorse of the Kitchen
5 Inspirations: A Granite Countertop for Every Style
5 Black Natural Granite Countertops for an Upscale, Luxury Kitchen
Natural Granite Kitchen Countertops to Extend Up Your Backsplash
Get the Designer Kitchen You Crave With These Granite Countertops
Choosing Your Ideal Granite Countertop: Fast-Track Your Upgrade
Stop Obsessing! Here's How to Make Sure Your Counters and Cabinets Go
Natural stone countertops add both value and beauty to your home, and with the kitchen at its heart, these gorgeous granite-clad islands are irresistible!
READ MORE ABOUT GRANITE COUNTERTOPS
A Buyer's Guide to Granite Countertops
A Buyers' Guide to Granite Countertops
A Granite Slab: Is It the Toughest Material Available?
Adding Practical Luxury to Modern Kitchen Designs with Granite Countertops