Which Direction Should I Lay My Luxury Vinyl Planks?
August 10, 2020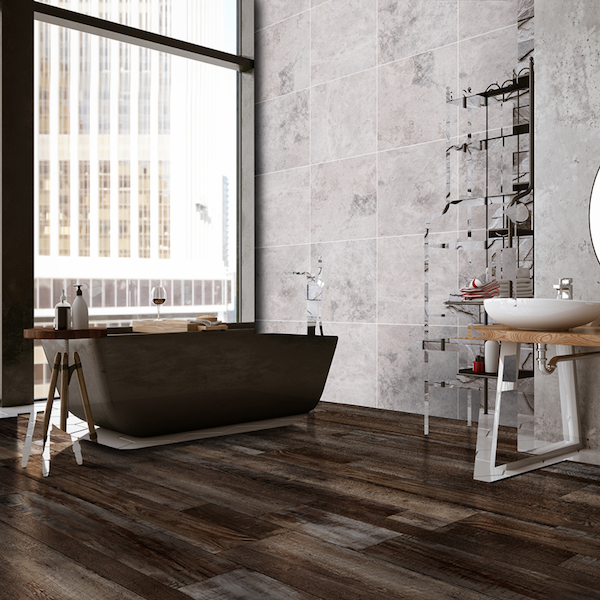 With the rise in popularity, it's no surprise that luxury vinyl planks are dominating the flooring industry. That's because these beautiful wood-look tiles and planks are available in a wide range of realistic designs, colors, and textures. Plus, unlike natural wood flooring, they're extremely easy to lay. That means DIYers can play around with various direction and pattern options for their fabulous new floors. Yet, after you've picked your favorite LVP materials and possibly pattern, you may be wondering which way the planks should go! While you always have the final say, check out our helpful tips for laying your vinyl.
LVT Direction Considerations
You probably can't wait to get your new floors installed, and we completely understand your excitement! But, prior to picking out the new pattern for your luxury vinyl tile or planks, you should analyze the space to see if any of the following considerations could dictate the direction of your layout.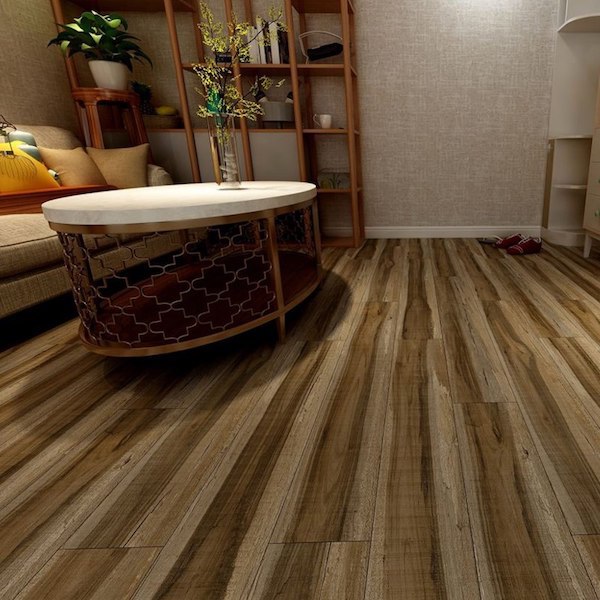 Shape of the Room
The room's shape is definitely something to consider since you'll want to run the vinyl plank flooring parallel with the longest wall of the room. This will make small rooms feel both bigger and wider. For narrow spaces like hallways or long kitchens, running the LVP the length of the room will elongate the space instead of chopping it up with short plank pieces that will be more difficult to install in a pattern. If there are angled walls, then a diagonal layout may be the best visually interesting pattern option.
Flow of the Light
Flooring is typically installed in the same direction of your leading source of natural light, and the same goes for luxury vinyl. If you have large windows in a living room or an entryway that allows a flood of natural light, then run your planks in the same direction. However, following the light isn't always best, especially if you have a narrow space or major angles. Remember that your installation isn't limited to just horizontal and vertical directions. Patterns like diagonal and herringbone will look amazing, too.
Position of the Stairs
When staircases are part of the design equation, some modifications may need to be made in order to ensure that the adjacent rooms are aesthetically pleasing. Since stairs require a horizontal installation, then it may be best to continue the same direction from one floor to the next so that everything stays uniform.

Other Features
Additional influences in deciding on layout and pattern could also come from other features of the room or your particular flooring. You may want to add emphasis to a feature wall or large piece of furniture by running the floor perpendicular to your favorite feature so that the eye is drawn directly to it. However, you may want to highlight the color or grain of your planks by placing them in a specific direction, such as with the light, to better bring out the beauty in your vinyl floors.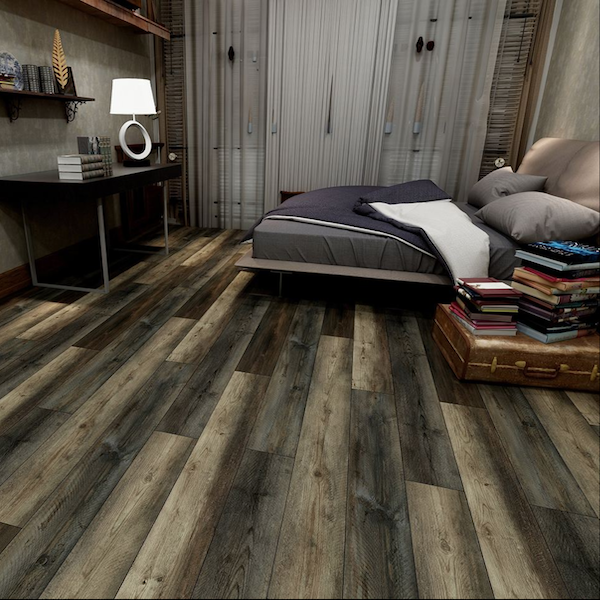 Personal Preference
Sometimes you just have to go with your gut instinct, which could go against design norms. Both the direction and tile pattern can greatly impact the overall vibe of any room without affecting your flooring's quality or performance. After all, it is your space, so choose something that makes sense and makes you happy. When in doubt, run your idea by a qualified installer to get their professional opinion.
LVT Patterns to Try
While there are several LVT patterns to choose from, offset, diagonal, and herringbone are some of the most popular pattern options. Offset, or running bond, is the most common, universal plank tile pattern where the pattern is staggered or offset by half of the plank's width. Diagonal is another popular pattern because it adds dimension to a space since the offset pattern is placed at a 45-degree angle. Herringbone, named after its resemblance of fish scales from the herring fish, is a classic pattern that provides a level of sophistication to any room. The zigzag pattern that meets at perfectly straight edges isn't to be confused with chevron pattern, which is a zigzag pattern that meets at an angle.
No matter which pattern you choose, you'll want to begin laying your planks in the left-hand corner with a 1/4-inch space between the baseboard and vinyl tile. Also, know that making cuts to create your pattern is easy with only the need for a box cutter.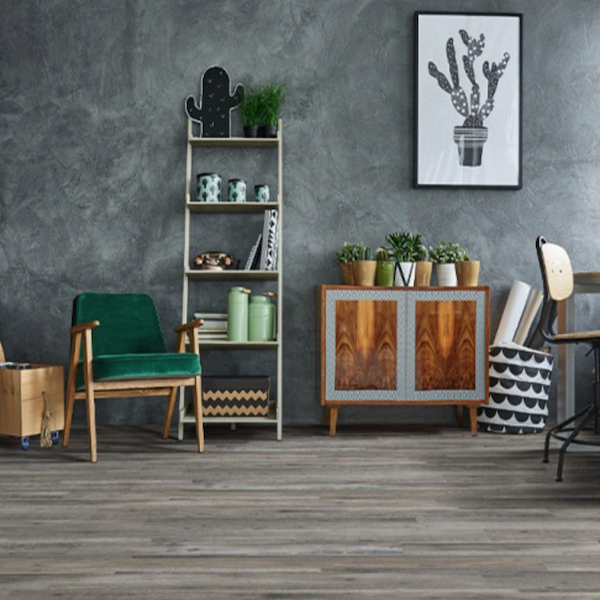 LVT Flooring Benefits
Both homeowners and landlords can reap the many luxury vinyl tile benefits they come with. This more affordable flooring option is able to realistically mimic the looks of real hardwood and many types of natural stone without the big price tags. Plus, with the advancements in technology, they now feel like the real thing, too, with natural-looking textures and designs that rival real hardwood. Also, many vinyl choices are actually manufactured from 100% recycled materials, so it makes for an excellent choice for eco-conscious consumers.
LVT is extremely durable, as it's resistant to stains, scratches, water, and moisture. This means it can be installed in any room of the house. Simple vinyl flooring care and maintenance, such as daily sweeping or a weekly damp mop, is all that's needed to keep it clean. Adding padding underneath the floors will provide extra cushion for those with little kids or older family members as well as improving sound absorption. Also, installing radiant heating underneath is an excellent way to make the floors warmer in the wintertime.
Which Direction Will You Choose?
When it comes to your new luxury vinyl plank flooring, you want to be confident in the final results and overall feel of your room. It's okay to take your time before agreeing on a particular direction or pattern, and remember that asking a professional for their opinion for some reassurance or new ideas may put your mind at ease with whatever you decide. In the long run, the most important thing is that you'll be enjoying your gorgeous planks and the many benefits for many years to come!
What's not to love about low-maintenance vinyl flooring? As lovely as they are, they won't clean themselves. To keep your Luxury Vinyl tiles and Planks looking their best through the years, follow these handy Luxury Vinyl care and maintenance tips.
For more detailed information on vinyl flooring, including installation costs for Luxury Vinyl Flooring, visit our website for our entire line of luxury vinyl planks.
Are you ready to get your DIY project started? First, find the perfect Luxury Vinyl Tile and Luxury Vinyl Plank flooring by reviewing MSI's expansive Luxury Vinyl Flooring Collection, then find and visit an MSI Luxury Vinyl Flooring Dealer in your area.
More on Luxury Vinyl Tile
Why Luxury Vinyl Tile Is the Best Flooring for Your Rental Property
Can You Use Waterproof Vinyl Flooring On Shower Walls?