Hospitality Design Tips: Hotel Bathroom Vanities And More!
November 24, 2020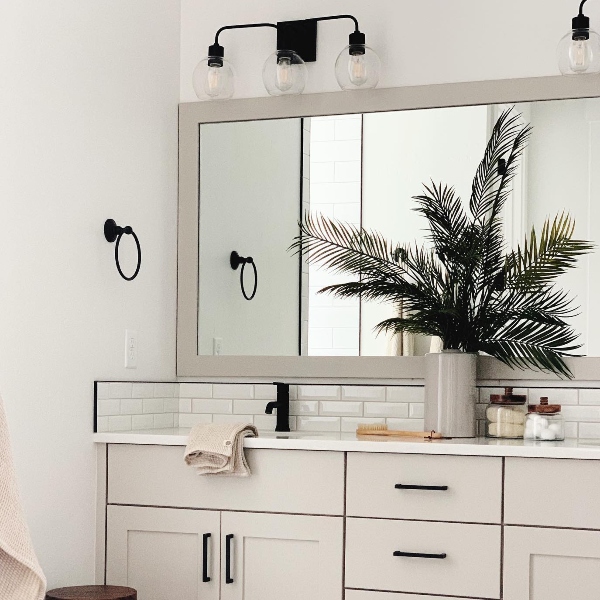 Many hotel bathrooms exude pristine elegance and provide a tranquil ambiance for visitors. Hotel designers, architects, and owners can revamp their tired or bland-new bathrooms into high-end, luxurious retreats by starting with the right foundation. While finishing touches like spectacular lighting fixtures and plush towels may spark inspiration, it's important to make sure that primary features like the hotel bathroom vanities, tubs or showers, and tile are all on point in order to attain the traditional, contemporary, or spa-inspired space you're after. Read on to see how these design tips will help transform a typical bath into an haute couture haven customers won't forget!
Use Natural-Look Materials
From porcelain to ceramic to quartz, natural-look materials have improved so much over the years that many believe they're the real deal! They offer some of the same luxurious natural looks like marble, travertine, granite, concrete, and even wood and come in a wide range of colors and finishes to suit your specific design style. They can be used for hotel bathroom countertops, backsplashes shower or tub surrounds, and even floor tile. Plus, without the high maintenance required, these smooth surfaces are much easier to clean, and your staff will surely thank you for that.
Install Statement Vanities
The vanity really is a statement piece in the room, and there are several ways to obtain that wow-factor. A super sleek floating countertop with open shelving below is something that will work in modern spaces while still being beautiful and functional for guests. An ornate vanity that features a dramatic surface will be a show-stopping piece. Or, take your hotel vanity to the next level by adding a backlit basin made from a semi-precious stone. No matter what kind of exciting or tranquil vanity units, basins, and countertops you decide on, ensure that it reflects your brand and design aesthetic.
Select Luxurious Showers
While a big bathtub is impressive to many, a large shower can be a luxurious experience, too! They can also help save on costs if budget is a concern so that you can focus on incorporating some high-quality materials throughout the bathroom. But, be sure to consider what will create a spa-like shower, whether that's the tile to the shower heads. And, if you have the space and the budget, blow your guests away with a bathtub that's built into the shower space. It will be like a bathing oasis!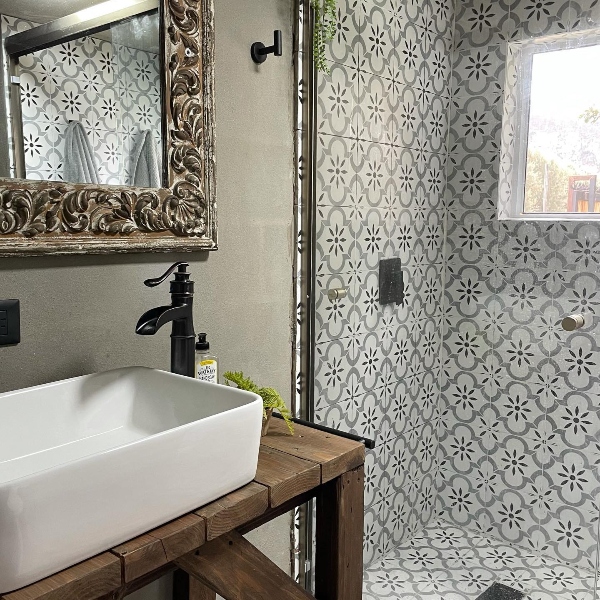 Pick the Perfect Bathtub
If you know customers prefer a bathtub to a shower-only space, then make sure to ditch the bland tub-shower combo and go for a beautiful free-standing bathtub that's sure to delight your guests. Whether it's a stunning claw-foot tub or a relaxing Jacuzzi tub with all the jets needed to melt the worries of the day away, a luxurious bathtub can really make a hotel-stay feel better than being at home.
Minimize Grout Lines
Many bathrooms showcase tile, but depending on the design and style, you may have a lot or a little. For a more minimal, modern look, you'll want to consider minimizing grout lines by using large-format tiles or porcelain or quartz slabs for things like hotel flooring, backsplashes, and shower surrounds. Besides looking sleek and impressive, this will make the rooms more functional for your staff as the housekeepers would spend less time scrubbing grout lines that can be tricky to keep clean. It also can add to a spacious feel for larger bathrooms, so continue with the larger scale by adding wall-to-wall mirrors or oversized rugs to create a greater sense of space.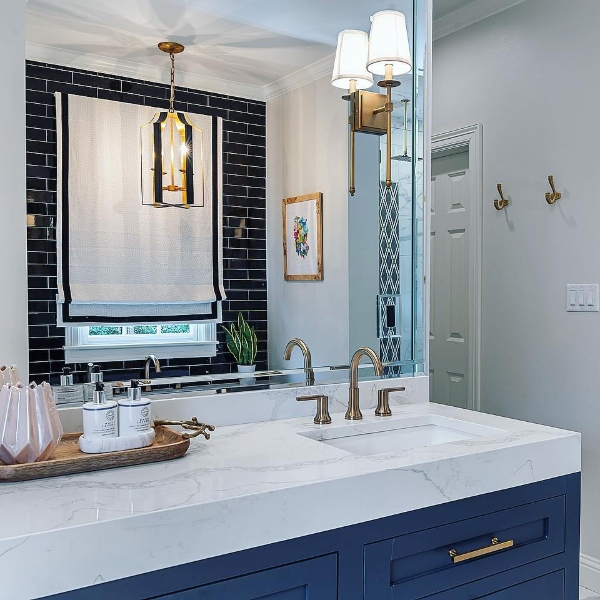 Light It Up
The right lighting can dramatically impact a room, whether it's the bulb color temperature or the actual fixture itself. A must for hotel bathrooms, well-designed vanity lighting helps with tasks like makeup application and shaving, and some high-tech mirrors even feature Bluetooth technology and built-in speakers in addition to the built-in lights. Overhead lighting can create a spa-like ambiance or become a well-loved decorative feature, and switching your switches to dimmers will enhance a more intimate atmosphere.
Sprinkle in Luxury Accessories
Accessorizing a bathroom is key to tying it all together all while maintaining the right vibe. It could be matching a mirror's gold or copper finish to the hardware or other decorative accents or pulling in an accent color from the veining in the quartz countertops. Adding some greenery or fresh flowers really livens up a space. Sometimes what you wrap yourself in after a relaxing bath is as important as the bathing experience. So if you spent time maximizing the spectacular views from the tub or considered different free-standing options for the ultimate wow-factor, then make sure to have luxurious towels and super soft robes for guests to caress themselves in after a long soak.
Minimize Clutter
A clean and organized bathroom will add to the serenity. Storage for essentials and hygiene items is key but sometimes can be tricky without adding to the clutter. While some may say to ditch the traditional medicine cabinet, mirrors can double as medicine cabinets if storage is tight, and they can offer a lot of storage space if installing an expansive unit. Baskets can be used in the bathroom in creative ways. They can help guests corral all of their personal items neatly, double as a hamper for dirty towels, or simply be a decorative accent.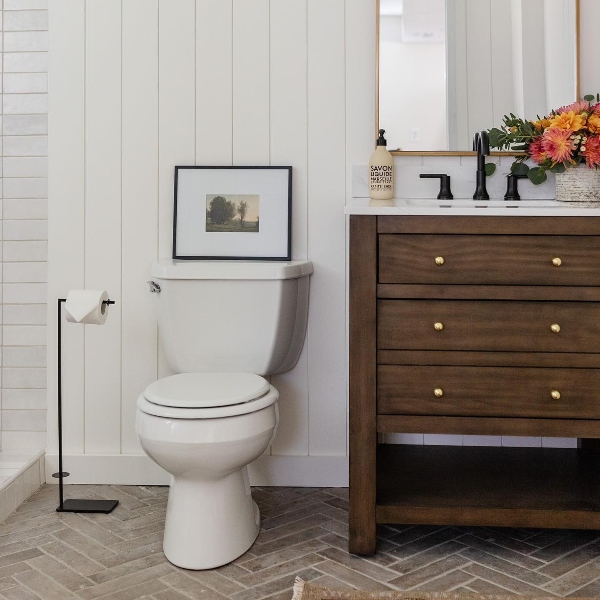 Start Planning the Perfect Hotel Bathroom
Hotel bathrooms seem to be in a category for design that's all its own. From open-concept hotel suites to closed-off spa-like retreats, there are many ways to wow your guests with the layout and design of the space. Whether it's the all-important vanity or a special accent touch, your new space will become a calming and glamorous place for guests to relax and unwind. Plus, a successful design will also inspire visitors to implement similar elements at home. That's a win for hoteliers when homeowners can't wait to show-off their new space and tell their friends and family all about how they were inspired by their hotel stay.
READ MORE ABOUT HOTEL AND HOSPITALITY SURFACES:
Why Quartz Countertops Are A Popular Choice For Reception Areas And Hotel Vanity Countertops
Inspiration For Relaxing Hotel Tub Surrounds
Why Companies Are Switching to Hard Surface For Hotel Flooring