The Most Pintertest-Worthy Granite Kitchens
March 17, 2018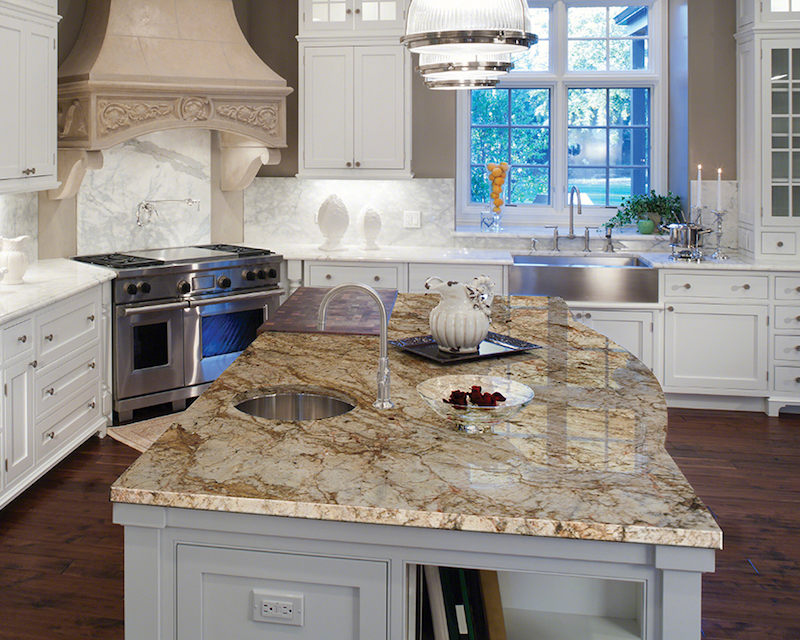 Old-school home makeovers began with a flip through the pages of a decorating magazine. But today, we head straight to Pinterest! Oh, how did we pass the time before "pinning?" Before you get lost in the rabbit hole of decorating ideas, let's take some time to reflect on what makes a kitchen Pinterest-worthy: a cohesive color scheme, timeless style, and amazing quality.
That goes double for kitchen surfaces! Granite countertops are a natural for the photogenic kitchen, because it has all of the essential elements. A wide array of colors can bring together anyone's favorite color scheme.
There's a good reason granite has been a top choice for decades — good looks and impressive durability. Check out some of our favorite kitchen scenes, and you'll want to pin them to your board too.
Black Galaxy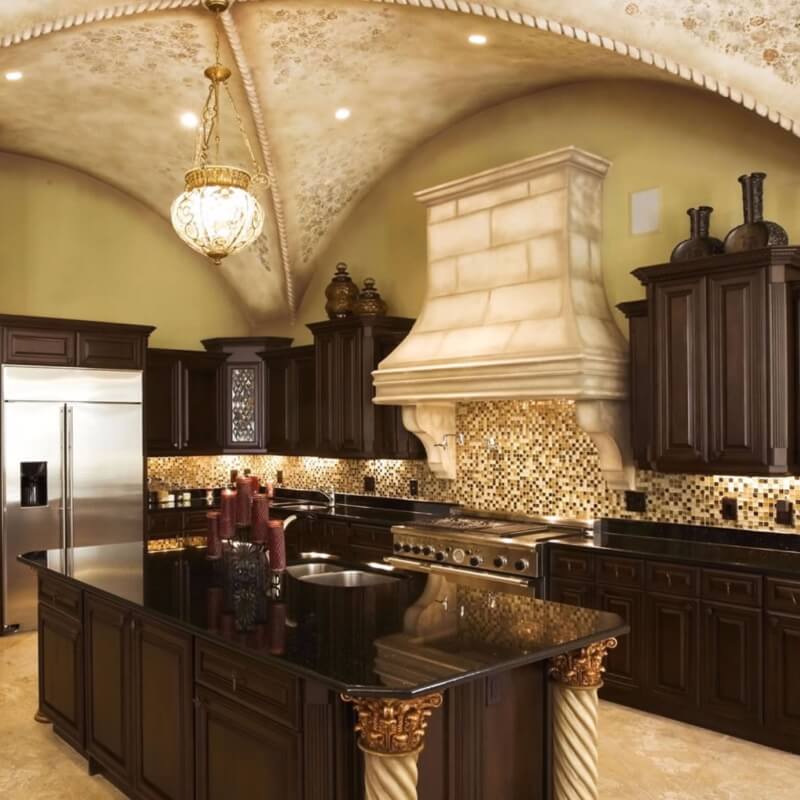 Featured: Black Galaxy Granite
Nothing screams opulence like the rich, dark colors of this designer kitchen. From the vaulted ceilings all the way down to the deep brown cabinetry and column-flanked center island, it's a celebrity kitchen if we ever saw one. The glossy Black Galaxy Granite countertop ties it all together, with a mirror-like reflection that makes it all twice as lovely.
White Supreme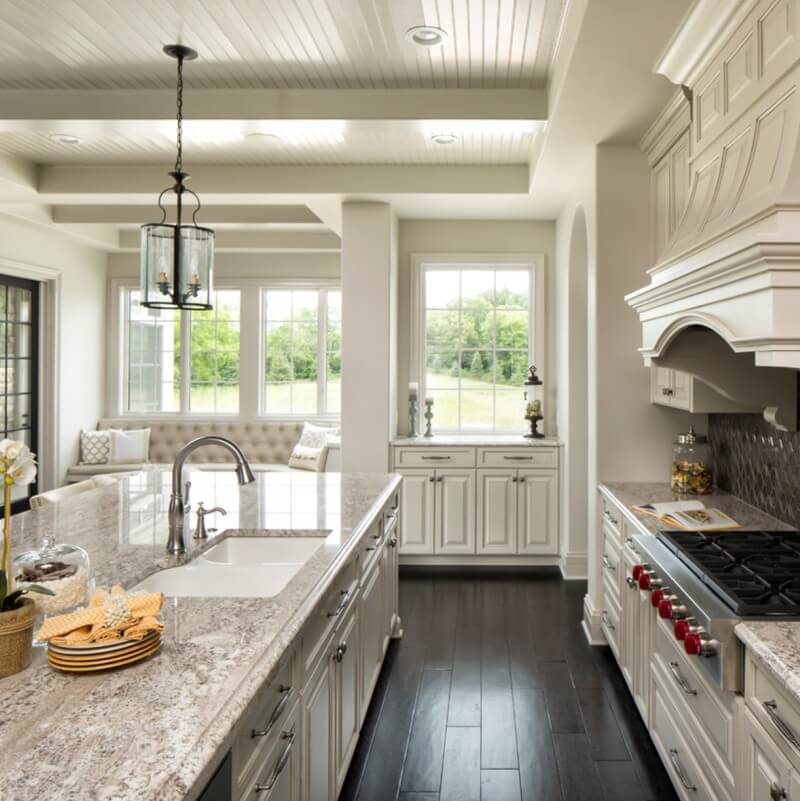 Featured: White Supreme Granite
Why do we love the all-white room ideas from Pinterest? It could be the light, airy atmosphere they provide. It could be the feeling of cleanliness, the simplicity, or how easy they are to accessorize. If the classic combo of white cabinetry and walls next to dark brown flooring is a bit too stark, meet it in the middle with White Supreme Granite. The gray and white swirls add depth and character to any color scheme, making these granite slabs the perfect choice.
Bianco Romano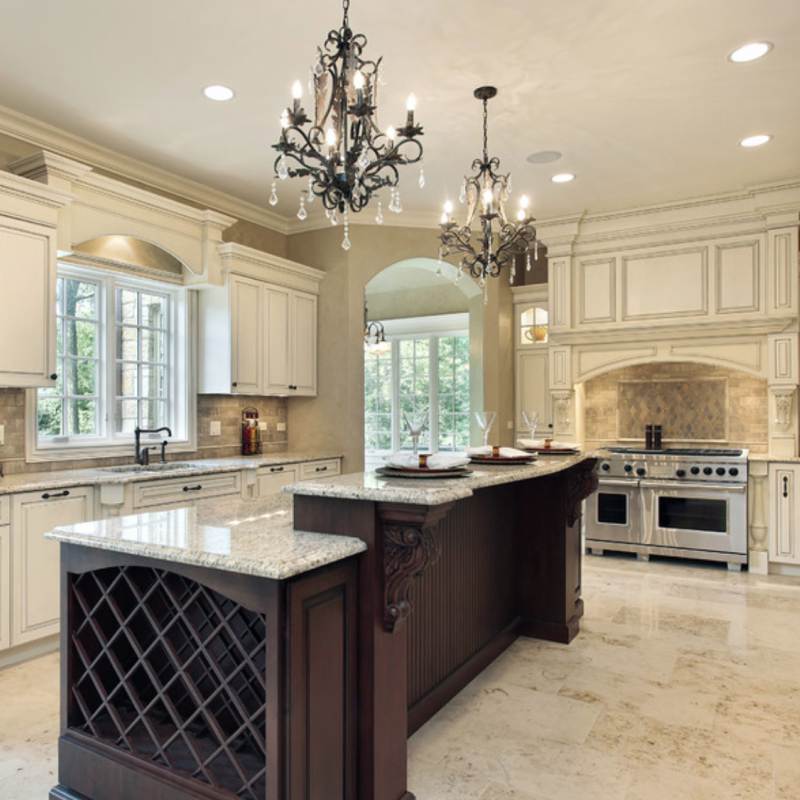 Featured: Bianco Romano Granite
Granite isn't just for your kitchen countertops — it's an ideal flooring surface too. Bianco Romano Granite features swirls and speckles of gray and brown against a white background, with enough variation to create interesting patterns of tile work. We know that a Pinterest kitchen would never have a speck of dirt, but this granite tile floor is pretty forgiving. Durable granite is a snap to clean, though.
Delicatus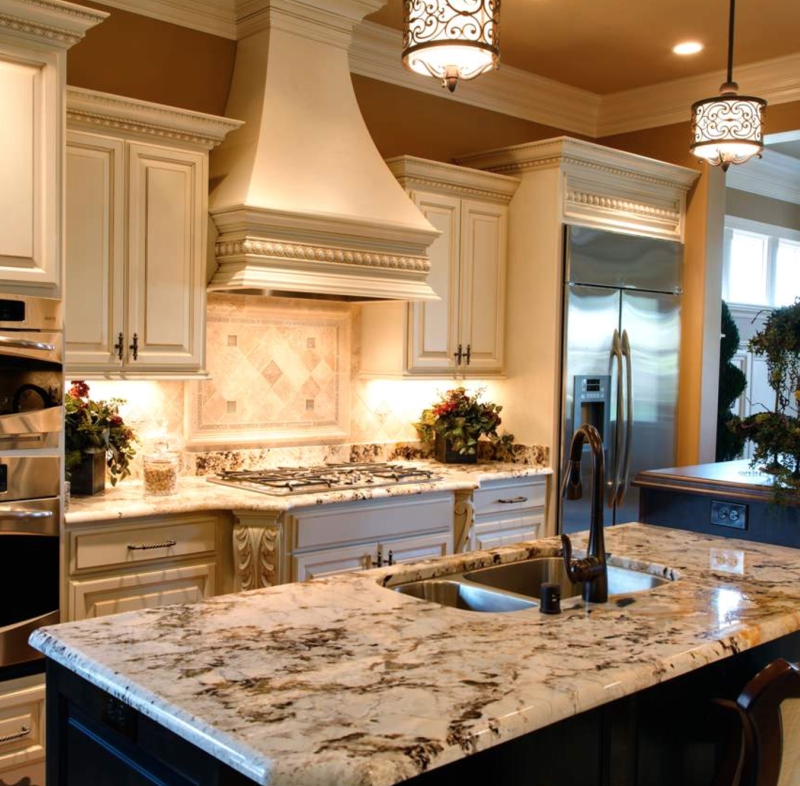 Featured: Delicatus Granite
Some of our favorite pinned kitchen designs catch our eye because of how effortlessly they combine bold patterns. You couldn't do this with just any countertop, but Delicatus Granite's natural veining and coloration is just as much at home in contemporary settings as traditional ones.
Granite countertop colors, such as Delicatus Granite pictured above, provide a nice balance alongside the elaborate molding on the cabinetry and range hood.
Avalon White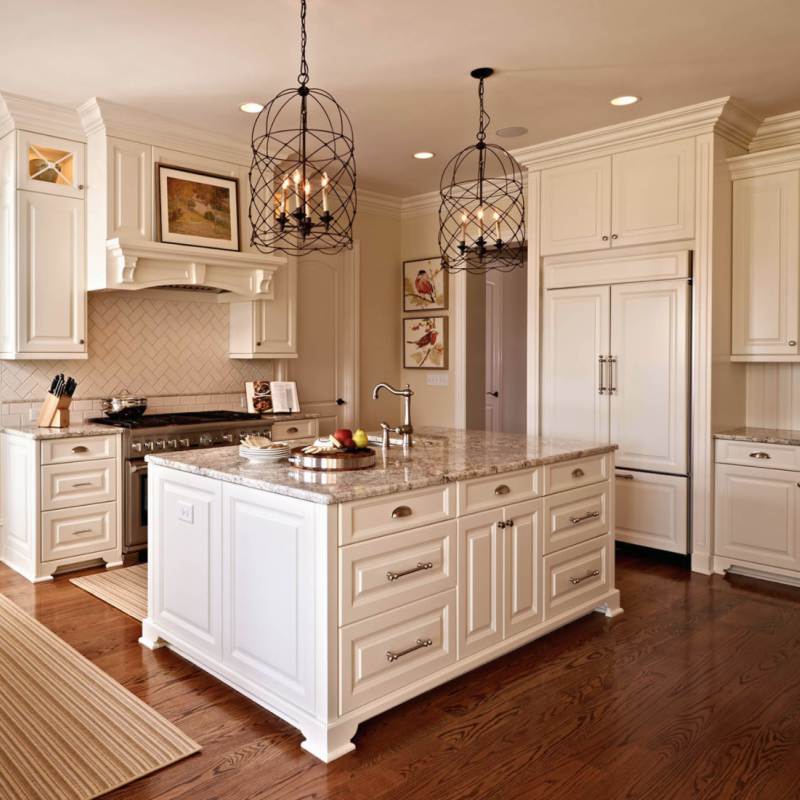 Featured: Avalon White Granite
There's just something about granite counters that takes a kitchen to a new level of gorgeousness. Avalon White Granite, an elegant mix of white and cream with dark gray accents, makes every other decorative element look even better. The dark tones align with the statement lighting fixtures, the gray complements stainless steel appliances. It's clearly the focal point, but still subtle enough to allow for interesting backsplash tile. So sophisticated!
With the stunning granite options from MSI, you don't have to just dream about the kitchens you're pinning like crazy — you can create a Pinterest-worthy kitchen of your own. Then, you can see how many envious pinners share yours! Visit our website to see our Granite Countertop Collection and to be inspired by many more kitchen designs.
Read More about Granite Kitchen Countertops
Granite Waterfall Counters for a Dramatic Kitchen Centerpiece
Countertop Visualizer: Your Dream Kitchen or Bathroom in Real-Time
Maximum Return on Investment: Granite Kitchen Countertops
Golden Granite Countertops for a Warm and Glowing Kitchen
Granite Countertops: The Workhorse of the Kitchen
5 Inspirations: A Granite Countertop for Every Style
5 Black Natural Granite Countertops for an Upscale, Luxury Kitchen
Natural Granite Kitchen Countertops to Extend Up Your Backsplash
Choosing Your Ideal Granite Countertop: Fast-Track Your Upgrade
Stop Obsessing! Here's How to Make Sure Your Counters and Cabinets Go
6 Wow(!) Kitchens featuring Granite Countertops
Natural stone countertops add both value and beauty to your home, and with the kitchen at its heart, these gorgeous granite-clad islands are irresistible!
READ MORE ABOUT GRANITE COUNTERTOPS
The Perks Of Granite Countertops
The Right Way to Use Two Granite Colors In the Kitchen