Stunning Granite Countertop Waterfall Edges
October 16, 2020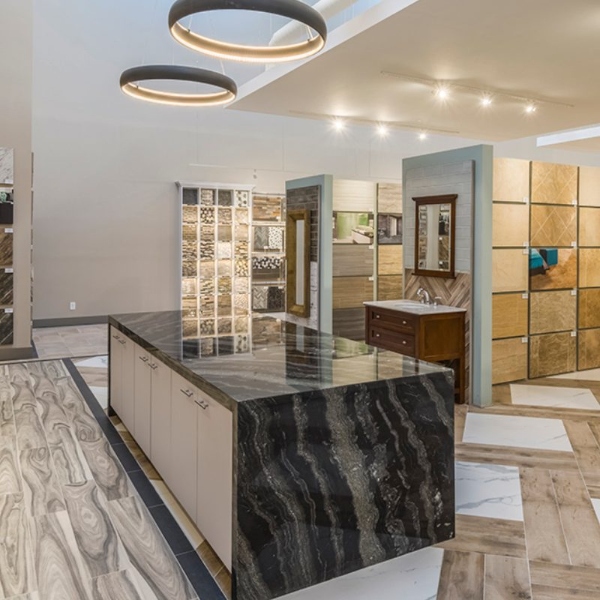 While some kitchen trends come and others go, some trends stick around — and for a good reason. Waterfall edge granite countertops have become a centerpiece in many of today's modern kitchens because of their unmatched beauty.
With the unique 90-degree angle design that allows the countertop to seamlessly extend into the ground, there's nothing quite like it. With a variety of granite options, you can transform your kitchen with wow-worthy countertop edges. For more information about waterfall edge granite countertops, contact the team at MSI Surfaces.
Benefits of Installing a Waterfall Edge
Whether you're completely redesigning your kitchen or simply giving it a facelift, there are a plethora of design factors to consider. From cabinets to flooring, the choices are endless. One of the most important decisions you'll make is your kitchen countertop. Your countertops are the focal point of the space, seamlessly tying together every carefully chosen and hand-selected feature. Take your countertops to the next level by incorporating a waterfall edge so you can experience the following benefits:
Focal Point – After all the time and effort spent designing your kitchen, you want it to be a showstopper. Nothing adds the wow-factor quite like a waterfall edge! It's trendy yet timeless look allows it to blend with nearly any aesthetic, but stands out enough that your guests will be in awe.
Durable – With a waterfall edge, your granite counters are built to stand up to the wear and tear of everyday life. By limiting the number of edges that often fall victim to scratches and chips, you'll be able to enjoy the beauty of your countertops for many years to come.
Distinct – Although waterfall edges are quite trendy, they aren't all that common. They offer the same beautiful and durable granite countertops you know and love, but add a distinctive twist to a traditional element.
Whether you're deciding between quartz vs. granite for your waterfall edge countertop, you won't be disappointed. The sleek design element is sure to take your kitchen aesthetic to the next level.
Additional Considerations for a Waterfall Edge Counter
Granite countertops are a no-brainer in any space, but is the waterfall edge really the right choice for your kitchen? Here are some other considerations to weigh in on when making the decision:
Space – What is the square footage of your kitchen? Are you dealing with a small space and reconfiguring to give yourself more room for foot traffic? While not drastically larger than a standard countertop, it's important to keep in mind that the thickness of a waterfall edge countertop will be slightly wider than the standard countertop as it runs down to the floor. If you're already struggling for space, the waterfall edge might not be the right choice depending on the location of it.
Aesthetic – Does the waterfall edge match the look and feel that you're trying to achieve? Even if you love the sleek design of a waterfall edge, it looks best in kitchens that are on the modern side.
Cost – The more granite you need, the more expensive your kitchen counters are going to cost. Because granite is such a durable stone, it's not cheap. If you're on a tight budget, a waterfall edge countertop might put you over what you planned to spend on your counters.
Function – Although wow-worthy, a waterfall edge doesn't serve a purpose other than to look fabulous. If there's a place in your budget to cut costs, the waterfall edge might be the place since it won't impact the actual functionality of your kitchen.
Create a Wow-Worthy Waterfall Edge Granite Countertop
Ready for the fun part? It's time to pick out the perfect shade of granite that will bring your vision to life. With MSI Surfaces' multitude of color options, there is a granite slab to match any design aesthetic and look you're trying to create. From sleek, gray tones to chic whites, there's something for every kitchen.
Fantasy Brown Marble
With splashes of warm grays and browns, Fantasy Brown Marble offers a one-of-a-kind look that is sure to make your jaw drop. The stunning flowing pattern of pewter, apricot, and chestnut tones can seamlessly blend into nearly any space — matching a variety of hardware and fixture styles. The distinctive pattern is sophisticated and fun, which means it will look fabulous as it flows seamlessly from the countertop, over the edge, and down to the floor.

Coffee Brown Granite
Are you looking to take a walk on the dark side with your kitchen design? The rich shades of coffee and chocolate in this Coffee Brown Granite can help you do just that! Without being over the top, the distinctive flecks of color add both dimension and flair to this countertop option. Whether you're looking to pair the warm brown countertops with contrasting white or rich dark chocolate cabinets, you'll be creating an awe-inspiring aesthetic.

Caledonia Granite
When planning for a waterfall edge countertop, you want to choose granite that will blend beautifully with all the elements of your kitchen — from hardware to flooring to fixtures. Caledonia Granite offers beautiful intricate shades of grays and white ranging from charcoal to light gray that can make any kitchen interior pop. Elevate the look of your kitchen by adding warmth with these beautiful counters.

Silver Cloud Granite
Do you love the jaw-dropping beauty of a waterfall edge but want a countertop that is a bit more understated? Look no further than Silver Cloud Granite featuring finely-grained jet, sterling, and fog grey swirl through ivory, alabaster, and white. The refined color scheme is beautiful and sophisticated but will let the countertop edge be the showstopper.

Blizzard Granite
Close your eyes and picture a luxurious kitchen countertop with a soft white background with dramatic gray veins and bits of black granite. When you imagine Blizzard Granite in your kitchen, you can rest easy knowing it will match any kitchen decor and design elements you choose. It's warm, creamy tones can truly enhance any space!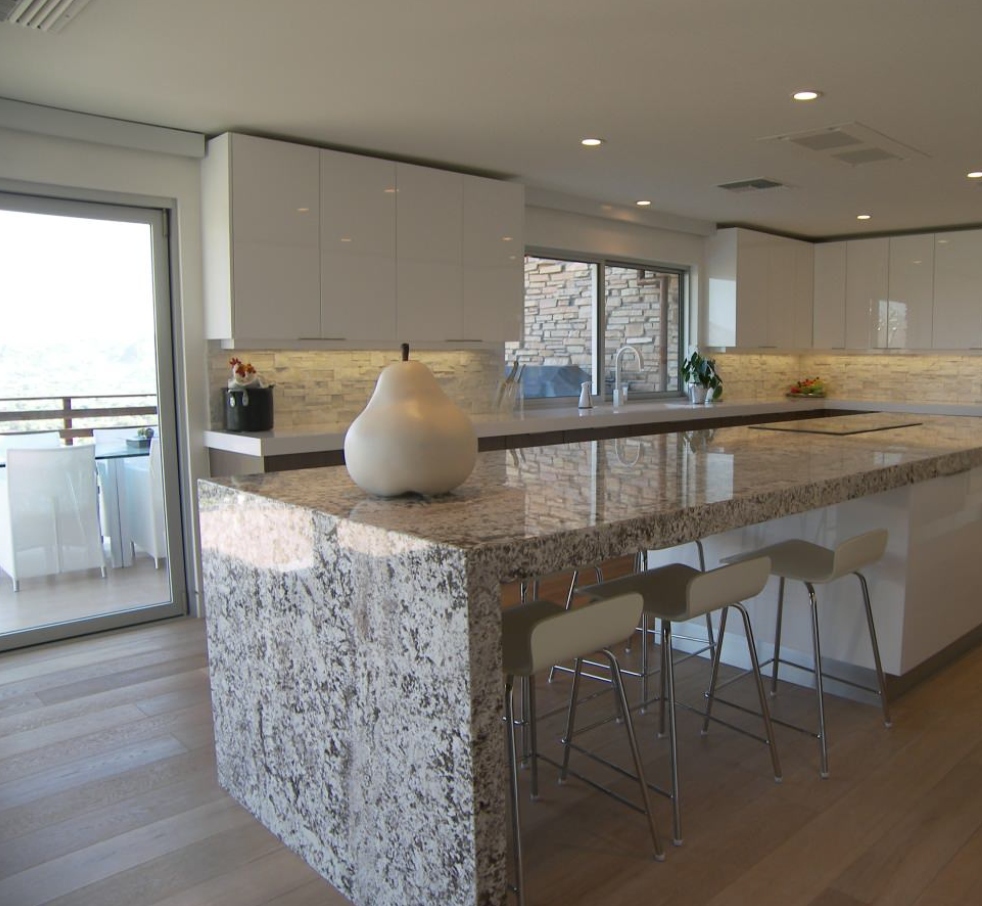 Read More about Granite Kitchen Countertops
Countertop Visualizer: Your Dream Kitchen or Bathroom in Real-Time
Maximum Return on Investment: Granite Kitchen Countertops
Golden Granite Countertops for a Warm and Glowing Kitchen
Granite Countertops: The Workhorse of the Kitchen
5 Inspirations: A Granite Countertop for Every Style
5 Black Natural Granite Countertops for an Upscale, Luxury Kitchen
Natural Granite Kitchen Countertops to Extend Up Your Backsplash
Get the Designer Kitchen You Crave With These Granite Countertops
Choosing Your Ideal Granite Countertop: Fast-Track Your Upgrade
Stop Obsessing! Here's How to Make Sure Your Counters and Cabinets Go
6 Wow(!) Kitchens featuring Granite Countertops
Natural stone countertops add both value and beauty to your home, and with the kitchen at its heart, these gorgeous granite-clad islands are irresistible!
READ MORE ABOUT GRANITE COUNTERTOPS
Solve Your Color Scheme Dilemma with Salt And Pepper Granite Countertops
Striking Black Granite Countertops You Must See
The Best Heights For Granite Countertops