Introducing 6 New Calacatta Quartz Colors: Which One Is Right For Your Kitchen?
June 26, 2023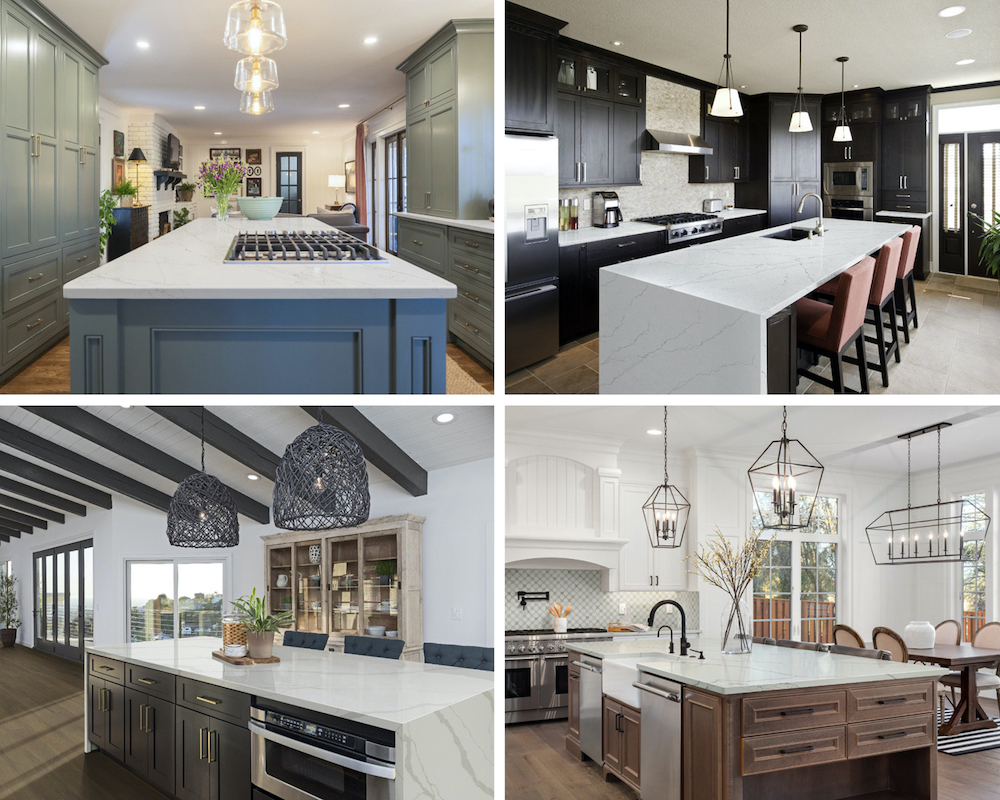 Immersing further into the world of home refinement, we are proud to announce the introduction of six new Calacatta colors to our Q™ Premium Natural Quartz line. Known for its exceptional and elegant aesthetic, Calacatta quartz has been a go-to for homeowners and interior designers seeking to add a touch of luxury to their spaces. These marble-look colors uphold the same classic appeal of natural stone while offering fresh and exciting options to those looking to elevate their décor.
Our design experts have carefully crafted each color in this new lineup to provide an array of unique designs and textures, boasting an even more diverse and versatile palette. Whether you're working on a kitchen redesign, contemplating a new white quartz countertop bathroom vanity, or looking to add sophistication to your living room, this expanded range of colors and patterns ensures a perfect match for any space in your home.
The Rise of Marble-Look Quartz Countertops
Over the years, marble-look quartz surfaces have gained significant popularity among homeowners, interior designers, and architects. Its timeless elegance, durability, and low-maintenance characteristics have made it a preferred choice for bathroom and kitchen countertops, accent walls and other similar surfaces.
Marble-look quartz offers the beautiful veining and soft, subtle coloration found in natural stone but without the susceptibility to scratching, staining, and etching that real marble often presents. It's no wonder these look alike options are becoming a favorite for residential and commercial applications.
New Calacatta Quartz Colors
Calacatta is a premium type of marble from Italy, known for its white background and bold veining patterns. It is highly valued for its luxurious appearance and is used in high-end architecture and design projects.
Calacatta Quartz mimics this look to perfection but with the added benefits of increased durability and resistance to daily wear and tear, offering a fresh take on the much-loved natural look.
Read on to see how these enticing new hues are sure to inspire you!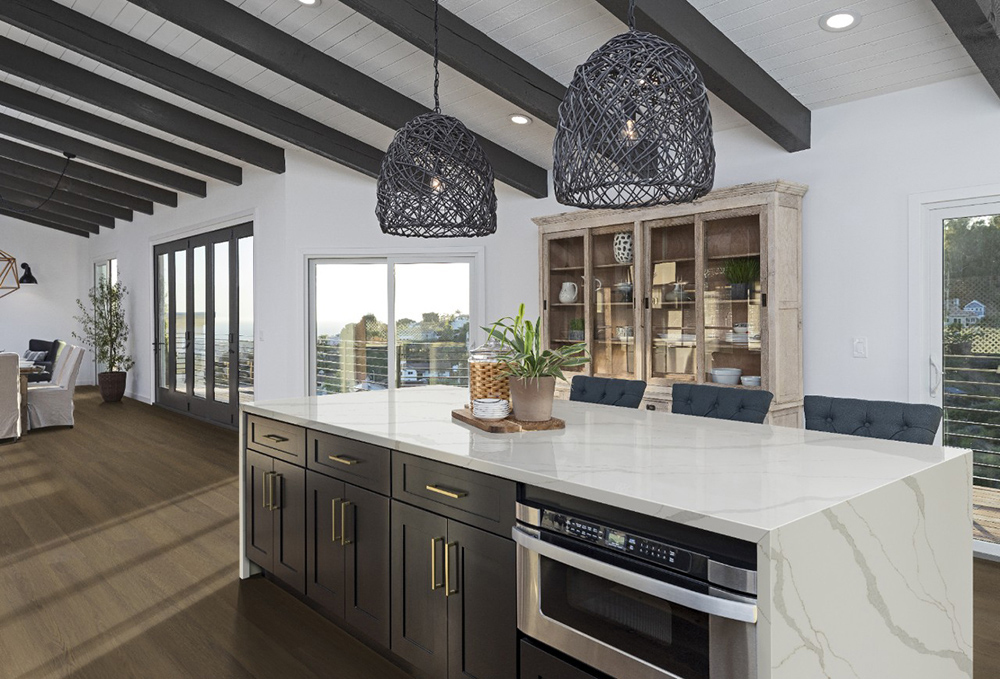 Our powerfully impressive Calacatta Idillio™ quartz countertops are ideal for any residential or commercial space. This décor style is ideal when you want to add class and warmth to a room. With elegant thick, cool gray veins intertwined with the addition of warm brown veins along the edges, these slabs provide a harmonious balance between all your surfaces, including wood look floors and painted cabinets. The mastery of using quartz to create the coveted look of marble means you can match this natural looking to stone to a variety of décor styles. Enjoy the benefits of this quartz with a warming marble design for all your backsplash, island, countertop, and other surface needs.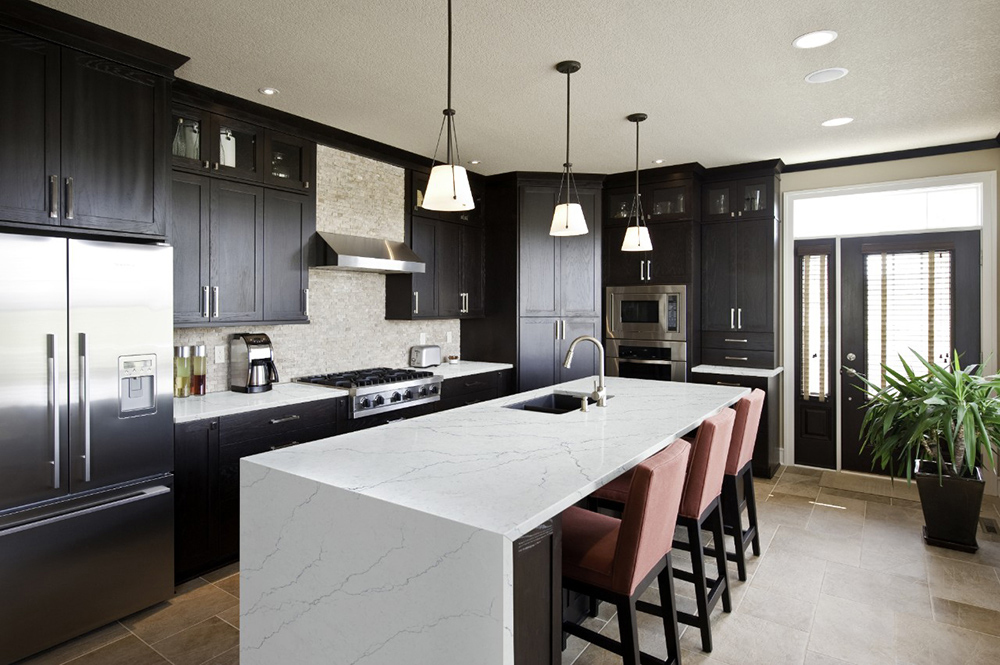 Are cool tones more your style? Check out Calacatta Miraggio Cielo™ for your next surface renovation. Its dusky silver and blue veins with subtle cloudy-gray accents against a cool white background mimic the look of marble but provide you with the advantages of quartz. This stunning stone features a proprietary LumaLuxe Ultra® formula, produced at our state-of-the-art quartz manufacturing facility in South Carolina and proudly made in the USA. This exclusive technology enhances depth and drama, creating a brilliant background with striking veins to boost the resemblance of genuine marble. Add Calacatta Miraggio Cielo™ to any commercial or residential room as an accent wall, waterfall island, or countertop for increased sophistication and elegance.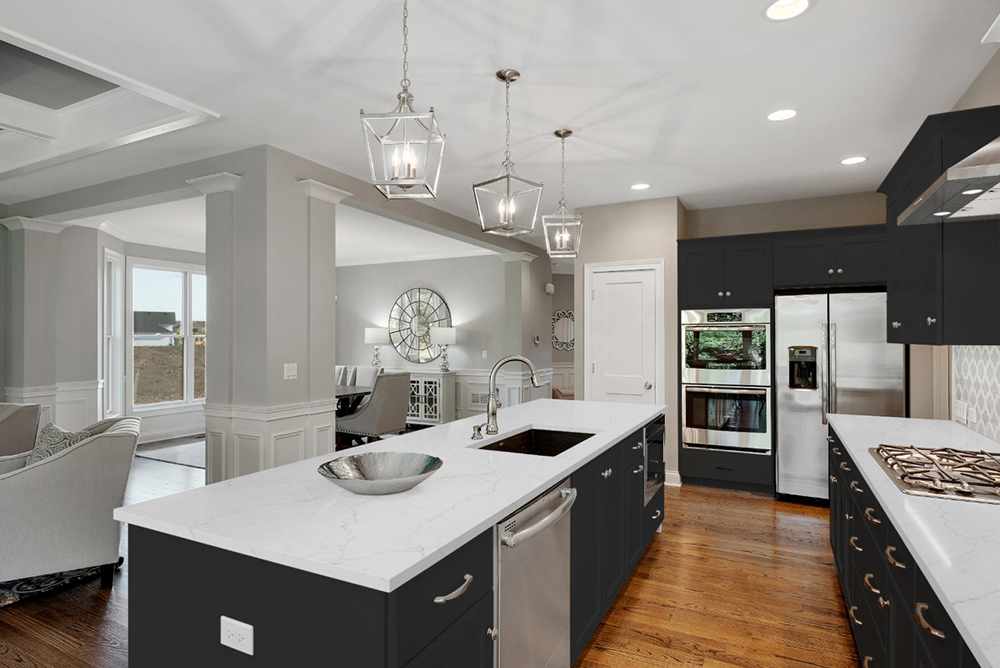 Creating a look unlike anything you've seen before is easy when using Calacatta Miraggio Duo™ for your surfaces. This beautifully unique quartz material marries subtle gold and gray veins boldly against a warm, creamy marbled background. Each slab is made with our patented LumaLuxe Ultra™ technology. This ultra formulation intensifies every facet of its one-of-a-kind crisscross crackled veins to help embrace the look of authentic marble. Calacatta Miraggio Duo™ is perfect for showcasing your residential or commercial countertops, backsplashes, walls, and other areas where you'd like to include a touch of refinement.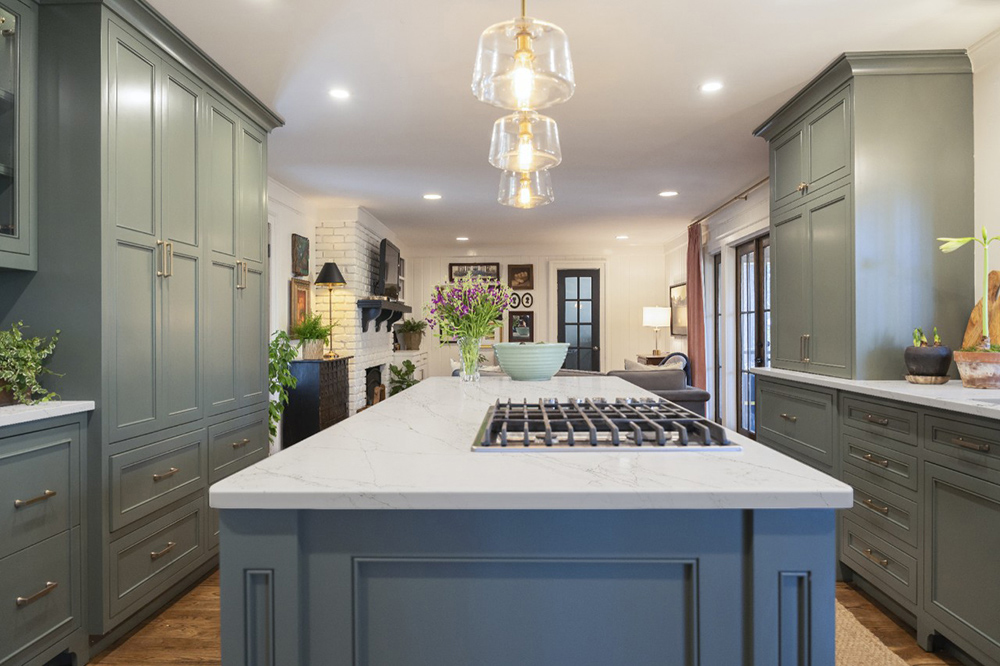 Bring the look of real marble into the room with Calacatta Viraldi™. The tango of brown and green wispy veins dance against a warm white background for a striking effect that's ideal for creating a statement throughout your spaces. The addition of our exclusive LumaLuxe® formulation brings enhanced light and depth to the surface for instant eye-catching, immersive results. Use this quartz to combine flair and style to your accent walls, countertops, and other surface areas. Calacatta Viraldi™ is a must-have in residential or commercial interiors to create a look that stands out no matter the occasion.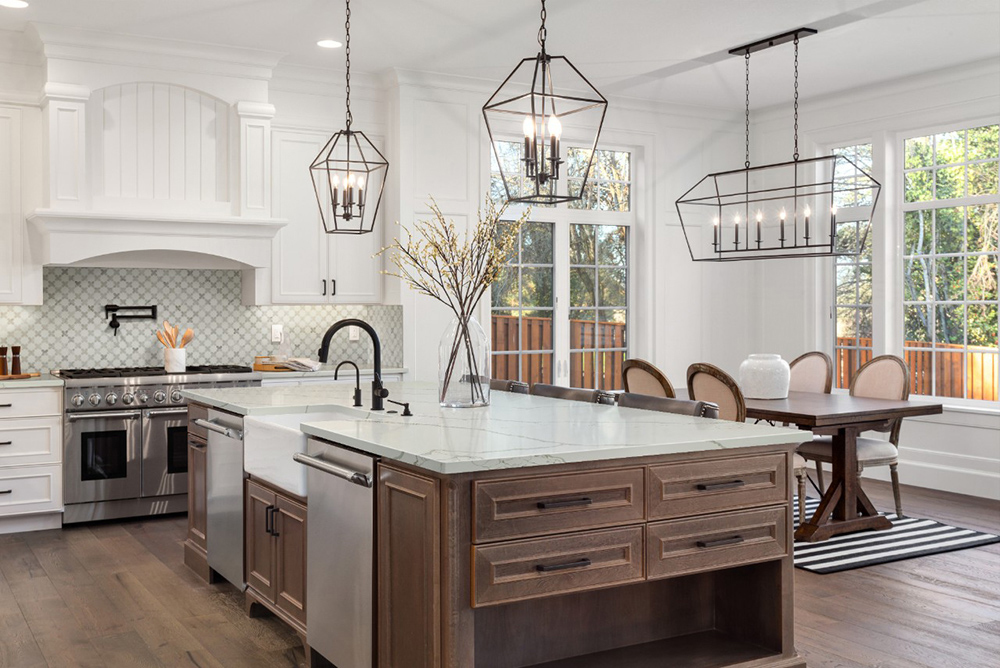 Another addition to Q™ is Calacatta Laza Gold. This stunning quartz surface defines the look of elegance in any interior room. Designed to give a luxurious marble-like appearance, its bright white background complements the intertwining of bold and soft brown veining with edges of gold tones. The benefits of quartz, such as durability, scratch, stain, and chip resistance, and easy maintenance, make Calacatta Laza Gold ideal for residential and commercial applications. Use this quartz solution for your countertops, kitchen islands, backsplashes, shower surrounds, and more to create a look that's always trending and sure to impress.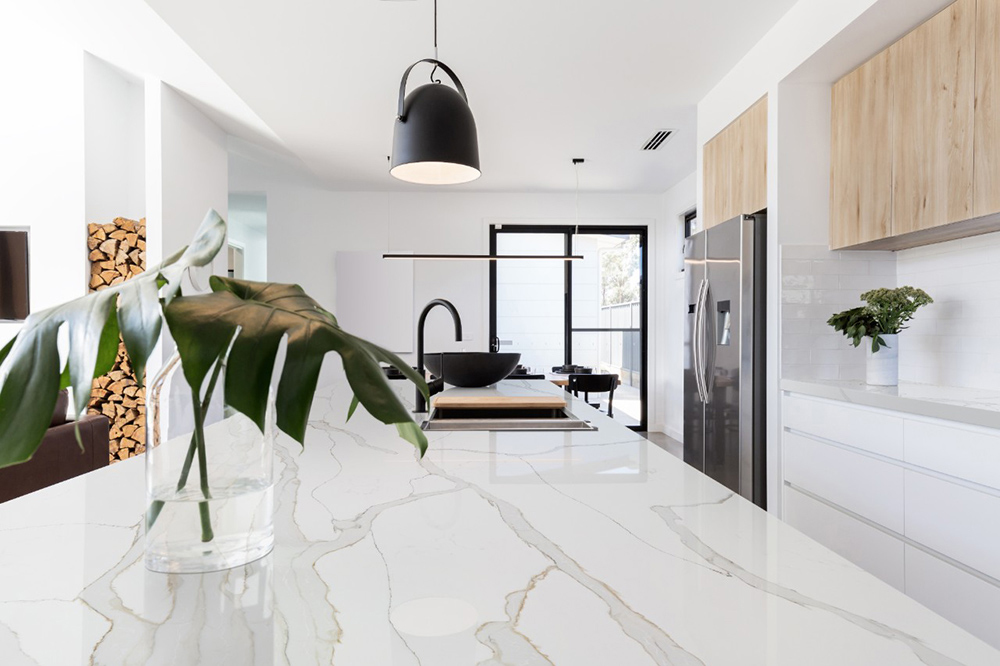 Ready to turn your room into a dramatic, jaw-dropping space? The milky white background and marble-like soft brown veining of Calacatta Laza® is your solution. This premium surface takes countertops to another level, giving you the advantages of quartz with a look that mimics genuine marble. Its intense appearance makes the natural choice for upgrading backsplashes, designing waterfall islands, and refreshing small spaces. With its versatility, this marble-look quartz complements classic and modern styles. Endless possibilities await when you choose Calacatta Laza for your countertops, kitchen islands, floors, backsplashes, and accent walls.
Elevate Your Space with Stunning New Quartz Colors
Our six new Calacatta quartz colors bring an exciting addition to home refinement. With careful craftsmanship by our design experts, these products offer a diverse palette, providing unique designs and textures to elevate any space. As the demand for marble-look quartz continues to rise, our Calacatta quartz captures the timeless elegance of natural marble while offering superior durability and versatility.
If you're ready to start redesigning your kitchen or revamping your bathroom, contact us to help! Chat with us online, visit one of our showrooms, or find an MSI authorized dealer near you.
LEARN MORE ABOUT QUARTZ COUNTERTOPS
ARE QUARTZ COUNTERTOPS DURABLE? HERE'S EVERYTHING YOU NEED TO KNOW
FROM NEUTRAL TO BOLD: EXPLORING THE RANGE OF COLORS AVAILABLE FOR QUARTZ COUNTERTOPS
5 PERFECT QUARTZ COUNTERTOPS FOR YOUR DREAM KITCHEN
DESIGN YOUR DREAM KITCHEN WITH MSI'S MULTI TONE QUARTZ COUNTERTOPS