Popular
Wild At Heart
March 16, 2018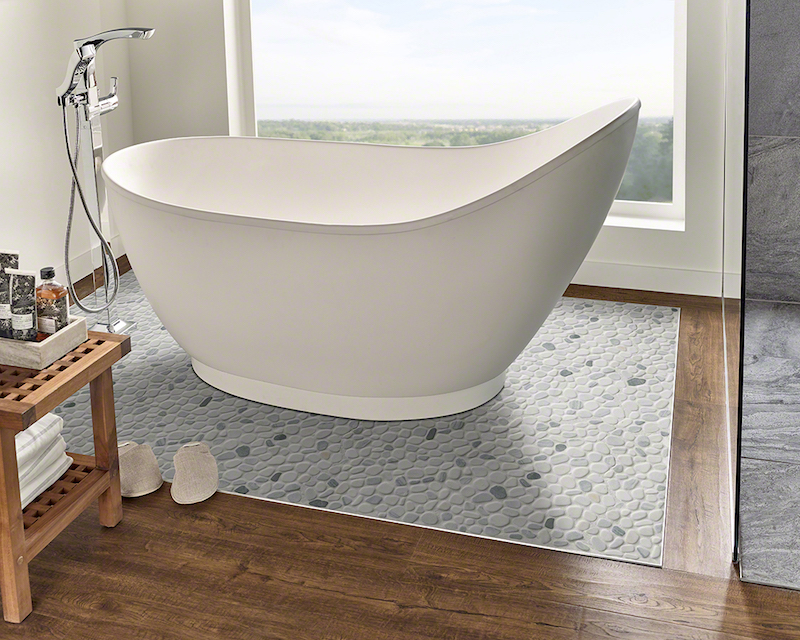 According to trendspotters, the rooms with the most kick today are the ones where Mother Nature reigns supreme. From natural stone to organic fabrics to plants of every shape and size, earthy design elements—in all their one-of-a-kind glory—are in their heyday. This spring, we're raising a glass to the designers who have made bringing the outdoors in into a sustainable art form.
Our Force of Nature trend celebrates all that we love about natural stone. Scene-stealers like granite, marble, quartzite, travertine, and stacked stone panels, light up rooms and upstage other surfaces on the regular with their texture, depth, and warmth. The luxurious way they transport countertops, floors, walls, and backsplashes into dreamland territory is always inspiring. More than just a pretty face, natural stone's durability, and property increasing value add to its top-shelf appeal.
We asked our design team to share their favorite interiors with natural stones, and oh, what a gorgeous biz to be in – especially with all new styles, colors, and finishes we've just added to our spring lineup.
Black and Tan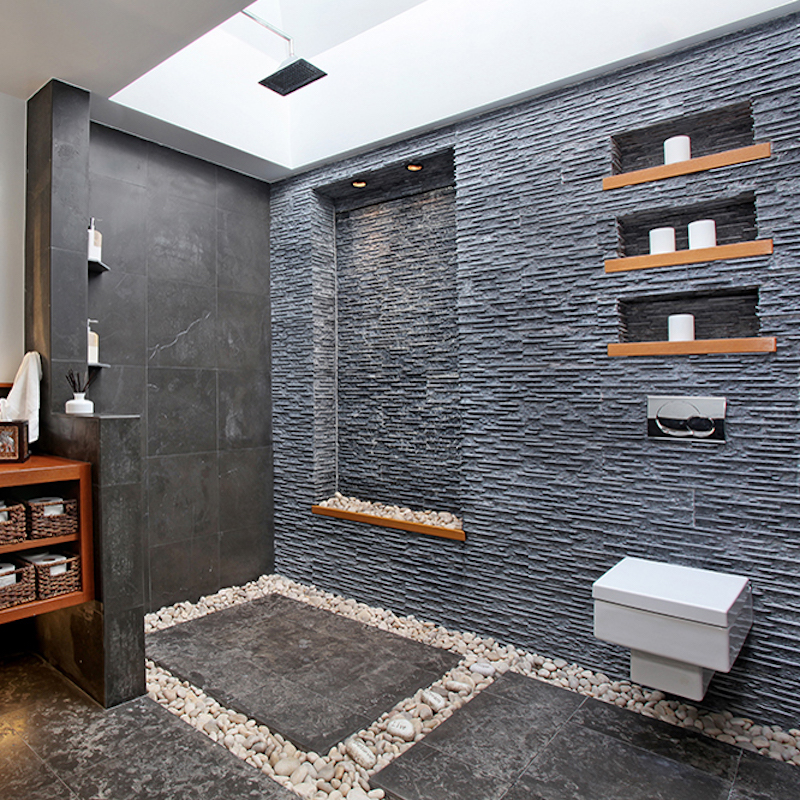 Who knew black (Montauk Black Slate) and tan could look this good?
Whether you're building your first home or remodeling your sixth, you've probably swiped through hundreds of online photos for design inspiration. The rooms you instantly fall in love with? It's like winning a virtual jackpot. That's how we felt the first time we saw this beautiful bath with black slate walls and oversized (24x24) floor tile. The hard angles in contemporary homes can make them look and feel cold. Add slate, a long-loved material among designers and architects, along with natural wood cabinetry, and voilà, your space is warm and inviting.
Now You're Cooking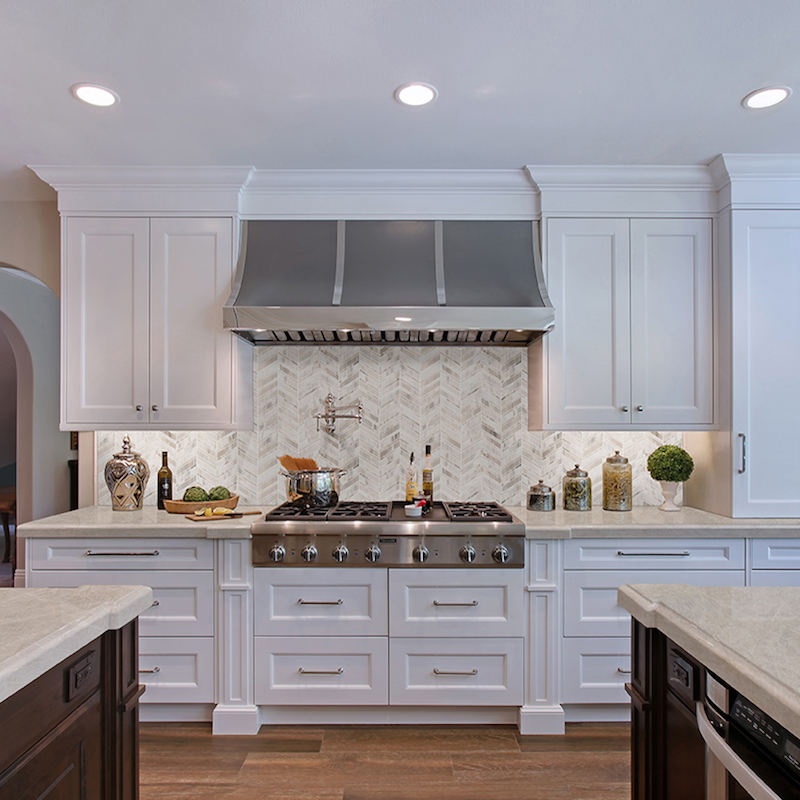 Ready for neighbor envy? Pair Taj Mahal Quartzite countertops with a Palisandro Chevron Polished backsplash.
Zooming in on the design elements that bring our favorite looks to life is oh-so-much fun. We're as smitten as ever with white kitchens, and this vision of loveliness stands out with its soft white quartzite countertop, stainless steel appliances, and marble tile backsplash. Quartzite may resemble marble, but it has the durability of granite, so now more than ever cooks in the know make it their go-to workspace surface. It's been on our home project shortlist since its debut, too.
Born to Be Beautiful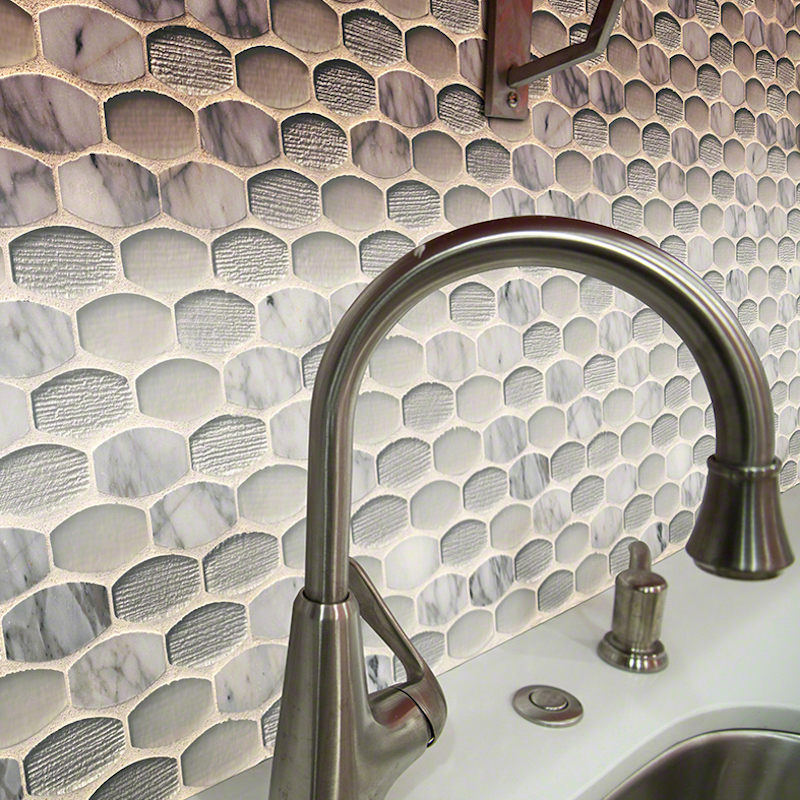 There's nothing we don't love about this Ellia Blanco Mosaic backsplash.
If you're a fan of green building materials (and who isn't!?), you know that natural elements can set the tone for a house. From the entrance to the kitchen to the patio, our authentic stone collections make a beautiful case for going natural. We count this chic backsplash with its fresh geometric looks among our all-time favorites. Look closely, and you'll see the marble veins, dual textures – smooth and raised —in different shades of gray. While it complements contemporary kitchens and baths, it's also the kind of style that gives a traditional home a modern day update.
Back to Nature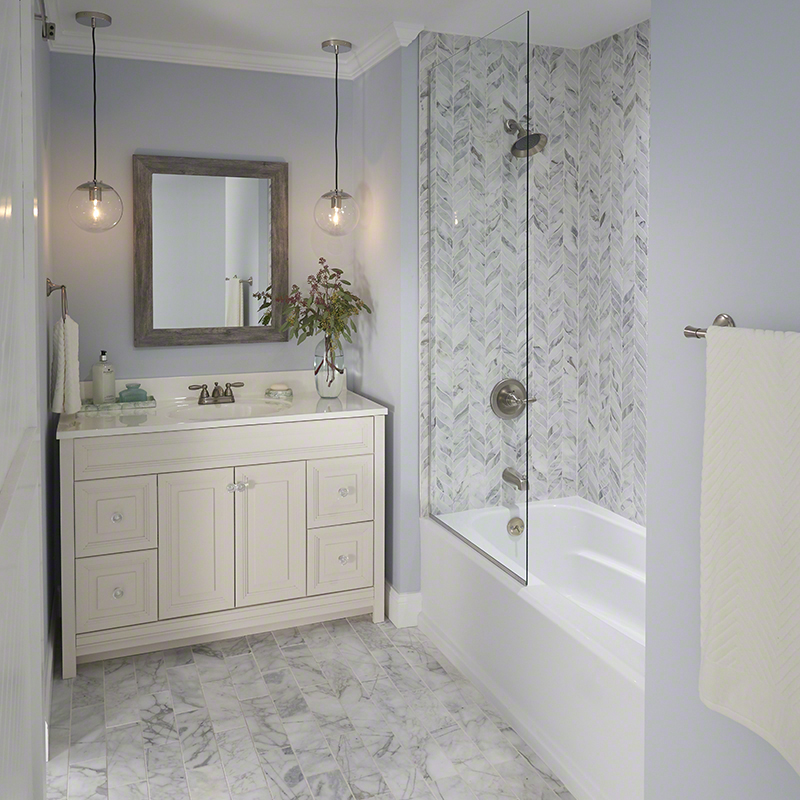 A little bit of design heaven: Calacatta Cressa Leaf Pattern in the shower with floor tile.
This look proves that Mother Nature produces the most beautiful building materials around, and marble tops the list in the luxury department. Because of its exquisite patterning and moisture-resisting properties, it's one of the most enduring choices in kitchens and baths. For remodels and new builds, we love the upscale vibe and classic look of Calacatta Cressa Basketweave Honed wall – especially when paired with quartzite countertops.
It's Time to Mingle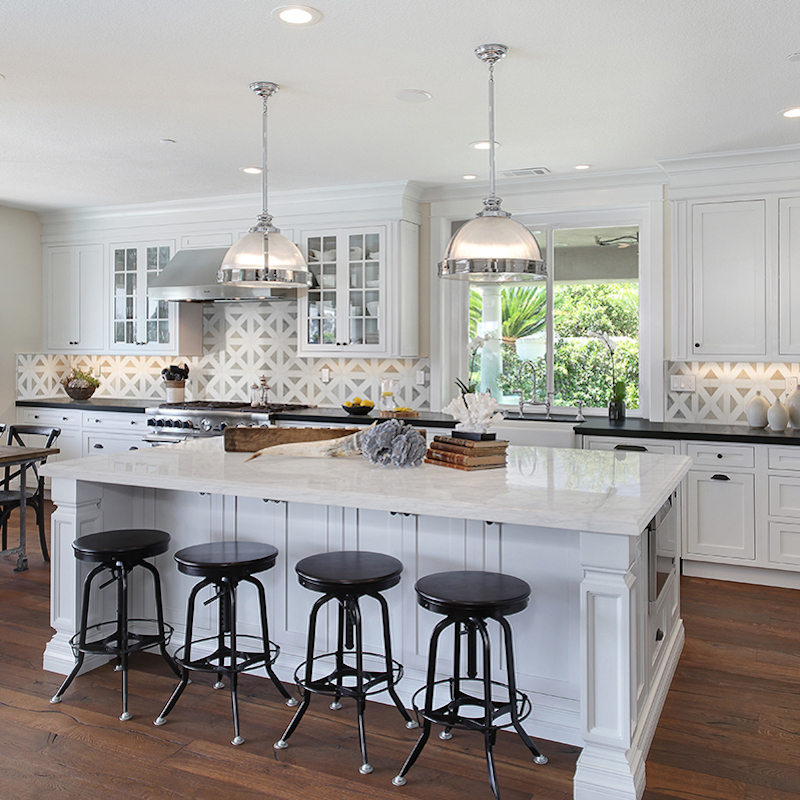 Get the high-style look: Carrara White Marble (island), Absolute Black Granite on perimeter countertop, and Bianco Dolomite Geometrica Polished natural marble tile backsplash.
Hoping to design a kitchen you'll never want to leave? There are authenticity and permanence to marble, granite, and quartzite that makes a home feel elevated. But if you can't decide between the three, why not mix countertop surfaces? For another layer of interest and depth, we like the idea of combining a variety of textures and finishes. (Alternating between matte and polished surfaces creates a look that's super inviting.) Finish the designer look by switching up the countertops colors (like the black and white schematic above) and installing a patterned backsplash.
Wild Veins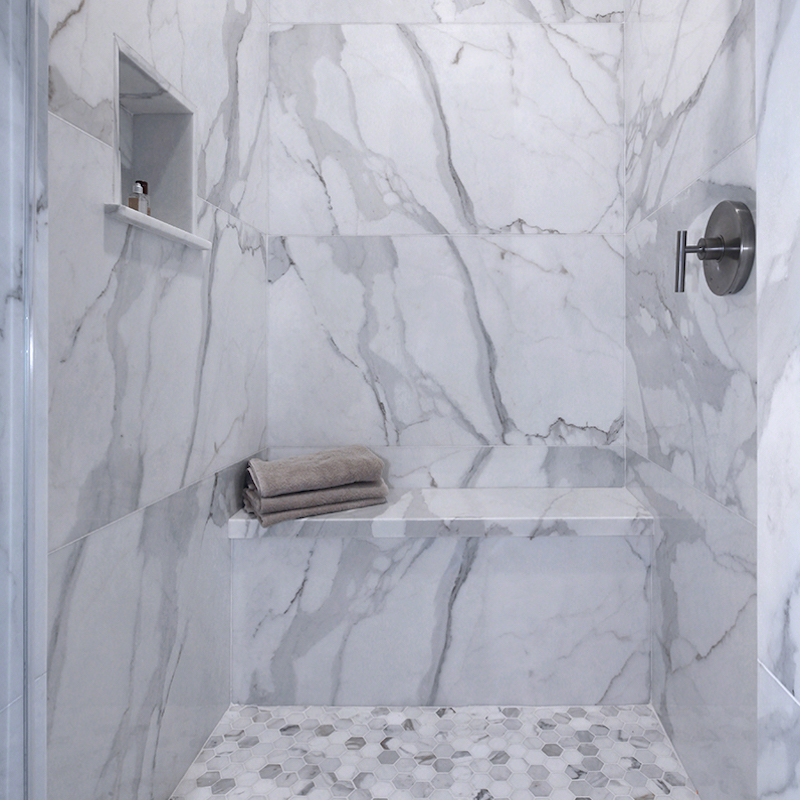 Calacatta Marble, direct from Italy, brings this shower to a whole new level of sophistication.
Is there anything like marble with striking veins to up the elegant factor in a room? We think not – especially if it's a floor to wall installation in a bath or a bookmatched wall in a living room. Spring is all about making room for something new. So if your taste runs luxe but your space is dated, take it off snooze with high-drama marble. Not feeling marble? Join the trendspotters taking notice of the equally beautiful quartzite and soapstone slabs.
A Style for the Ages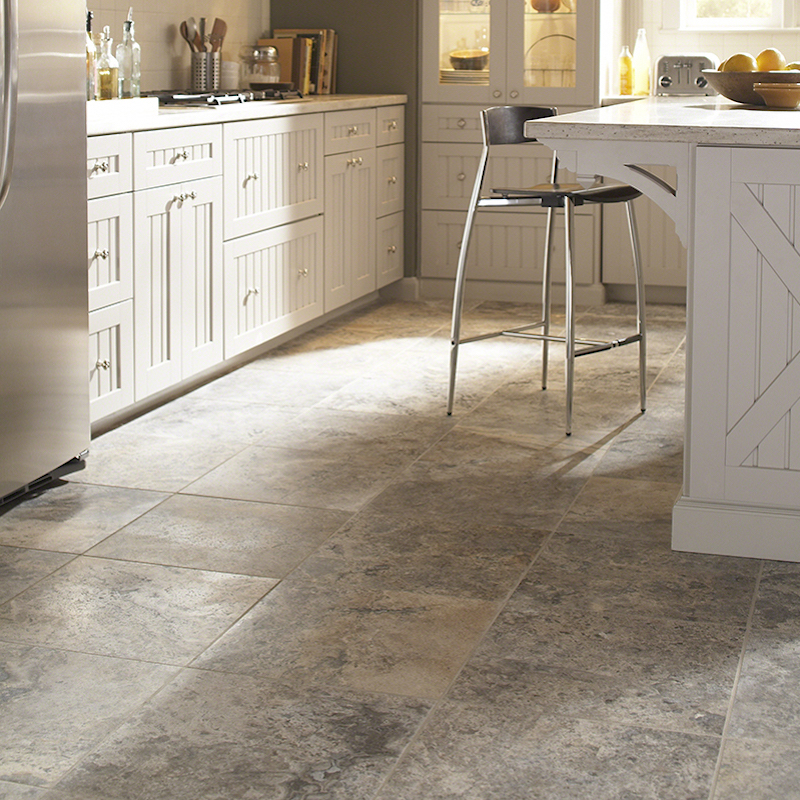 The kind of uptown looks we can get down with? Silver Travertine tile floors.
Another wonder of the natural world, travertine's laid-back beauty is one for the ages (think Trevi Fountain in Rome). Today, we're loving how versatile it is throughout the home – especially when creating a seamless indoor/outdoor flow. Looking to add dramatic contrast to a monotone kitchen? Take a page from our design team's playbook and blend the old with the new: Travertine lends a warm, rich, timeless tone to classic architecture. It also makes the perfect juxtapose to sleek, modern design.
Wonder Walls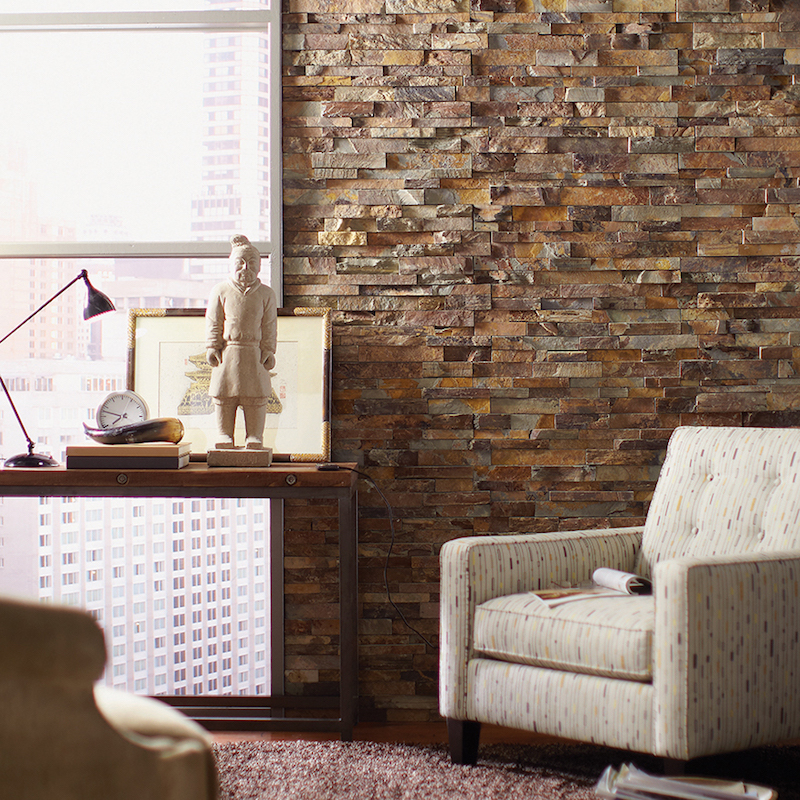 From modern and midcentury to classic style architecture, there's just no going wrong with a California Gold Stacked Stone accent wall.
Ask any designer, and they'll tell you that a rustic stacked stone feature wall lends immediate character to interiors. We love how raw and edgy the texture is – and how it compels you to walk across a room for a closer look. Even if it's used in small ways like a backsplash or a mantle, there's nothing like it for giving a space a second life. Our new Rockmount Stacked Stone Panels and M-Series—featuring a variety of marble, travertine, and slate looks—opens up a world of design possibilities for residential and commercial spaces.
Pebble Perfection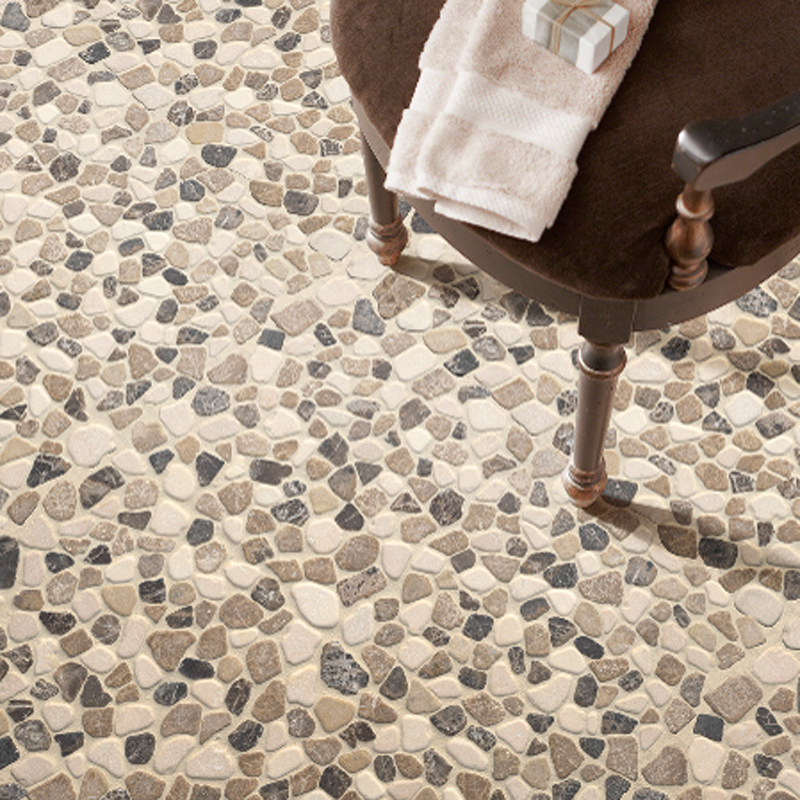 Up the wow factor with a down to earth floor by using Mix Marble Pebbles from our Rio Lago Pebble Collection.
Without natural stone, a spa experience just wouldn't be the same. So if you're trying to create a calming environment with a Zen-like bathroom at home, mixing natural stone floors and walls with other organic elements makes a world of difference. Thanks to their earthy coloring and unique textures and shapes, Rio Lago Pebbles are wildly popular in the bath. Prefer them in smaller doses? Place your bathtub on a pebble rug or install them underfoot in the shower.