5 Unique Patterns For Your Kitchen Backsplash
December 12, 2020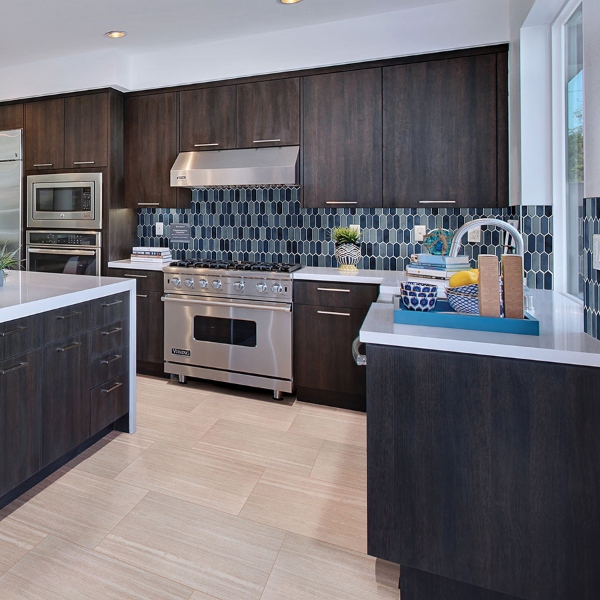 According to recent data, adding a kitchen backsplash to your home can increase your property value greatly. While backsplashes tend to be an average of only 30 square feet, this small space can pack a punch by adding a bit of timeless elegance to even the drabbest of kitchens.
This is because the backsplash provides a central point of interest and ties together the overall style of the room. The color, size, shape, and texture of the tiles you choose each play a role in the completed backsplash's overall appearance- so why not choose something that really pops! Here are on-trend specialty tile ideas for backsplashes.
Hexagon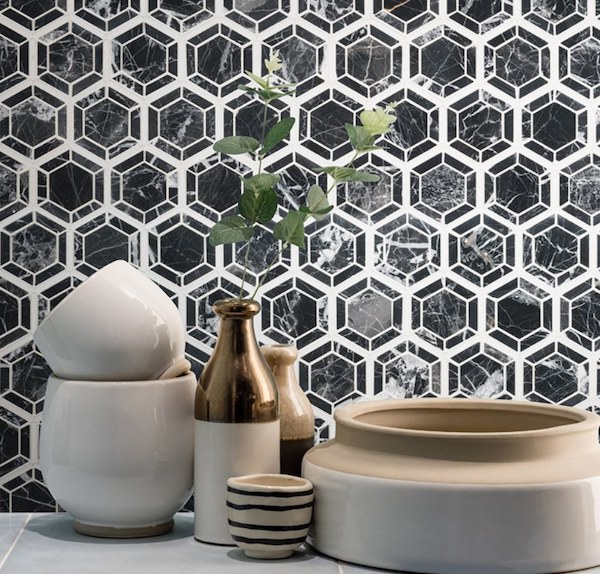 Hexagon was hugely popular in the early 20th century as a floor tile. It made an otherwise "plain" white backsplash tile appear interesting. Today, it still is one of the most common backsplash patterns on the market because of its timeless appearance and clean shapes that work well in any design scheme.
It's interesting to note that these tile patterns, while being geometric, actually mimic a part of nature: the honeycomb. People have been fascinated by these naturally-made marvels for centuries, so it makes sense that they would incorporate them into their design.
Additionally, these styles are incredibly diverse in that you can have them installed with different thicknesses between tiles, colored borders, and tile finishes. They truly are the master of all trades! It also comes in many colors. The most common today are by far neutral hues because they're so versatile.
However, because mid-century design used so many pastel colors like pale yellow and mint green, you can perform an amazing throwback by choosing a visually appealing light color and matching it with pastel-hued appliances.
Picket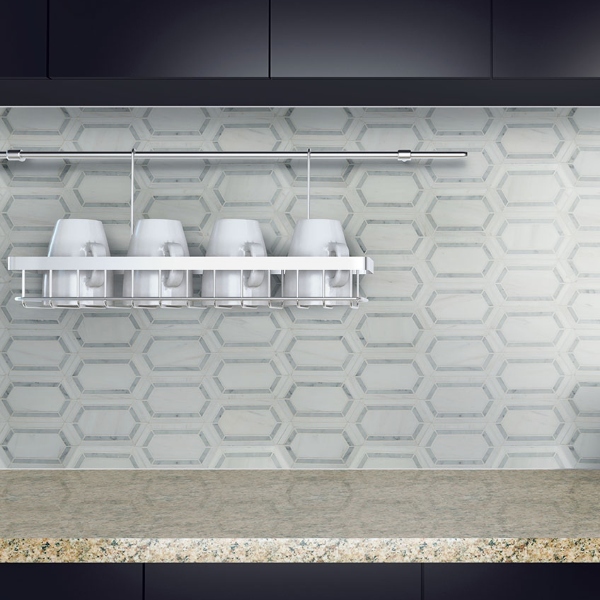 Picket tile is an elongated and updated hexagon tile that's perfect for contemporary and vintage spaces alike. This modern tile was popularized in the late 20th century and persists today as one of the most widely beloved designs for home backsplashes.
Like Hexagon tile, Picket comes in a wide variety of options. It can be installed with a polished or matte finish depending on the surrounding decor. Matching the finish to your countertops and flooring is critical, as is considering the warmth or coolness of the primary lighting in your kitchen.
Since Picket consists of longer tiles, they match up well with elongated rectangular floor tiles as well as horizontally-veined countertops. However, they go perfectly with any geometrically-inclined decor, so this is definitely a backsplash style for all homeowners to consider.
Basketweave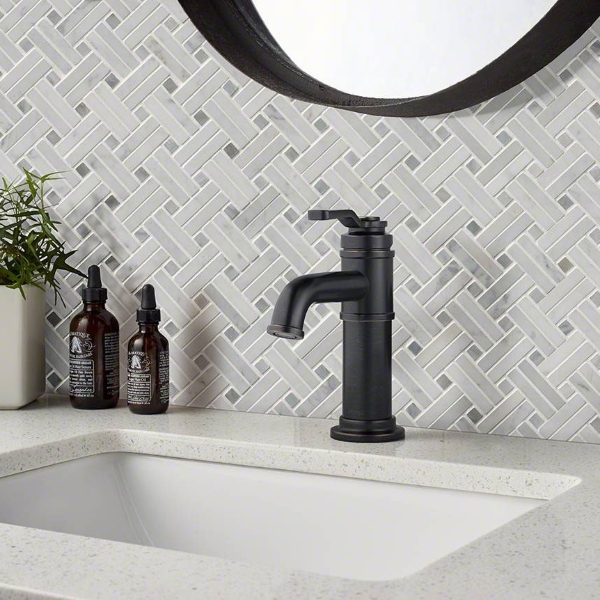 Basketweave has been around for centuries but appeared as a tile pattern during the depression era. Basketweave tile is typically black and white to emphasize the pattern's depth, but new versions have a tighter weave pattern.
Made to look like a wicker basket, this tile features both longer rectangular tiles and square ones. The interweaving rectangles are surrounded by squares in their corners to generate the appearance of space between straw strands. The fact that these tiles come in a plethora of neutral hues makes them a timeless and beautiful addition to any home.
In the present day, many of these styles are composed of polished finishes that you are sure to love. This is especially evocative of depression-era design. During the trying economic times of the 30s, glass was a staple of interior design, as was polished plywood. Getting basketweave tile with similar finishes gives homage to the time in which the style originated and proliferated.
Arabesque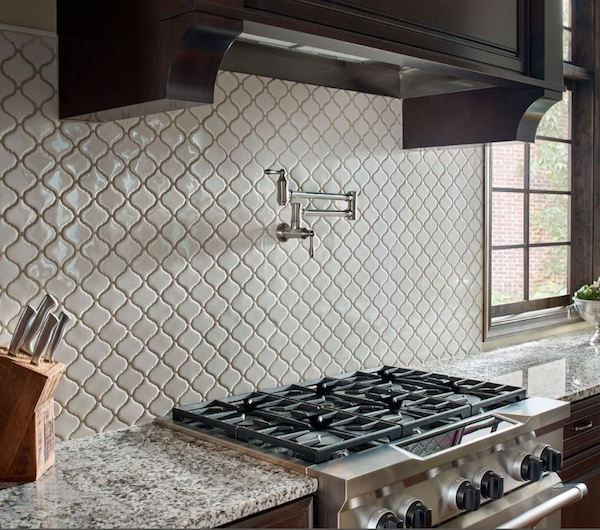 While Arabesque tile backsplash designs are often used in the Western world today, they actually originated in the Middle East. Specifically, they were likely first created in Baghdad. Designers there used this style to illustrate the natural beauty of the intertwining vines that grew there and place their elegance around their homes. This style dates back thousands of years. The fact that it features primarily organic shapes makes sense for this reason. The use of rounded patterns and naturally-shaped decor has been common since people began working on interior design. The sharp, clean lines of contemporary decor are, by contrast, a fairly recent development.
Before it was used in home decor, Arabesque design often made its way into Italian and Roman artwork. Painters like Giulio Romano admired this Baghdad design tradition and brought it to murals and other design elements within the Vatican. Choosing Arabesque backsplash tile means inserting a piece of world history into your kitchen.
Geometric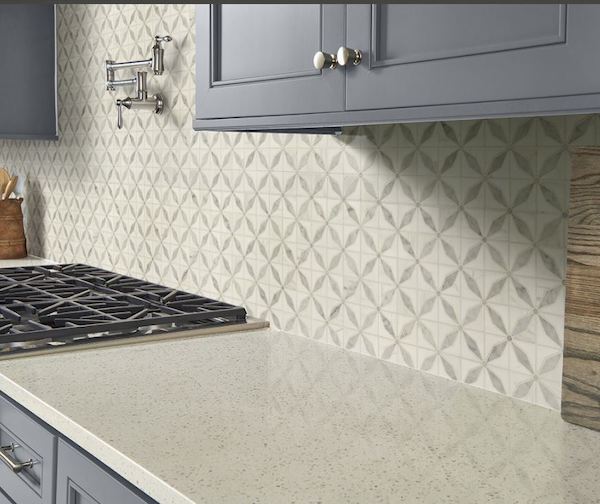 Geometric patterns also have their roots in the Middle East. In terms of tile, geometric patterns were an affordable way to adorn the home and enhance luxury appearance. They generally were used among the wealthy people in this region, so you know that you're getting a piece of sophisticated history when you install geometric backsplash designs.
These styles come in a multitude of varieties so that you can choose the best shapes for your individual needs. The common thread uniting these designs are straight lines and bold patterns. Whether you want a tile that primarily fits together to look like diamonds or parallelograms, you're sure to find a variety that you love.
Install a Kitchen Backsplash Today
While there are many different ways to add value and aesthetic quality to your home, nothing says 'classy' like placing vintage-inspired backsplash tiles behind your kitchen sink. That's why it's time to get started now that you know the most common classic backsplash styles that you can have installed in your space.
Use our Backsplash Visualizer to view kitchen backsplash designs in all of these timeless styles. On this page, you can choose from tiles that complement any design scheme and decor, so what are you waiting for? Begin designing your dream kitchen today!
READ MORE ABOUT MSI BACKSPLASH TILE
5 Must-See Mosaics Offer Bold New Backsplash Options
5 Perfect Quartz Countertop And Backsplash Pairs
5 Stunning Backsplash Designs For Your Kitchen And Beyond
A Comprehensive Guide To Bathroom And Kitchen Backsplash Tile