5 Perfect Quartz Countertop And Backsplash Pairs
March 01, 2021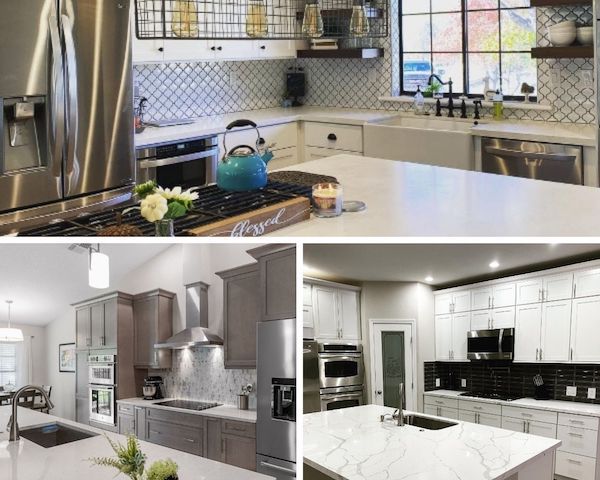 When designing your kitchen, there are a lot of decisions to make. From the prominent elements like flooring and quartz countertops to the finer details such as hardware and lighting, you get to piece together all your favorite designs to create the kitchen of your dream. But determining how to perfectly pair different visual elements can be daunting. Will the cabinet color overshadow the backsplash? How will the countertops coordinate with the flooring? What style of quartz countertops will pair best with your backsplash?
If you're in the midst of a kitchen design project, we've put together a helpful guide for selecting the perfect quartz countertops and backsplash combination.
How to Pair Quartz Countertops with Your Backsplash
It's no surprise why quartz countertops have become increasingly popular amongst homeowners in recent years. From its beautiful color palettes and patterns to its ability to blend seamlessly into any space, quartz counters are a no-brainer when you want luxury and durability.
If you're determining which backsplash will pair beautifully with your quartz counters, consider using our countertop visualizer to help picture the final product. To narrow down which combinations are ideal for your kitchen, here are a few tips to ensure your backsplash and countertops complement one another:
Play with materials – Once you've chosen your dream quartz countertops, test out backsplashes made from a variety of materials. Mixing materials such as quartz paired alongside marble or glass tile is a great way to add dimension to the space.
Blend natural stone – If you've opted for more of a modern-quartz look, add in a natural marble stone backsplash to create a classic sanctuary in your kitchen.
Incorporate a matte finish – When you love the look of quartz but want to do something to stand out from the crowd, consider playing with a matte finish on both your countertops and backsplash.
Highlight detailing with grout – Instead of using standard white with your backsplash tile, switch up the shade to a neutral tone that complements the quartz countertop's natural veining.
By using these tips to craft your dream kitchen, you'll be left with a beautiful counter that blends seamlessly with whatever backsplash you're dreaming of.
Perfect Quartz Countertop and Backsplash Pairings
Once you've narrowed down your selection to quartz countertops, it's time for the fun part — selecting the perfect backsplash! Will you opt for a subtle tile that offers a neutral backdrop? Or are you hoping to add some spunk to the space with a funky pattern? To help you narrow down your choices, we've put together a list of our favorite quartz countertop and backsplash designs.
Calacatta Laza Quartz & Ink Subway Tile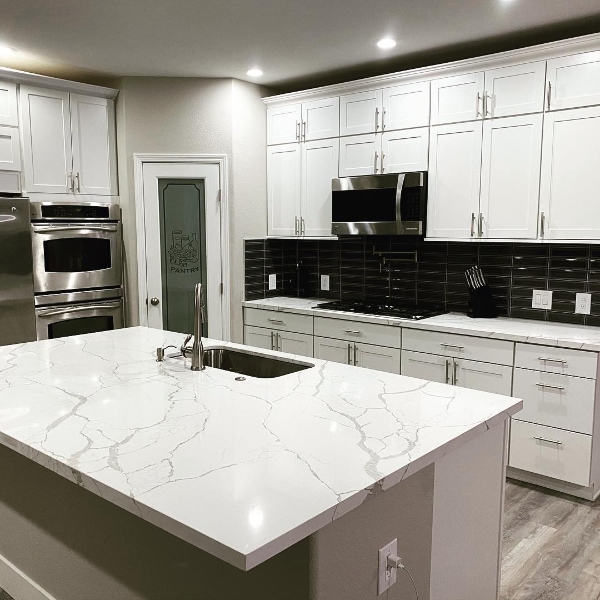 There's something so dreamy about milky white quartz countertops with dark, dramatic movement veining throughout the slab. Calacatta Laza quartz countertops are a classic option that looks beautiful in both traditional and modern settings. While this countertop option is a showstopper all on its own, choosing the ideal backsplash to complement it will leave your guests oohing and aahing. Consider pairing Calacatta Laza quartz countertops with Ink subway tile from the Urbano Collection. With its sophisticated jet-black aesthetic, it provides the perfect contracting background to accentuate the beautiful veining of your counters. Whether you install these subway tiles horizontally, vertically, or in a herringbone pattern, it makes the perfect combination.
Calacatta Vicenza Matte Finish Quartz & Bianco Arabesque Tile
One of our all-time favorite quartz countertop options is the Calacatta Vicenza matte finish quartz because of its applause-worthy aesthetic. With a creamy white background with subtle, barely-there gray veining, it's neutral enough to match any interior while still standing out because of its classic charm. The best part? It comes in a classy matte finish that allows the Bianco Arabesque backsplash tile to really pop. Made from porcelain, this traditional mosaic tile arabesque tile can blend effortlessly into any home's existing decor. When choosing this Moroccan tile backsplash you can rest easy knowing it pairs effortlessly with the Calacatta Vicenza quartz.
Lagos Azul Quartz & Black & Kasbah Porcelain Tile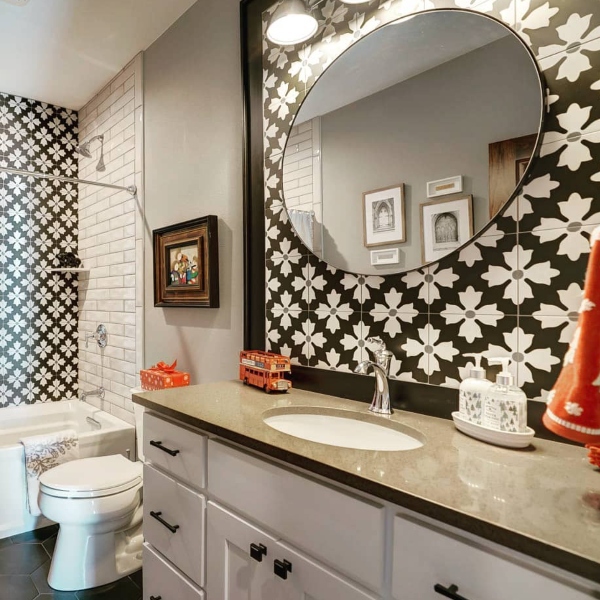 Blending more subtle features with a fun and quirky element is an easy way to add visual appeal and dimension to your kitchen. With a solid coffee brown background with darker accents, Lagos Azul quartz is a stunning way to build allure and contrast in any space. This premium surface is ideal for the kitchen, bathrooms, or accent walls because of how easily it pairs with a variety of backsplashes. A spunky combination is to pair Lagos Azul Quartz with Kenzzi Kasbah Porcelain Tile accented by a beautifully bold white floral print. The graphic nature of the pattern, shapes, and colors allows you to customize the look and feel of the hand painted tile backsplash — all while contrasting against the earthy brown dues of the countertops.
Statuary Classique Quartz & Midnight Subway Tile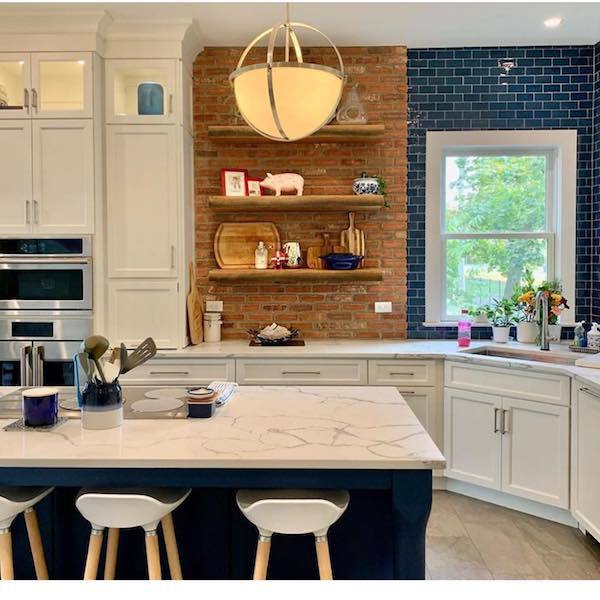 Sometimes you want a fresh and classic aesthetic so you can build up visual interest with the backdrop. Statuary Classique Quartz is a simple yet stunning option that creates a beautiful foundation for your kitchen. With its marble-look but the durability of quartz, you can rest easy knowing it can withstand the normal wear and tear of everyday use. With its soothing white background with delicate veinings, this quartz slab looks beautiful when up against Midnight Subway Tile. With a variety of sizes and shapes, you can choose the subway tile that best matches your dream aesthetic.
Marquina Midnight Quartz & Renzo Dove Tile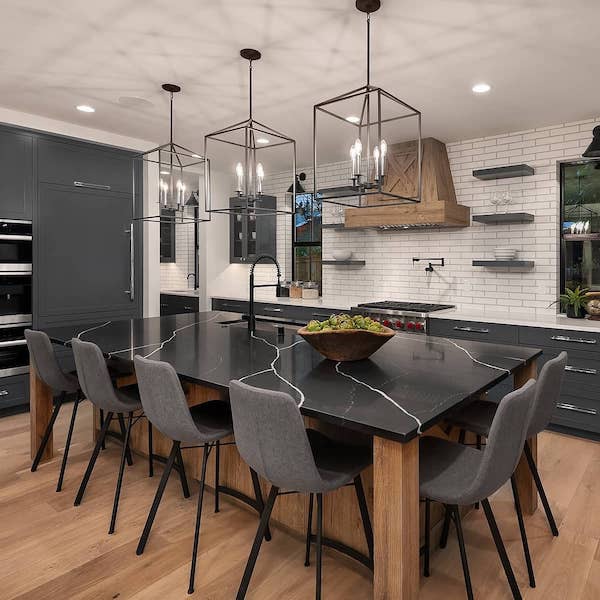 There's nothing quite like a kitchen that gives off a beautiful, moody vibe. There's no easier way to do this than with Marquina Midnight Quartz. With its bold and beautiful black marble-look and white veining, it is sure to be a crowd-pleaser anytime someone steps into your kitchen. This luxurious quartz is sure to elevate your kitchen — especially when paired with Renzo Dove ceramic tile. The soft creamy whites of the tile complement the remarkable veining of the counters to create a polished look that is ideal for kitchens and bathrooms alike.
More On Quartz Countertops
Make A Bold Statement with New Q Premium Quartz Countertop Colors
Quartz Countertops: The Perfect Minimalist Surface
Quartz vs. Granite for Countertops
Easy Quartz Countertop Care and Maintenance
Create a Cohesive Space with Quartz Countertops and LVP flooring
READ MORE ABOUT MSI BACKSPLASH TILE
5 Must-See Mosaics Offer Bold New Backsplash Options
5 Stunning Backsplash Designs For Your Kitchen And Beyond
5 Unique Patterns For Your Kitchen Backsplash
A Comprehensive Guide To Bathroom And Kitchen Backsplash Tile