5 Of Our Favorite Granite Colors For White Cabinets
July 13, 2018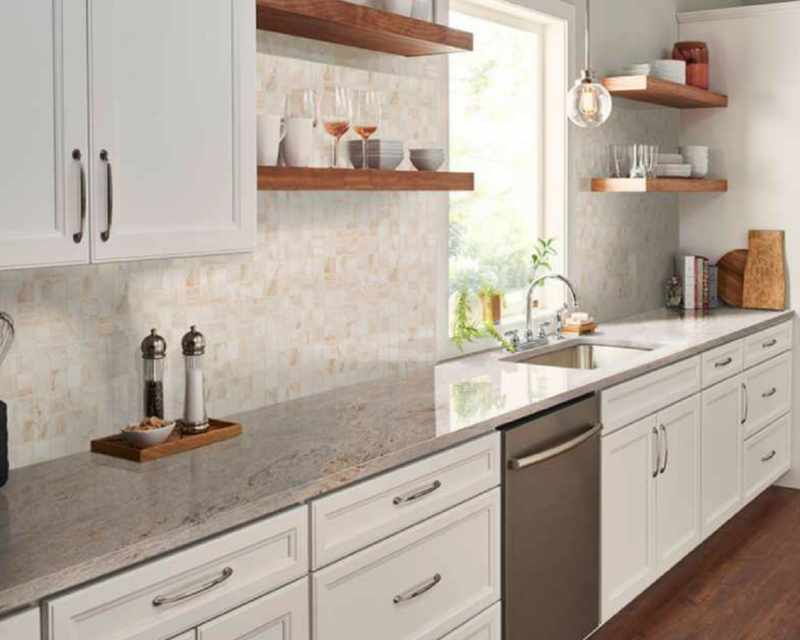 White cabinets have always been popular, but they're becoming even more of a trend due to the light and bright feeling they create in any home, and because they're universally complimentary.
Let's face it—white simply looks great, whether you love modern, farmhouse, or traditional design. The only problem is that you might have trouble deciding which countertop to choose, because pretty much all of these granite colors will match your fresh, white cabinets!
In the end, it's about selecting the right combination of materials and hues in order to achieve the look and style you're after. That can be a challenge, but to get you started, we've got some inspirational kitchens you may want to replicate. With that in mind, let's take a look at five of our granite favorites for white cabinets!
Colonial White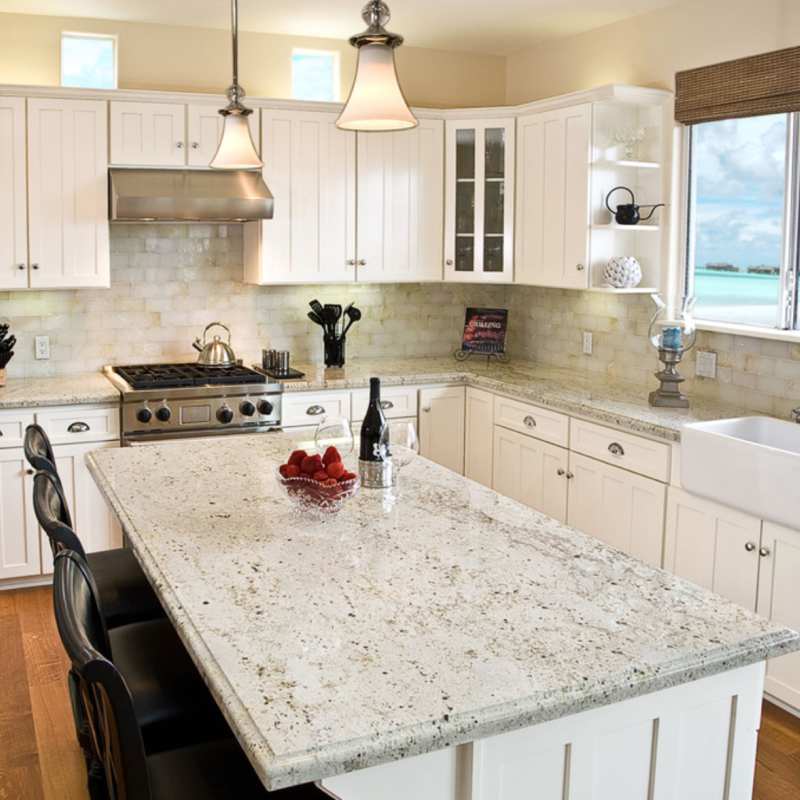 Recreate this look with MSI's Colonial White Granite (Photo Credit: Houzz)
Not even white granite is perfectly white, so you can have an all-white kitchen without it looking stark. For example, Colonial White Granite is a beautiful granite originating from India. This natural beauty blends pale grey with cloudy silver, accented by jet-black speckles.
Set atop white cabinets with warm cream walls and backsplash, the soft pattern of muted hues of the countertop adds the perfect amount of detail to an otherwise mostly monochromatic kitchen.
Golden Lightning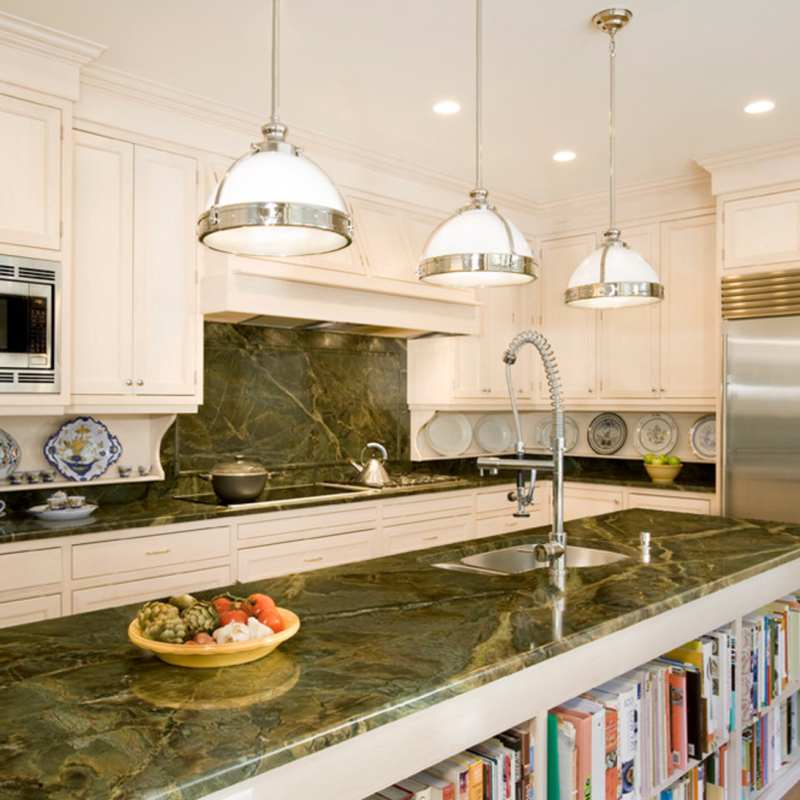 Get this look with MSI's Golden Lightning Granite (Photo Credit: Houzz)
Bold granite colors look amazing with white cabinets, making a strong statement without creating an overpowering kitchen design. For a colorful and eye-catching pattern, consider Golden Lightning Granite.
This Italian granite's green, gold, and brown veining brings moody drama to an otherwise bland design, cladding the large kitchen island and extending up behind the cooktop as a dramatic backsplash. Paired with natural or dark wood cabinets, this gorgeous granite would have a completely different vibe.
Black Pearl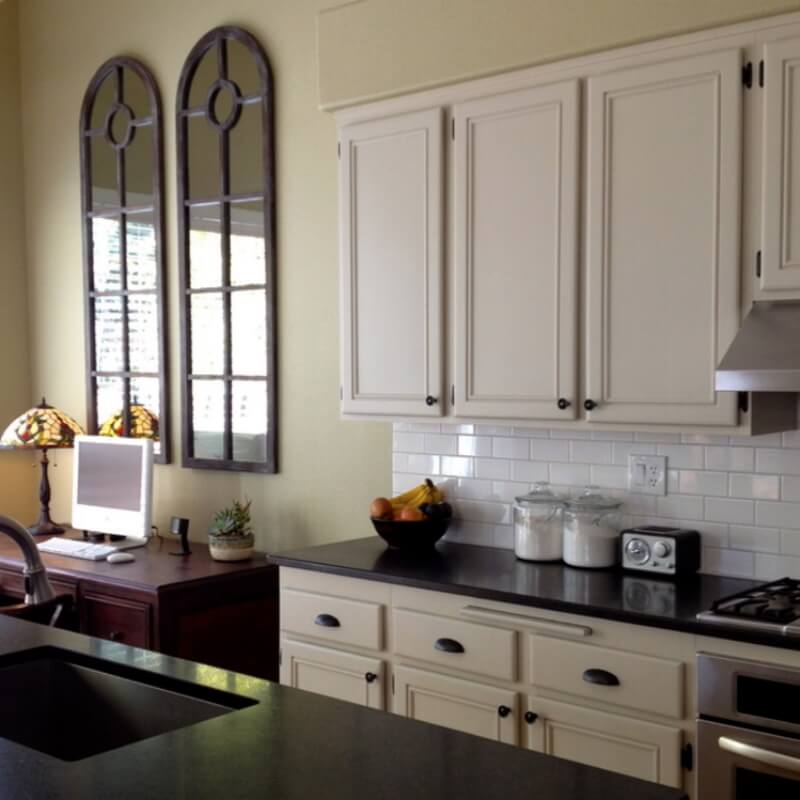 Featured: Black Pearl Granite
A black-and-white design always stands the test of time. But when it comes to natural stone, you won't get a perfectly solid color countertop. Still, this granite comes close!
Black Pearl is predominantly ebony, but it also includes small specks in hues of gold, brown, green, silver, and gray. Here, the stone features a less reflective honed finish and is paired with creamy colored cabinetry and backsplash, for a traditional kitchen with a soft black-and-white theme.
Antico Cream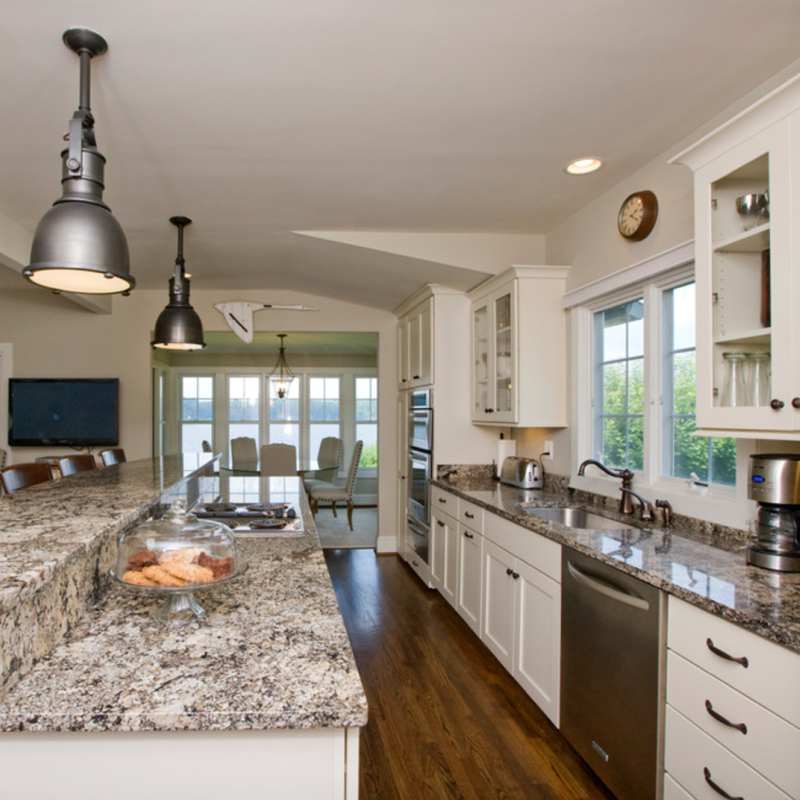 Featured: Antico Cream Granite
It's important to remember any color of granite will look different when held against different hues of white. Take for example Antico Cream from India, which features a warm off-white background with both gold and brown flecks, as well as shimmery flecks for some additional drama. This stone stands out beautifully against this kitchen's white cabinets and bronze pulls, and is warmed by the medium-tone natural wood floors.
Nevasca Mist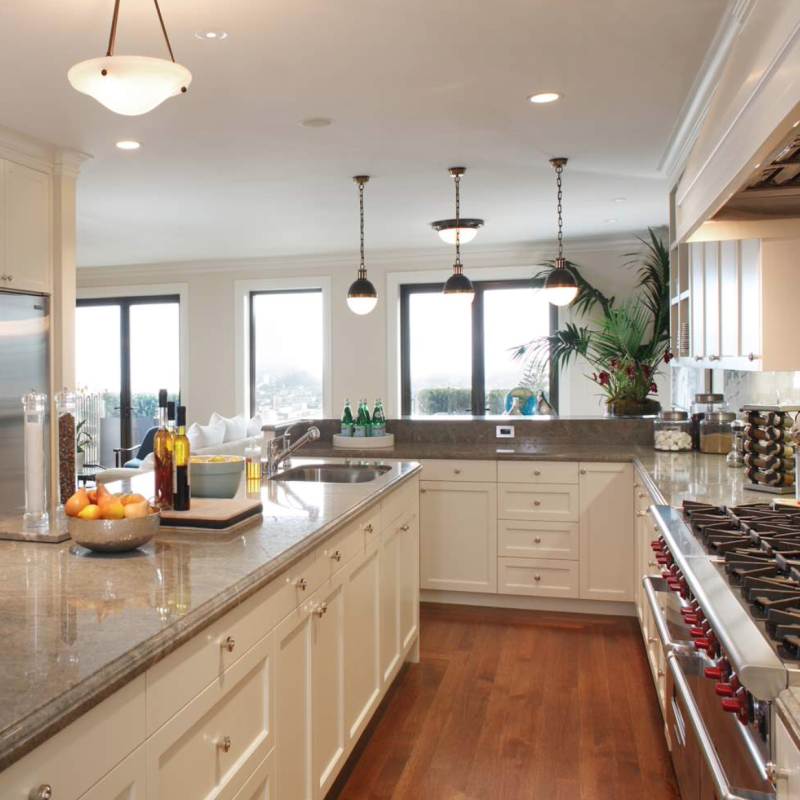 Create this look with MSI's Nevasca Mist Granite (Photo Credit: Houzz)
Since white colors and granite counters come in both warm and cool tones, be sure to match the underlying tone of your countertop with the other elements of your kitchen in order to achieve the desired look.
Nevasca Mist Granite is an on-trend granite from Brazil that effortlessly swirls together gray, greige, and beige colors in a beautiful neutral palette with a soothing pattern. Here, it works well with the cloudy white cabinets, nickel pulls, stainless appliances and contrasting lighting hardware.
Granite can add interest to a white-on-white kitchen or create a bold feature for your white cabinetry. While these are just a few of our favorite granite colors, MSI offers a wide range of granite slabs to choose from.
And don't be afraid to experiment with something new, because you can't go wrong matching any granite color choice to your white cabinets. For even more tips and tricks on making a countertop decision, check out this article on matching granite colors in the kitchen.
Learn More about White Granite and White Cabinetry
Cold No More: 5 Warm and Inviting White Granite Countertop Ideas
5 Timeless White-on-White Kitchen Looks
Are White or Light Granite Countertops Practical for Kitchens?
Winning White Bathroom Designs With Granite Countertops
4 Stunning White Granite Countertops for a Kitchen that Pops
White Marble & Granite: When the Absence of Color is the Color of Choice!
READ MORE ABOUT GRANITE COUNTERTOPS
5 Knockout Granite Countertop Kitchens
5 Popular Granite Countertop Edge Profiles
5 Standout Kitchen Designs with Black Granite Countertops
7 Bold Granite Colors That Turn Up the Heat In the Kitchen