Quartzite Countertops - The New Wonder Of The World?
August 23, 2016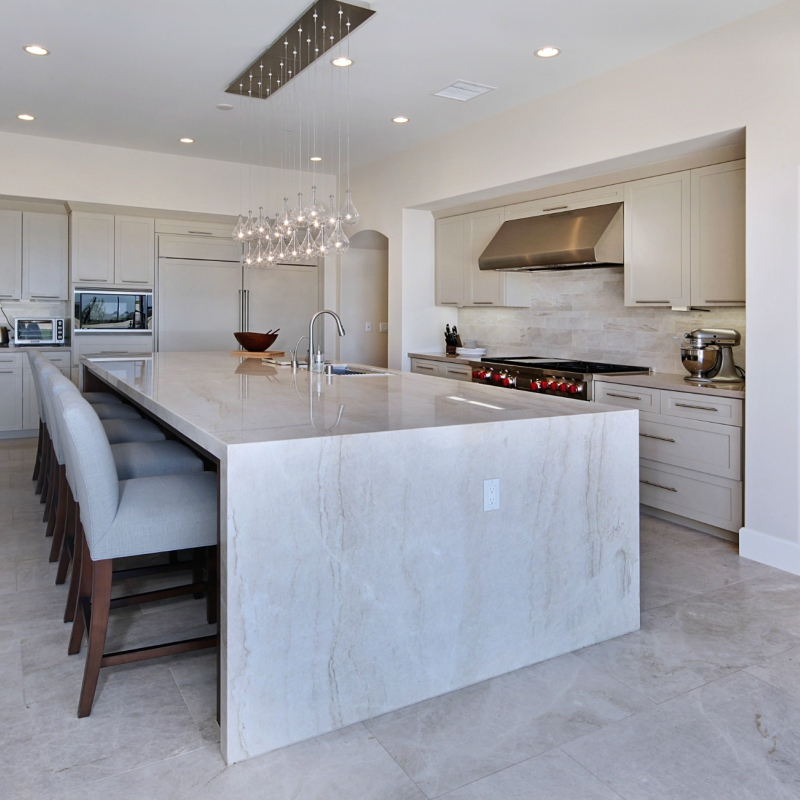 The right countertops can greatly impact the overall design of your kitchen or bathroom. While you may initially be leaning toward granite, marble, or quartz, why not also consider quartzite?
Not to be confused with quartz, which is an engineered material, quartzite is a unique natural stone. It offers the upscale elegance of marble with durability and maintenance similar to that of man-made quartz. And once you learn more about the features of quartzite countertops, you may just want it to be the new wonder of your room.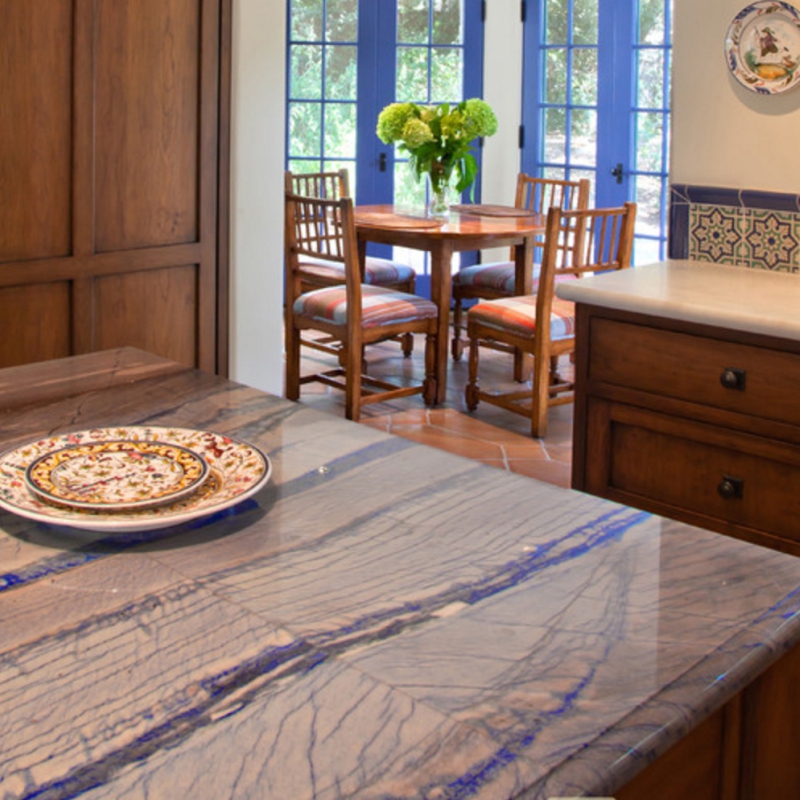 Featured: Azul Macaubas
What is Quartzite?
Quartzite is a metamorphic rock formed from sandstone. Two processes go into its final state of sparkling crystal networks and earthen hardness. First, the sandstone is formed, and then the sandstone is heated and pressurized within the earth's surface, transforming it into quartzite.
This beautiful natural material comes in a variety of colors, from neutral whites and grays to handsome pinks, from brilliant indigos with rust-colored threads to dramatic shades of blues and greens. With installation, the price for quartzite ranges from approximately $80-200 per square foot.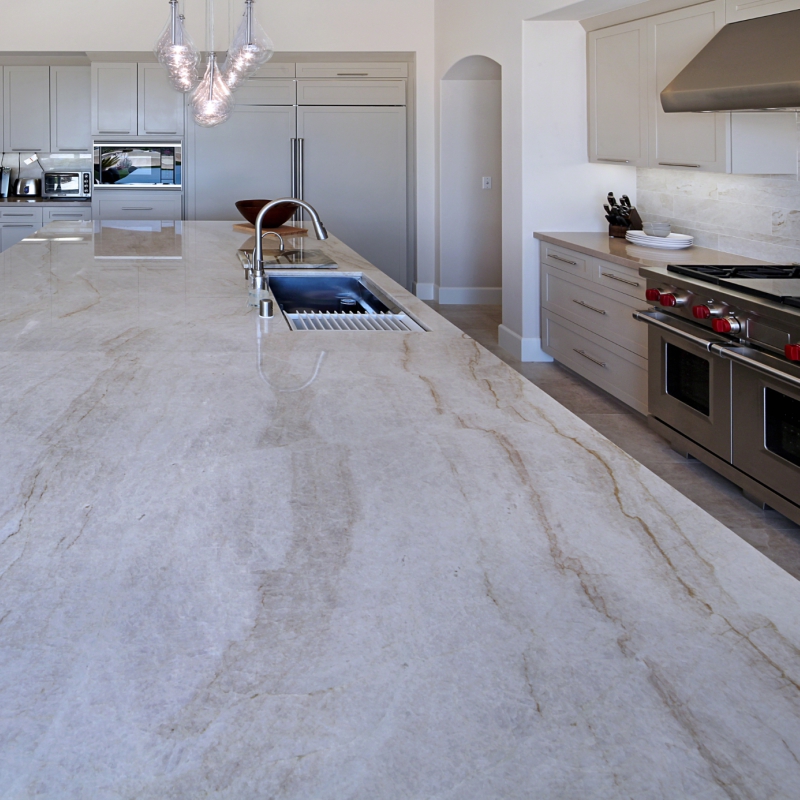 Featured: Taj Mahal
Quartzite Attributes
This stunning stone features a luxurious appearance that can come in many beautiful tones and patterns. These varieties depend on factors such as the age of the stone and which minerals, iron oxides, and impurities were present in the original sandstone. Stones also vary by country or region of origin, such as Italy or Brazil. Vein-cut quartzite works best in contemporary spaces due to its linear streaks, while crosscut quartzite offers a more organic look with its diagonal lines.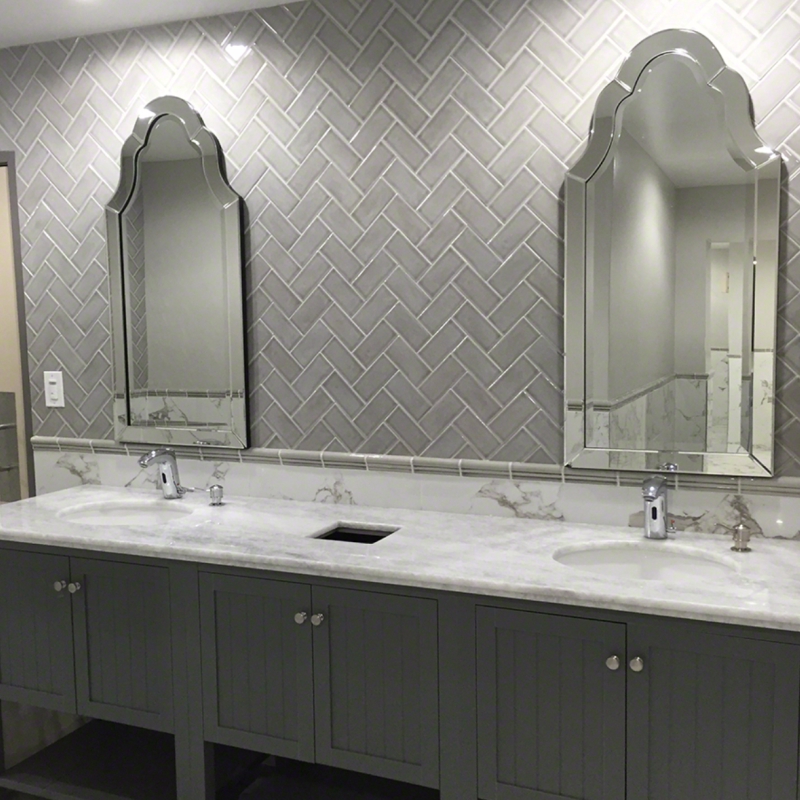 Featured: Crystal Ice
Quartzite vs. Other Materials
Many times, quartzite is confused with quartz. Unlike quartzite, which is not mixed or filled with any manufactured materials, quartz is an engineered stone comprised of mineral and resin in order to make the countertops stronger.
While quartzite is very hard, its large crystal structure typically makes it more porous and less hard than granite countertops. Quartzite also differs from slate in its sparkling texture, which is due to a higher silica content. And for those wanting the look of marble, quartzite can also come in pristine white with delicate marble-like veining, but requires less maintenance than marble.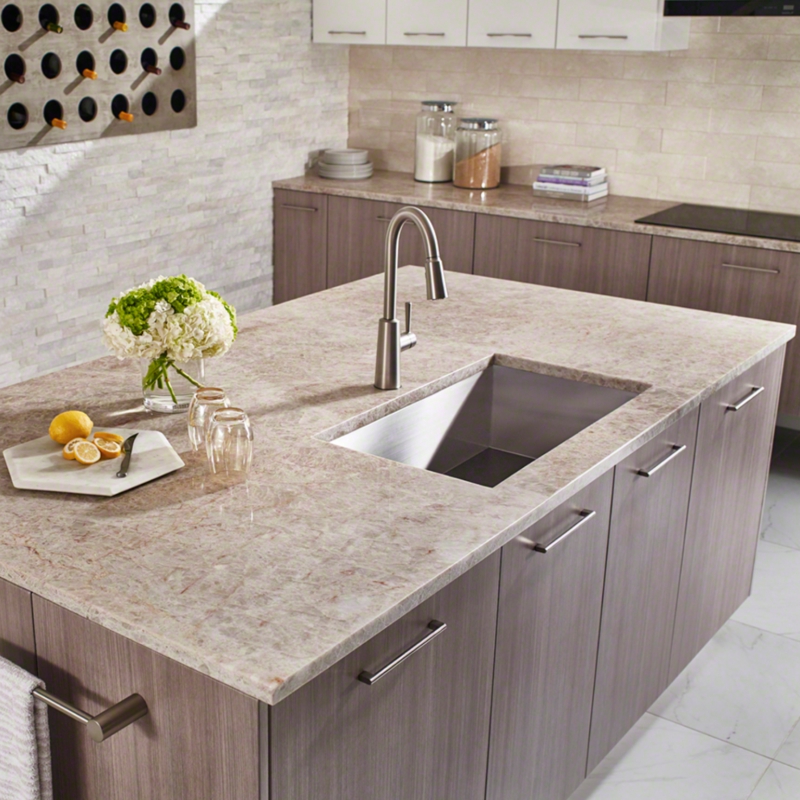 Featured: Ice Flakes
Maintenance
Make sure you choose the quartzite countertop that suits your maintenance routine. Ask your fabricator about maintaining your particular stone; some varieties require sealing once a year, once every couple of years, or not at all.
When cleaning your natural stone, wipe up spills quickly using a soft, damp cloth and a mild disinfectant cleaner when needed. This surface can handle heat, but too much may cause problems. To be on the safe side, protect your countertop with hot pads and trivets for hot pots and pans. Also, remember that while quartzite is a hard natural stone, heavy use may result in scratches, stains, or etching.
LEARN MORE ABOUT QUARTZITE COUNTERTOPS
Beautiful And Trending Quartzite Countertops
Are Quartzite And Quartz Countertops The Same Thing?
Stylish Living: Decorating With Quartzite Countertops
Quartzite Countertops Vs. Granite Countertops
Quartz Vs. Quartzite - Are They The Same?