Everything You Need To Know When Considering Granite Countertops
April 27, 2022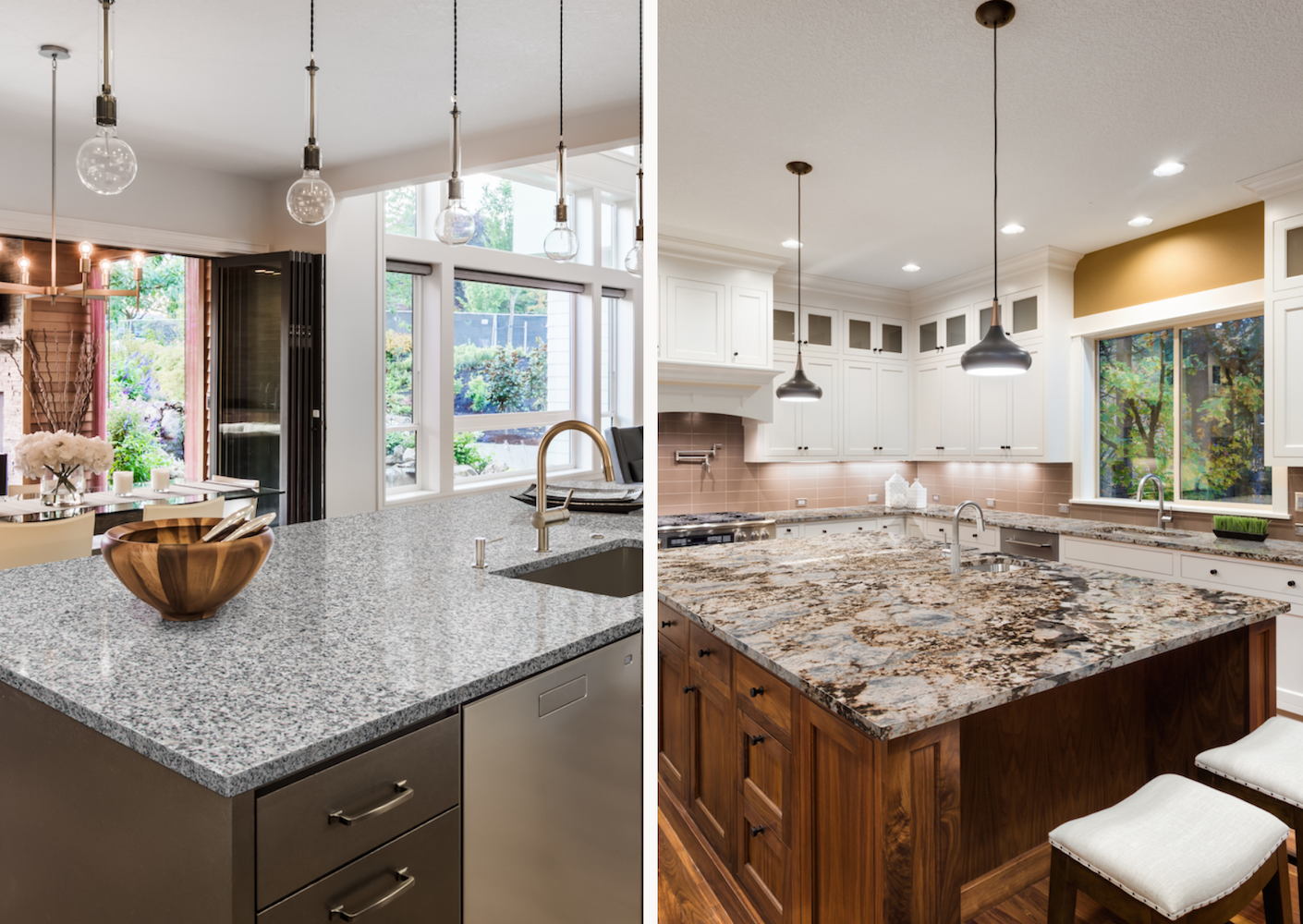 Granite countertops have long been considered the ideal solution when it comes to building or remodeling an upscale kitchen or bathroom — but are they right for you?
After all, there are many different materials to choose from for countertops in kitchens, and all have their lists of pros and cons to consider. Since new countertops are a significant investment, it pays to learn all that you can about each type of countertop you are considering. Will it offer the look you want, compatible with your style of decor? Will it be durable, and how much work will it take to keep it looking great?
Read on to learn all you need to know about granite countertops before making that important decision.
WHAT ARE GRANITE COUNTERTOPS?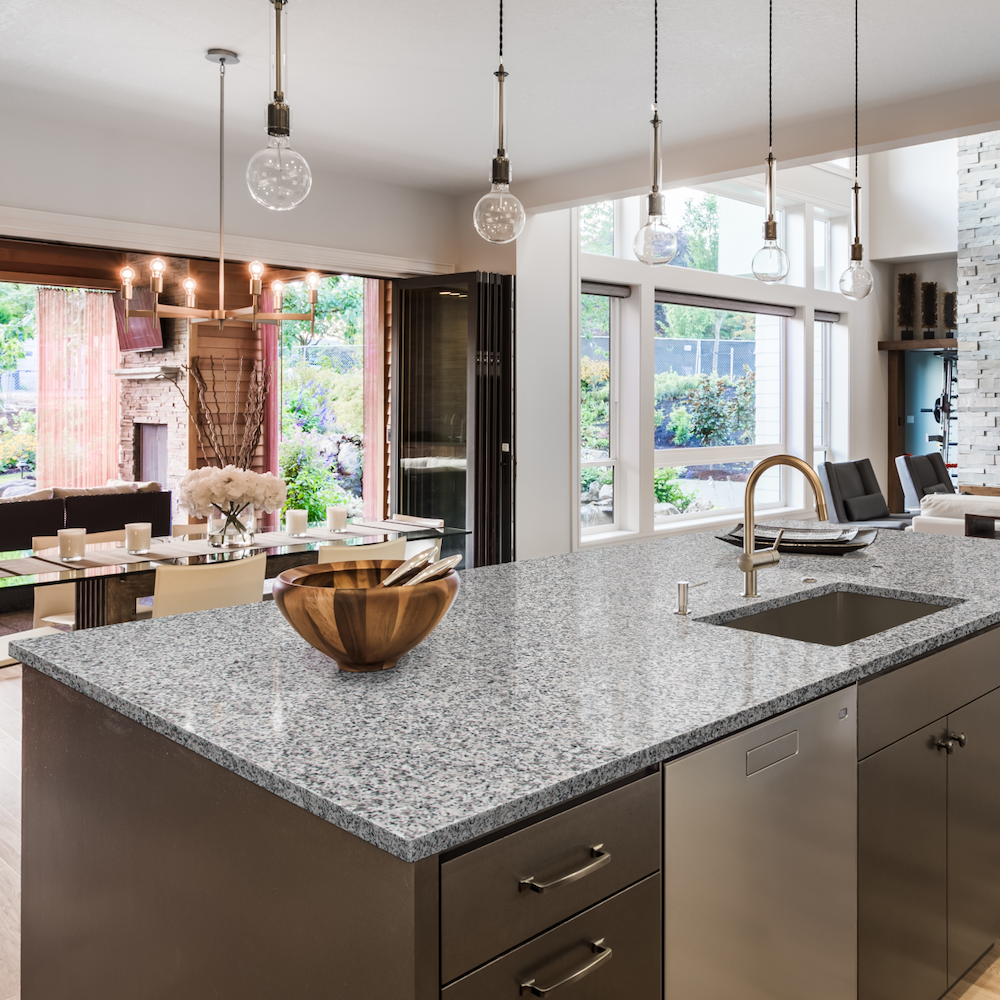 Granite is one of many natural stones available for use in the home, including flooring, accent wall tiles, backsplashes, and of course countertops. It is an igneous rock, meaning it is formed from molten rock as it cools and solidifies. There are many different colors and patterns of granite available, which are dependent on the stone's mineral content — which is mainly a mixture of quartz and feldspar. It ranges from pale white to deep jet-black and every shade in between, including exotic colors such as salmon-pink and greenish gray. Granite's signature speckled appearance comes from crystals within the stone matrix, and these can range from tiny specks to larger, bolder pieces.
Granite slabs are mined from the earth in many locations, such as Italy, India, China, and Brazil. It's also sourced locally within the U.S. A granite slab's cost is dependent on how far it is shipped, and also how unusual and rare the color and pattern may be.
LONG-LASTING BEAUTY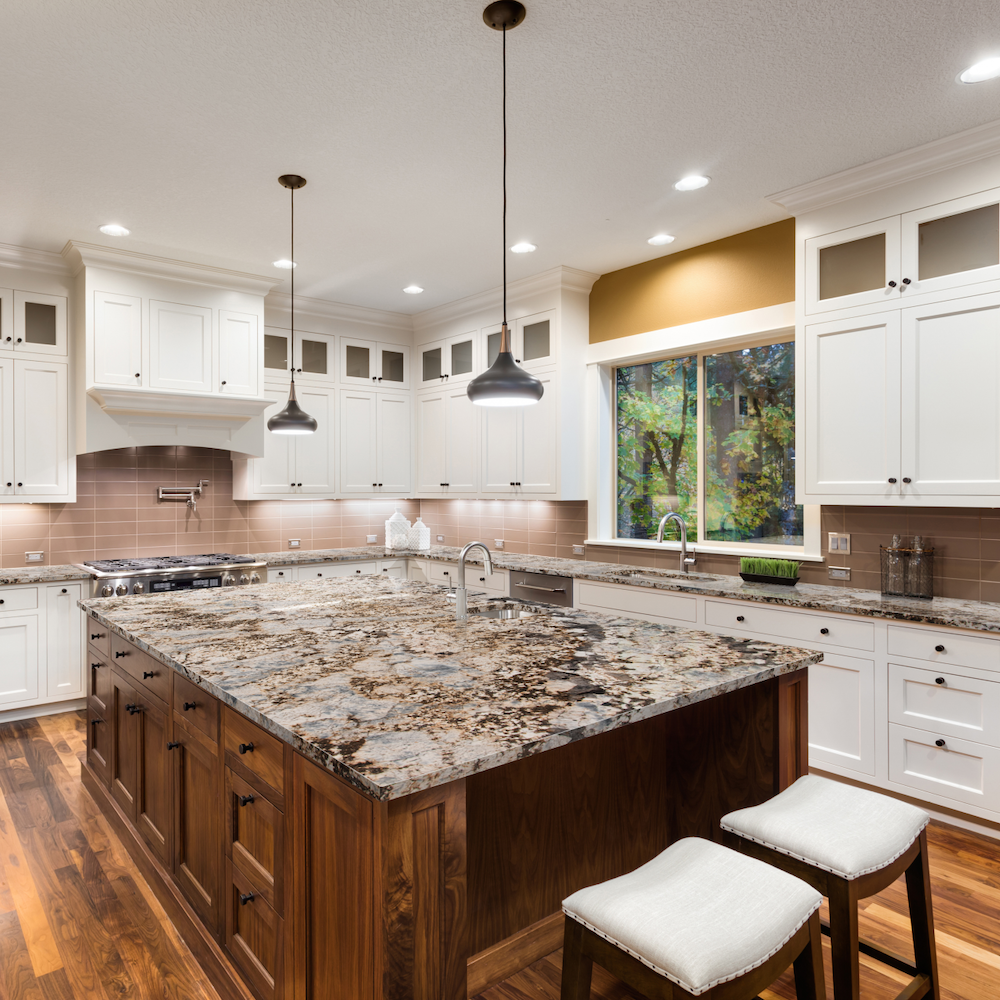 Granite countertops are extremely durable and long-lasting. As one of the hardest countertop materials available, granite resists scratching and chipping. It is also heat resistant. In fact, granite is even a good choice for a countertop installation outdoors, such as an outdoor kitchen area. Therefore, you can be confident that your investment will pay off for decades into the future.
GRANITE'S VERSATILITY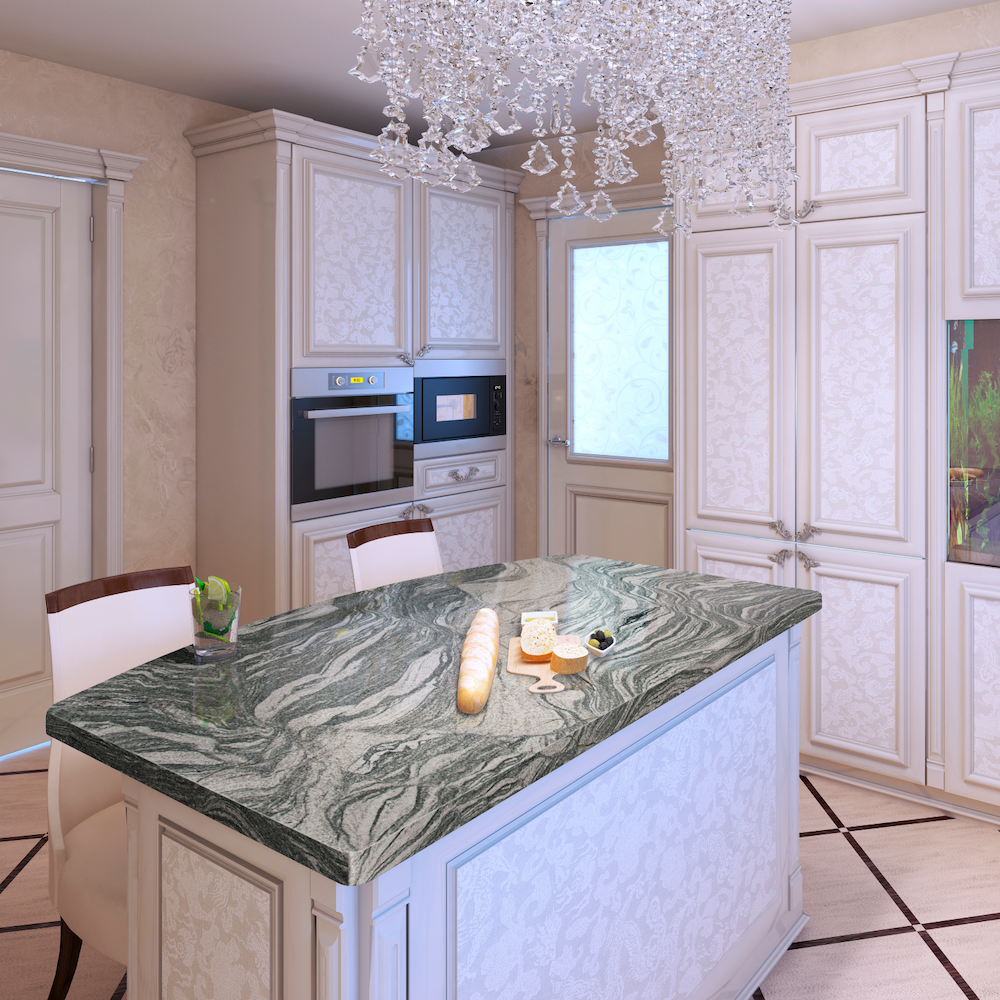 Many homeowners choose a countertop material to fit their style of decor, whether it is traditional, contemporary, rustic, farmhouse, or industrial, just to name a few. Granite, however, is incredibly versatile. Most colors of granite are neutral shades of gray, beige, or brown, with contrasting variations. That makes it easy to coordinate with other elements such as cabinetry, appliances, and flooring. So, if you should decide to switch that white farmhouse kitchen to a colorful contemporary style, your granite countertop will fit in just fine.
EACH SLAB IS UNIQUE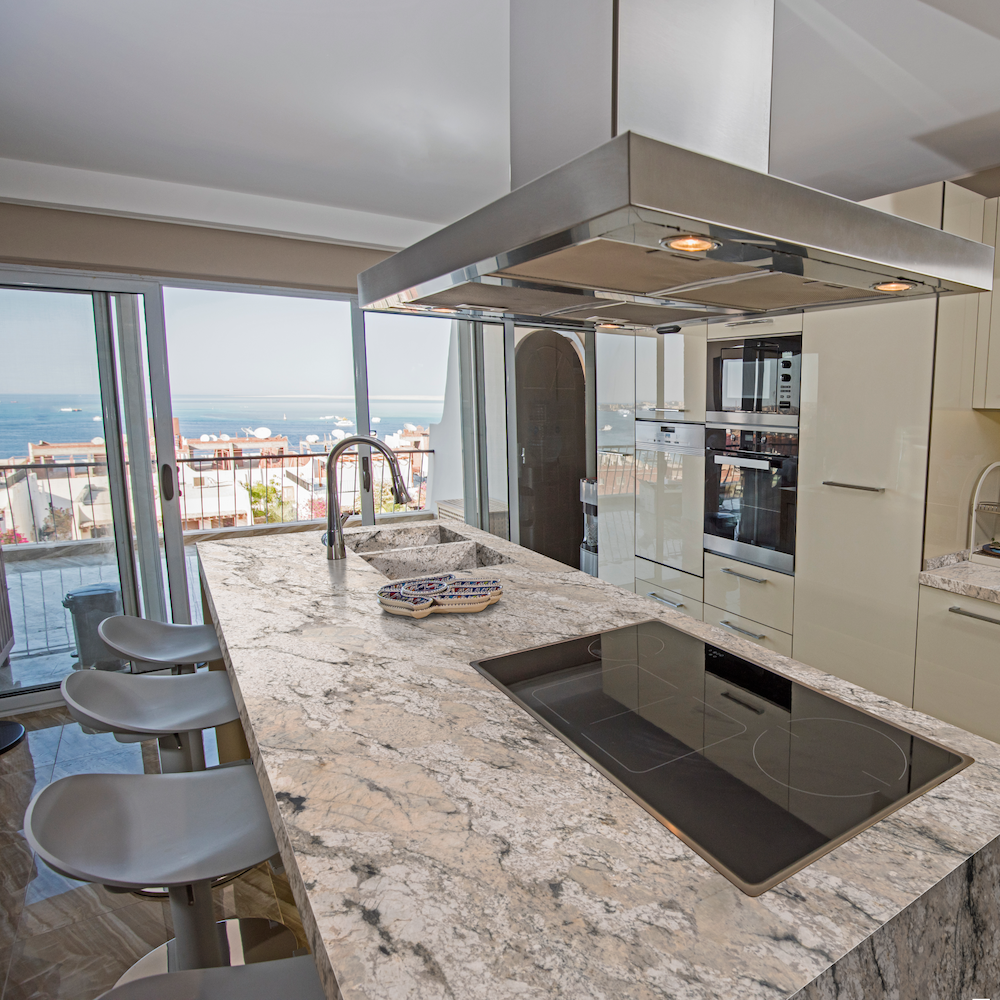 One of the best reasons for choosing a natural stone countertop — especially granite — is that each slab will be unique. Even if you and your neighbor have the same color of granite, no two will look the same. There will be slight variation even between different slabs cut from the same block! For this reason, homeowners are advised to visit the slab distributor and pick out the exact granite slab they want to purchase for their kitchen or bathroom.
RETURN ON INVESTMENT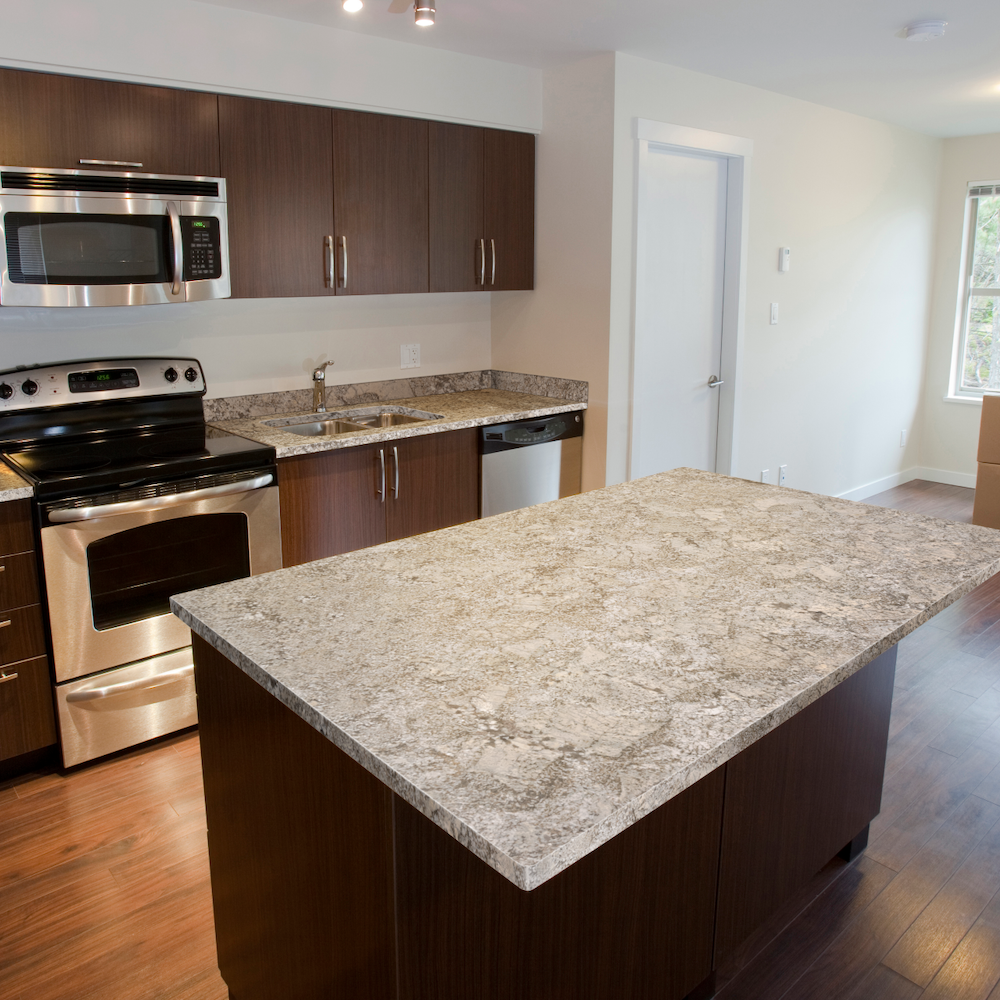 The best reason to remodel a kitchen or bathroom is for your own family's enjoyment, of course. But if you are planning to sell your home at some point in the future, you'll want to make sure that those home improvements offer the best return on investment. You'll be happy to know that granite countertops are still considered one of the best ways to improve your home's value and reduce its time on the market. Not only is this because granite countertops are beautiful, opulent, and impressive — it's also because prospective home buyers know they won't have to replace those countertops for a very long time.
A FEW CAVEATS
With all of these benefits in mind, you might be wondering if there are any drawbacks to installing a granite countertop. Here are a few things you might want to consider:
Daily Care: Granite is easy to keep clean — any mild soap will do, such as diluted dish soap. However, you'll need to avoid any cleansers that are acidic or contain grit that might scratch or dull the surface. Granite is not as prone to etching as marble, but it still may be damaged when exposed to acidic liquids such as vinegar or lemon juice.
Maintenance: Like any other type of natural stone, granite countertops should be sealed on a regular basis. Although it's a very dense material, granite is still porous and can absorb water and stains.
Weight: Granite countertops are extremely heavy. Therefore, installing them is not a good do-it-yourself job, and should be done by professional installers. Your cabinetry may also need additional support to handle the granite slab's weight.
Pricing: There's no denying that granite countertops can be a huge investment, and may not be appropriate for every home. If you love the look of granite but not the price tag, you might consider engineered quartz vs. granite countertops instead
Despite the drawbacks, many homeowners still believe that granite is well worth the extra effort and care needed to keep them looking their best. If you're planning the kitchen or bathroom of your dreams, it's hard to beat the beauty and elegance of natural granite.
If you still have questions or concerns when deciding if granite is the right countertop material for your home, feel free to give us a call or visit one of our showrooms. MSI is always happy to help!
LEARN MORE ABOUT GRANITE COUNTERTOPS
Best Granite Colors for Bathroom Countertops
Use Our Countertop Quiz to Find the Perfect Granite Counter and More!
Create A Work of Art with Natural Granite Slabs