MSI'S Luxury Vinyl Plank Series
April 03, 2021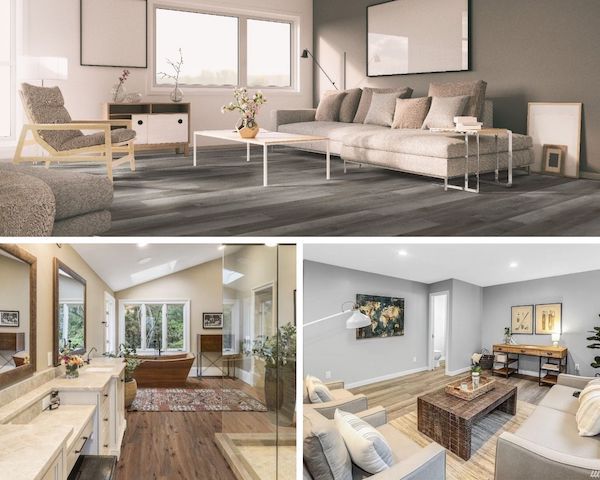 Luxury vinyl plank flooring is a popular choice due to its many benefits. When comparing the top LVT flooring lines, one name is sure to come up time and again: MSI's Everlife collection.
After years of research and development, MSI brought their years of experience in luxury and top-performing flooring when launching their luxury vinyl flooring collection. Available in both glue-down and rigid core, durable luxury vinyl tile can be used in an extraordinary variety of residential and commercial applications.
Here is a brief overview of both collections, highlighting the benefits of each and why homeowners might choose one type over the other for their own installations.
Rigid Core Luxury Vinyl Plank Flooring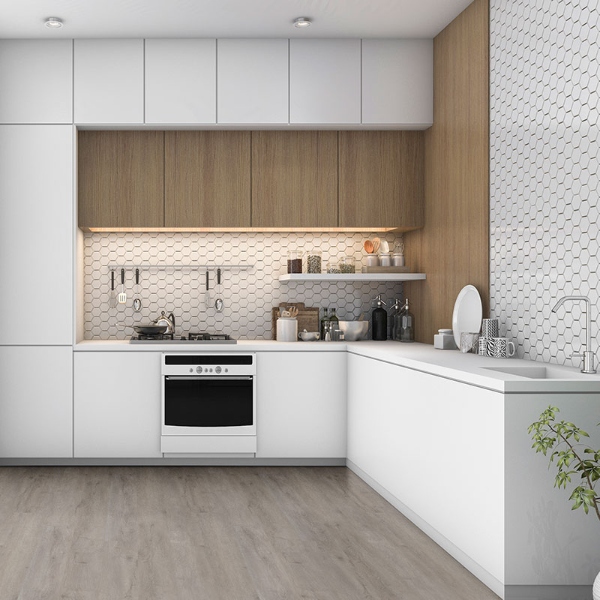 York Gray Rigid Core
One of the easiest, fastest ways to install a beautiful and durable floor is by choosing Rigid Core Luxury Vinyl Planks. It uses a locking system to install, so that each piece fits into a groove on the next piece. It requires little preparation of the subfloor before vinyl flooring installation, making it a great option for rooms in which the subfloor is less than perfect.
Rigid Core LVT is also referred to as "floating" floor tile, because it is not attached to anything beneath it. This also gives it acoustic benefits, since the tile, along with the underlayment, can absorb noise. This flooring is 100% waterproof and a favorite weekend project for DIY homeowners.
This type of vinyl flooring does have a few drawbacks, however. If the flooring should become damaged, individual planks can be replaced, but because of the way it's installed this could require extra labor to do so without removing a large section of flooring in the process. Also, since it is not attached, it is vulnerable to being pulled up or otherwise damaged by moving furniture or high foot traffic.
Rigid Core Luxury Vinyl Plank Series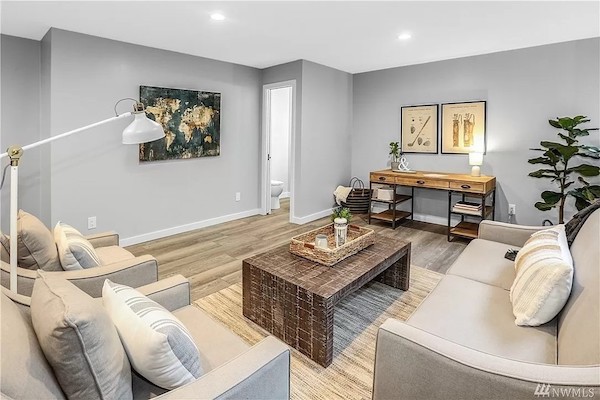 Cyrus Finely Rigid Core
Cyrus - This easy-care LVT series features over a dozen authentic wood-plank looks in the most popular shades. Its 7" x 48" planks are 5mm thick and have a pre-attached backing which makes it quiet and comfortable underfoot.
XL Cyrus - This series offers the same benefits of the Cyrus series, but features 9" x 60" planks. These large-format planks are ideal for filling large spaces with a sleek, contemporary flair.
Prescott - The Prescott series offers a variety of wood looks including rustic weathered looks and medium-brown Fauna, complete with grains and knots. Its size is 7" x 48, and it has an enhanced 20 mil wear layer and 6.5mm thickness.
Andover - The wood-look planks in the Andover series are 5mm thick and enhanced with a bevel edge. This produces a luxurious finished look, differentiating each 7" x 48" plank edge and appearing even more authentic.
Trecento - Available in tiles resembling pale natural wood, stone, and marble, Trecento LVT is 12" x 24" in size. It is 5mm thick with a durable 12 mil CrystalLuxe wear layer.
Ashton - Delivering durable beauty at a budget-friendly price, Ashton series LVT features three wood-look colors, 7" x 48" planks, and a family- and pet-friendly 6 mil wear layer.
Glue-Down Luxury Vinyl Tile Flooring
Just as the name implies, this type of flooring is glued to the subfloor with an adhesive. Glue-down Luxury Vinyl Tile requires more preparation of the subfloor than rigid core flooring, since every imperfection may show and affect the quality of the finished floor. It has many of the same benefits as Rigid Core, such as sound absorption, although this depends on its thickness and may not be as pronounced as the "hollow" quality of Rigid Core LVT.
It is considered permanent and 100% waterproof, and for this reason it is the most popular choice for commercial spaces. Despite its permanence, it is slightly easier to replace an individual plank of glue-down than rigid core LVT. This also opens it to more design options, since installation is not constrained by a locking groove. As with Rigid Core, glue-down vinyl flooring care and maintenance is a breeze, as it requires only the usual sweeping and mopping and never needs waxing or additional sealing.
Glue-Down Series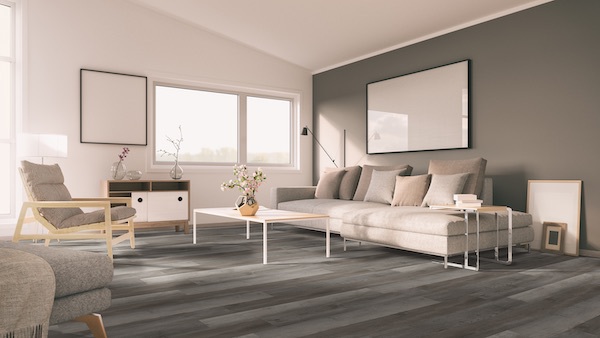 Woodrift Gray
Glenridge - With a wide selection of wood looks, Glenridge features a 2mm thickness, 12 mil wear layer, and 6" x 48" planks.
Katavia - The Katavia series offers 7 wood-look planks in a 6" x 48" size, with a 6 mil wear layer and 2mm thickness, a great choice to freshen up a space at an affordable cost.
Wilmont - With a 20 mil wear layer and 2.5mm thickness, the seven wood-look colors in the Wilmont series are sturdy enough to handle commercial spaces as well as your busy home. Planks are 7" x 48".
All styles in MSI's Everlife Collection offer many luxury tile benefits, particularly:
Some are available in oversized tiles, which makes it easy to create a seamless look in less time.
Andover and XL Cyrus have bevel edges, which gives it an enhanced texture and a more elegant finished look.
All have CrystalLuxe WearLayer, a clear coating that prevents damage caused by scratches, spills, sun, pet accidents, and indentations.
All are FloorScore and GreenGuard Gold certified, which means it meets strict standards ensuring it does not affect indoor air quality.
All come with a Lifetime Limited Residential Warranty.
MSI's Everlife Collection offers many options for your home, in a variety of colors, sizes, and thicknesses. The choice between the floating rigid-core and glue-down planks are just one consideration. No matter which you choose, you'll be getting the durability and beauty that makes LVT such a great value.
In addition, luxury vinyl tile accessories such as coordinating trim, end caps, stair nose pieces, and more are available to put a professional, polished finishing touch on your project. We also have a line of specialty adhesives, primers, and sealers, which are optimized for use with our LVT products.
Ready to be inspired? Click here to watch our luxury vinyl flooring videos and see why Everlife LVT is the top contender for designers and homeowners alike.
Looking for inspiration for particular area of your home or curious about costs? Check out MSI's Luxury Vinyl Tile Gallery and read this article on Luxury Vinyl installation costs.
Are you still deciding which vinyl flooring is right for you? Learn the differences between Luxury Vinyl Plank and Luxury Vinyl Tile. LVT Flooring provides upscale looks for homeowners of all incomes. Learn more about the latest Luxury Vinyl Tile trends and styles.
More on Vinyl Flooring
MSI's Luxury Vinyl Plank Series
What to Look for When Buying Luxury Vinyl Plank Flooring
What's A Wear Layer and Why This Vinyl Flooring Feature Matters Most
Breaking Down the Cost of A DIY Install of Luxury Vinyl Tile Flooring
5 Reasons to Use Luxury Vinyl Flooring