Current Obsessions: Sparkling White Quartz Countertops
June 16, 2017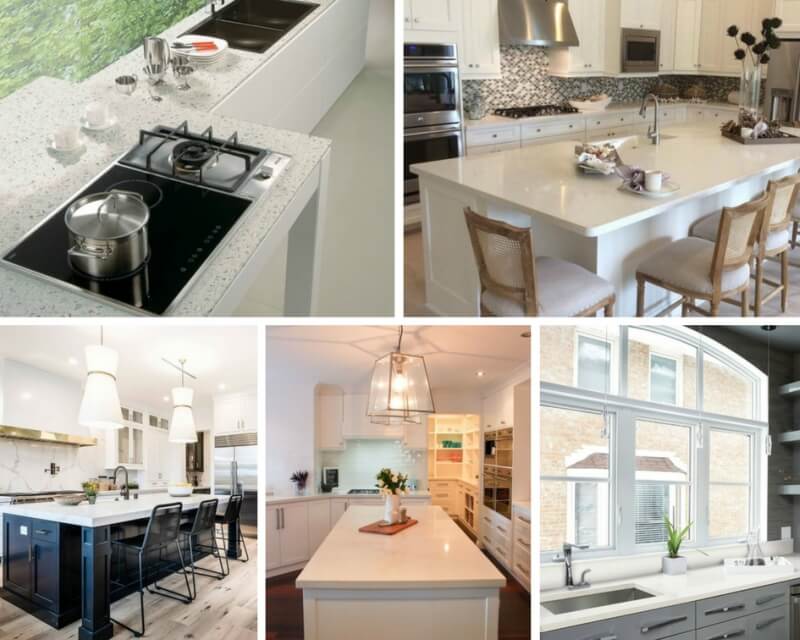 Everyone wants their countertops to look clean and fresh, and with white quartz countertops, even the busiest households can achieve that pristine look.
Sound too good to be true? Well, let us introduce you to just a few of the many white quartz slabs MSI has to offer, and discuss the many benefits of quartz that make it a no-brainer for any project.
Cashmere Oro Quartz is our first offering and it's the epitome of a classic, elegant look. With delicate veining on a pearl-white background, Cashmere Oro's quiet sophistication is the perfect complement to a wide variety of decor styles, from traditional to the contemporary kitchen you see here.
You can easily achieve this clean, monochromatic look with quartz, and you won't have to worry about the blemishes or discolorations that can occur with natural stone countertops.
In contrast to Cashmere Oro's quiet glamour, Calacatta Verona Quartz practically oozes drama and luxury with its striking grey veining sprawled across a soft-white background. As seen in this kitchen, Calacatta Verona makes an eye-catching statement when carried from the countertop right up the backsplash.
In fact, thanks to the durability and ease of maintenance of quartz, you can install these quartz slabs on just about any surface, from walls to counters, and even on floors.
White quartz countertops are great for commercial applications where high-maintenance marble just won't hold up, because quartz is non-porous and resistant to scratching and staining. Even home cooking aficionados can appreciate the carefree living that quartz countertops afford.
Iced White Quartz from MSI could fit into any space, commercial or residential, with its on-trend color palette of white with grey accents.
Speaking of trendy white and grey kitchens, check out this sleek and stunning kitchen featuring MSI's Frost White Quartz countertops with modern grey European-style cabinetry. The polished white quartz countertops provide a beautiful contrast against darker cabinets, making both elements shine.
Sparkling White Quartz features a crisp, ice white background with shimmering speckles for a subtle touch of bling. This elegant quartz is perfect to infuse drama into an otherwise understated kitchen. Proper lighting like the under-cabinet lighting shown here makes Sparkling White Quartz really pop.
When it comes down to it, white quartz countertops have it all; from durability to style, you can't find a better-performing surface that offers such a range of looks. Explore all of MSI's gorgeous white quartz countertops, and for further quartz inspiration, check out even more white kitchens with quartz countertops.