How To Choose The Right Quartz Countertop
November 21, 2019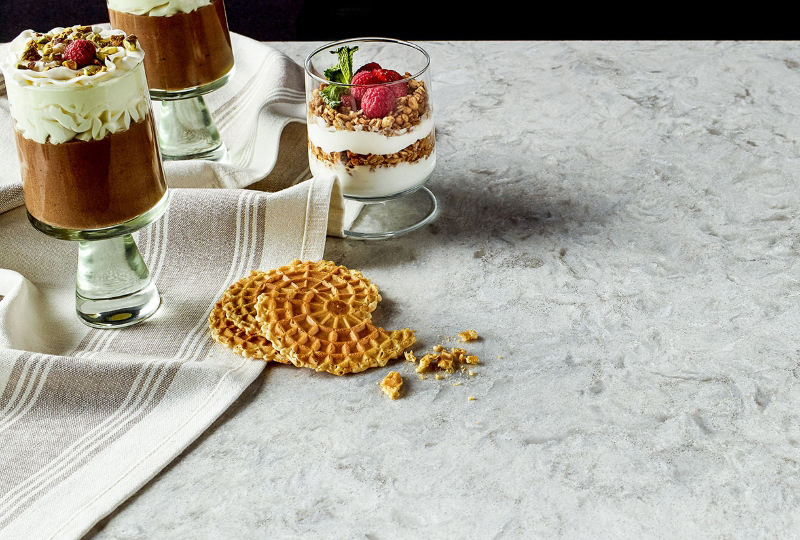 Deciding on a quartz countertop as the best option for your kitchen or bathroom is an important step, but you still have more choices to make! The good news when it comes to your home project is that there are more choices for quartz counters today than ever before. The bad news — if you can call it that — is that there are so many choices it can be overwhelming.
No matter what colors, patterns, and customizations you choose for your quartz countertop, there's one thing you can be sure of: You are making a smart decision. Quartz is a premium surface that is easy-care and never needs sealing to maintain its resistance to water and stains. It's extremely durable, and stands up well to everything a busy family can dish out — daily cooking, entertaining, school projects, and much more. Quartz countertops resist stains and chipping, and can even increase the resale value of your home.
Although most homeowners think of kitchen and bathroom counters as places for a quartz countertop, it's at home in other rooms as well. Could your laundry room or mudroom use some updates? A countertop allows space for folding clothes, pre-treating stains, and housing a utility sink. Craft rooms are also excellent places for quartz countertops; they are resistant to scratches and stains, every bit as durable as they are good-looking.
Every big purchase comes with a bit of anxiety, mainly because you want to make sure all of the important points are considered, and there's no information you forgot to gather. This simple yet thorough guide will give you a "checklist" you can review with everything you need to consider when shopping for a new quartz countertop.
Prefab vs. Slab
One of the best reasons for choosing quartz is the prefab option. Although it can save you a lot of money, a prefabricated quartz countertop isn't a "cheap" version of a countertop made from a slab. Prefabs are made from the same high-quality quartz slab, in several popular shapes and sizes that fit perfectly in many standard kitchen designs. They include cutouts for sinks and typically include a matching backsplash piece.
When you choose a prefab countertop you won't have as many different quartz colors and patterns to choose from, but prefabs are available for many of the most popular countertops. Not only is it a savings on the cost of the countertop, but installation may cost less too. You can get your new countertop installed more quickly because there's no need to wait for the fabricator to finish production.
Thickness
Quartz countertops typically come in two thicknesses: 2 cm and 3 cm. They are both great choices for countertop applications, but there are factors to consider when choosing which thickness is right for your home, such as weight and durability. The 3 cm quartz countertop is much heavier than a 2 cm counter. The lighter-weight, thinner slab is ideal for vertical applications such as backsplashes and waterfall edges. The 3 cm countertop is stronger, and therefore suited for counters with heavy usage. It may, however, require extra reinforcement for the cabinetry to support its weight. Homeowners need to make sure the flooring can support the extra weight, as well.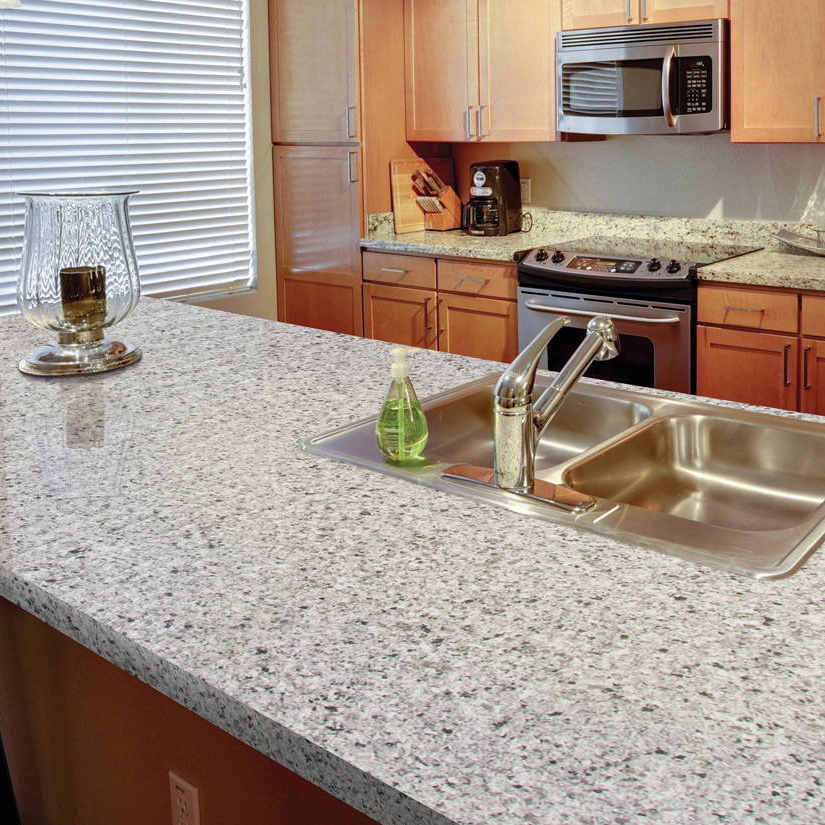 Edge Profiles
When it comes to selecting the perfect quartz countertop for your home, details matter! You can choose from a variety of countertop edges for a custom look that fits your personal style. Simple, yet elegant edge profiles such as eased, bevel, or bullnose are well-suited to contemporary décor aesthetics. Classic Dupont, Ogee, and French Cove are a few speciality edge treatments that complement traditional designs. The edge treatment you choose may also be dependent on the thickness of your countertop slab. For example, a mitered edge can give a thinner 2 cm slab the illusion of being thicker than it really is.
A waterfall edge is a design that is growing in popularity, especially with quartz countertops. Just like a waterfall flows off the edge, a waterfall-edge counter continues around the corner and down toward the floor, covering the entire side of the cabinetry. This gives the kitchen a clean, uniform look, and also protects the cabinetry from being scuffed or damaged.
Finishes
Most countertops, whether they're made from quartz or another material such as natural marble or granite, have a polished finish. This shiny, reflective finish is popular, but is far from being the only type of finish you can choose for your quartz countertop. Several quartz colors are now available with a soft, non-reflective matte finish or quartz that looks like concrete — ideal choices for modern décor styles.
Colors and Patterns
Since quartz countertops are man-made, they can be produced in a stunning variety of colors and patterns, limited only by the designers' imagination. You can choose subtly patterned neutrals in every shade from pale ivory to deep ebony black, or select a solid color with no pattern at all — perfect for contemporary or minimalistic styles. Quartz countertop colors and patterns are manufactured to authentically resemble concrete as well as natural stones including fine Italian Calacatta marble, limestone, soapstone, and more. Your marble look quartz counter, however, will require much less labor to maintain than the real thing.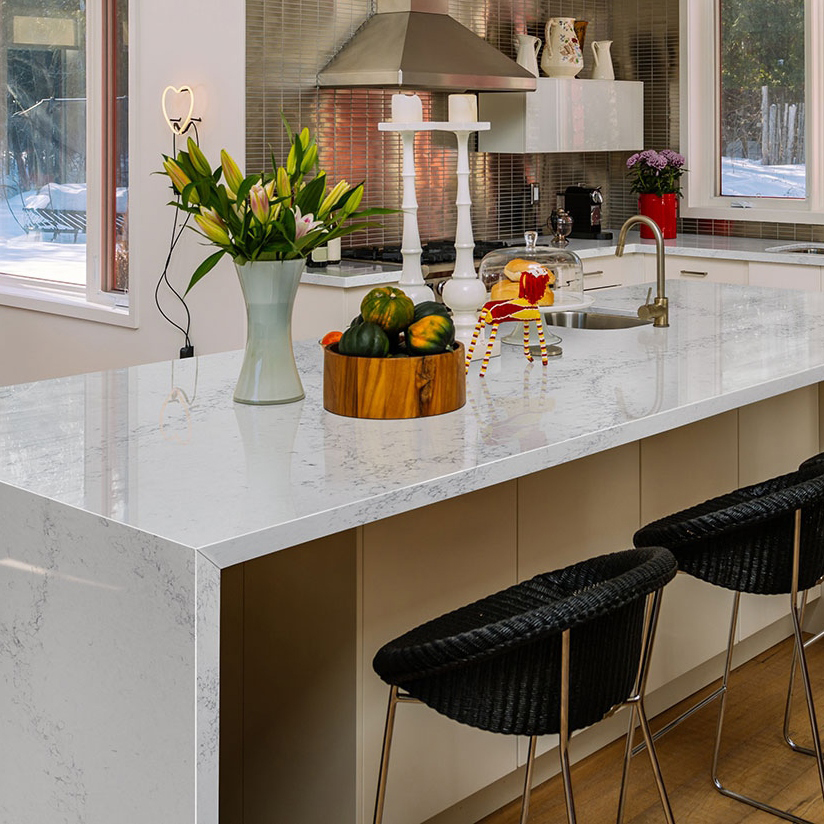 How to Match With Existing Elements
If you're only replacing the countertop, and leaving the cabinetry, fixtures, flooring, and other features the way they are, matching your quartz countertop to existing elements is a concern. First, consider your overall aesthetic. Is it rustic, contemporary, traditional, farmhouse? Also, do you prefer a kitchen that is light and airy or dark and elegant?
Multi-colored quartz patterns are often complementary to natural wood, with a depth of hues to match the varying shades within the wood grain. Cabinetry with carved panels may look better beside a counter with a subtle pattern and simple edge profile. Be sure to get a sample of your countertop choice so you can actually hold it up next to your kitchen's design elements before committing to the purchase.
Can you Mix and Match?
There's no rule that says you can only choose one color of quartz countertop. If you've got your heart set on a dramatic black quartz kitchen counter but fear it may overwhelm the space, you may install a dark color on your side counters and a paler shade for a large center island. Or, since the island is usually a focal point, go with a bold pattern to showcase your chic design skills.
With the amazing number of quartz countertop choices for colors, patterns, edge treatments, finishes, and more, there's no reason you should ever have a boring kitchen — or bathroom, laundry room, craft room, etc. Just take your time and consider every point in this article, and you'll be confident choosing just the right one.
Learn More About Quartz Countertops
10 Frequently Asked Questions About Quartz Countertops
Quartz Countertops: Through-Body Vs. Non-Through Body
Natural Stone Looks with Q Quartz Countertops
Solid Quartz Countertop Colors are Anything but Ordinary!