Our New Cosmic Stacked Stone Colors Are Out Of This World!
April 22, 2021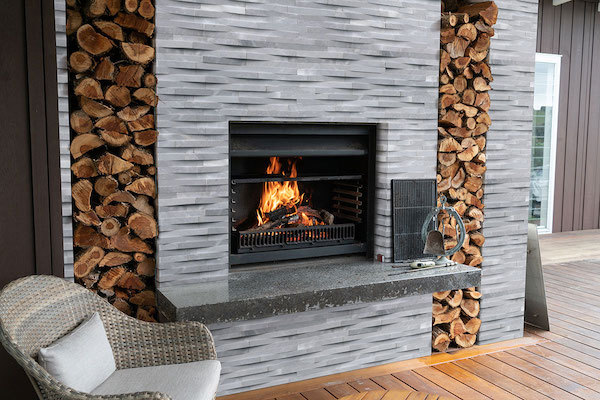 During a home renovation project, you're often faced with countless decisions. If you're looking for a way to elevate your home's modern aesthetic, you can't overlook the addition of natural cut stone. Keeping your budget in mind, you can still achieve the natural stone look with stacked stone ledger panels.
But with so many ledger panel options on the market, how do you know which is ideal for your application? MSI's new Cosmic Stacked Stone collection is made of durable, classic marble and is expertly cut and finished to bring out another dimension to its beauty. We offer a variety of color options and 3D textures that make its trendy appearance out of this world — which is why it is the perfect choice for both interior and exterior applications, such as architectural features, fireplace facades, feature walls, and more. For additional information about the Cosmic Stacked Stone Collection, contact the team at MSI Surfaces.
Cosmic Stacked Stone Options
Now that you've decided on adding stone panels to your home design, it's time for the fun part —deciding which color Cosmic Stacked Stone will bring your vision to life. With six color and texture options available, you'll be able to find the perfect style to complement any design aesthetic. From dark black tones to cool clean whites, there's a perfect natural stacked stone to take your home's design to the next level.
To help narrow down your options, here are the different colors that are part of the Cosmic Stacked Stone Collection:
Cosmic White Stacked Stone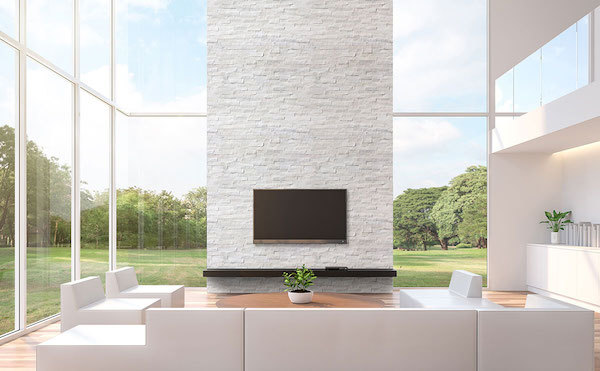 Sometimes you want to create a classic aesthetic, but that doesn't mean you want it to be boring! Build a beautiful focal point in your home with Cosmic White stacked stone made from cool white marble for a stylish appearance. These ledger panels create a clean backdrop that adds a sense of beauty without taking away from the other design elements in your home. With an elegant split face finish, you'll be amazed by how easily they can enhance both interior and exterior wall applications.
Cosmic White 3D Wave Stacked Stone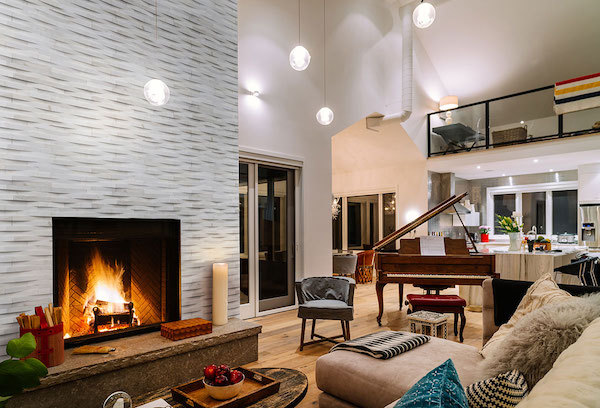 As one of our all-time favorites, you don't want to miss out on Cosmic White 3D Wave marble ledger panels that are sure to elevate your space. With a remarkable and unique white stone in a unique woven pattern with three-dimensional elements, it's sure to be an absolute showstopper. In a classic cool white with soft veining and smooth lines, you don't have to worry about having a boring backdrop — the varying depths of the stone tiles add texture and movement. From creating a jaw-dropping entryway, accent wall, backsplash, or fireplace surrounds, you won't be disappointed with Cosmic White 3D Wave stacked stone tile.
Cosmic Gray Stacked Stone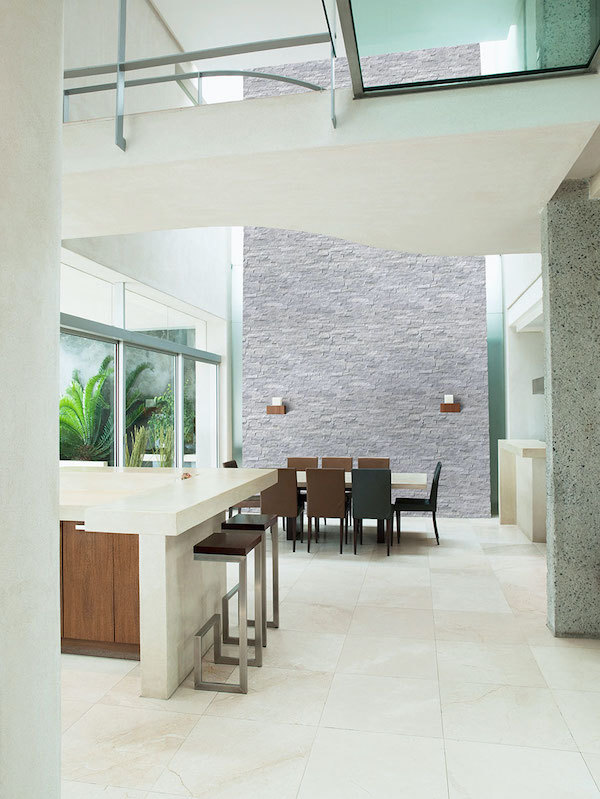 Are you ready to make a statement in your space? No matter your home's architectural style or design aesthetic, you can count on Cosmic Gray natural stacked stone to leave you speechless every time you catch a glimpse of it. With its cool gray tones and sleek split face finish, you won't find another option quite like it. Whether you want to build an exterior planter wall, distinctive stacked stone backsplash, or show-stopping accent wall, you'll be able to transform your vision into a reality with Cosmic Gray stacked stone ledger panels. The stone wall tile is available with corner pieces, making application easy.
Cosmic Gray 3D Stacked Stone
There's something about incorporating three-dimensional marble ledger panels that can easily elevate any room's aesthetic. With Cosmic Gray 3D stacked stone wall tile, you can rest easy knowing you'll not only incorporate style and texture, but you'll create an enviable aesthetic. Boasting a mix of sleek, cool gray hues and a 3D pattern, these stacked stone wall tiles are the perfect option to create a unique focal point for both interior and exterior spaces. Whether you want to create an accent wall, fireplace surround, kitchen backsplash, or shower surround, Cosmic Gray 3D stacked stone is the perfect option to consider.
Cosmic Black Stacked Stone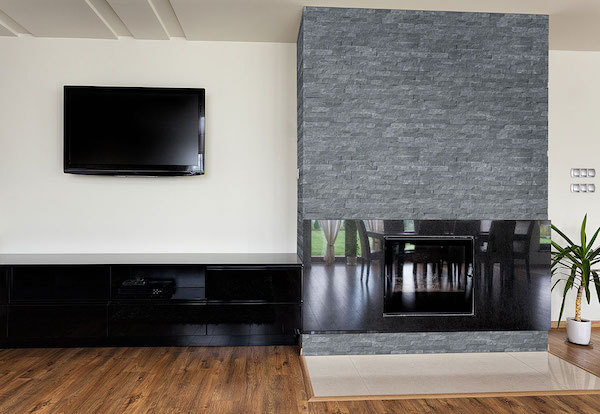 When you want to create a dark and moody aesthetic, look no further than Cosmic Black stacked stone ledger panels. Featuring an eye-catching color palette of dark grays and blacks, it's the perfect backdrop to contrast against the other design elements within your home. With a classic split-faced finish, these stacked stone tiles are beautiful and a slight texture — allowing them to complement any space without being too bold and overtaking the entire room. Because of its remarkable dark gray hues, Cosmic Black ledger panels can seamlessly blend into a variety of home design styles, ranging from traditional to modern.
Cosmic Black 3D Wave Stacked Stone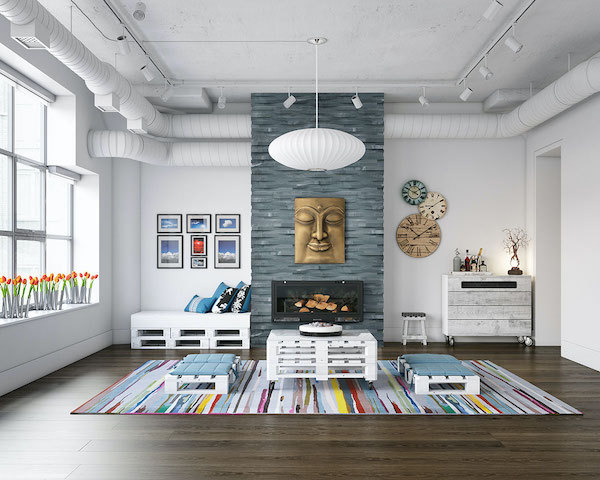 There is nothing quite like the elegant look of Cosmic Black 3D Wave marble ledger panels. Because of their truly unique design and luxurious color palette of dramatic black with soft gray veining, there's no easier way to create a one-of-a-kind background for your home. The three-dimensional split face finish offers an elegant and distinctive look, allowing you to create sophisticated accent walls, backsplash, fireplace surround, or other accent features in both indoor and outdoor applications. For beautiful stacked stone tiles to elevate your home, make sure you consider Cosmic Black 3D Wave natural panels.
With a variety of color palettes to choose from, MSI makes it easy for you to find the ideal Cosmic Stacked Stone to transform your vision into a reality. From cool white tones to dark moody black tones, we offer a range of light to dark stacked stone veneer panels to bring you the most practical options that will take any room to the next level. Whether you're looking to incorporate stacked stone tile in an indoor or outdoor application, browse our Cosmic Stacked Stone Collection to find the perfect option for your home renovation project. Contact MSI to learn more.