5 Popular And Trend Worthy Kitchen Sinks For 2023
November 16, 2022
Your kitchen is the heart of your home, and the sink is the center of that room. Everything you do here, from cooking to cleaning, revolves around this appliance. Yet, it's easy to overlook the importance of a well-designed kitchen sink.
Kitchen sinks are more than functional. When designed right, they enhance the room's efficiency and complement the area's aesthetics. So, whether you're renovating the whole kitchen or aiming for a sink remodel, it's important to get a sink that does the job you need it to and looks good at the same time.
Functionality is the first factor, of course. Your sink must be able to handle your family's workload. For example, if you cook and bake a lot, you may prefer a deeper double sink, whereas a standard sink can do the trick if you're not using the space for lots of dishes or food preparation.
Regardless of how you use the sink, you want it to be safe for everyone, and it would be great if it looked good set against your countertops, too. With these five popular and trend-worthy kitchen sinks, you can have it all: efficiency, safety, and style.
1. Apron-Front (Farmhouse) Styles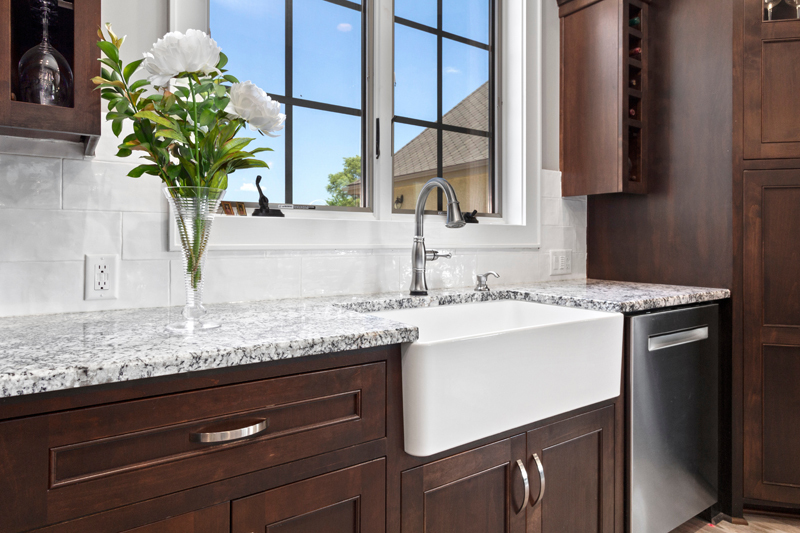 The rustic farmhouse style is more popular than ever, and kitchen sink manufacturers are getting on board with this ongoing trend. The "apron-front" sink melds function and shape for a spacious form that works well in a busy kitchen.
These farmhouse sinks are in high demand by homeowners and commercial business designers. The deep basin provides plenty of room for your prep and cleanup, and the exposed front sits seamlessly flush against the cabinets. This design is the ideal complement to add the homey, country touch to all your premium surfaces.
Pros and Cons of the Apron-Front Sink
The apron-front sink has multiple benefits that have kept it in kitchens for centuries. In addition to the rustic look, it comes in various materials to match the atmosphere you're creating and ensure durability and style.
Along with these advantages, the farmhouse sink provides extra capacity for large pots, lots of dishes, and soaking or scrubbing. In addition, it's easier to move heavy dishes around because the sink sits forward-facing against the counters.
The apron-front sink does not have pre-drilled faucet holes, so you can choose which faucet you prefer and add the holes yourself.
Farmhouse sinks have some challenges that will take getting used to, and you should know these before you choose to invest in this type of fixture. These sinks take up a substantial amount of space on and under your counters, making them perfect for big kitchens but not always suitable for smaller rooms.
Because they're so heavy, they must be installed correctly, which might mean modifying your current cabinets and counters. This is something to keep in mind before you add an apron-front sink to your existing surfaces, especially pricier marble or granite countertops.
2. Top Mount (or Drop-In) Designs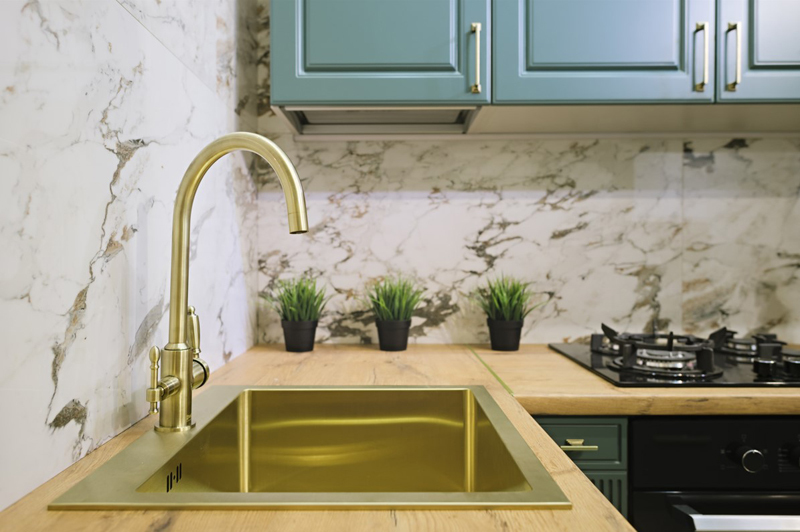 The standard sink in most kitchens is the drop-in or top-mount style. These are common because they can handle the workload in most households and look great with every kitchen design.
Top mount sinks have a lip around the edges that help them to sit flush with the countertop, which is cut out to fit the sink as it "drops" into the empty space. The lip holds the sink in place, and metal clips under the countertop keep it secure.
Pros and Cons of Top Mount Sinks
These sinks are standard because they don't have too many disadvantages. They're durable, inexpensive, and easy to install and keep clean.
On the other hand, drop-in sinks don't provide a high return on your investment, and they aren't standardly designed to give you a lot of room. So if you have a busy kitchen or frequently use large dishes, you may need to invest in a larger sink.
3. Under-Mount Style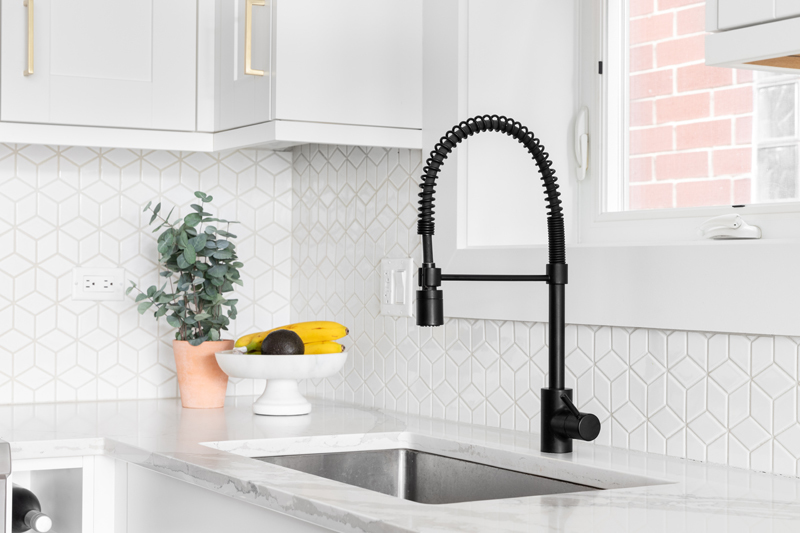 Like drop-in sinks, the under-mount style has a rim and is secured by heavy-duty clips. The sink mounts to the bottom of the countertop using a hidden edge that lies flat against the underside of the counter.
There is no visible lip, and the cutout of the sink is exposed. Strong countertop materials must hold up the sinks, so they are frequently used with natural stone or quartz countertops.
Pros and Cons of the Under-Mount Sink
An under-mount sink is an excellent space-saving solution if your kitchen has limited square footage. You get more counter space without sacrificing the size of your sink. The lack of a visible lip makes the under-mount sink the winner in the "easy cleaning countertops" category, too. You can wash the counters and swipe everything into the sink.
Under-mount sinks are a little more challenging to install than drop-ins, but they give you a higher resale value.
4. Single Basin Setup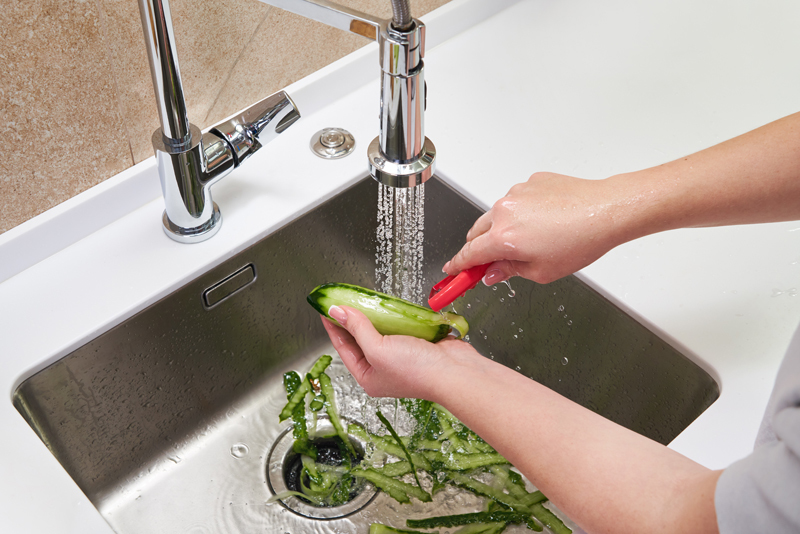 The term "single basin" refers to the category of kitchen sinks without a divided basin. These are common in apron-front and in-counter sinks.
Pros and Cons of Single Basin Sinks
On the surface, you might assume a double basin is a smarter move than a single basin sink. Yet, there are some advantages to the single style that has this sink type trending.
Because of the move to home cooking, the large basin is ideal for washing your biggest cookie sheets, baking pans, and stovetop pots. If you have a lot of people in your home, this setup is efficient. It also adds flair when paired with an apron sink.
The biggest drawback of a single basin sink is that you need to create a drying area on the countertop.
5. Double Basin Setup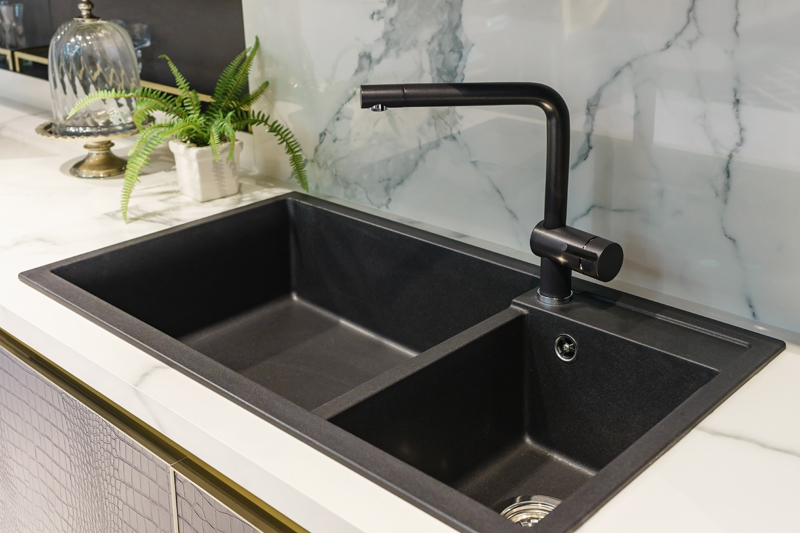 The double basin setup is the most popular style of sink. Dual basins provide a side for washing and a second area to dry or rinse. They give you the ability to multitask and are flexibly designed.
Pros and Cons of a Double Basin Sink
If you don't have a dishwasher and feel like you're constantly washing dishes, the double basin helps the job run more efficiently. You can wash, rinse, and dry in one convenient location.
The downside of double basin sinks is that they are usually too small for lots of dishes or oversized items. Modern trends favor the single sink, but classic, utilitarian, and rustic styles still prefer the double version.
Conclusion
As you debate the pros and cons of each sink, you see there's more to choosing a sink than appearances. With so many options to choose from, it helps to work with professionals who can help you make your decision.
Before starting your kitchen sink remodel, look at MSI's sink selections. Then, contact us at MSI and let our industry experts answer all your questions and guide you on your path to finding the perfect sink for your home. We're available online, on our MSI website chat feature, or in person at one of our showrooms.