How To Use Porcelain Tile In The Bedroom
August 30, 2018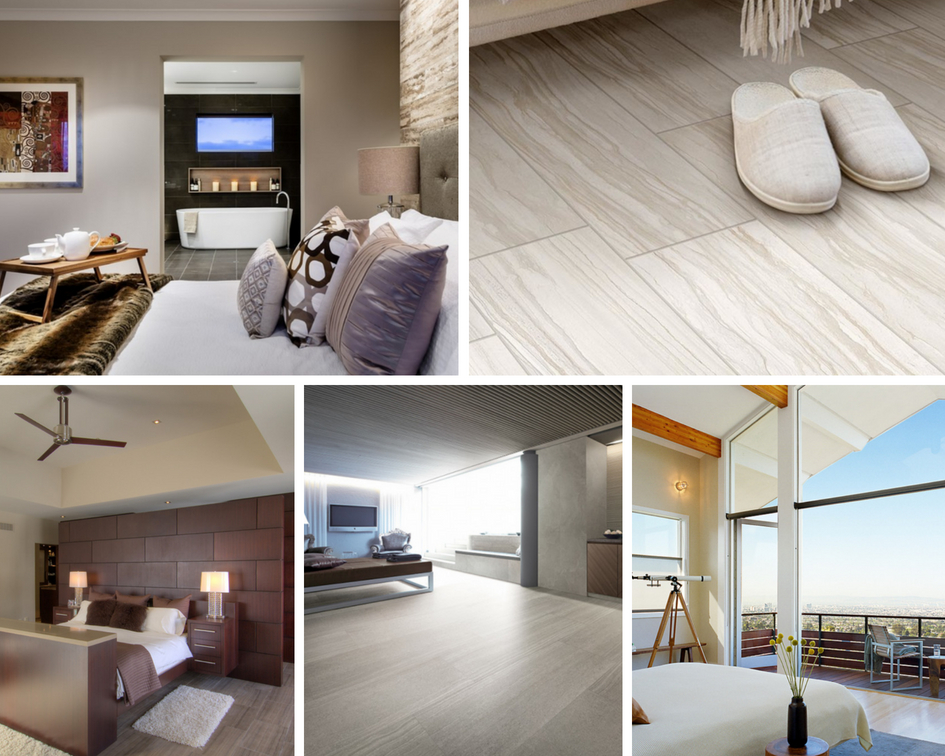 When we think of installing porcelain tile, it's for the kitchen or bathroom. Porcelain tile in the bedroom can be just as lovely! It's a practical flooring option that more people are choosing because of its versatility and selection — including the Watercolor collection, an easygoing wood-look tile that complements modern bedroom colors and is ideal for any room in your home.
Are you skeptical? Here are a few reasons why you'll fall in love with a porcelain floor in the bedroom, along with some beautiful designs for inspiration.
Watercolor Bianco

Get this look with MSI's Watercolor Bianco Porcelain Tile (Photo Credit: Houzz)
It can be hard to imagine giving up that cozy carpet, especially during cold weather. If you're worried about bare feet on a cold floor, you'll find that porcelain tiles are cool, but never frigid or uncomfortable. Plus, here's something carpet can't do: heat the room. You can install under-floor radiant heat under Watercolor Bianco porcelain tile, keeping your toes toasty and even providing some extra warmth to the bedroom.
Watercolor Grigio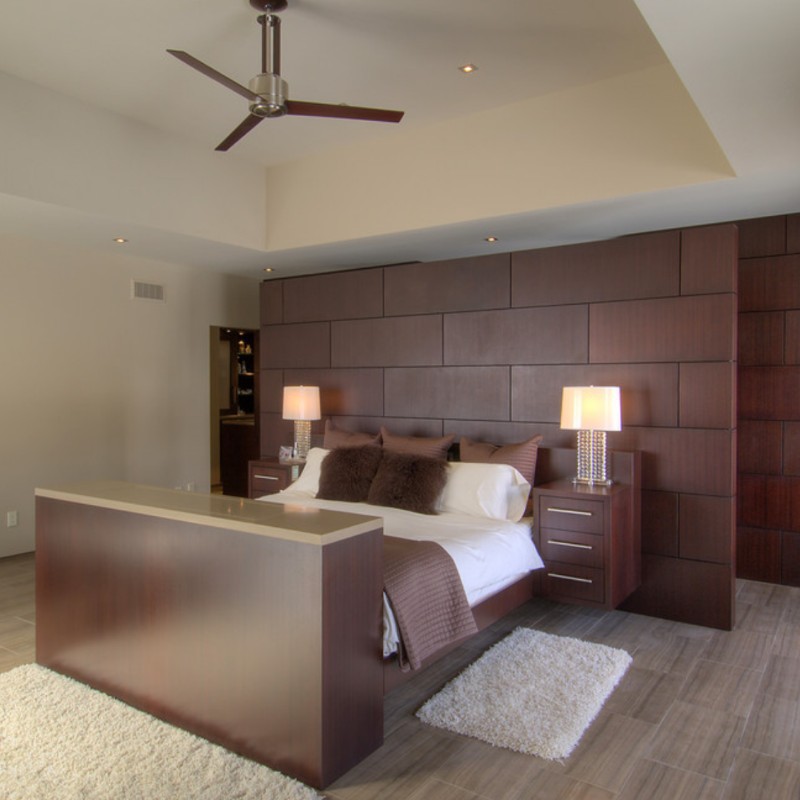 Recreate this look with MSI's Watercolor Grigio Porcelain Tile (Photo Credit: Houzz)
One of the best reasons to install tile in the bedroom is that it's super-easy to keep clean. If you have pets that shed, it's easier to use a broom on porcelain flooring than to dig out the vacuum cleaner. Watercolor Grigio is a taupe-and-gray tile available in planks that resemble hardwood flooring. If you have allergies, tile like this won't hold onto triggers like dust mites, mold spores, pet dander, and tracked-in pollen.
Watercolor Graphite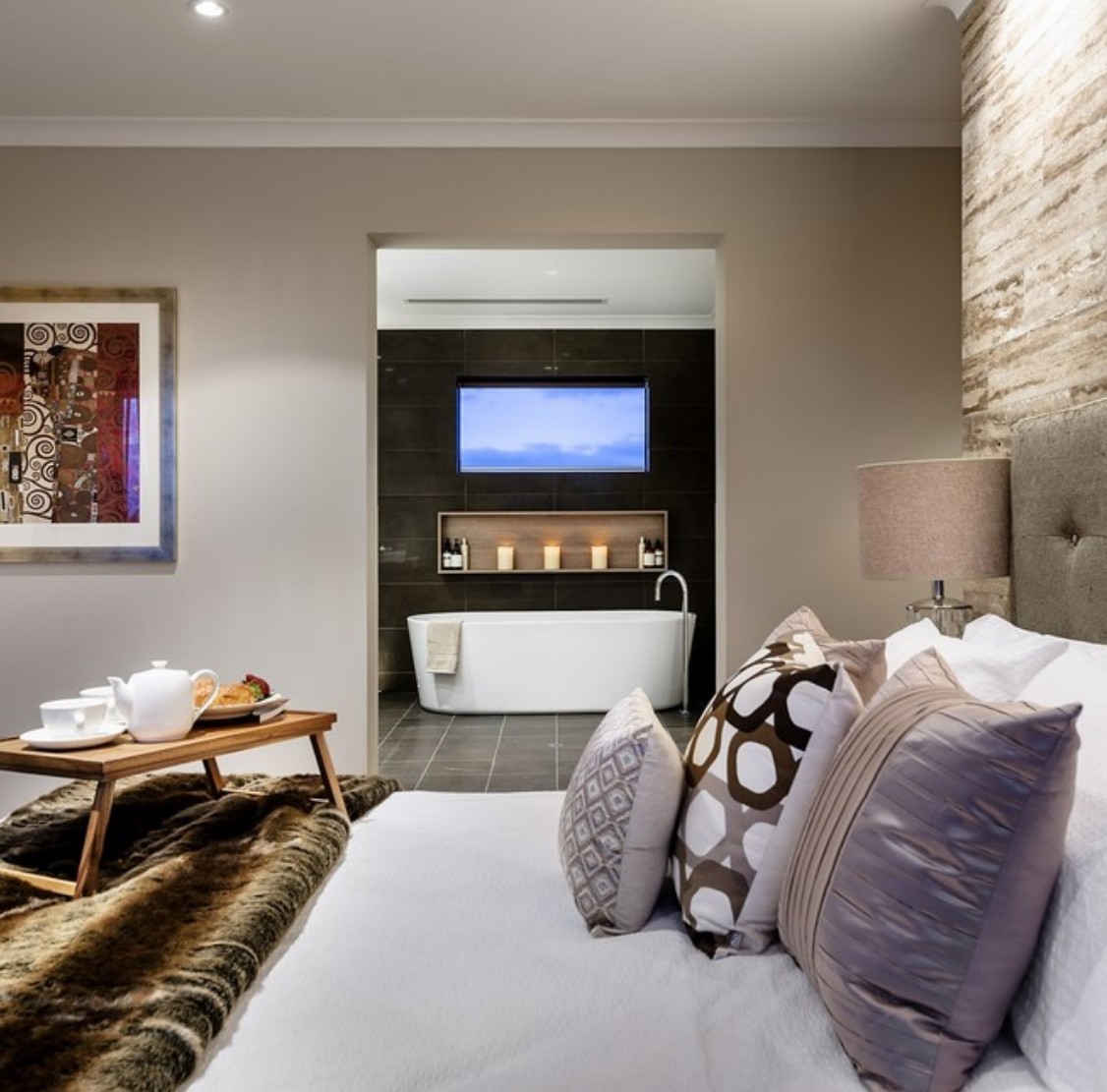 Recreate this look with MSI's Watercolor Graphite Porcelain Tile (Photo Credit: Houzz)
Most homes include a full bathroom beside the master bedroom, and more homeowners are enjoying the luxury of a spa-like retreat that's not hidden behind a door. Installing the same porcelain tile flooring in both rooms offers a sense of continuity — and with a slip-resistant matte finish, Watercolor Graphite is ideal for both rooms. Its warm gray hues are easy to match with your favorite furniture and fixtures.
Watercolor White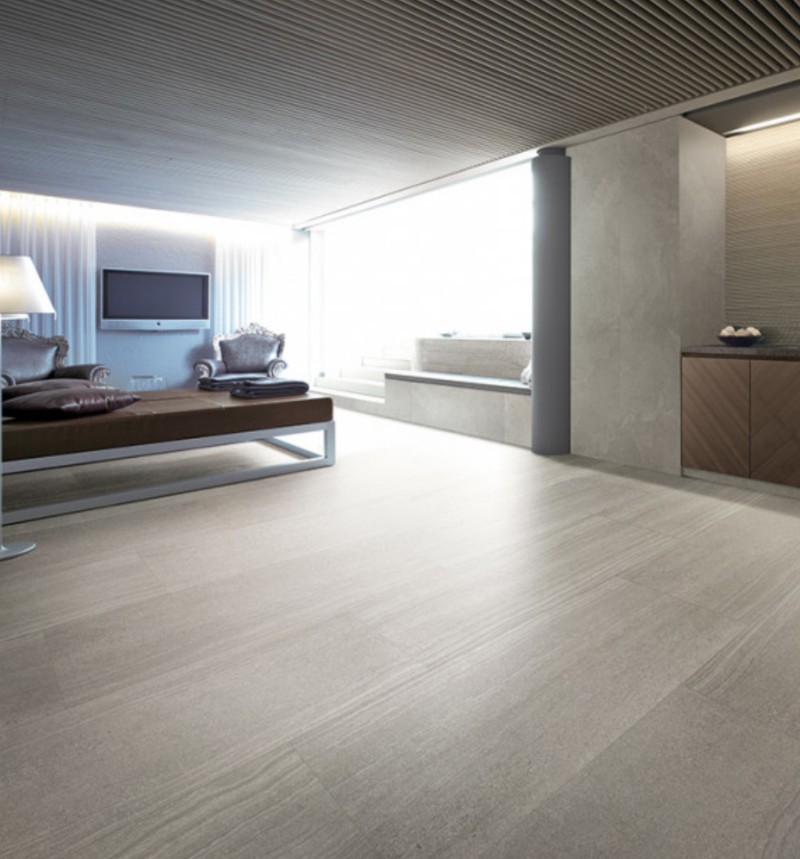 Recreate this look with MSI's Watercolor Bianco Porcelain Tile (Photo Credit: Houzz)
Porcelain tile flooring, particularly a pale, wood-look tile such as Watercolor White, lends itself to today's most popular contemporary decor styles — minimalist, farmhouse, modern, French country, and even traditional. An expensive-looking wood tile such as this would be expected in the home's entry, but this affordable option will let you spoil yourself with a designer look in your bedroom, too.
These are only a few great reasons to go carpet-free and choose a soothing, neutral, wood-look porcelain tile from the Watercolor collection. We invite you to browse the informational pages for this collection and learn more about it, then start the difficult process of choosing your favorite shade!
READ MORE ABOUT THE BENEFITS OF PORCELAIN TILE
Fun Designs to Try with Modern Porcelain Tile
Get the Look Of Athens Marble In A Durable Porcelain Tile
How to Get the Look Of Polished Cement In Porcelain Tile