Create A Bold Look With 5 Dramatic-Veining Marble Look Quartz Countertop Colors
November 02, 2020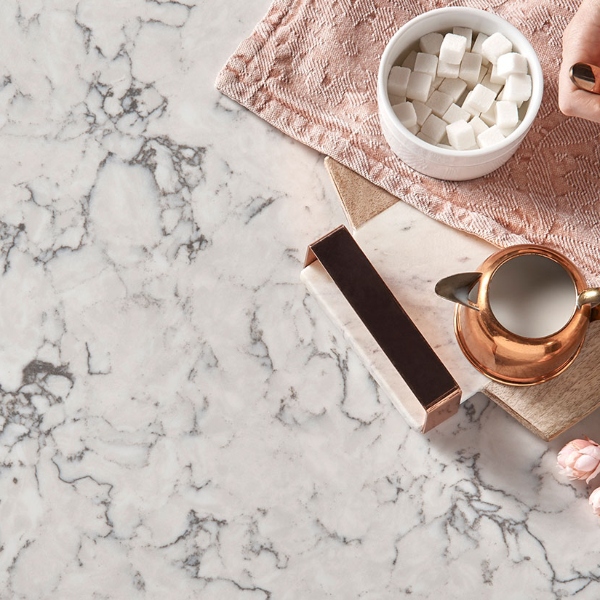 By 2026, the worldwide market for quartz countertops will reach around $110.87 billion. This is a surprisingly high number, but there is a good reason. Quartz is a sophisticated and elegant material that's long-lasting, easy to maintain, and goes with a wide variety of design schemes.
This post aims to celebrate MSI's most recent and popular additions to their veined marble look quartz countertops. These styles showcase the sophistication and creativity in nature-inspired engineered slabs that range from electric to whispy and everything in between. Read on to learn more!
Why Marble Look Quartz?
White veined quartz has been notably popular in recent years, and it's no surprise. Marble look quartz countertops need less maintenance and offer a wider variety of specialized veining- some that aren't necessarily found in nature but wish they were.
Dramatic veining is a particularly desirable look in countertops. It's elegant, eye-catching, and attention-grabbing. Additionally, the use of gorgeous, natural patterns in the veins and surrounding quartz give any slab an air of mystique and timeless beauty.
The look isn't the only thing that quartz mimics! The luxury performance and notary (similar to the elegance of marble) is a reputation that quartz has also adopted. Let's take a look at some of the most sophisticated designs that you can select for your kitchen!
Calacatta Alto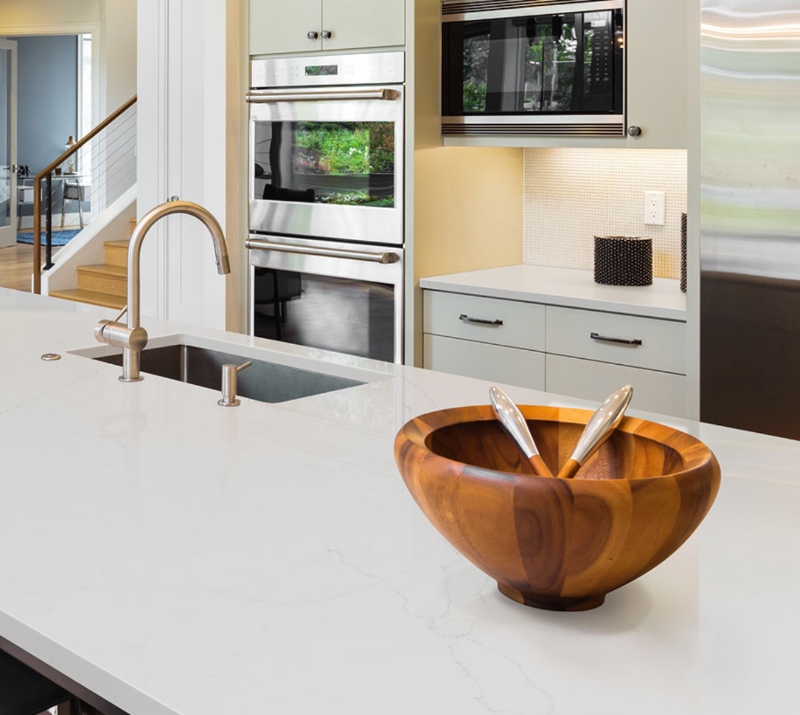 If you are debating whether quartz vs. granite is right for your space, Calacatta Alto is the right choice for you. Because of its cool white background and feather-thin veining, it has the same low variation that less durable granite countertops would have.
Its simplicity and timelessness make it the perfect choice for any space. It's an incredibly neutral variety of quartz that can be paired with nearly any decor scheme. It especially looks amazing in contemporary spaces because the cool undertones of the slab matches with fluorescent lighting, stainless steel accents and appliances, and cool blues and greens.
However, Calacatta Alto also has soft enough veining that it can be used in vintage and mid-century modern inspired spaces. It truly is a classic that never goes out of style.
Calacatta Laza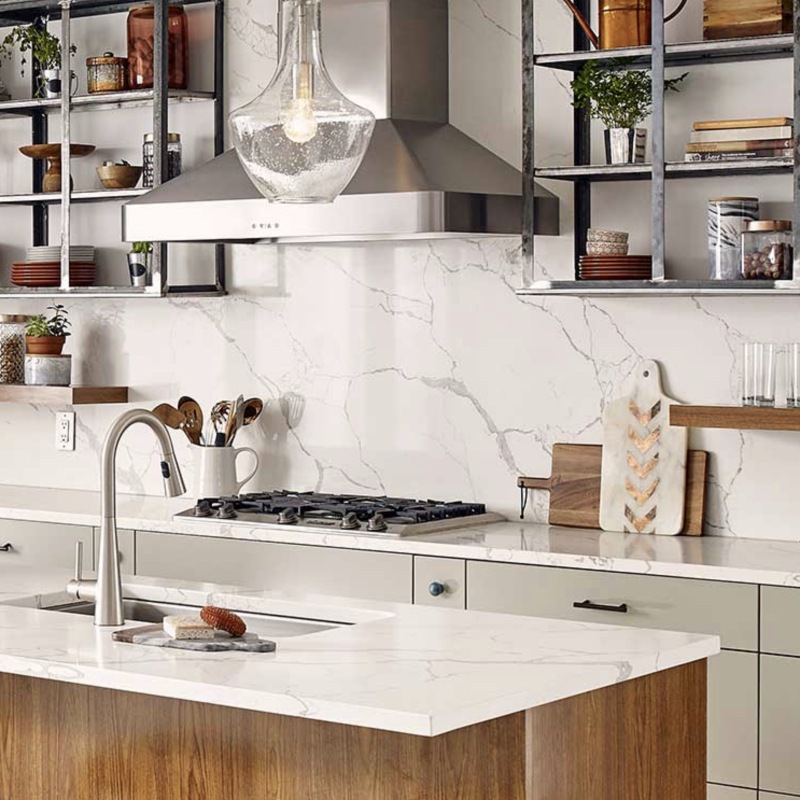 When it comes to modern quartz with warmer looks, Calacatta Laza has you covered. It has the same thin veining as Calacatta Alto does, but its background is a warmer cream color rather than a bold, cool eggshell.
Because of this, it's the perfect choice for countertops, islands, and backsplashes in classically warm kitchens. If you have softer lighting or more natural light, Calacatta Laza will shine with the sun and provide you with a comfortable, cozy aesthetic.
This style, like our other Calacatta designs, is also available in a variety of sizes. 2 cm and 3 cm slabs both are available, as are prefabricated options. This allows for more flexible installation and a greater variety of designs.
Calacatta Arno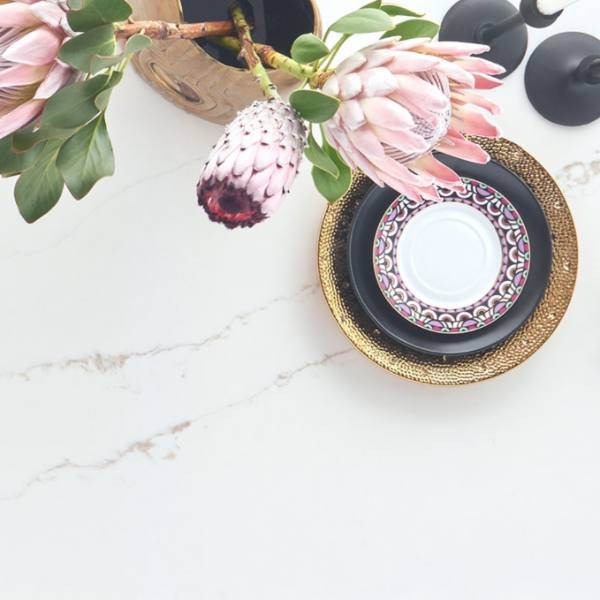 If you want quartz that look like marble with more subtle veining, Calacatta Arno is the perfect choice. Rather than Alto's stark grey veining or Laza's brown accents, this style has veins in a grayish-cream color that is only a shade darker than the base white.
These veins also are highlighted with gold accents that give each slab a warm, subtle glow. This makes this style ideal for countertops that rest directly under windows- the gold glows beautifully in sunlight.
Additionally, the non-porous surface has no chance of staining or succumbing to water spots. This means that the glow will persist over many years so that you can be reminded of warmth and light every time you enter your kitchen.
If you want a more cohesive look when using Calacatta Arno in your kitchen, try pairing it with brass appliances and golden light fixtures. In conjunction with invigorating pastel yellow or orange walls, you can create the perfect bright sanctuary.
Calacatta Leon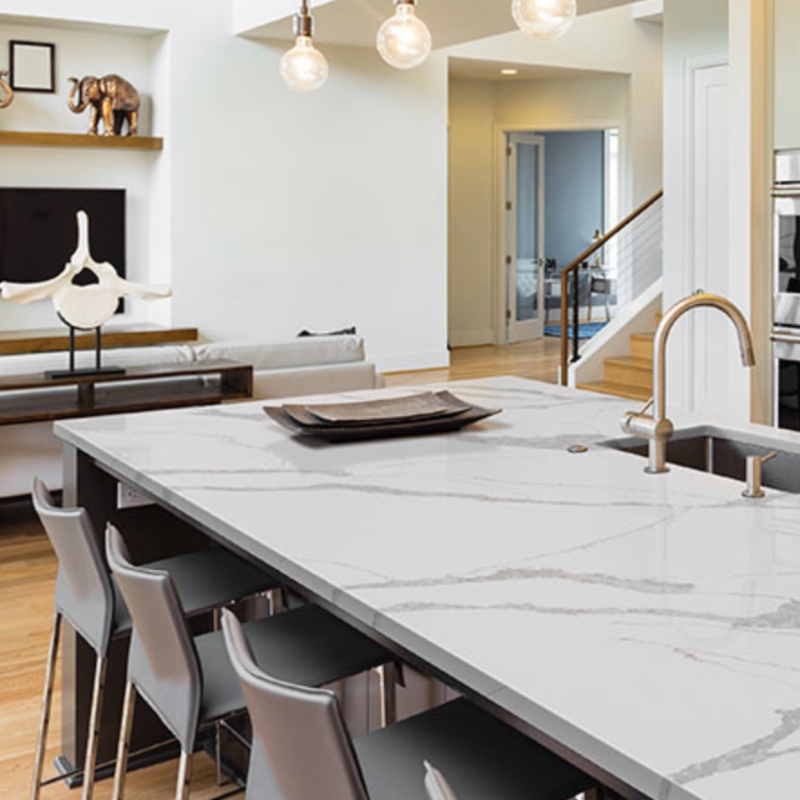 On the other end of the spectrum from Arno's subtle veining, Calacatta Leon has very pronounced gray veins all over each slab.
These accents are thick to the point of being large, organically-shaped stains rather than simple webbing. The dramatic nature of this pattern enhances the entire slab to create a multi-hued and visually appealing look.
If your kitchen or bathroom has multiple colors in its tile flooring or in its appliances, Leon is the perfect choice for you. It blends seamlessly in with every aspect of your interior design to create a timelessly cohesive decor.
You also may want to pair the dramatic Calacatta Leon with something that has smaller veining. When you use Leon as your countertop, for example, consider using the similarly gray-veined Alto as a backsplash. Or, if you prefer, think about using it with the subtle Arno on your favorite accent wall.
Calacatta Arabescato
One of the most dramatic quartz countertop colors that MSI offers is the Calacatta Arabescato. The prominent veins are long and dark, but that isn't even the tip of the iceberg. This nearly black veining forms small organic shapes as it twists and turns over the white backdrop of your countertop or accent wall.
If you have an eye for style, you will be picking different patterns out of this surface for many years to come. Each time you look at Arabescato, you're sure to notice something new and invigorating, whether it is shading that you hadn't noticed previously or a pattern that shocks you in a new way.
Like all of MSI's quartz slabs, Arabescato is incredibly low-maintenance and durable. This makes it the perfect choice for practically-minded homeowners as well as aestheically-motivated ones.
Get Started
Now that you know some of the best marble look quartz countertops that MSI has to offer, it's time to begin planning your next kitchen renovations. Check out our website to get more details on all of the Calacatta styles that we've discussed today. You also can browse our other countertop options so that you have all the information when choosing the best style for you.
Want more info? Check out the video below and explore this marble inspired collection and the benefits of affordable luxury quartz countertops for your kitchen and bathroom.