The Look Of Eramosa Stone In Porcelain Tile
September 26, 2017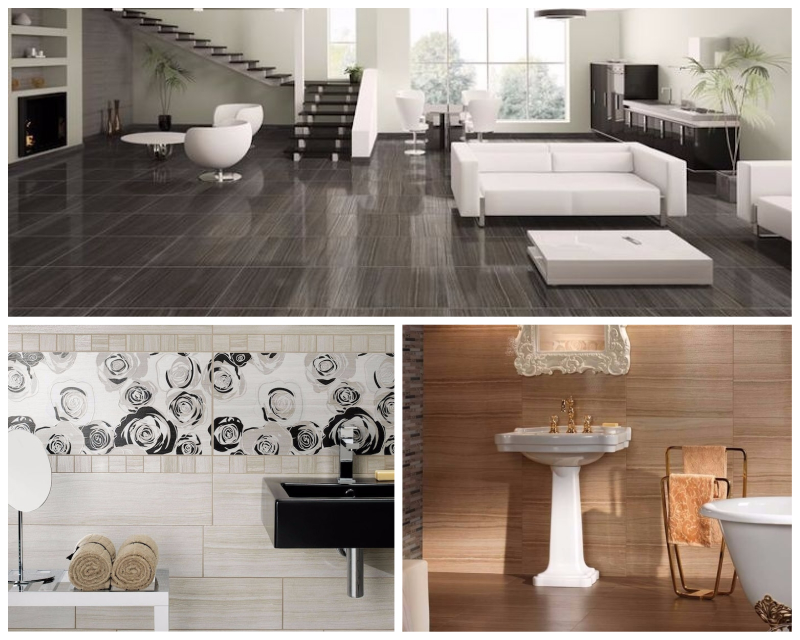 If you love the look of limestone, but worry about it sucking up wine, sauce, or coffee pills which happen in life, then you should check out MSI's Eramosa Porcelain Tile Collection, fashioned after the eye-catching Canadian Eramosa limestone.
Natural limestone is a lovely blend of neutral colors and natural, linear veins. But the stone is porous, which means it can easily stain and chip. It also needs periodic sealing to prevent it from absorbing moisture.
Eramosa porcelain gives you the design delight of natural limestone, but since it's porcelain, it's durable and welcomes the rough stuff of real living.
Take a look at MSI's new Eramosa Porcelain collection, and see how well it compares to natural stone tile.
Beige Eramosa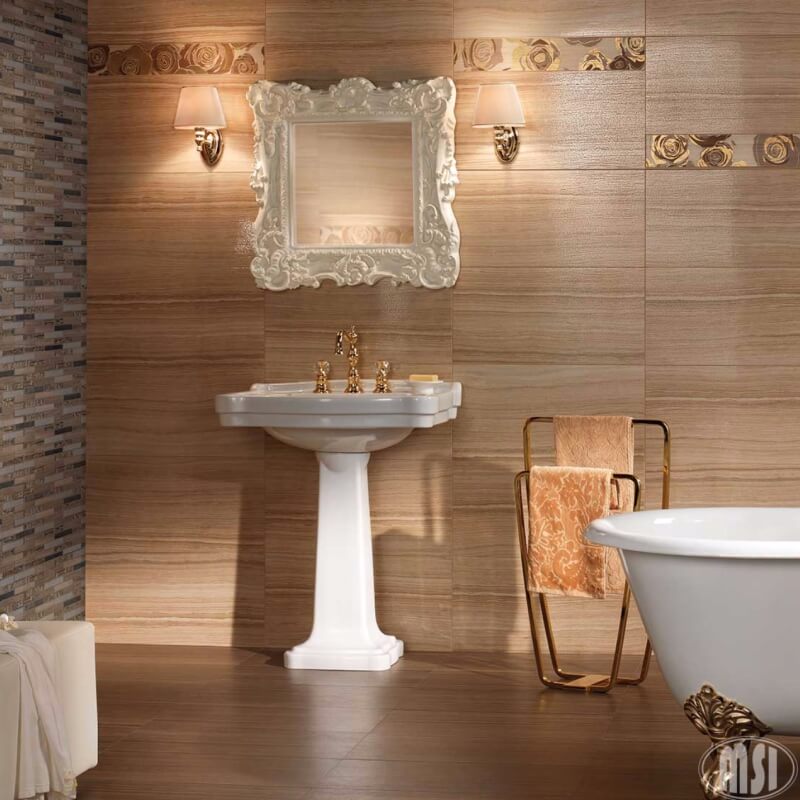 Featured: Beige Eramosa Porcelain
Beige Eramosa Porcelain Tile, which mimics the elegance of Canadian Eramosa limestone, combines warm beiges and creams in a matte-finished tile with a subtle linear pattern. Beige Eramosa pairs beautifully with any bathroom's white fixtures and shiny brass hardware. The neutral colors form an elegant backsplash or accent wall.
And Beige Eramosa provides a design pop as an inlay within floors constructed of a contrasting porcelain. Those floors will last for decades, because porcelain tile has a high breaking strength and will keep its color far longer than other types of flooring.
Grey Eramosa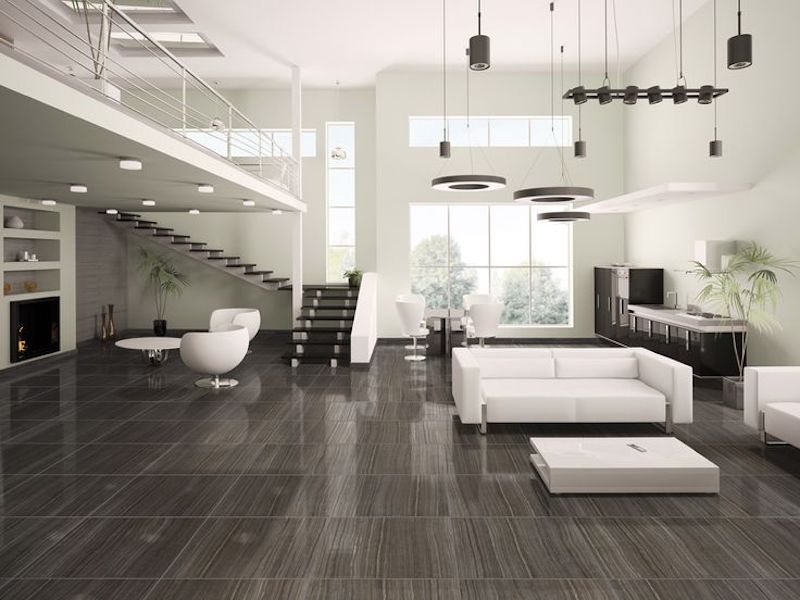 Recreate this look with MSI's Grey Eramosa Porcelain (Photo Credit: Houzz)
Grey is still a hot color in design circles, and Grey Eramosa Porcelain combines lines of mid-gray hues mixed with cream and charcoal striations. Use Grey Eramosa for kitchen countertops, because porcelain is low maintenance and cleans up easily with a damp washcloth and a bit of dish detergent.
Select a dark and matching grout to help the tiles blend seamlessly together. Then install brightly-colored furnishings and accents to give the room life and interest.
White Eramosa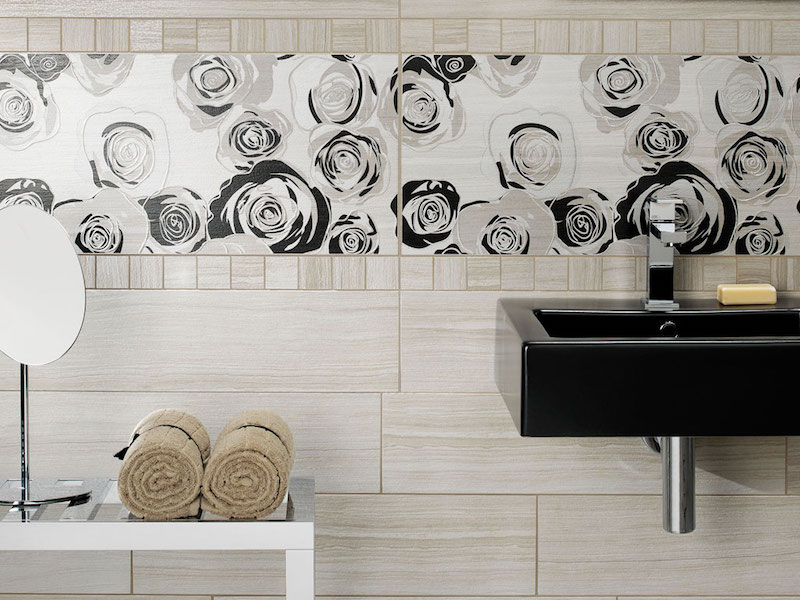 Get this look with MSI's White Eramosa Porcelain (Photo Credit: Houzz)
Your white kitchen will love White Eramosa Porcelain tile, which have dramatic linear veining that rivals the beauty of natural stone, but it's way stronger and easy to maintain.
Use huge 12x24-inch White Eramosa tiles on floors in high traffic areas, because porcelain doesn't scuff and fade, like other flooring materials. Also install White Eramosa on accent walls, which adds low-care elegance to any room.
Silver Eramosa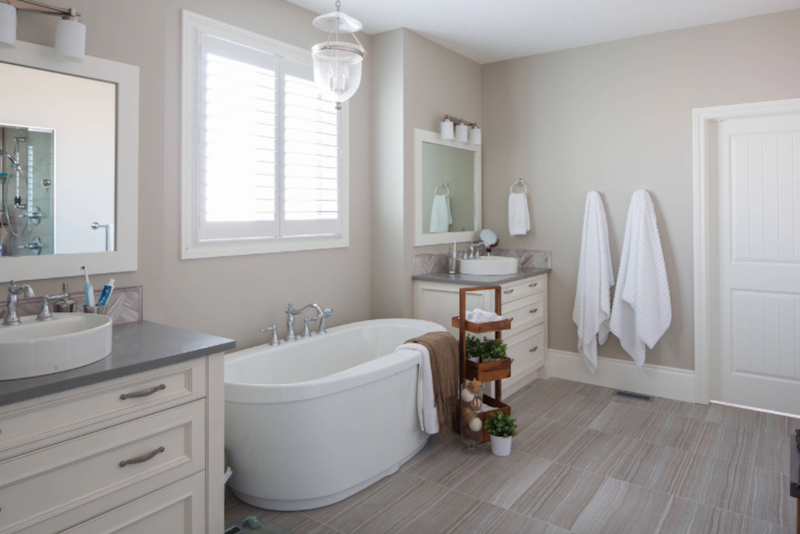 Create this look with MSI's Silver Eramosa Porcelain (Photo Credit: Houzz)
Silver Eramosa Porcelain tile is a calming, linear mix of shades of gray that create eye-popping accent walls, countertops, floors, and bathroom surrounds.
Silver Eramosa flooring can stand up to most kitchen mishaps. It repels water and resists staining from wine and tomato sauce spills. It's particularly good in colder climes, because this tile is so dense that it doesn't absorb moisture.
If you're looking for durable and beautiful flooring that is sure to turn heads, look no further than the Eramosa Porcelain Tile Collection.
READ MORE ABOUT PORCELAIN TILE with NATURAL STONE LOOKS
Does Porcelain Tile Look Like Real Stone?
Natural Stone Vs. Porcelain Tile for Kitchen Flooring
NATURAL STONE VS. PORCELAIN TILE FOR KITCHEN FLOORING
You Won't Believe These Inkjet Porcelain Tiles Aren't Real Stone