Can You Use Backsplash Tile On The Floor?
November 08, 2017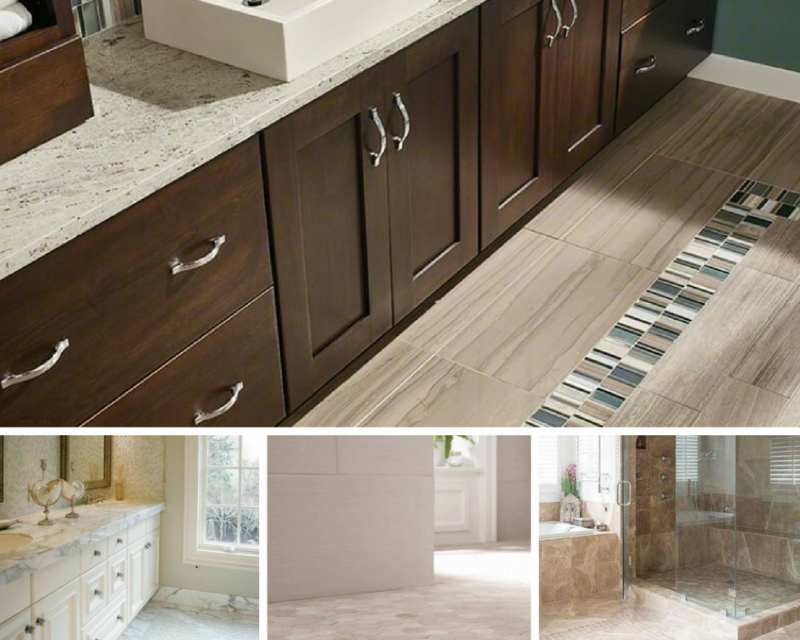 With all the stunning tile mosaics MSI has to offer, commonly used to create custom, creative backsplashes and accent walls, you might wonder if those backsplash tile mosaics can be used for floor tile as well. After all, tile flooring in intricate patterns, with delicate, petite tiles, is nothing new. Today's designers put a new twist on it, though – and yes, most tile mosaics are ideal for the job.
Generally speaking, any tile that is natural stone or porcelain can be used on the floor. Some ceramics and glass tiles should only be used on vertical surfaces due to cracking concerns, but often, tiles are sturdier and more durable than you might think! Check with the manufacturer, to be sure. Fortunately, MSI makes it easy to see which tiles are approved for use as flooring – it's listed right on the website, in each tile's description and specs.
There are many good reasons to install tile on your floor – even tiles normally used for backsplashes. Here are a few of our more popular options.
Calacatta Gold Hexagon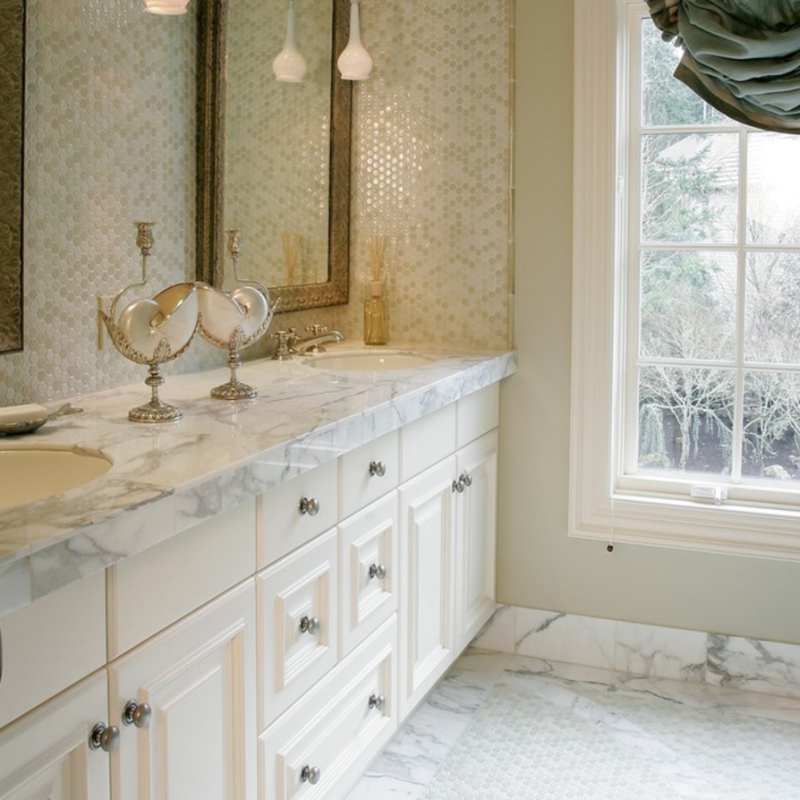 Get this look with MSI's Calacatta Gold Hexagon Marble Tile (Photo Credit: Houzz)
One interesting way to include tile mosaic in your flooring design is to highlight an area in a larger-format floor tile of similar shade and pattern. In this room scene, Calacatta Gold Hexagon Marble Tile is used in the center of the bathroom floor to create a decorative tile rug which adds visual interest in an area where a real rug would be impractical.
Emperador Light Basketweave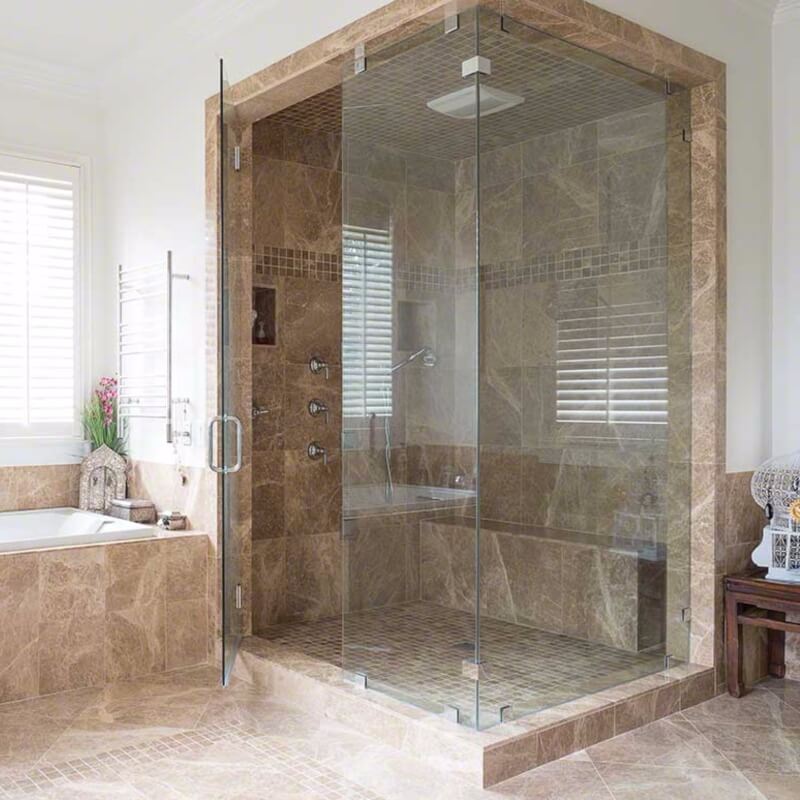 Featured: Emperador Light and Emperador Dark Basket Weave Pattern
An intricate tile mosaic such as Emperador Light and Emperador Dark Basket Weave Pattern Mosaic looks like it must have taken a long time to install just so, with the added expense of a labor-intensive process. Using it in just part of the floor design enhances this appearance – it's just an accent, in the middle of large-format tiles of similar color. However, it's pre-assembled on a mesh backing, so you can use as much as you like, as tile flooring or anywhere else.
Honey Comb Hexagon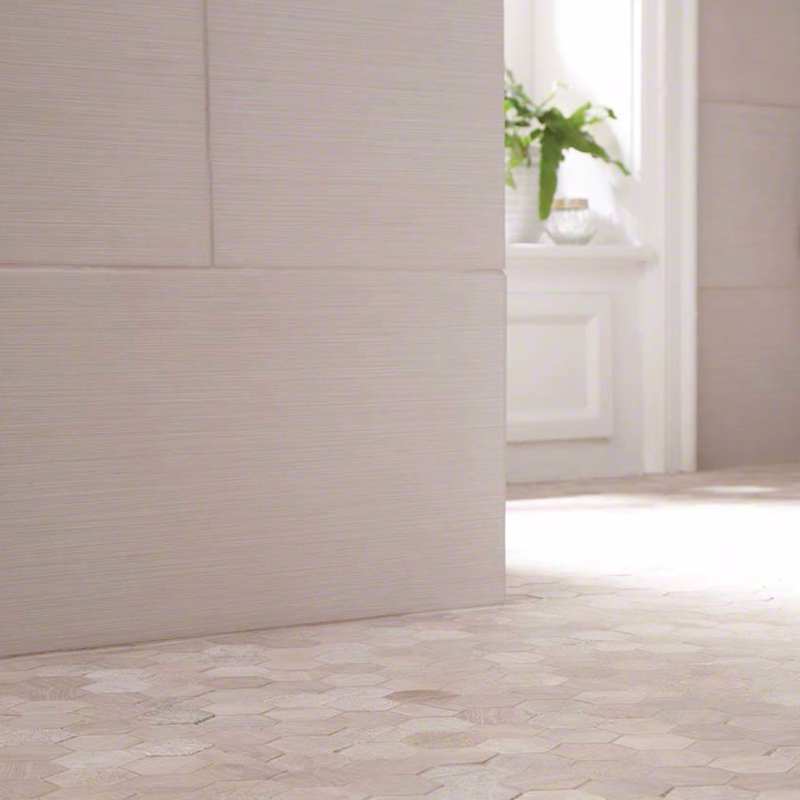 Featured: Honey Comb 2" Hexagon Multi Finish Mosaic
Hexagon floor tiles are an old-fashioned idea, right? Not when they are made from a cream-and-beige natural marble with the appearance of wood grain. One of the best reasons to use small tile in a flooring design is that if a tile does accidentally crack, it's easy to replace. With a randomly patterned tile like Honey Comb 2" Hexagon Multi Finish Mosaic, there's no need to worry about finding an exact match.
Paradise Bay Blend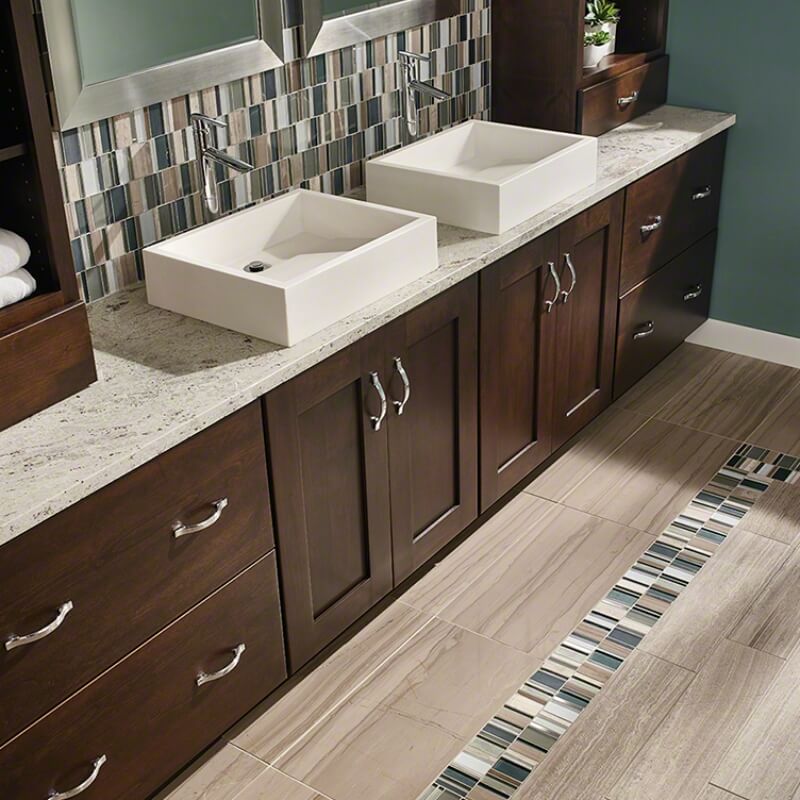 Featured: Paradise Bay Blend Mosaic
We mentioned earlier that glass tile isn't a good choice for flooring, but there are exceptions. Paradise Bay Blend Mosaic is a glass and stone combination that is approved for light-traffic floors, and it works great as an accent stripe vs. an entire floor covering. This is especially effective as a design element when it is also used for the backsplash tile.
Henley Hexagon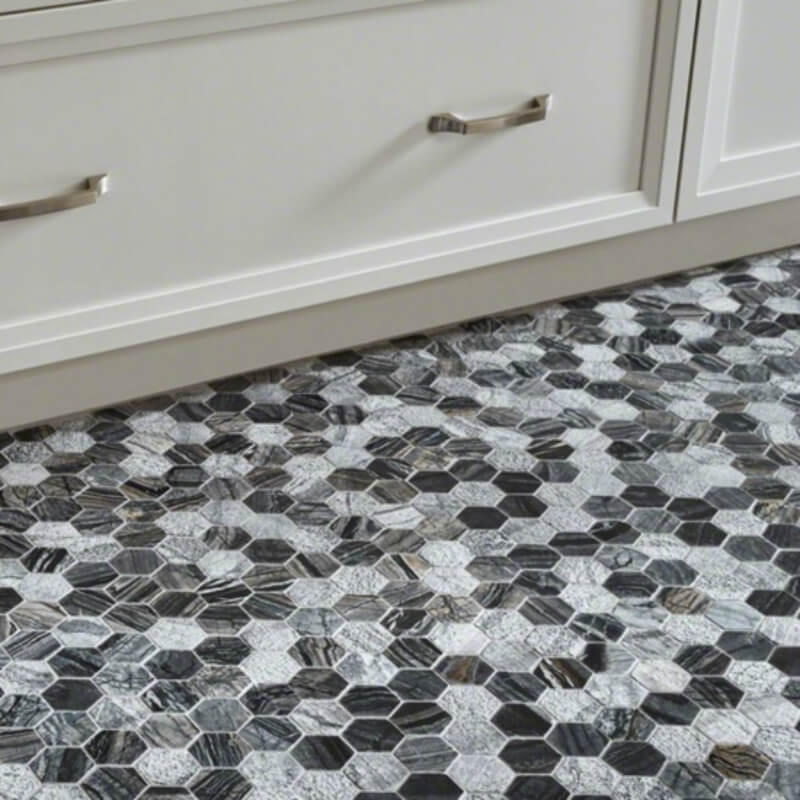 Featured: Henley 2" Hexagon Multi Finish Mosaic
Black and white is always a flattering combination, and Henley 2" Hexagon Multi Finish Mosaic tile is a great way to incorporate it into your décor. This dramatic natural marble tile combines multiple finishes and textures, and no two pieces have exactly the same coloration and veining. You can use a matching grout color, or choose a contrasting color to accent the classic tile shape.
These are just a few ideas for using tile mosaic, which is often used as backsplash tile, as flooring – either on its own, or in combination with other types of flooring. Create a unique "rug" accent or stripe, match your backsplash or simply echo the pattern or color. It's more durable than it looks, and much easier to install. Visit MSI's web gallery to see these, and many more tile options that are excellent for use as flooring.
READ MORE ABOUT MSI BACKSPLASH TILE
Best Kept Secrets - Design Tools For Backsplash Tile
Can You Use Quartz As Backsplash Tile?
Run Your Slab Up Your Backsplash