Mosaic Monday: Now & Zen: Calming, Asian-Inspired Mosaics
January 29, 2016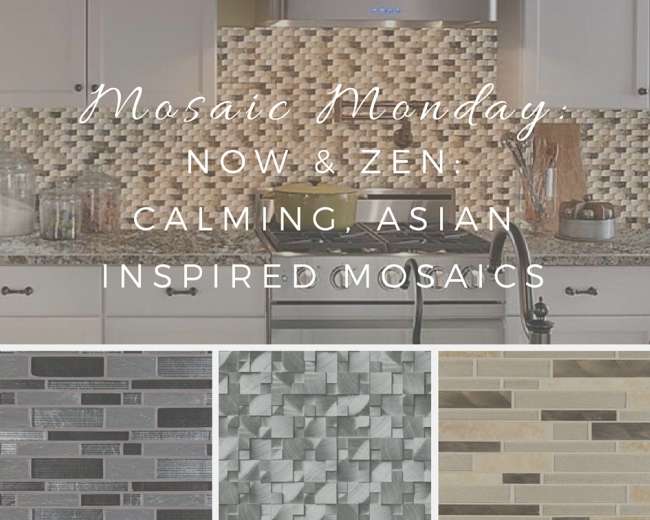 In today's hectic and fast-paced world, we all dream of stealing away a few moments for ourselves. After a trying day of powering through deadlines, fighting traffic, or caring for little ones, there's something truly relaxing about melting into your favorite chair and whiling away the evening. Whether it's just a few moments of rest or an evening of relaxation, nothing takes you to that place of serenity faster than soothing visual cues. Carefully arranged to create balance and harmony, Asian-inspired interiors elicit feelings of tranquillity and calm. While Asia is home to many wonderfully unique countries and cultures, today's Asian-influenced interiors have strong Zen influences and are loosely based around stylings from India, Japan, and China. If you could use a little more relaxation in your life, one of these Asian-inspired mosaics is sure to take you to that place of tranquillity.
Ambrosia Interlocking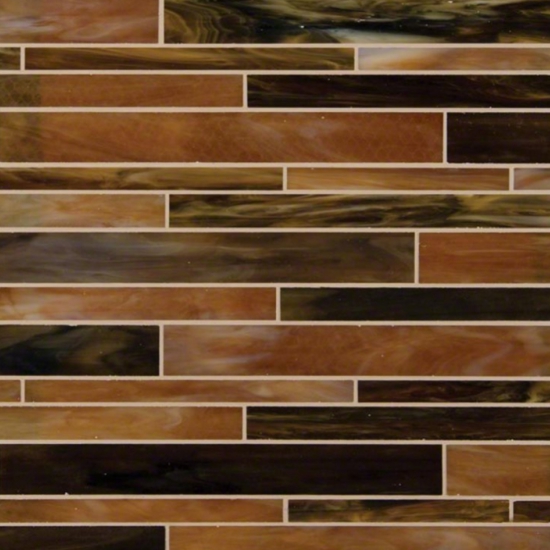 Featured: Ambrosia Interlocking
Ambrosia, thought to deliver longevity and even mortality to any who consumed it, was known as the "food of gods" in ancient Greek times. In this dreamy, calming mosaic, rich brown stained glass delivers an enduring style that stands the test of time. With Zen-like earth tones that rouse feelings of serenity, Ambrosia Interlocking offers high style in the form of dazzling floors, harmonious countertops, and calming backsplash designs.
Champagne Toast Interlocking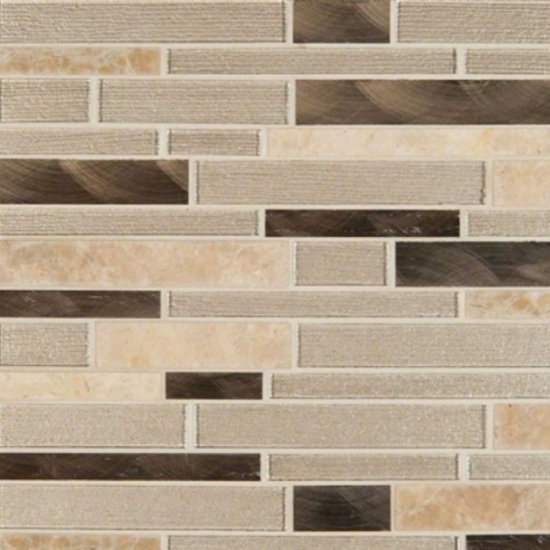 Featured: Champagne Toast Interlocking
Imagine soaking your weary muscles in a warm bath—nothing to do; nowhere to be—surrounded by calming earth tones from head to toe. With beautiful neutrals in taupe, beige, and mocha, Champagne Toast Interlocking is stylish and soothing. This offset brick pattern is carefully crafted in China using a blend of glass, metal, and stone materials. With uniquely colored tiles, each with a different characteristic and texture, this neutral mosaic is both understated and dramatic. With this prearranged mosaic tile, you'll create a calming vibe and add plenty of style to backsplashes, floors, and countertops.
Emperador Blend Arched Brick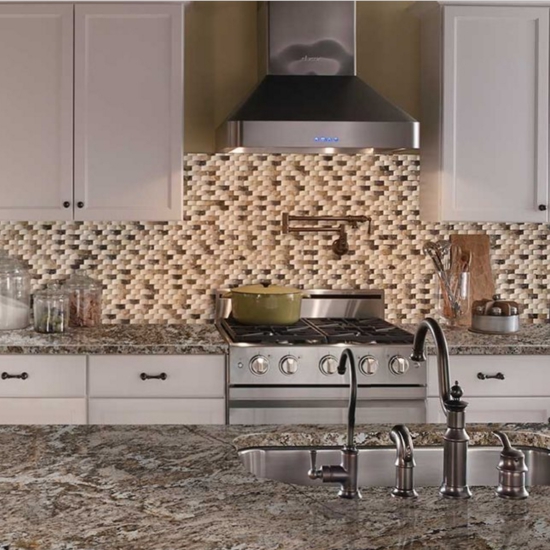 Featured: Emperador Blend Arched Brick
Picture yourself luxuriating in a soft robe, coffee in hand while you gaze upon the sunrise through your kitchen window. You look around and take in your surroundings, admiring the beautiful shades of cream and dark brown dancing on your kitchen backsplash tiles. There's nothing to do—no deadlines to meet—except finishing what you started: enjoying another cup of coffee. With a blend of soft and rich neutrals and 1" x 2" arched marble tiles, Emperador Blend Arched Brick inspires daydreams with its unique, three-dimensional effect. A perfect complement to rustic, modern, and Zen-influenced décor, this natural stone tile is beautiful on backsplashes, countertops, and floors.
Perspective Blend Interlocking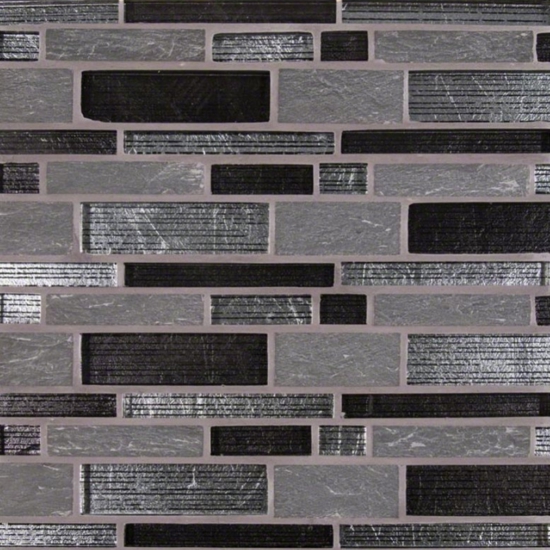 Featured: Perspective Blend Interlocking
There you are, quietly sinking into your favorite chair, curled up with an enchanting book. You close your eyes and follow the imaginary lines of gray and black cobblestones at your feet. At the end of your path lies a secluded cottage, cloaked in a veil of cherry blossoms, where you can soak in some relaxation. A vision for any home, Perspective Blend Interlocking carefully fuses glass and stone into one lovely, balanced design. Equally stunning on floors, countertops, backsplashes, and feature walls, this unique design bridges the gap between East and West.
Silver Aluminum Metal 3D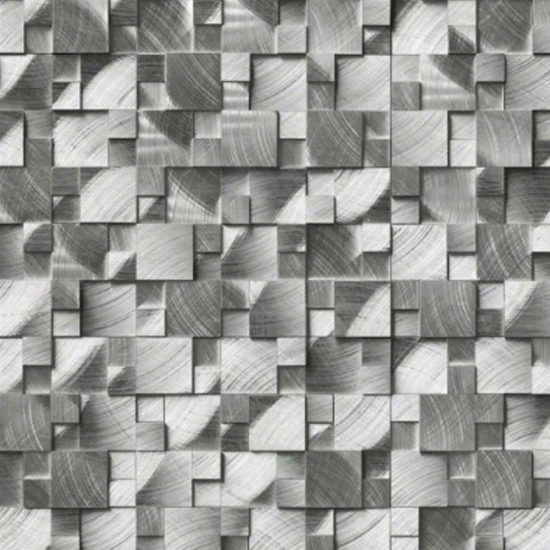 Featured: Silver Aluminum Metal 3D
Like the shimmering ponds of a secluded temple, Silver Aluminum Metal 3D soaks in light and reflects it back with a soft look of whimsy and awe. Unique and unexpected, metallics are bold enough to make a statement, yet neutral enough to maintain an air of balance. A shining light on feature walls and backsplashes, you'll create a modern, peaceful vibe with this beautiful mosaic.
Steal away a slice of style with beautiful wall tiles and calming backsplashes. Whether you prefer metallic, glass, or stone, there's something truly magnetic about these Asian-influenced mosaics from MSI.