The Hottest Hotel Flooring Trend
August 23, 2021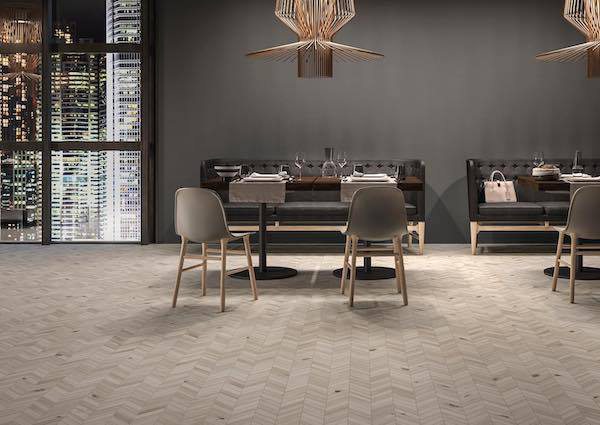 A hotel is so much more than a place to spend the night, particularly in a resort area or an upscale market. The success of a hotel depends upon creating a positive guest experience. No matter how comfortable the beds are or how friendly the service is, the hotel's appearance is a crucial factor in pleasing guests and bringing them back for future stays — and beautiful, well-maintained hotel flooring is one of the first things guests notice.
Choosing the best flooring for every part of the hotel can be a difficult task. It's important to strike the perfect balance between beauty, comfort, and ease of maintenance. Hotel management needs to invest in hospitality flooring that will stand the test of time, staying attractive despite heavy foot traffic, resisting damages and stains.
Porcelain tile and Luxury Vinyl Tile have been gaining in popularity for new hotel construction, renovation, and remodeling. That's because it ticks all the boxes for durability and ease of care. It's also available in a huge variety of different looks, colors, patterns, shapes, and sizes, allowing hotels to precisely match their decorating style, whether it's historical and traditional or ultra-modern and contemporary. These premium flooring products can help designers create hotel lobbies, lounge areas, hallways, and guest rooms that are unique and stylish.
Matching Flooring to the Space
Hotels have a variety of different spaces to decorate, each with its own unique needs. Perhaps the most challenging decisions involve the hotel lobby — the space guests see first upon entering the hotel's front door, and the key to creating that vital first impression. Not only will this area need to impress everyone that enters, but it must also withstand the heaviest foot traffic of all the hotel's spaces. Lobby flooring must stand up to rolling suitcases and luggage carts without scratching or cracking.
Comfort is less of an issue in hotel lobbies than in other rooms, but character and creativity are paramount. Many hotels combine different flooring materials, colors, and sizes. Mixing materials can help to separate areas, such as the reception area vs. a lounge.
Hallways have the same needs with regard to durability but do not typically need the same degree of grandeur. Flooring in hallways must withstand heavy carts and suitcases as well as hospitality and laundry carts. It should also be slip-resistant, particularly in areas near a swimming pool. Guest rooms have less foot traffic, but ease of care is crucial. Not only must guest room floors be easy to clean, but they must also appear perfectly clean to the guest.
READ MORE ABOUT HOTEL AND HOSPITALITY SURFACES:
8 Trends For the Hotel Industry: Hotel Flooring And More!
The Best Hotel Flooring Options For A Safe And Comfortable Stay
Hotel Bathroom Countertop And Vanity Buying Guide
The Perfect Hotel Countertop For Your Reception Area
Guests appreciate hotel rooms that feel like home, so wood-look floors are popular in those spaces. The right flooring can also be used for the hotel vanity.
Here are some of the hottest flooring trends for hotels.
Large Format Porcelain Tile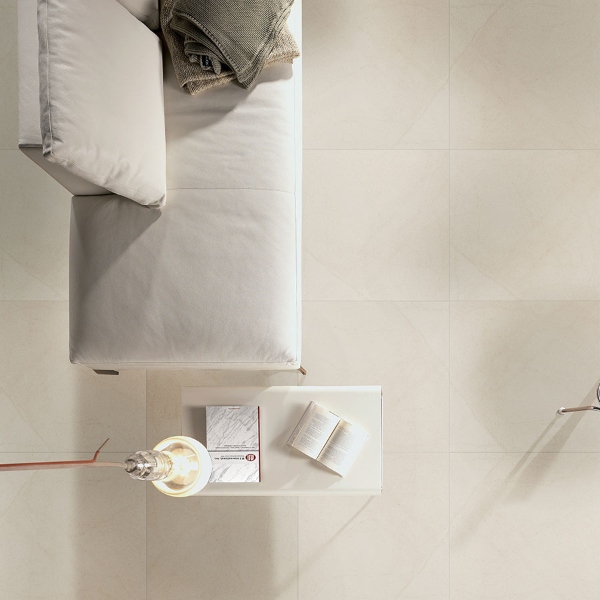 Tiles in large sizes, such as 24" x 24" or 18" x 36", are popular choices for spacious areas. They are quick to install and have the added benefit of fewer grout lines between each tile, which makes them easier to maintain. Cream Porcelain Tile in MSI's Livingstyle collection is a great example. Livingstyle Cream Tile has a matte finish, providing a degree of slip resistance to keep guests and employees safe from falls. This large-format tile is durable enough to be used in heavy-traffic commercial settings, and it is waterproof as well, so it can be installed in bathrooms, showers, or even outdoors on patios and surrounding hot tubs and swimming pools.
Creative Tile Patterns
Create exceptional visual interest by using tile patterns. This can be achieved by assembling square or rectangular tile in creative patterns, such as herringbone, chevron, Versailles, or even random. Alternatively, you can select tiles with decorative shapes, such as Arabesque, hexagon, or diamond. Porcelain and ceramic tiles are also printed with a variety of bold, colorful patterns. Use these instead of carpet tiles to create "rugs" in a room's central focal point or conversation nook, or as borders around other types of tile. You can also continue the pattern vertically on a wall accent or even cover the hotel bathroom countertops.
Wood-Look Porcelain Tile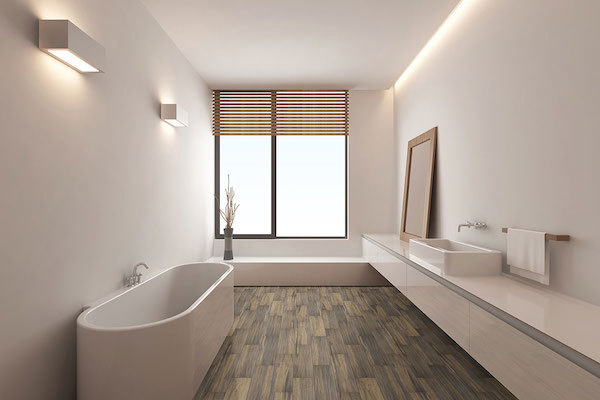 Wood-look porcelain tile, such as MSI's Carolina Timber Saddle Wood, allows you to have the character of wood plank flooring in areas where real wood flooring would be impractical. Such flooring is perfect for hotels with a "lodge" feel, or a rustic, home-like ambiance. Saddle Wood includes darker wood grains and knots so it looks amazingly realistic, but is waterproof and resistant to scratches and stains.
Wood-Look Luxury Vinyl Tile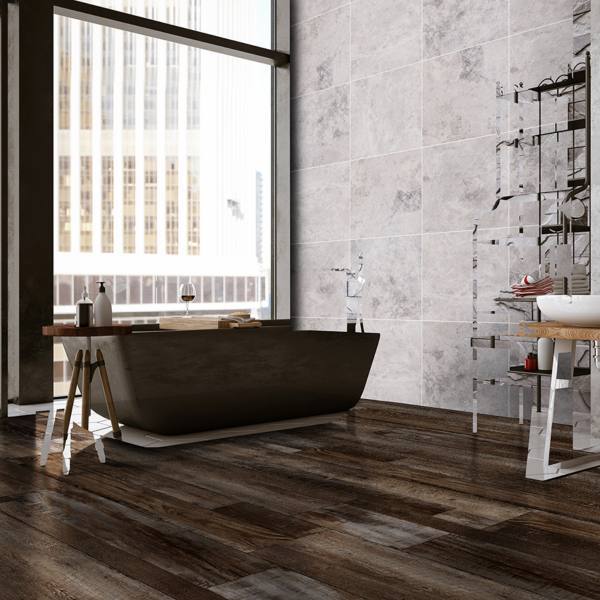 Like wood-look porcelain tile, plank-shaped Bembridge vinyl flooring offers the look of authentic hardwood floors while avoiding all the disadvantages of the real thing. A great choice for cozy guest rooms, LVT is totally waterproof so it can even be used as bathroom tile. This flooring is commercial-grade and comes with a 20-year warranty for commercial use. One important benefit of LVT over porcelain tile is the warm feeling it provides underfoot, which hotel guests will appreciate.
Whether your hotel caters to tourists in a tropical climate, city vacationers, or business travelers, whether it's located in a dignified historical building or cutting-edge contemporary, choosing the perfect flooring is crucial. With today's porcelain or luxury vinyl tile, you can enhance each guest's experience by balancing comfort and easy maintenance with beauty and style.
READ MORE ABOUT HOTEL AND HOSPITALITY SURFACES:
8 Trends For the Hotel Industry: Hotel Flooring And More!
The Best Hotel Flooring Options For A Safe And Comfortable Stay
Hotel Bathroom Countertop And Vanity Buying Guide