Popular
Bringing The Top Five 2021 Trends To Life
December 23, 2021
Inspiration comes in many forms, and each year we work to ignite ideas and creativity through our Top Five Design Trends Lookbook. Here we explore top design trends worldwide, hoping to inspire others to explore their unique styles and have fun with color, texture, shapes, materials, and more. So as we get ready to start a new year – and share new design trends – we are taking a look back at the Top Five Design Trends of 2021. From bringing the indoors out to using bright greens and gorgeous golds to reimagining a space altogether, 2021 design trends made a significant impact.
ENCHANTED FOREST
The desire to be a part of nature is innately human. For thousands of years, people spent most of their time outdoors. In stories and movies, forests are often the setting of fantasy, mystery, and wonder. This past year had many people bringing the fresh, natural look and beautiful colors of the forest indoors. Inspired by rich woodlands, treetop canopies, and an ongoing desire to connect with nature, Enchanted Forest brings together vivid greens and natural wood tones to create interior looks that are both vibrant and soothing.
Botanical hues like fern, moss, and emerald breathe life into a space, bringing crisp color and sophisticated elements to hard and soft surfaces. Enhance the natural ambiance by using wood tones in furniture, floors, or cabinets. Then, take the look a step further with stone or marble countertops for a fully immersive experience. Earthy and ethereal, Enchanted Forest is a way to create something inspired and unique. Your space is the perfect setting for you to tell your story.
See how several designers and builders landed the look: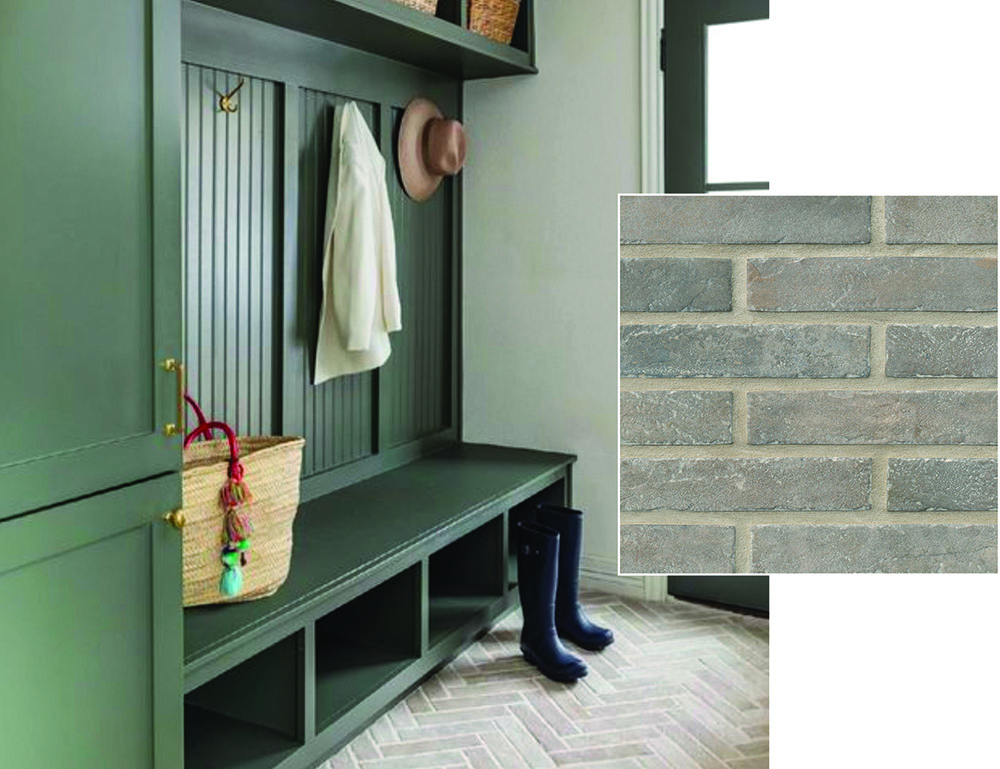 Britney Ferguson Interiors combined mossy green cabinets, storage bench, and shelves with Brickstone Taupe, a rustic brick-look porcelain tile flooring, to create a sleek, sophisticated and inviting mudroom.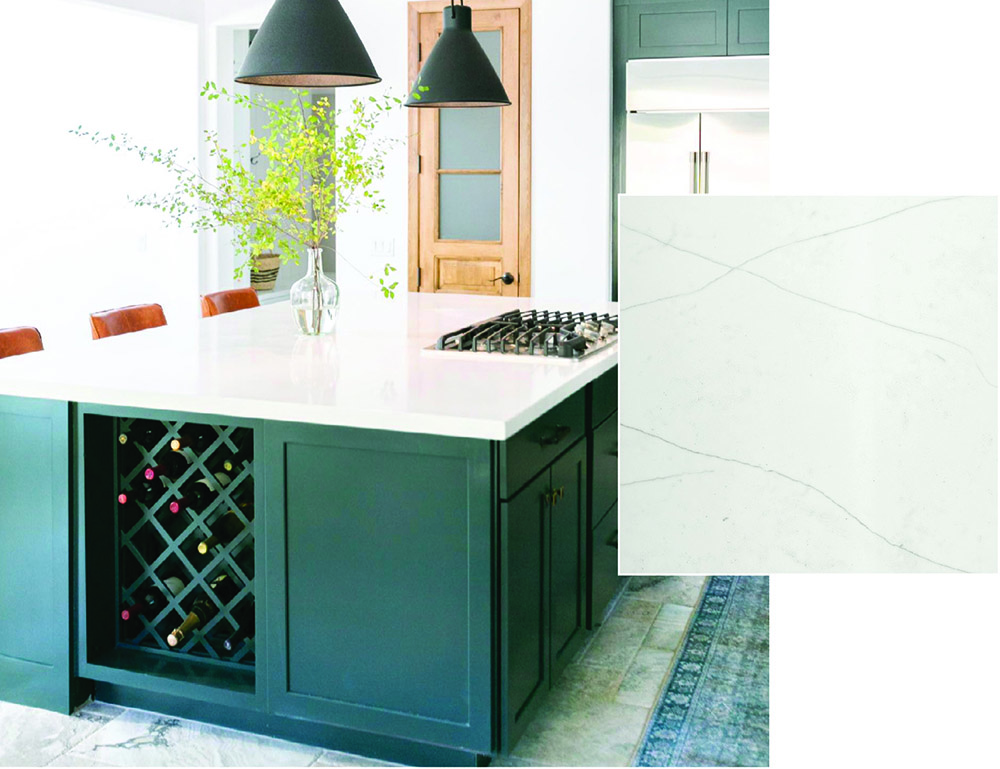 San Diego-based Mullen Design Co. transformed a dark kitchen into a bright, modern space using stunning green cabinets and Calacatta Clara Quartz countertops. The milky-white backdrop and gorgeous long linear veining of the marble-like surface brings out the bold green hue of the cabinet, for a fresh, inspired aesthetic.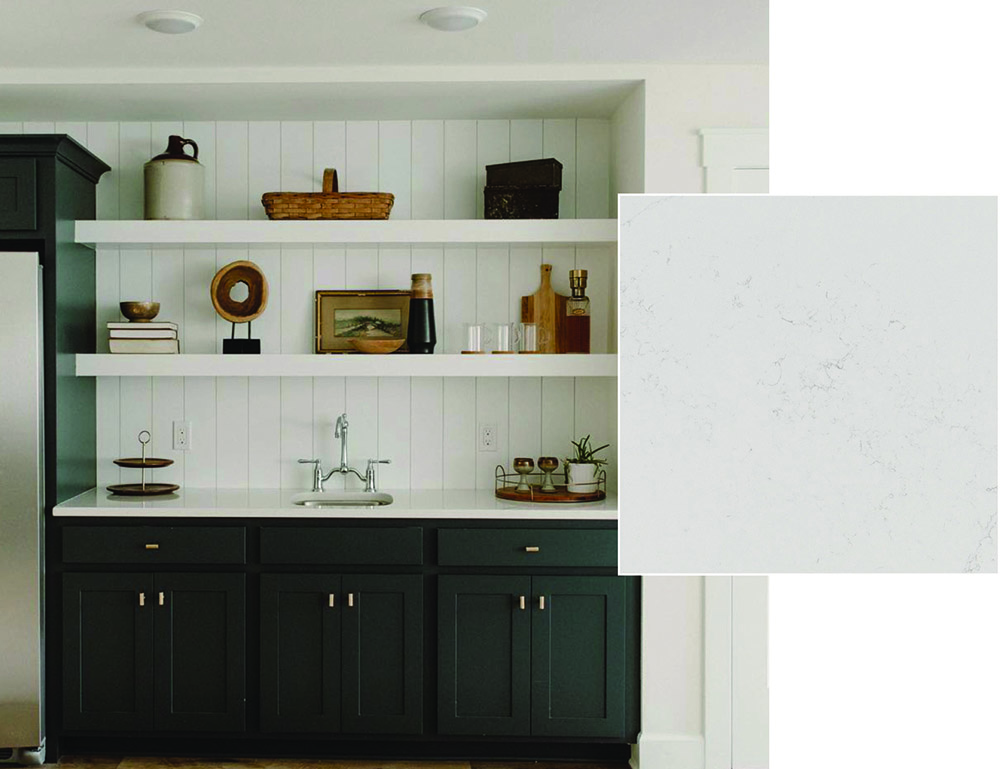 Even in a smaller space green can make a big impact. Family-owned boutique builders, Prestige Iowa created an eye-catching basement kitchenette using deep green cabinets and a Calacatta Botanica Quartz countertops. The soft white background and light gray veining of this Italian marble inspired countertop suits any design style and color trend.
REINVENTING THE NEST
The challenges of 2020 had families worldwide revisiting the rooms in their homes to determine how to best use those spaces for multiple functionalities. Whether a place of work, remote learning, or entertaining small groups of family and friends, the home continued to be where many of us spent the bulk of our time in 2021. Throughout the year, designers worked to carve out designated spaces with built-in versatility to create a much-needed separation.
Reinventing The Nest explored stress-free solutions designed to withstand the rigors of everyday life.
Another critical trend element had designers seeking low-maintenance products that look Instagram-worthy but don't break the bank. Waterproof, pet-proof, kid-friendly surfaces topped the list of desired features, as did non-porous surfaces that helped prevent the spread of germs. Home is indeed where the heart is, so while 2021 may have had an upswing of people reinventing their nests and increasing the functionality of their homes, we believe this is a trend we will continue to see for years to come.
See how several designers and builders landed the look: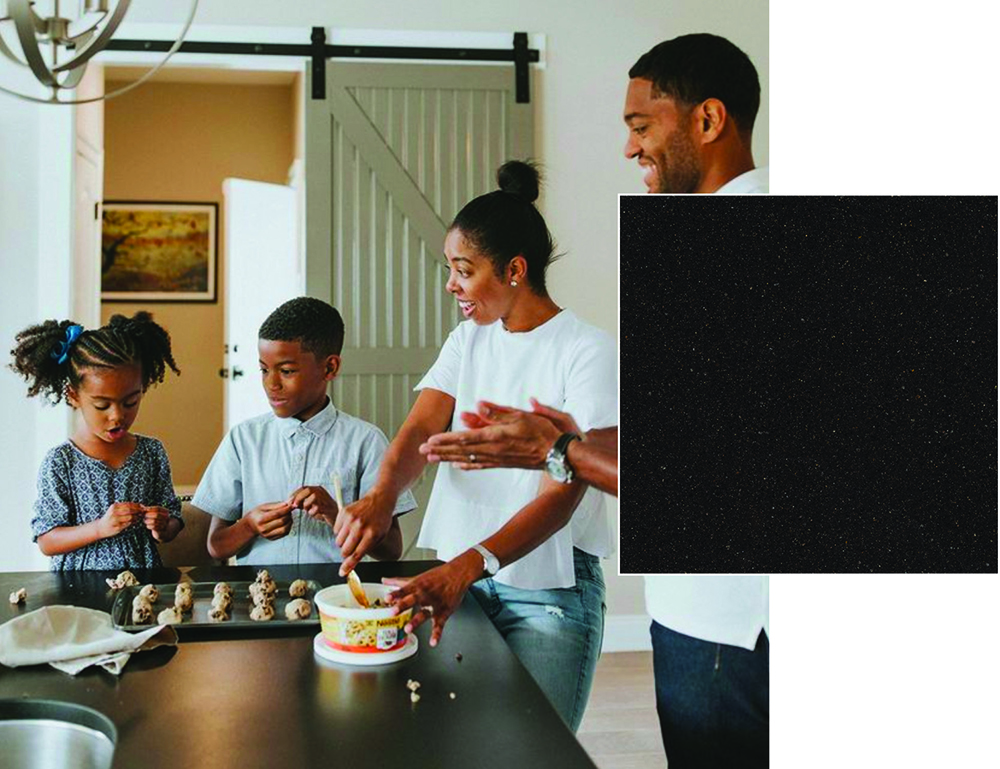 Handcrafted custom home builder, Keystone Custom Homes, created a striking and functional kitchen where the family can come together for food and fun. MSI's Midnight Majesty Quartz countertop stands up against scratches, chips, and stains—it also never needs sealing, polishing, or reconditioning, making it the perfect solution for a busy family.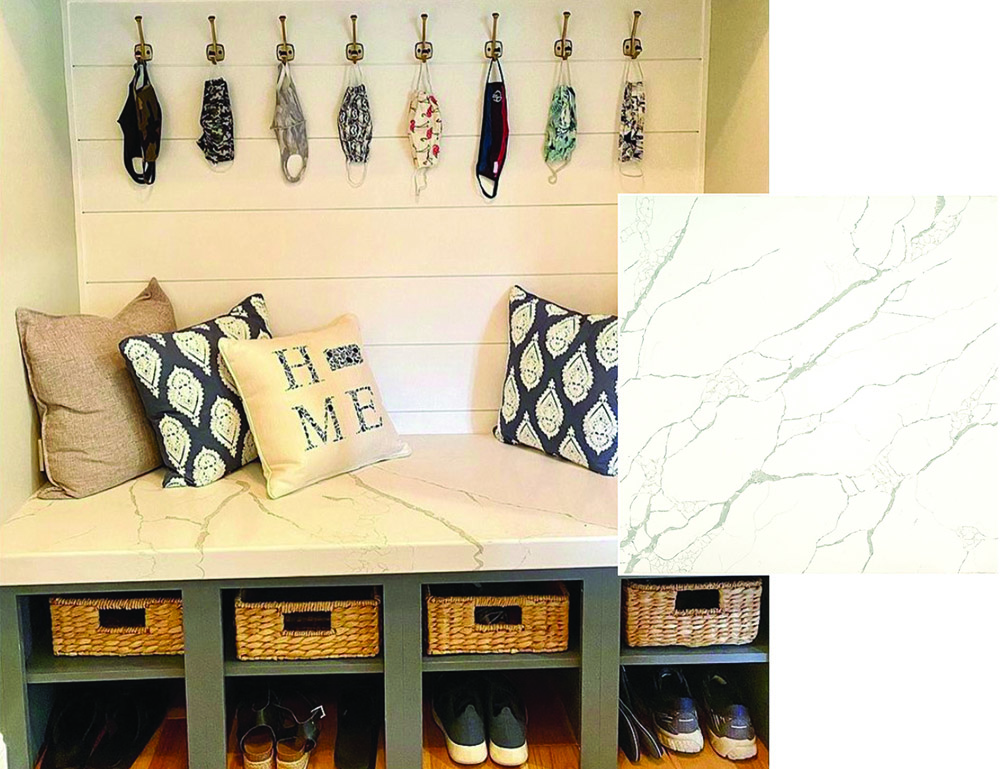 To create a cozy yet chic pandemic-friendly mudroom, Pennsylvania-based Carr Home Improvements paired sleek cabinets with rustic-chic shiplap and the gorgeous marble-look Calacatta Laza Quartz for a one-of-a-kind look that meets a family's ongoing needs. Calacatta Laza is durable, easy to clean, and maintenance-free, making it an ideal solution for a busy mudroom.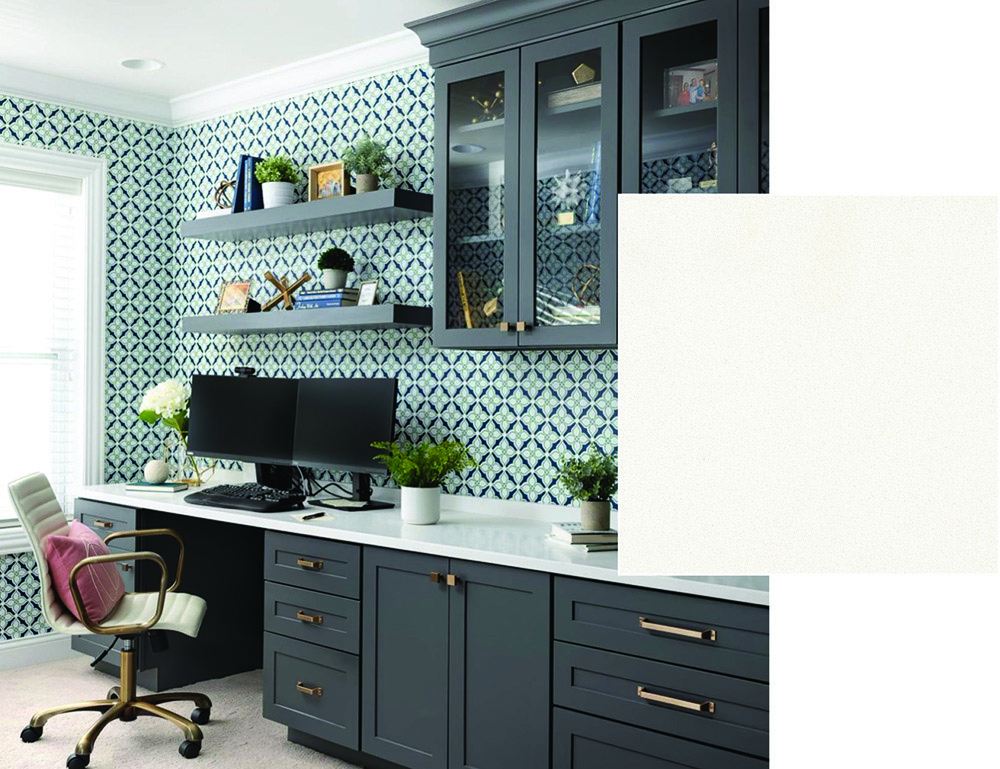 The events of the last few years brought about a significant shift in the work environment, with many saying goodbye to traditional commercial offices and hello to the home office. Chad Esslinger Design, a full-service design firm focused on residential interior design, remodeling, and home décor, created a gorgeous and functional home office that is both comfortable and inspirational. The bright geometric patterned walls add color and visual interest, playing beautifully with the sophisticated dark cabinets and sleek, white Arctic White Quartz work surface.
WALL STARS
From classic subway tiles and natural stone to bold geometric shapes and patterns and playful mosaics, 2021 saw designers and homeowners flexing their creativity with wall tiles. More often, people are getting more daring in their design choices, blending patterns, colors, and textures to create a space that speaks on a more personal level. Whether a room is large or small, wall tile offers versatility and flexibility where paint and wallpaper are limited.
From the kitchen to the bathroom, the laundry room to the entry hall, the bedroom to the fireplace, there is no limit to the many ways you can add wow factor with tile. The past year brought many Wall Stars and we anticipate that as new tile debuts, this will be a trend we see for many years to come.
See how several designers landed the look: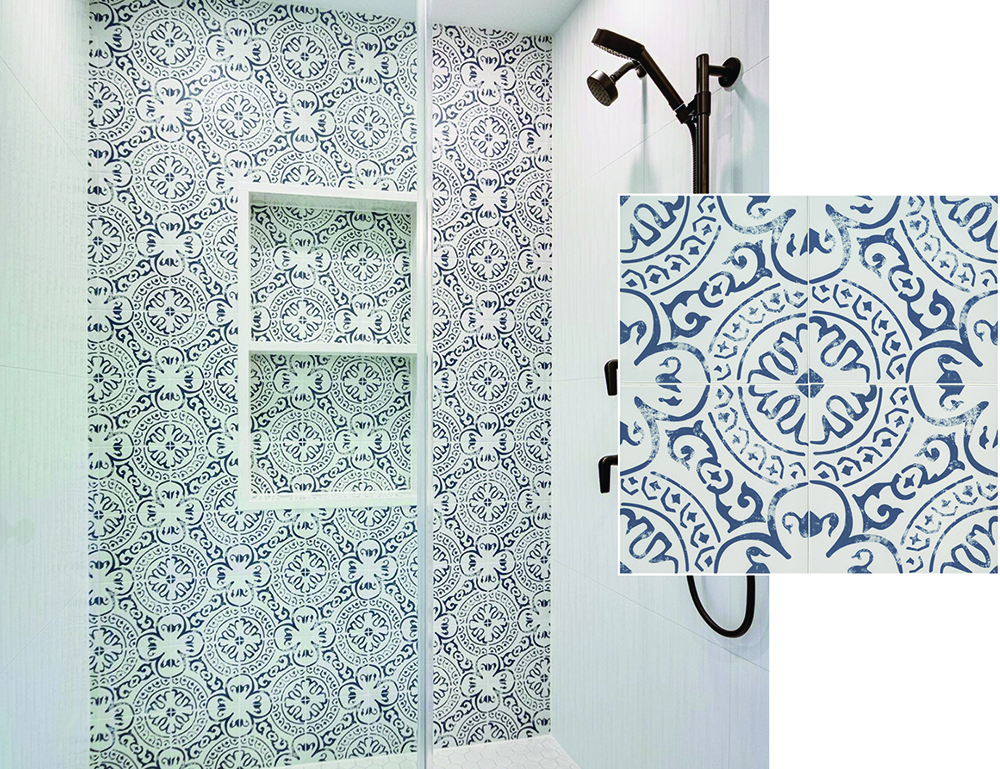 Husband and wife team, Paul and Susan Kadilak of Kadilak Homes created a stunning accent wall within a shower using handcrafted Kenzzi Indigo tiles. The designers not only brought a sophisticated and eye-catching color to the space, but the intricate detail of each tile made a significant impact in a small space.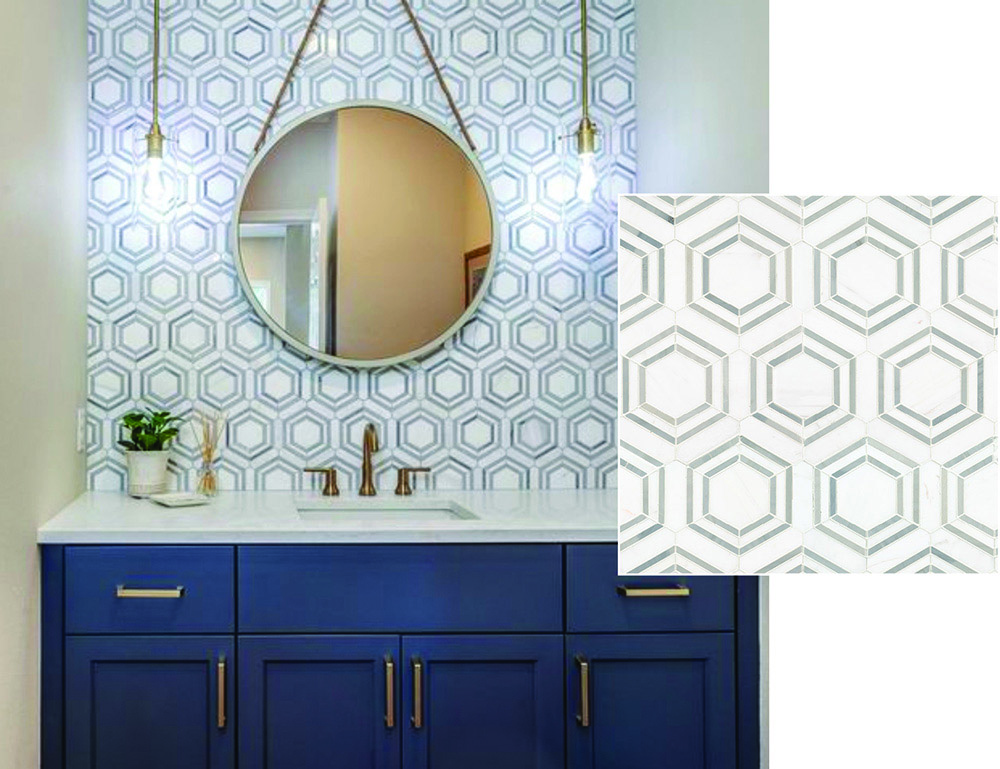 For this stunning coastal powder room, luxury interior design company, Heiser Designs used contemporary geometric tiles to add sophistication to the space. The luxurious gray and white marble Georama Grigoria Polished tiles enhance the gorgeous blue cabinets while adding depth and drawing the eye up the wall.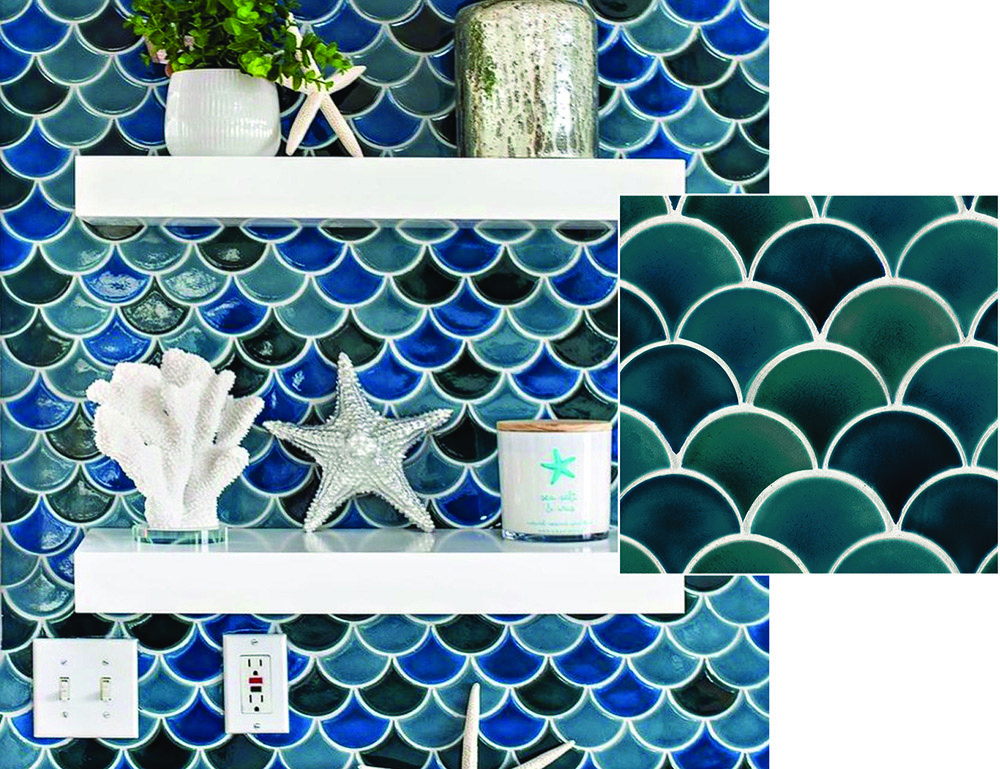 In the past, people often shied away from color for kitchen backsplashes. However, the Wall Star Trend of 2021 saw a greater movement toward incorporating bright, bold colors as seen in this wow-inducing kitchen from Maryland-based Turquoise Interior Design. Here, they used Azul Scallop ceramic Tile with its glossy blue-green shades that add depth and texture and enhance the look of the beach-themed kitchen.
THE GREAT ESCAPE
Having spent more time than ever before inside our homes, it's no surprise that during 2021 people sought a deeper connection to nature – a desire to extend life beyond four walls. The Great Escape trend took a fresh look at utilizing the space outside our doors and explored ways in which we can create multipurpose spaces for entertainment, work, relaxation, cooking, dining, and more.
From mixing natural stone, wood, porcelain, pebbles, and patterns to create an outdoor oasis to selecting durable, low-maintenance surfaces designed to withstand weather, the solutions available to help us connect with nature are endless. And whether your outdoor space extends to a balcony or a vast garden, 2021 saw more people stepping outside.
See how several designers landed the look: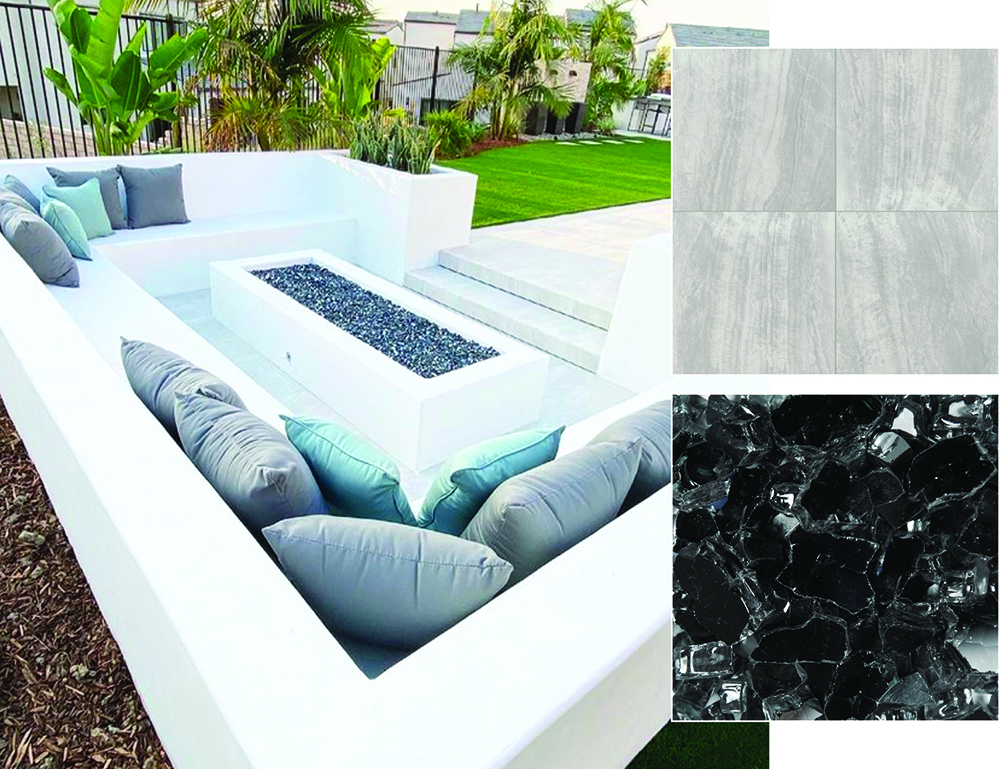 There's no better way to unwind than next to a cozy fire. Hu Love Décor brought this relaxation space outside and created a modern sunken fire pit with built-in seating. The smooth contemporary area features a large fire pit with Galaxy Black Fire Glass for a practical and modern twist. The soft white and grey tones of the Praia Grey Arterra® Pavers are a sleek, neutral element to space that is beautiful and easy to maintain.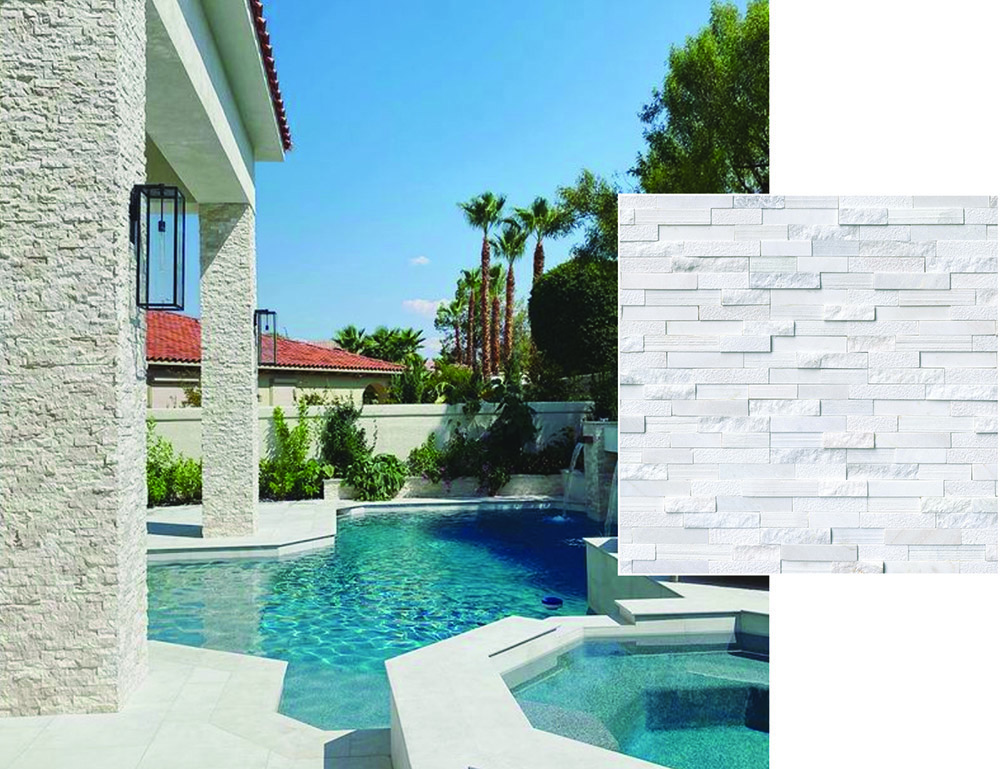 The use of texture and varying shades of white make this gorgeous outdoor oasis designed by Kaytia Designs a truly great escape. On the columns, the Arctic White Multi Finish Stacked Stone features a dynamic range of white marble to tie in natural elements, while several finishes come together to add movement.

California-based Landscape Contractor, Tekton Group, takes outdoor living (and recreation) to a new level with this eye-catching putting green. The bright color of the green pops beautifully against the rich cream, and cool white hues of the Caldera Blanca Arterra® Pavers used to create the surrounding patio space.
GOLD WITH ENVY
Fresh, bright, and inviting, 2021's Gold With Envy trend was a new take on neutrals, shining a spotlight on warm and inviting hues and making us take a closer look at Mother Nature. Designers and homeowners turned to warm, natural whites, soft creams, beige, honey, and golden colors and tones to create light and airy spaces.
Gold With Envy offered something for every design style, from minimalist tone-on-tone concepts to the layering of shades, textures, and patterns. Countertops, cabinets, flooring, and tile provided versatility in the selection, while a range of soft palettes was easy on the eyes.
See how others have landed the look: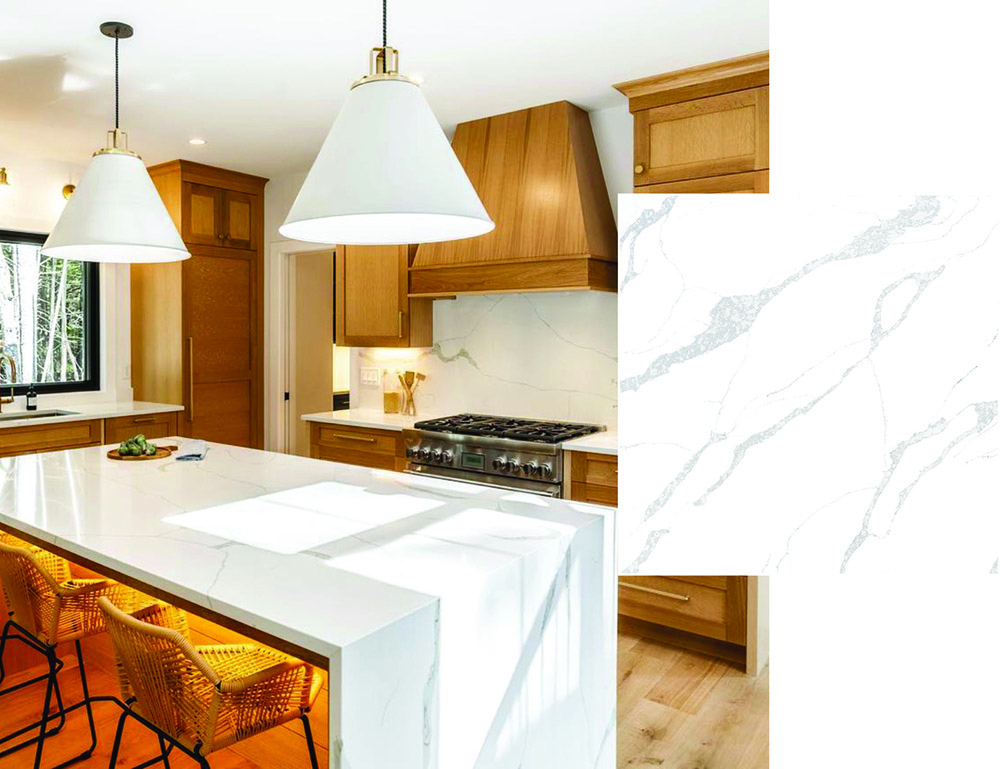 Maine Cabinet Company created a warm, welcoming kitchen with breathtaking golden wood cabinets highlighted by the waterfall island made using Calacatta Leon Quartz. The soft white backdrop and dramatic grey veining in the quartz offer the look of natural marble, elevating the clean and buoyant feel of the space.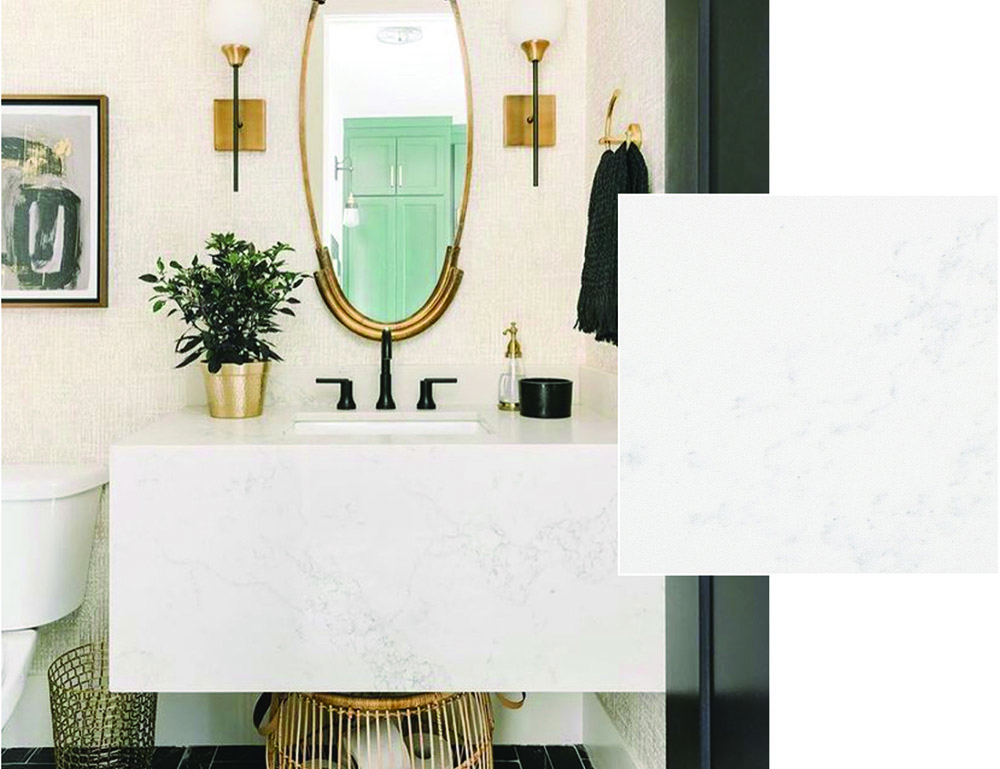 Over the years, designers and homeowners have turned bathrooms into statement-making spaces, showcasing their unique styles and personalities through color, texture, hardware, and more. Andrea West Design turned this bathroom into a luxurious and modern oasis. The gold mirror and accessories balanced the black herringbone floors. At the same time, the Calacatta Vicenza floating sink with its white background and subtle grey veining added a streamlined, natural element to the bathroom.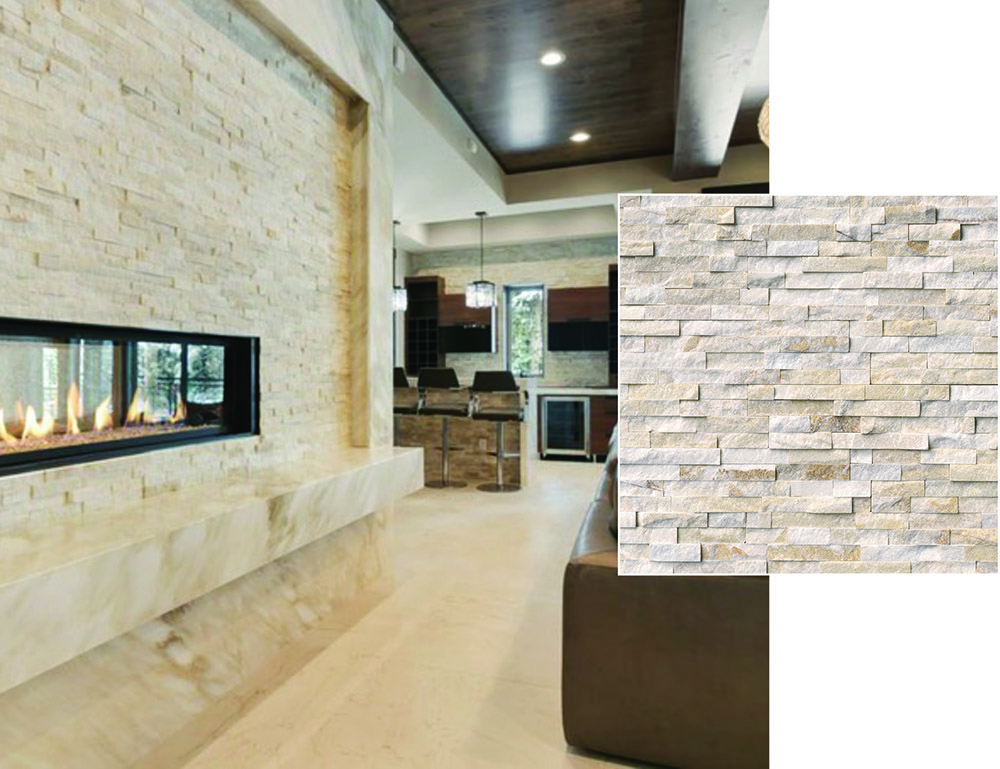 Beautiful neutral creams and whites and strong textures come together to create this cozy, bright and inviting living area. Pinnacle Stone used Arctic Golden Panel on the fireplace and bar backsplash to make an eye-catching statement. The soft tones throughout this Gold With Envy room welcome visitors and enhance relaxation.
If you have tried one of our 2021 surface trends in a project, tag us on Instagram - #msisurfaces. And stay tuned for a look at the Top Five 2022 Trends, coming your way soon.