Current Obsessions: Sparkling Quartz Countertops
October 24, 2016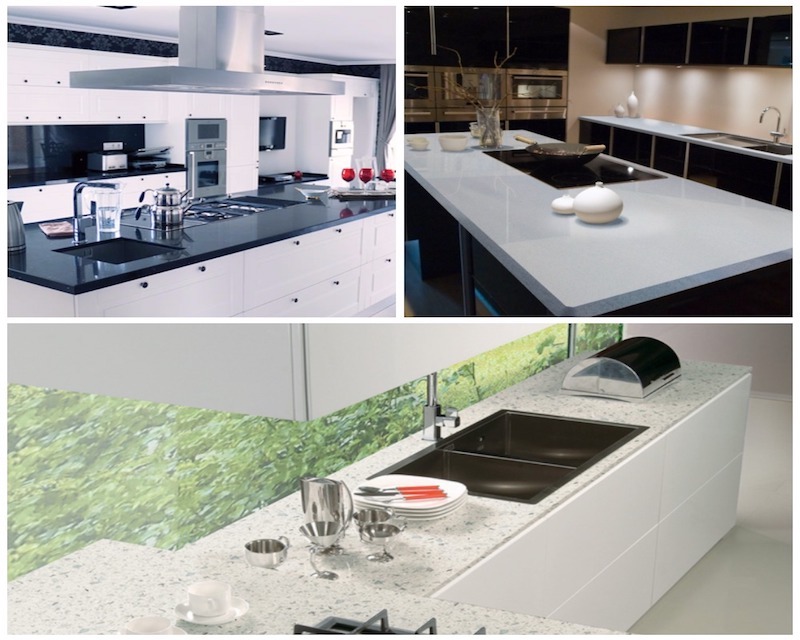 Quartz countertops are exploding in popularity in U.S. homes. As durable as granite, quartz comes in as many custom colors as laminate! That's why homeowners and designers have made quartz the leading countertop material in the land, surpassing granite in kitchens, according to National Kitchen and Bath Association.
Quartz, which combines natural stone bonded with resin, is durable, impervious to stains, and scratch- and chip-resistant. Unlike granite and marble, quartz doesn't require sealing, and it cleans up quickly with just a little soap and water.
Recently, quartz choices that contain flecks that capture light and sparkle are becoming popular premium choices. The glimmer adds glamour and elegance to any space, making counters, backsplashes and floors almost dance in the light.
Up the Elegance
All quartz has a natural luster that reflects light, be it sun or manmade. Quartz with sparkle, however, adds movement to counters, making long stretches of kitchen islands and counters seem to twinkle. MSI's Sparkling Black Quartz, for example, brightens the midnight black color with random sparkles that tie together kitchen elements such as stainless steel appliances and shiny lacquer cabinets.
Makes White Interesting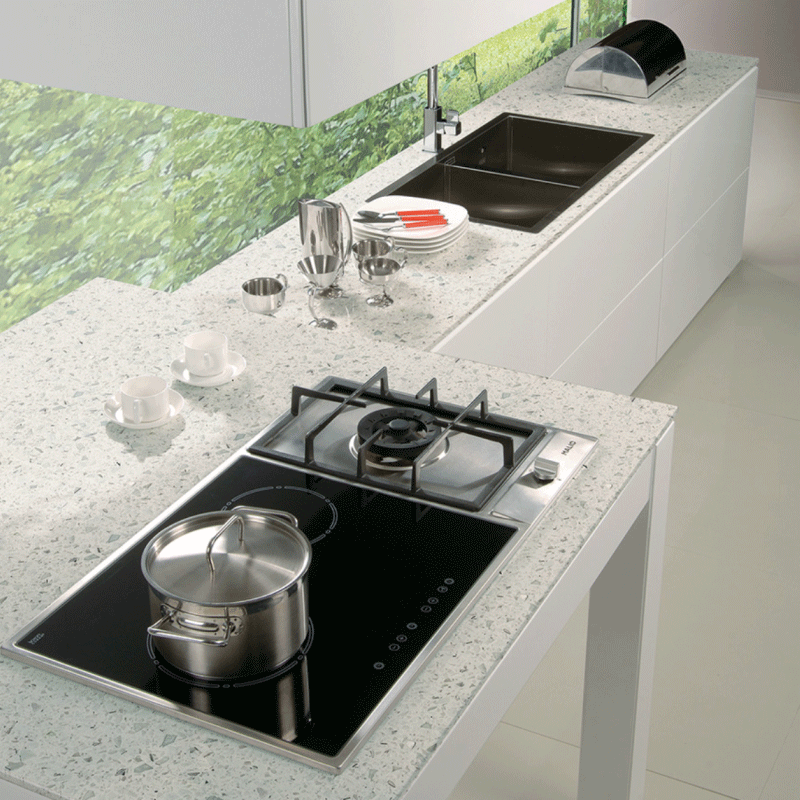 Featured: Sparkling White Quartz
Although white kitchens never go out of style, they can look a little monotonous. Premium quartz, however, gives white kitchens pizzazz. Sparkling White Quartz, for instance, contains bits of black, grey, and even tan, adding interest and life to countertops, floors, and accent walls.
Makes Bold Brilliant
Bold colors certainly make a design statement, but long expanses of bright hues can overwhelm the senses. However, if you add some sparkle to bright colors, you get a design pop without feeling overpowered. Sparkling Ruby Quartz is a stunner, adding black, silver, and white specks to a crimson background that soaks up the light. Imagine an accent wall or center island covered with this quartz, creating a breathtaking display in white or black-and-white kitchens.
Plays Well With Nature
Nature seldom runs in solid colors. If you look closely, what looks like a deep red rose is really a combination of reds, browns, and even blacks. Quartz with tiny speckles makes solid surfaces look more naturally occurring. Stellar White Quartz, for example, features gray and silver specks that break up the solid white counters and backsplashes, giving an overall natural appearance.
Adds Glow
A little sparkle wakes up rooms with dark colors or a cramped space. Stellar Gray Quartz features mid-gray backgrounds with lighter and darker specs, which makes it ideal for contemporary designs.